By: Andrew Hubschman
Tonight's NBA Playoffs will feature the Jazz against the Nuggets and the Clippers against the Mavericks. The Jazz come in with a 3-1 lead over Denver while the Clippers currently share a 2-2 tie with Dallas. Here is what to expect in tonight's match-ups:
Jazz vs. Nuggets
The Jazz are likely to win tonight and move on to the Semifinals and a big reason is because of the red-hot performance of Donovan Mitchell.
Mitchell has two 50-point games this series and is averaging 39.5 PPG; he is shooting 56.3% overall and 51.4% from three-point range. Mitchell also has 4.5 rebounds per game and 5.8 assists per game while playing 35.7 minutes per game. Playing alongside him in the backcourt is Mike Conley who was promoted to the starting lineup in Game 3 after Joe Ingles was switched to small forward, and since then he has been going off.
Entering his third appearance in this year's playoffs, Conley is averaging 26.5 PPG with shooting 65.4% from the court and a dangerous 68.8% behind the arc; he also has 4 APG and 1.5 steals per game in 28.1 MPG. Is he not locked in or what? Get ready to see him pick up where he left off.
A key contributor from the Jazz bench is Jordan Clarkson, who has 19.8 PPG on 50% shooting while also having a 35.5 percentage three-point field goal percentage. In Games 2 and 4, he scored 24 and 26 points in relief and converted 8 threes on 16 attempts while averaging 28 minutes in both contests. His consistent efforts proved to be huge in giving the Jazz control of their own destiny, and he looks to end the series tonight and in doing so, with another solid performance.
Mitchell, Conley, and Clarkson have outplayed Denver's back court – led by the lethal Jamal Murray who is averaging 28 points on 52.5% overall shooting and 52.9% from three and 6.5 assists; a strong showing from him is needed to keep the Nuggets alive. Alongside him is Monte Morris – who has 8.8 PPG and 3.3 APG – and Tony Craig – . Murray has been the leading man for Denver's guards, but because there is a lack of similar production surrounding him at the position, his men have been outmatched.
On the positive side fro Denver, another one of their key performers is Michael Porter Jr. who – despite coming fresh off a 9-point game – has 14.3 PPG and is shooting 52.3% from behind the line. It is indisputable that a solid effort from him tonight is needed if the Nuggets want to force a Game 6.
As for the match-up between Rudy Gobert and Nikola Jokic, the latter seems to have the edge offensively, but defensively, the crown goes to the former. Jokic has 25.3 PPG along with 5.3 assists as opposed to Gobert's 19.3 points and 1.3 assists. However, Gobert's advantage is his 9.8 rebounds and 1.5 blocks as opposed to Jokic who has 8.3 and 0.5. The Eiffel Tower also has 3.8 more offensive rebounds than his opponent, who has 2.3. In the end, Jokic may have been the more productive scorer in the series, but it hasn't been enough to avoid a 3-1 deficit with the help of Gobert's versatility.
Don't be surprised if the Jazz go to sleep tonight knowing they'll be playing in the WCSF.
Clippers vs. Mavs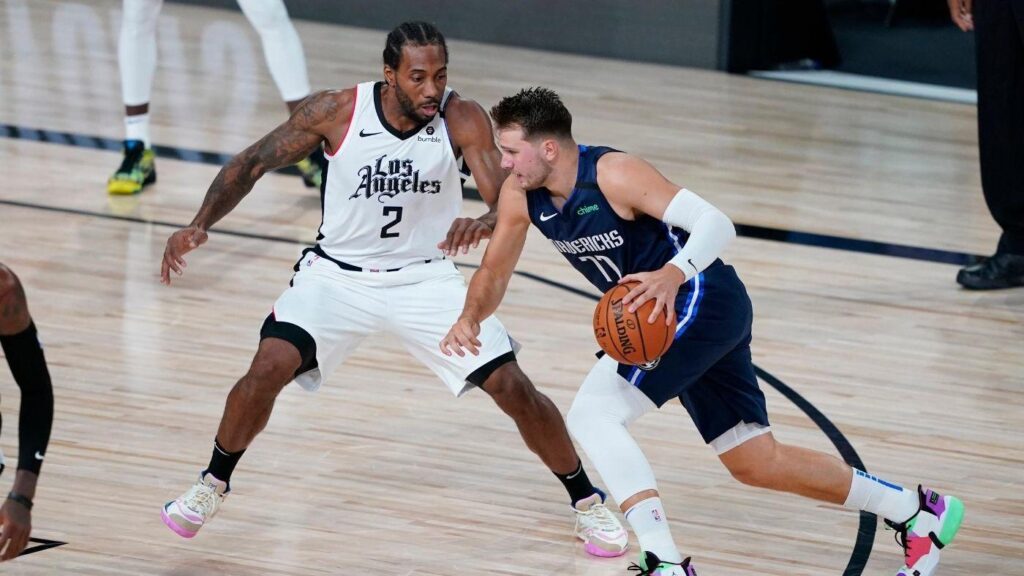 Man has this been a series to watch so far! Both teams enter tonight's game tied at 2-2, but the Clippers are likely to come away with a 3-2 lead.
Kawhi has led the way for LA as expected, averaging 33 points, 10 rebounds (8.3 defensive) and 5 assists per game in 41.1 minutes of play. His overall postseason performance includes three 30-point efforts, while scoring 29 in Game 1. His leadership is keeping the Clippers in this race, as well as the help surrounding him including power forward Marcus Morris who has 14 PPG along with 6.8 RPG. Morris has come up big behind the arc, going 7-11 in both wins for the Clippers and is shooting 45% from deep. Expect to see him drain at least a pair tonight.
As for the bench, Lou Williams has been hard for Dallas to stop, scoring 20.8 points while shooting 56.9% from the field and 42.1% behind the arc. He is coming off a 36-point performance in the Clips' Game 4 loss, and is looking to be a difference maker in earning his team another crucial dub.
However, Paul George has been in a downward slope since his 27-point Game 1 performance, averaging just 10.3 PPG in 38.3 minutes on the court and scored just 9 points in Game 4. Although his team has been able to contend despite his recent struggles, tonight is the night where he needs to turn the corner. Of course, the Clips need all the help they can get in a decisive Game 5.
On the Mavs' side, It is without a doubt that Doncic has been on fire this series. Coming off of two straight triple-double, he is nearly averaging one, scoring 31.5 PPG, 10.5 RBG (9.8 defensive), and 9.8 APG. He has shot 51.8% overall thus far and 37.9% from downtown, and is averaging 1.5 steals per game. As the Mavs' leader in points, rebounds, assists, and steals per game, one could see why he is key in keeping the team in this series. He looks to continue his stretch after his thrilling overtime buzzer-beater in Game 4.
Several other Mavs have also performed well during this series including Kristaps Porzingis (23.7 points and 8.7 rebounds); Tim Hardaway Jr. (19.5 points and 4.8 rebounds), and reserve player Seth Curry (16.5 points on 65% shooting and 56.3% from 3 point range). However, the Mavericks have not been able to win unless Doncic goes off. In proving this, he scored only 13 points in their Game 3 loss but scored 28 and 43 points in Games 2 and 4, and both efforts resulted in victories. This brings up another point….
Bad news for Dallas: Porzingis (who missed Game 4 due to a knee injury) is ruled out for tonight's game. If they're going to win again without him, they will have to milk Doncic for at least 40 minutes in hoping that he explodes again. Otherwise, the Clippers are taking Game 5 and a 3-2 lead.