By: Tanaay Shah
Former lightweight champ and featherweight contender, Frankie Edgar won his bantamweight debut against top contender Pedro Munhoz. Edgar joins the ranks of very few fighters to record wins in 3 divisions of the UFC. Edgar also became the first fighter in UFC history to win a fight of the night bonus in 3 divisions of the UFC. Congratulations to both fighters on the well earned bonus. Aside from the records, and more importantly for Edgar, he was able to get a victory against the #5 ranked Munhoz, which put him in the top 5 in a stacked division and brings him one or two victories away from the title shot. With Saturday night's performance, Edgar proved to himself and doubters that even at 38, he is still a top-level fighter in the UFC. Although Edgar won the fight, Munhoz's stock went up as well. This was a very close fight, which I scored for Edgar but would not have been surprised if the decision went the other way. Both fighters willingly exchanged with each other and landed significant strikes. Munhoz used calf kicks to great effect throughout the fight and then landed to the head and body. Edgar mixed up his boxing and wrestling to keep Munhoz guessing, to land strikes and takedowns. Edgar edged out the decision by landing more effective strikes and completing several takedowns. According to me, Edgar won rounds 1, 2 and 5 while Munhoz won rounds 3 and 4. Both fighters looked ready and brought the fight. They were constantly engaging and displayed their speed and skills were on full display. A very close fight, but the better man on the night won the fight.
"The Answer" Frankie Edgar deservedly moved Edgar up to #5 on the bantamweight rankings after this win, edging him closer to the bantamweight title. The next fight for Edgar should be against former champion Dominick Cruz. Although Cruz is ranked #11, he lost to the champion at the time Henry Cejudo, and both these guys would be in a very good position with a win over each other.
Pedro Munhoz had a fantastic performance and should receive credit despite the loss. He now has two losses in a row but only to the very top fighters in the division, which is nothing to be ashamed of. He has spectacular wins on his record, and he too is not very far from a title shot. Jose Aldo would be the perfect next opponent for Pedro Munhoz. Both fighters are coming off losses and their ranked 6 and 7. This would be a great fight.
---
Notable Winners from UFC Vegas 7
1. +800 underdog Shana Dobson finished the dangerous Mariya Agapova with ground strikes. Nobody thought Dobson would win this fight, but not only did she win, she finished Agapova. Agapova came out firing and after weathering the early storm, Dobson made Agapova pay heavily. Congratulations to Dobson on the win and the performance of the night bonus.
2. Another huge underdog, Trevin Jones had a phenomenal comeback and knockout over Timur Valiev. Jones took this fight on 3 days notice. The first round saw Jones severely hurt and in danger of being finished. The second round however Jones was able to land a vicious right hand and then hammer fists on the ground to finish the fight. Another well-deserved performance of the night bonus.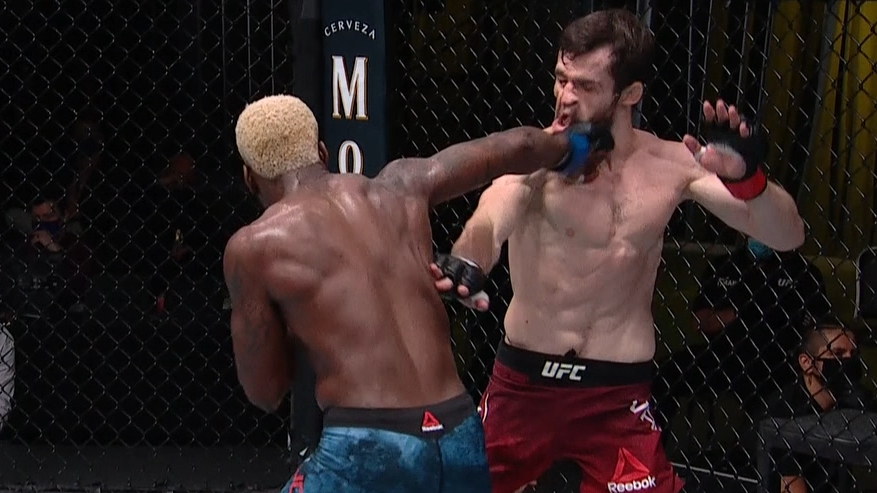 There were many other finishes on Saturday night and although they did not receive bonuses from the UFC, president Dana White promised in his post-fight interview that those fighters would be receiving a "surprise check in the mail." So, congratulations to all those fighters and what a fantastic card we had Saturday night.