The NHL is the best league around for a number of reasons. My favorite part is that coming into each season, you can really only count out around 5 out of the 31 teams, lock in another 5-10 teams, and you have the rest of the league being a complete question mark in terms of their future success. Year in and year out there is a team that comes in and shocks the world, such as the 2018 St. Louis Blues or the 2012 LA Kings, and there are a few teams that stuck out to me so far based on their performance throughout the first month and some change in the NHL, here we go.
1. Edmonton Oilers
Edmonton has had the best player in the world for the past four seasons and they haven't been able to find success with him yet. Most Edmonton victories depend on the success of the dynamic duo of Connor McDavid and Leon Draisaitl, who have combined for 64 points throughout the team's first 19 games. The goaltending has been helping bail out the Oilers as well, with Mikko Koskinen sporting a 2.16 GAA and Mike Smith right behind him with a 2.22 GAA. Head Coach, Dave Tippet is in his first year behind the bench for Edmonton but is notorious for turning teams around in his first year with them. Edmonton is currently in first place in the Pacific with a 12-5-2 record good for 26 points.
2. New Jersey Devils
The Devils entered the 2019-2020 season with arguably the most hype surrounding them. They added PK Subban, first overall pick Jack Hughes, and former MVP Taylor Hall, who was coming back from an injury filled season last year. However, the young crew hasn't been able to figure it out so far, starting the season at just 5-7-4, good for 14 points and 3rd worst in the Eastern Conference. Hughes had a shaky start to the season, but has started to find his game more with 9 points (4 G, 5 A) in his first 16 games. The Devils will need to turn things around soon if they want a shot at the playoffs.
3. St. Louis Blues
The Blues came into this season fresh off a surprising Stanley Cup championship, but the question going into the season was, will the team experience a "Stanley Cup Hangover?" Yet, Coach Craig Berube has been able to keep the crew in line, and Jordan Binnington is continuing to prove he has no idea what a sophomore slump is as he has posted a 9-2 record with a .922 save percentage. In addition, St. Louis lost top scorer Vladimir Tarasenko to injury and that hasn't slowed them down yet. The other big guns in Ryan O'Reilly, David Perron, and Brayden Schenn have continued the lead the charge as they have combined for 53 points through 18 games. They've started the season with a 12-3-3 record (27 points), 1st in the Central Division. 
4. Vancouver Canucks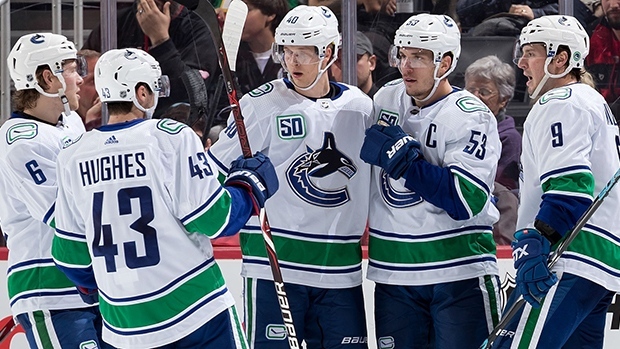 Vancouver is a team that few expected success from. They have a young core with elite talent, but it looked like it would take a few more years for all of the pieces to click. Throughout the 2019-20 season, they have already went on a 8 game point streak (5-0-3), before dropping their last 3 straight games. Their young guns are tearing it up, with Elias Pettersson leading the charge with 21 points (6 G, 15 A) and recently acquired J.T. Miller not far behind with 19 points (8 G,11 A). Vancouver has also seen outstanding goaltending from both of their net-minders, as Thatcher Demko has a 1.99 GAA, and Jacob Markstrom not far behind with a 2.47 GAA. I'm not sure if Vancouver has enough in the tank to continue their early success, but they're a fun team I am going to keep an eye out for.
5. San Jose Sharks
San Jose lost their captain, Joe Pavelski, to the Dallas Stars this off-season, but the Sharks still came into the season looking good on paper with guys like Logan Couture being named the new Captain, and Brent Burns, and Erik Karlsson headlining their defense. Yet, San Jose currently sits 7th in the Pacific Division with a 7-10-1 record. A lot of the blame can fall on the goaltending, with starter Martin Jones sporting a .888 save percentage and 3.31 GAA. On top of the poor defense, San Jose has also struggled offensively, averaging just 2.61 goals per game. San Jose always seems to be in the race as a Stanley Cup Contender, but it appears as though that is coming to a close this year.