By: Nathan Baakko
Merriam-Webster defines a sleeper as "someone or something unpromising or unnoticed that suddenly attains prominence or value."
With the NFL Draft now just over a week away, talks are growing over who is worthy of their projected pick. Today, we look into the offensive side of the ball at some potential sleepers who could outperform their projected pick and make a splash in the league.
5) James Morgan, QB, Florida International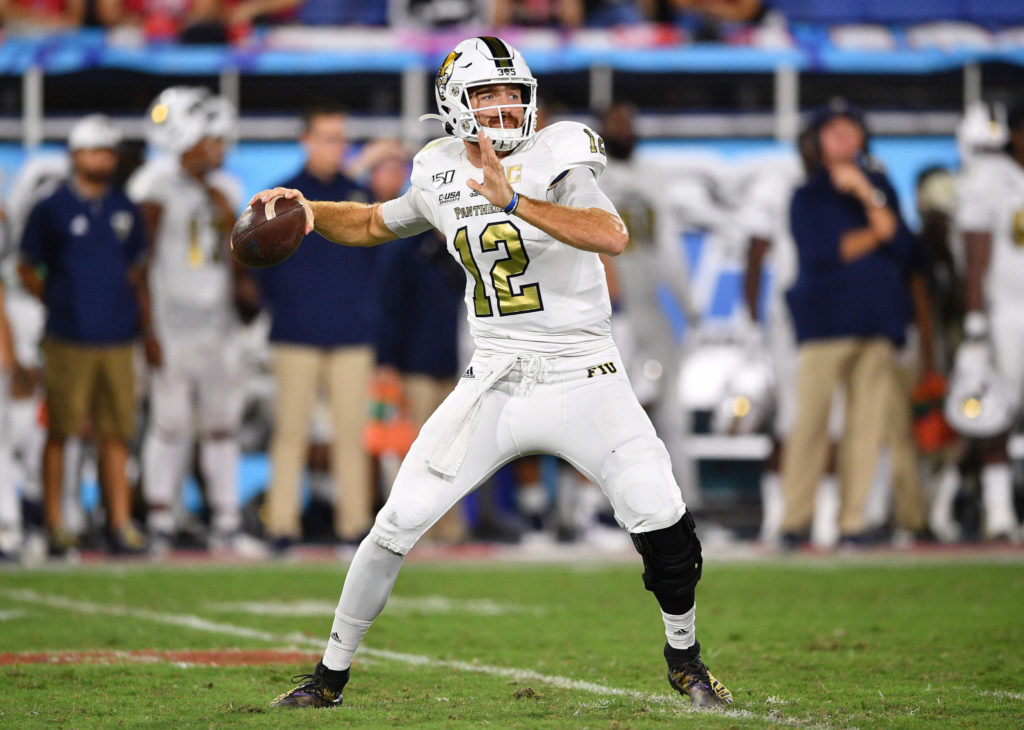 The strong-armed, pro-style QB checks in at 6'4", 230-pounds. He started his career at Bowling Green then transferred after 3 seasons to FIU where he played as a redshirt junior and senior. In his career, Morgan completed 699 passes for 8,654 yards and 65 touchdowns. In his two years at FIU, he threw a mere 12 interceptions compared to his 40 TDs while recording a 142.6 QBR, showing his ability to avoid turnovers. Morgan played through a knee injury his whole senior year, showing how tough he is while also showcasing his ability to complete passes into tight windows. Due to his ability to put great spin on the ball and deliver passes consistently through tough defenses, Morgan appears to be a promising developmental QB that could go from backup to starter after a few years.
Projection: 5th – 6th Round
Potential: Late 3rd – Mid 4th Round Talent
4) KJ Hill, WR, Ohio State
Hill is a 6'0", 196-pound receiver who would fit perfectly in the slot position. Through 50 games, Hill recorded 201 receptions for 2,332 yards and 20 TDs while becoming OSU's all-time reception leader. He can run nearly any route, produces consistently, has great awareness and ball-tracking skills, and is always able to hold on to the ball. Hill is able to work his way into the middle of the field and has the ability to change his step cadence to create breaks in coverage. While he doesn't have the best size or speed, his route-running and ability to separate gives Hill great potential as a slot receiver.
Projected: 5th Round
Potential: Late 3rd – Early 4th Round Talent
3) Tyler Johnson, WR, Minnesota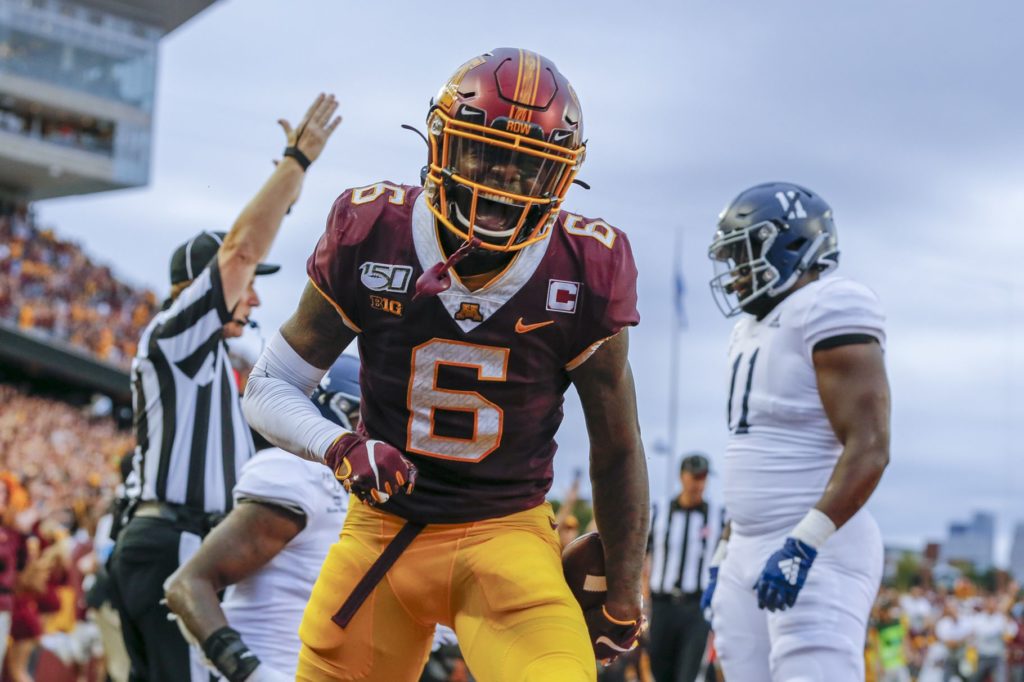 Johnson is a former high school QB that turned into an explosive 6'1", 206-pound WR. Johnson posted 213 catches for 3,305 yards and 33 TDs in his 43 games at Minnesota and made plenty of contested plays. He has crazy instincts when going up for a catch, has great acceleration, is able to body defenders in close quarters, and is able to work his way back to his QB when needed. Johnson will be great as an outside and red-zone receiver with his large catch radius. He has great footwork and lateral movement while still able to win vertical battles thanks to his size and ability to box out. Johnson is the type of receiver you want on your team because you can throw the ball up into coverage and he'll come down with it.
Projected: 4th – 5th Round
Potential: 3rd Round Talent
2) Colby Parkinson, TE, Stanford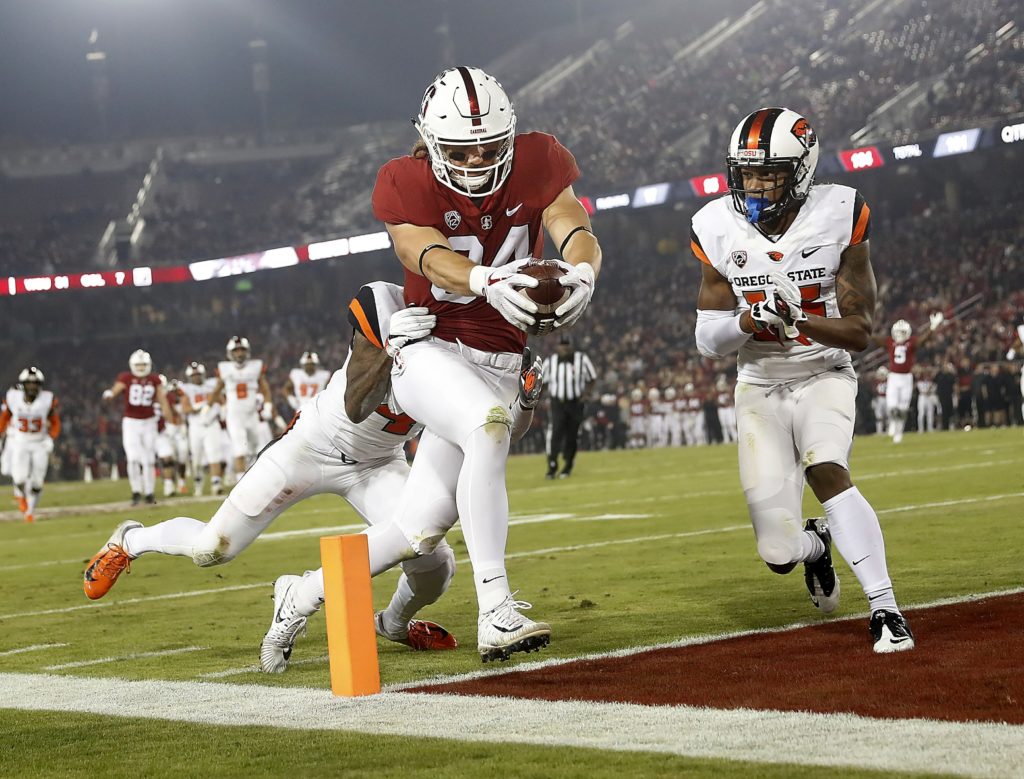 Parkinson is a 6'7", 252-pound TE who can stretch the field and make huge plays in the red zone. Although Parkinson's college stats aren't the most impressive, posting 87 receptions, 1,171 yards, and 12 TDs through 31 games, he still earned all-PAC 12 second team honors playing with multiple QBs. He plays like a tall receiver, can adjust quickly going downfield, creates great route leverage, and is able to make great catches away from his body. His size makes him a promising run blocker and gives him the ability to go over and box out smaller defenders. Parkinson is my #3 TE in this draft and should be next in line of a recent successful family of Stanford TEs to enter the league.
Projection: 5th Round
Potential: 3rd Round Talent
1) Zack Moss, RB, Utah
Moss is the most underrated player in the draft. The 5'9", 223-pound RB boasted three straight 1,000-yard and 10 TD seasons, while also averaging over 5 yards per carry in that span. In any game where Moss had 10 or more carries, he broke at least 4 tackles and earned nearly 3/4 of his rushing yards after initial contact. He looks like a RB in madden with all of his juke moves and stiff-arms. Moss absorbs contact with ease, has great vision, and is able to produce bursts of speed on the spot. Not only is he a great runner, but he also shows potential as a pass-catcher, recording 66 catches for 685 yards and 3 TDs while breaking another 33 tackles. Moss is my #2 RB in the draft and will be a productive starter within his first 2 seasons.
Projection: 3rd – 4th Round
Potential: 1st Round Talent
This group of players all have great potential to be much better than their projections, some even have the chance to become star players. Nearly all of these players will likely be taken on the last day of the draft however have the talent to be taken before then. It surely will be interesting to see these where these players are drafted and how they perform in their rookie seasons.