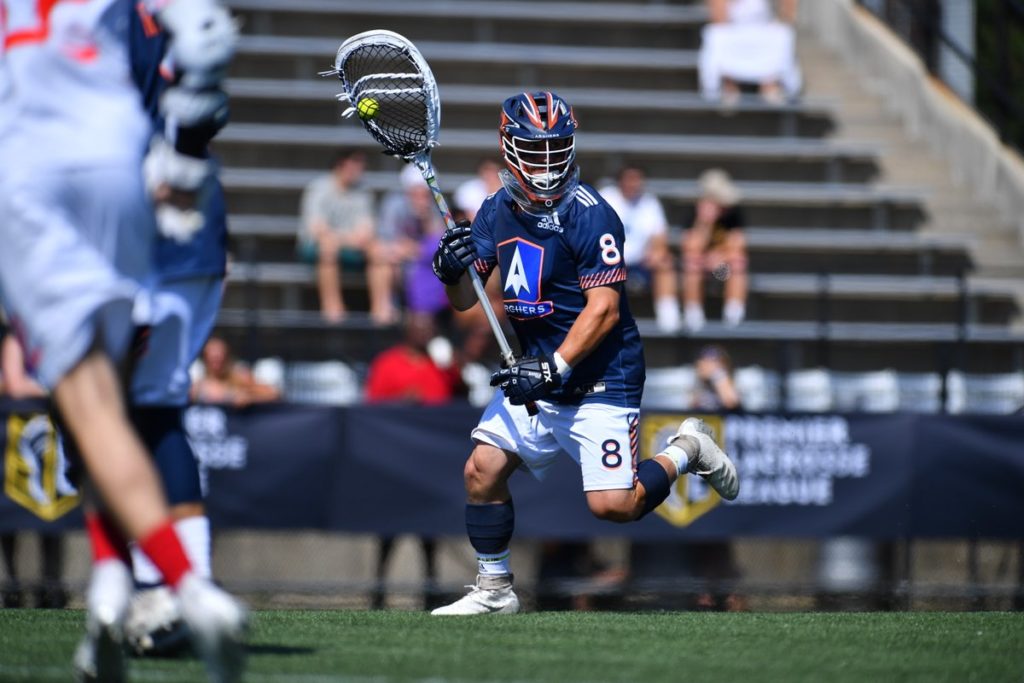 The PLL announced its new playoff concept Tuesday night. The format of this playoff is something completely unique to the entire sports world but can possibly be the best concept in sports history. The PLL's postseason consists of a 3 week playoff with 2 separate brackets , The Championship Bracket and The 1st Draft Pick Bracket. Here's how it works..
Championship Bracket – Teams in this bracket will be playing for the PLL Title. Matchups included in this bracket are Game 1, Game 2, Game 4, Game 6.
1st Draft Pick Bracket – Teams in this bracket are playing for the #1 pick. Matchups included in this bracket are Game 3, Game 5, and Game 7.
Playoff Week 1
Game 1 – #1 Seed VS #2 Seed – Game 1 will be played in the PLL Championship Bracket, winner of this game will advance to the PLL Championship, the loser will be given a shot of redemption in Game 4, which is still played in the Championship Bracket
Game 2 – #3 Seed VS #4 Seed – This game determines which bracket the #3 seed and #4 seed play in. The winner of this game will be fed into the Championship Bracket and will play in Game 4. The loser of Game 2 will be fed into the 1st Draft Pick Bracket playing in Game 5.
Game 3 – #5th Seed VS #6th Seed – Game 3 will be played in the 1st Draft Pick Bracket, winner of this game will advance to Game 7 AKA the game to decide who gets the 1st pick in the PLL Draft. Loser will play in Game 5
Playoff Week 2
Game 4 – Loser of Game 1 VS Winner of Game 2 – Teams playing in Game 4 are battling it out for the final spot in the PLL Championship.
Game 5 – Loser of Game 2 VS Loser of Game 3 – Both teams playing in this game still have something to fight for, whoever wins will play the winner of Game 3 and battle it out for the #1 pick.
Playoff Week 3
Game 6 – PLL Championship – Winner will be crowned the Inaugural PLL Champions.
Game 7 – 1st Draft Pick Game – Pretty self explanatory, winner gets #1 pick in next year's draft.
Need a visual for how it works? Here is a video of Kevin Boilard laying it out
Every regular season game will matter. Of course every team wants to win the championship, but teams will play harder knowing every team can still earn something at the end of the season. All games played so far has been evenly matched, with multiple game decided between 1 goal. This new playoff is going to create so many more intense and exciting games as each team still has a chance at playing in the championship bracket. I like this idea a lot because all teams have an incentive to work for, and it allows for players to stay motivated all season
It will also mitigate any potential tanking in the league. This league is obviously brand new and all teams are pretty stacked, but this new playoff shows that teams will have to earn the #1 draft pick instead of losing consistently to obtain it like the many other pro leagues have done. Everything should be earned in sports, no one should be entitled to anything.
Could other sports emulate this postseason format?
I really do not see it as of right now. Of course we will have to see how the PLL's postseason goes and how many people watch, but it would be very hard for other sports to conform to this design. The NFL plays 16-20 games a year not including the preseason, players would probably want to rest instead of playing for a number one pick. The league that would probably be the most likely is the NBA, but players still probably want rest from a long season and organizations would probably struggle to sell tickets if games were just for higher draft picks. It would however, reduce the amount of tanking we have seen in the NBA, but the league will probably find other ways to work with the NBA Lottery. With a slight drop in MLB viewership, it would difficult to get fans to come watch games for picks, unless you are just a true baseball fan. This could remain exclusive to the PLL and that is ok. It keeps the PLL unique and can show why the new pro lacrosse league is so great and fun to watch.
Why this is perfect for the PLL
Players are soaking in the attention and exposure they are getting. All lacrosse players play in the pros simply because they love the game. Although the PLL offers higher salaries than the MLL, no one except maybe Co-Commissioner and Atlas Midfielder Paul Rabil gets a very comfortable salary like other professional leagues. Many players left their finance or other white collar jobs just to have another opportunity to play their favorite game. This playoff gives players all teams a chance to battle with their brothers at least one more week, get the exposure they deserve, help grow the game, and simply just have fun.