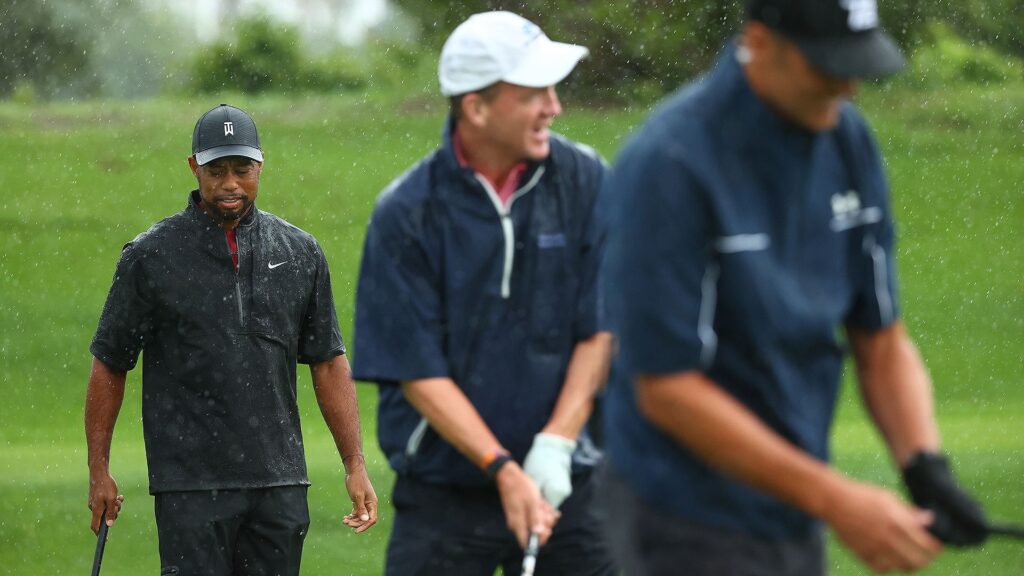 By: Ross Sutton
Outside of the really bad rain (seen above) for most of the day, The Match 2 was a truly awesome event for a number of reasons. To name a few: the smack talk amongst the players and commentators was hilariously entertaining, the format for the match was fun to watch, Tiger played great all day, Brady holed out from the fairway, Phil cut the corner to drive a green, Brady split the back of his pants, and maybe most importantly, the match was competitive.
It really is a shame that the weather was so terrible because other than that, this was a fantastic event. The TNT crew that worked in the rain throughout the day deserve a ton of credit for making the event happen, as they certainly had their hands full. Something else that was so great about this event was that Justin Thomas was doing commentary while following the group around the course and he was really funny and insightful. His "rivalry" with Charles Barkley that was mostly centered around the very real rivalry between their respective colleges of Alabama and Auburn featured a few really funny jabs. The best in my opinion was JT saying to Chuck, "I'd like to see your fat ass dunk a basketball right now," but their back and forth was very funny to hear throughout the day. The players also had a lot of fun with each other as they didn't hold back either. The best line of smack talk between the players was probably when Tiger made a joke about having won the US Open to Phil who has infamously finished second in the US Open a record six times.
This was such a fun event to watch, as it's been quite a while for me since I've seen any live sports, and The Match 2 certainly exceeded my expectations. Peyton's game impressed me as he really held his own against the pros and even though Brady struggled for a lot of the day, he had the best shot of the day when he holed out from the fairway and he also made a few good putts throughout the round. The Match 2 eventually ended with Tiger and Peyton winning by 1, but this was such a great event and it was even better to see so much money get donated to COVID-19 relief.
P.S. maybe we'll get "The Match 3" featuring Steph Curry (who is a REALLY good golfer)……