In today's sports, it's very rare to see one player stay on the same team for his entire career. Even some of the most iconic players who are known for being on a certain team bounce around towards the end of their careers. Other players have very short stints on certain teams because of trade deadline deals right before they hit free agency. Here is a list of well-known players on obscure teams.
AL East
Yankees: Jose Canseco (2000)
Stats: 37 G, .243 BA, 6 HR, 19 RBIs
By the year 2000, Jose Canseco was at the tail end of his career, as he had just turned 40. Even still, in 1999 he was an All-Star with the Devil Rays. Canseco started the season with Tampa Bay but was traded to the Yankees midway through the year. Many people believe that the Yankees didn't even want Canseco, but rather, they traded for him to keep him away from the Red Sox.
Red Sox: Bartolo Colon (2008)
Stats: 7 G, 39 IP, 4-2, 3.92 ERA
Bartolo Colon is known for bouncing around during his seemingly endless career. Colon has been a member of many different teams, but no stint was shorter than his time in Boston in the 2008 season. The 35-year old would pitch in just 39 innings for the Red Sox that year, and his journey would continue to the south side of Chicago with the White Sox next. 
Orioles: Reggie Jackson (1976)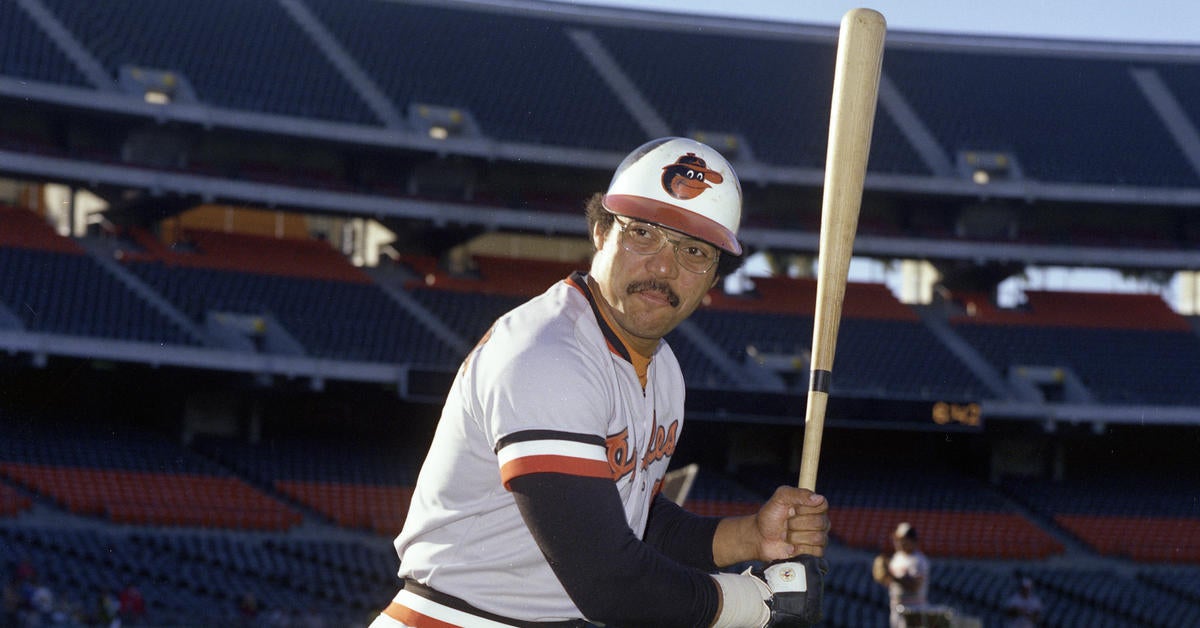 Stats: 134 G, .277 BA, 27 HR, 91 RBIs
Jackson was an Athletic from 1968 to 1975 and a Yankee from 1977 to 1981, but sandwiched between his two most memorable teams was his 1976 season with the Baltimore Orioles. Baltimore failed to reach the playoffs with Reggie, and he signed with the Yankees for a record contract that winter.
Rays: Manny Ramirez (2011)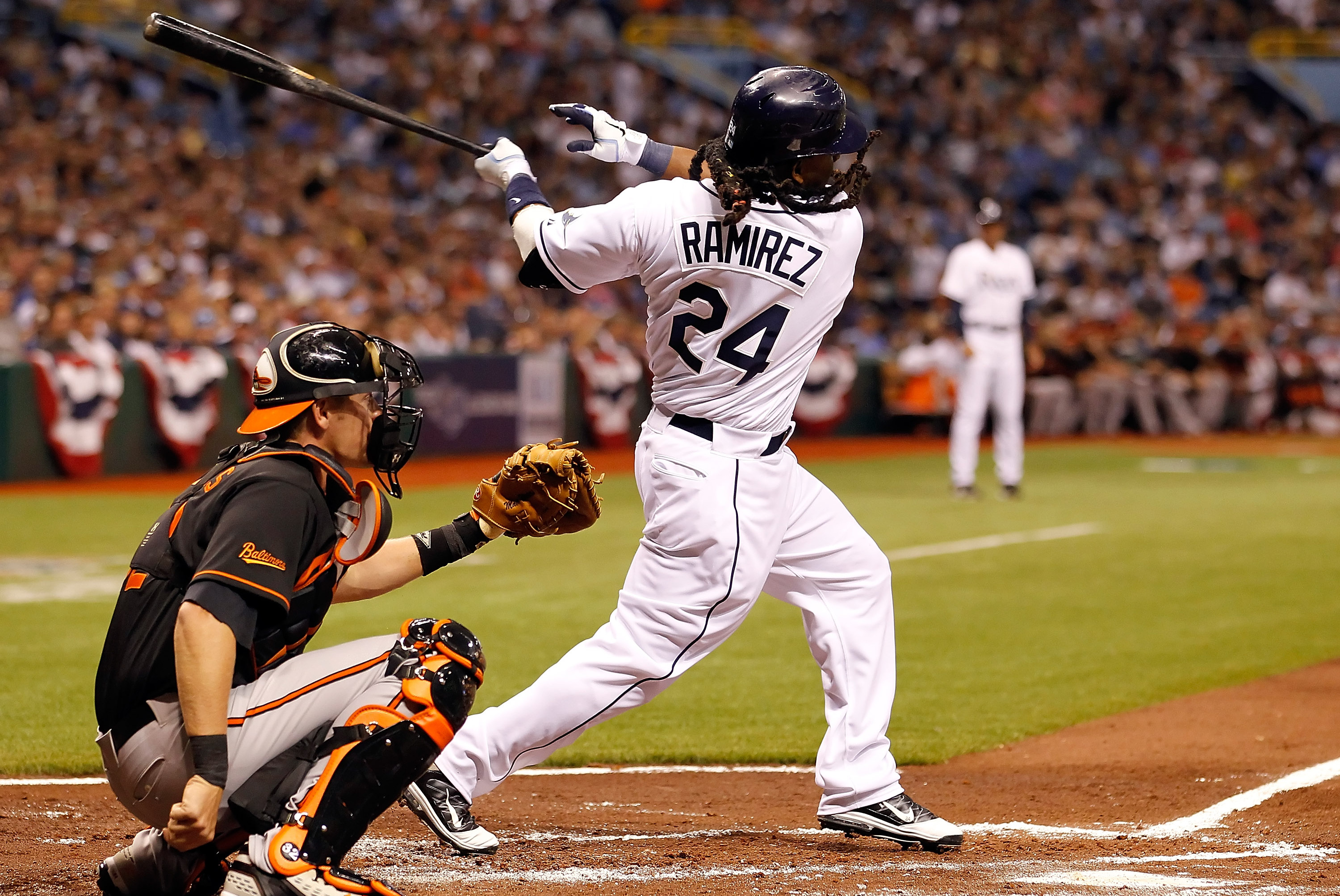 Stats: 5 G, .059 BA, 0 HR, 1 RBI
Manny is legendary in two cities, Cleveland and Boston, and even made a name for himself during his brief time in Hollywood with the Dodgers, but his least memorable stop was where he played his final major league games in Tampa Bay.
Blue Jays: Frank Thomas (2007-2008)
Stats: 182 G, .265 BA, 29 HR 106 RBI
"The Big Hurt" built his Hall of Fame resume on the White Sox, but bounced around to Oakland and Toronto in his final few seasons. Despite his longlasting excellence in the batters box, Toronto saw Thomas in his least effective form.
AL Central
Twins: David Ortiz (1997-2002)
Stats: 455 G, .266 BA, 58 HR, 238 RBIs
"Big Papi" will forever be a Boston sports icon, but he actually started his career with Minnesota. During his time with the Twins, Ortiz would only play more than 89 games in two seasons and didn't have much of an impact when he did play. Ortiz will forever be a Red Sox legend in the eyes of many, but its important to recognize his roots, no matter how bleak they were.
Tigers: Yoenis Cespedes (2015)
Stats: 102 G, .293 BA, 18 HR, 61 RBIs
When Cespedes entered the MLB from Cuba with the A's, all eyes were on him, and he exceeded many expectations. Despite his success in Oakland, the A's traded him to the Red Sox in 2014 who then traded him to Detroit the following winter for Rick Porcello. At the time, it looked as though the Tigers roster was stacked, but at the deadline, Cespedes was traded again, this time to the Mets.
Royals: Johnny Cueto (2015)
Stats: 13 G, 81.1 IP, 4-7, 4.76 ERA
In 2015, Johnny Cueto, then a lifelong Red, was in the middle of one of his best seasons before getting traded to the Royals at the deadline. Although he would struggle with KC in the regular season, he stepped it up in the postseason, where he would pitch two games in the ALDS and even throw a complete game in the World Series allowing one run on two hits. 
Indians: Josh Donaldson (2018)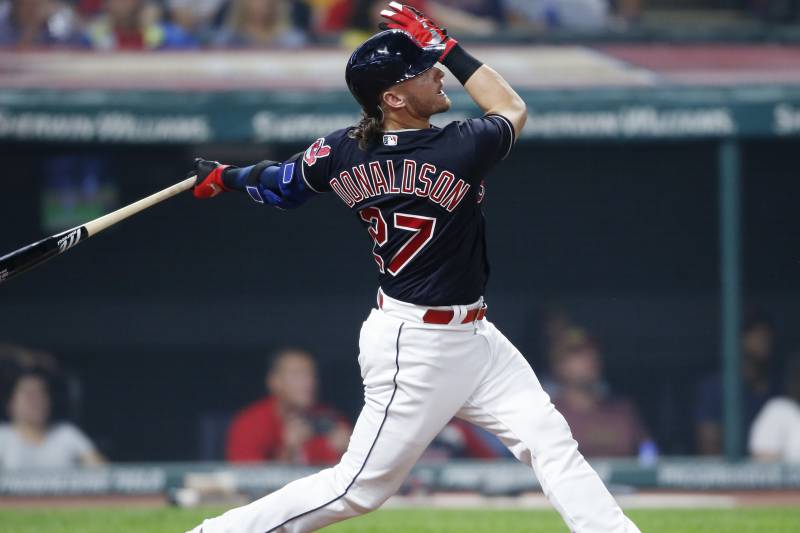 Stats: 16 G, .280 BA, 3 HR, 7 RBIs
After an up and down start to his career, it looked like Josh Donaldson, 2015 AL MVP, had found his home with the Blue Jays. After missing most of the 2018 season with injuries, Toronto decided to move on from the aging star, trading him to the Indians for the remainder of the season, as he was eligible to become a free agent at the season's conclusion. Donaldson would go 1-11 in the ALDS against the Astros that season.
White Sox: Roberto Alomar (2003 & 2004)
Stats: 85 G, .238 BA, 4 HR, 25 RBIs
The Hall of Fame second baseman is known for his time with the Orioles, Indians, and Blue Jays mostly, but by the end of his 22-year career, Alomar started to bounce around. In July of 2003, he was traded from the Mets to the White Sox, and after signing as a free agent with Arizona that offseason, he was again traded to the White Sox, where he would play the final games of his career.
AL West
Athletics: Johnny Damon (2001)
Stats: 155 G, .256 BA, 9 HR, 49 RBI, 34 2B
Before the long hair and thick beard, and before his two World Series championships, Johnny Damon spent one season with the Oakland Athletics. His play was pretty average, but many remember his time there from the movie Moneyball, where Billy Bean (played by Brad Pitt) watched stadium workers remove the Damon banner from the side of the Coliseum. As previously mentioned, after leaving Oakland, Damon did much bigger things with his career.
Angels: Zack Greinke (2012)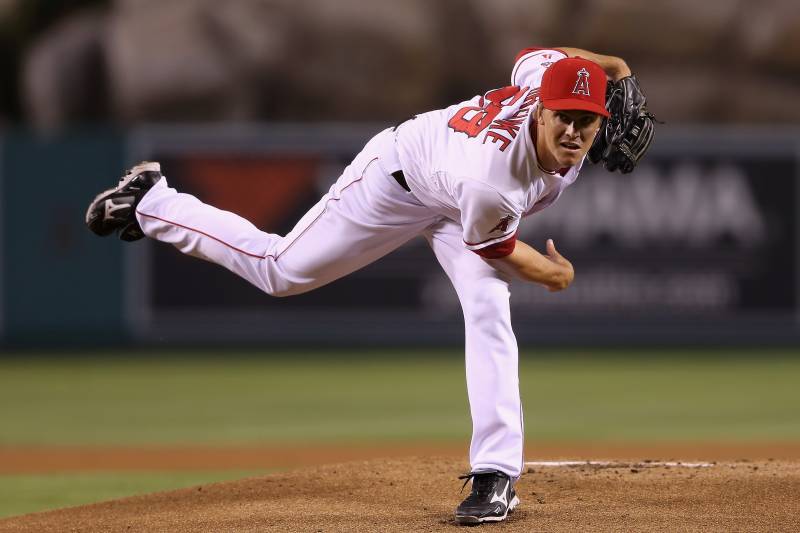 Stats: 13 G, 89.1 IP, 6-2, 3.53 ERA
In July of 2012, Greinke was traded from the Brewers to the Angels for a package including Jean Segura. The Angels hoped that Greinke would resign with them at the end of the season, as he was entering free agency that winter. Unfortunately for them, he opted to sign with the Dodgers, resulting in a very short stop on the Angels.
Astros: Andy Pettitte (2004-2006)
Stats: 84 G, 519.2 IP, 37-26, 3.38 ERA
Andy Pettitte is known for two things, being a Yankee and winning playoff games. During his time in Houston, Pettitte most notable "achievement" was his steroid use with his buddy Roger Clemens and their trainer. Although Clemens "misremembers" the whole thing, Pettitte can confirm that it happened. Everyone including Pettitte wishes he never went to Houston.
Rangers: Lance Berkman (2013)
Stats: 73 G, .242, 6 HR, 34 RBIs
Lance Berkman is best known for his time spent in Houston rather than Arlington, but the Puma finished out his career with the Rangers. Berkman joined a roster that was trying to get back to the World Series for the 3rd time in four years, but they fell short. After his season with Texas, Berkman decided to hang them up.
Mariners: Cliff Lee (2010)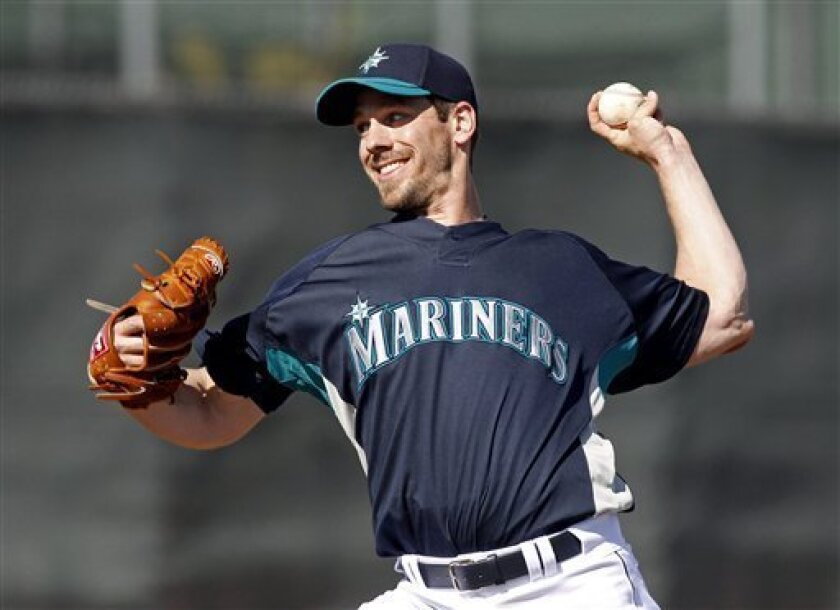 Stats: 13 G, 103.2 IP, 8-3, 2.34 ERA
After the Phillies fell short of winning back to back World Series titles in 2009, they decided to trade Cliff Lee to the Mariners. His stay in Seattle was short and sweet, as Lee would dominate before getting traded to Texas in July of 2010, where we would end up losing in the World Series again.
NL East
Mets: Justin Turner (2010-2013)
Stats: 297 G, .267 BA, 8 HR, 86 RBI
Before making an All-Star team and becoming NLCS MVP with the Dodgers, Justin Turner was a mid-tier Mets prospect struggling to stay in the show. Turner spent time with the Mets from 2010-2013, before joining the Dodgers, where he would immediately improve offensively, hitting .340 in 109 games in 2014. *Turner's stats above are listed from 2011-2013 when he exceeded his rookie eligibility.
Phillies: Pedro Martinez (2009)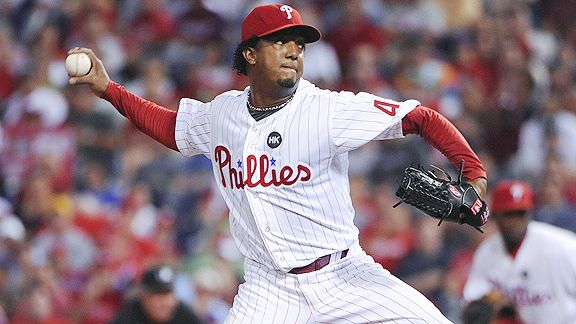 Stats: 9 G, 44.2 IP, 5-1, 3.63 ERA
Pedro Martinez had a Hall of Fame career, but his resume wasn't built in Philly. Pedro would join the Phillies for the 2009 season to try to help them repeat in the World Series. After the 2008 season with the Mets, Pedro became a free agent. He wouldn't end up signing with the Phillies until July. He also made several key playoff start for them.
Nationals: Ivan Rodriguez (2010-2011)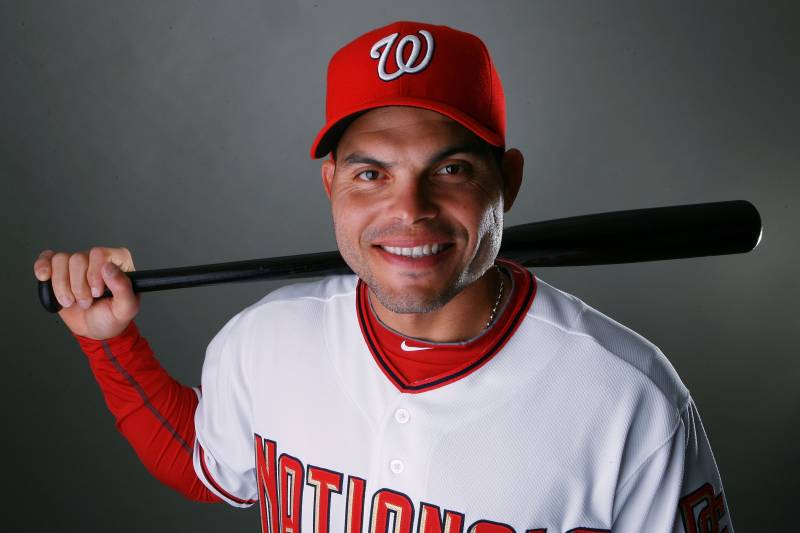 Stats: 155 G, .255 BA, 6 HR, 68 RBIs
The Hall of Fame backstop would bounce around a bit towards the end of his career, playing his final two seasons for the Nationals. Statistically, these were his least memorable seasons. 
Braves: Brandon Phillips
Stats: 120 G, .291 BA, 11 HR, 52 RBIs
After a great stint with the Reds, Phillips would be forced to move on with his career when he was traded to Atlanta. Phillips would only play with the Braves until the August 31st deadline when he was sent to the Angels, where his career would basically die.
Marlins: Mark Buehrle (2012)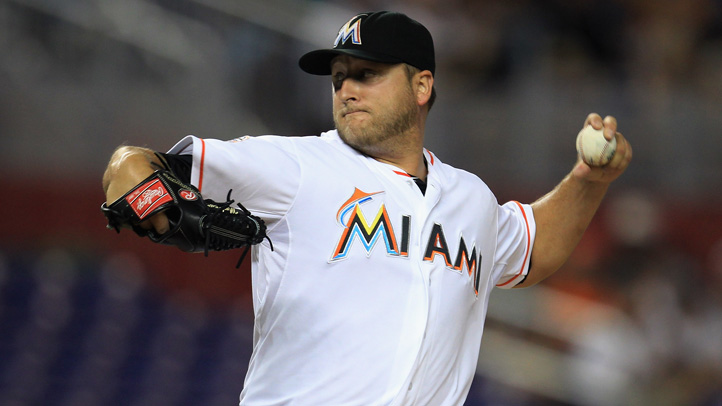 Stats: 31 G, 202.1 IP, 13-13 3.74 ERA
Buehrle will always be remembered for his brilliance as the White Sox ace, but before he would finish out his career with the Blue Jays, he would sign a free agent contract with the Marlins. This was a time for hope for Miami, as it was their first year in their new ballpark. Additionally, ownership took many steps to try to build a winning team. During the offseason, they acquired Jose Reyes and Heath Bell in addition to Mark Buehrle and others, but midway through the season, they blew up the entire plan by trading Hanley Ramirez to the Dodgers. Because of this, Buehrle's stay in Miami was short.
NL Central
Reds: Jim Edmonds (2010)
Stats: 13 G, .207 BA, 3 HR, 3 RBIs
Jim Edmonds would play several memorable years for the Angels and Cardinals, but at the age of 40, while attempting a comeback, Edmonds spent some time in Cincinnati. His stay was so short, many Reds fans might even be surprised by this.
Cubs: Rich "Goose" Gossage (1988)
Stats: 46 G, 43.2 IP, 4-4, 4.33 ERA
In his time, Gossage was one of the most dominant pitchers in the game, which makes it surprising how much he bounced around. In a career that spanned 22 years, Gossage played on nine different teams. Although there are many teams that surprisingly had Goose on their roster at some point, his season with the Cubs was one of his worst of his Hall of Fame career.
Pirates: Justin Morneau (2013)
Stats: 25 G, .260 BA, 0 HR, 3 RBIs
At one point in his career, Morneau was a part of the best duos in the game with Joe Mauer. In Minnesota, Morneau was regarded as one of the best first baseman in the sport. Once out of his prime, Morneau basically disappeared, but he wasn't gone, he was in Pittsburgh.
Cardinals: Jason Heyward (2015)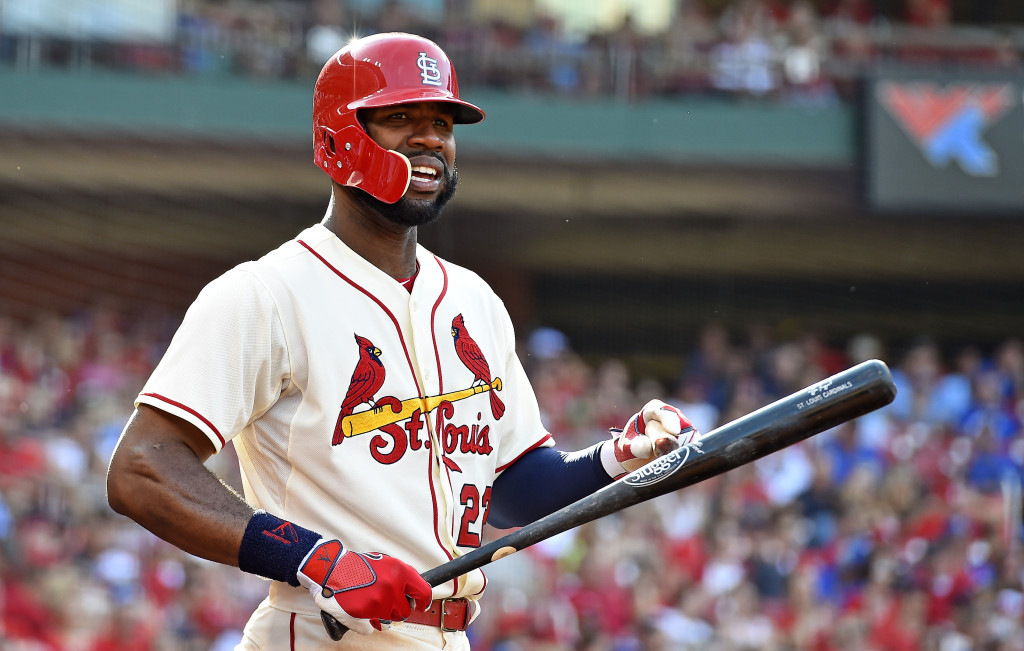 Stats: 154 G, .293 BA, 13 HR, 60 RBIs
His first MLB at-bat was a home run with the Braves, but since then, it's hard to say whether Jason Heyward lived up to the hype or not. Even still, Heyward went from a top prospect and young talent with the Braves to a leader and a World Series champ with the Cubs. Sandwiched in between those two sections of his career was one season in St. Louis.
Brewers: Nelson Cruz (2005)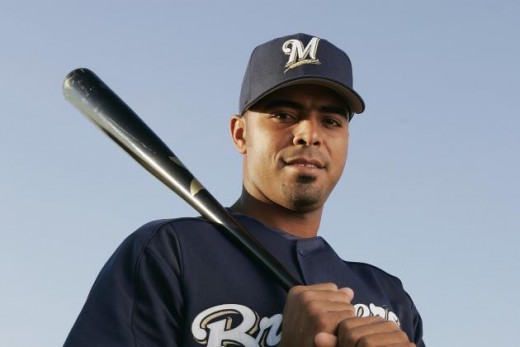 Stats: 8 G, .200 BA, 0 HR, 0 RBIs
Before his potentially Hall of Fame caliber career, Nelson Cruz came up with the Brewers and made his MLB debut with them in 2005. Cruz would go on to be one of the most respected power hitters of this generation, tallying 401 career home runs to this point.
NL West
Dodgers: Jim Thome (2009)
Stats: 17 G, .235 BA, 0 HR, 3 RBIs
Thome is known for his power from the left side of the plate. He was a key member of the dangerous Indians team from the 90s, before joining a multitude of teams in the 2000s. The shortest stop of his Hall of Fame Career came with the Dodgers in 2009. The Dodgers have a history of signing veterans to help with playoff pushes and clubhouse leadership. It's hard to say whether or not Thome filled that void in such a short period of time.
Giants: Carlos Beltran (2011)
Stats: 44 G, .323 Ba, 7 HR, 18 RBIs
The best stretch of Beltran's career came with the Mets, but in 2011, the Mets decided to move on from the aging star, trading him to San Francisco for Zach Wheeler. Beltran would finish the season with the Giants before signing with the Cardinals in free agency.
Padres: Craig Kimbrel (2015)
Stats: 61 G, 59.1 IP, 4-2, 39 SV, 2.58 ERA
Kimbrel was arguably the best closer in the National League when he was traded to the Padres from the Braves before his impending free agency that winter. Kimbrel had been an All-Star the previous four seasons, and he was looking to make an impact with the Padres.
Rockies: Jose Reyes (2015)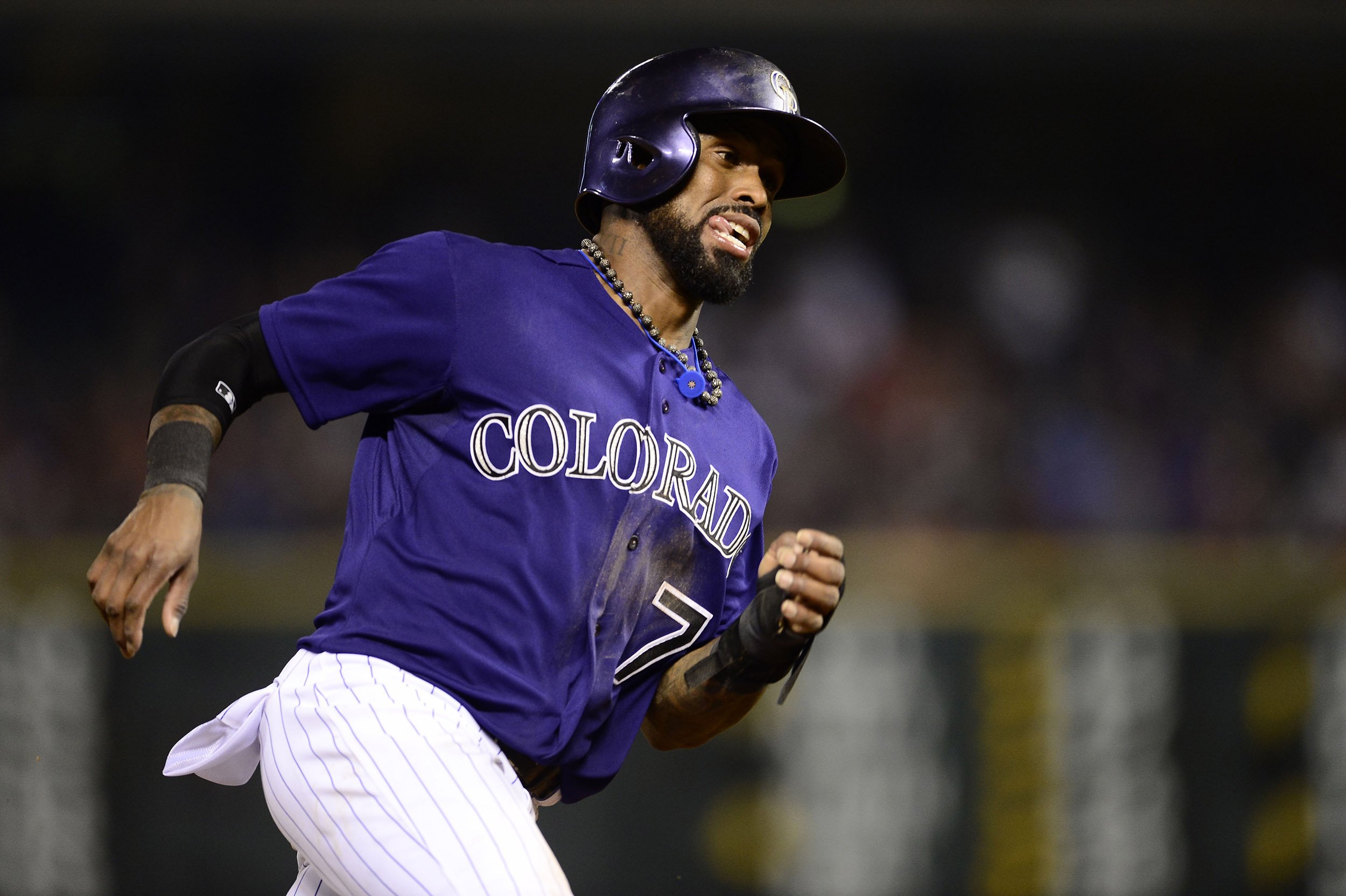 Stats: 47 G, .259 BA, 3 HR, 19 RBIs
As a member of the Mets, Jose Reyes was dynamic when healthy, but that was the problem. After a season in Miami and a stretch with the Blue Jays, Toronto decided to trade Reyes in the Tulowitzki trade. Reyes was looking to revive his career in Colorado as he was facing a domestic abuse controversy, and his production on the field was falling off as well. Reyes would end up returning to the Mets following his short stint with the Rockies.
Diamondbacks: Adam Jones (2019)
Stats: 137 G, .260 BA, 16 HR, 67 RBIs
Although now he plays overseas, Adam Jones seems like he always should've been an Oriole, but that is not the case. Jones was actually a rookie on the Seattle Mariners before having the rest of his career with Baltimore, where he was essentially the captain of the team before departing in free agency before the 2019 season. The Diamondbacks were looking to benefit from his leadership and his play on the field.