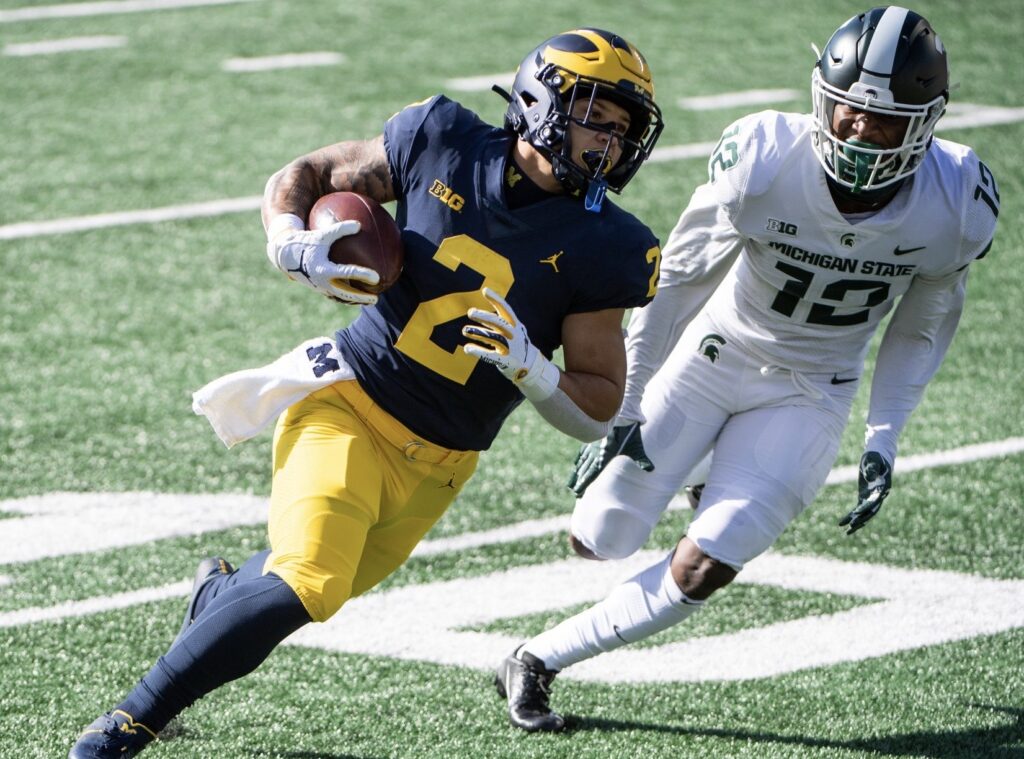 By: James Murphy
The No. 13 Michigan Wolverines (1-1) fell back down to earth hard in a 27-24 loss to their in-state rivals, the Michigan State Spartans (1-1).
Joe Milton completed 32 of 51 passes for 300 yards and no touchdowns. Hasaan Haskins ran for eight carries on 58 yards and a touchdown. Roman Wilson had five catches for 71 yards while Giles Jackson had seven catches for 58 yards.
The Spartans got the scoring started with a 30-yard pass from Rocky Lombardi to Ricky White-who would go on to have eight catches for 196 yards and a touchdown-to put them up 7-0. Michigan answered on the next drive when Blake Corum ran eight yards for the tying touchdown. Michigan State used a big play and a short pass to the endzone to go back up 14-7. However, the maize and blue took it to the Spartan's five-yard line before having a wildcat run and wildcat pass stopped, forcing them to kick a field goal and go into halftime down 14-10.
On their first possession of the third quarter, the Spartans worked their way inside Michigan's ten-yard line, but were forced to settle for a field goal to make it 17-10. On the next drive, the maize and blue scored on another touchdown run by Blake Corum followed by a Michigan State field goal to make it 20-17.
The two teams traded blows for a bit, but the Spartans broke through late in the fourth quarter with a 98-yard drive for a touchdown to put them up 27-17. Michigan would drive to make it a 27-24 game, but they couldn't receiver the onside kick and the Wolverines failed to force a three and out, effectively putting the game on ice and sending the Paul Bunyan Trophy back to East Lansing, Michigan.
It was a day when Michigan's strength suddenly became their weakness. The running game couldn't get anything going in between the tackles. The cornerbacks were unable to keep up with any receivers, let alone the best ones on the team.
As a result, the pass rush rarely had enough time to make a play on Lombardi. When they did, no one could seem to hit him. The unit as a whole failed to adjust to stop the big plays.
Though his stat line was fairly impressive, Joe Milton forced multiple throws into tight coverage or just threw balls too far ahead of his targets. Though he didn't turn the ball over, he didn't do much to put his offense over the edge, something he has yet to prove as the starting quarterback.
Jim Harbaugh is now 1-5 at home against Michigan State and Ohio State, the team's two biggest rivals.
Michigan will need to bounce back quickly, as they face a feisty Indiana Hoosiers team next Saturday, November 7 at Noon eastern on FOX.