By: James Murphy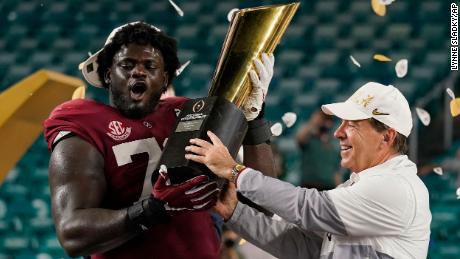 As the confetti fell in Miami to conclude a college football season that many are surprised was even completed, let alone started, Nick Saban and the Alabama Crimson Tide took in what might have been their most dominant season ever. Though the 52-24 final may not have reflected an exciting game, it concluded a season and contest that rewrote the history books for the players, the team and, most notably, it's drill sergeant.
Nick Saban's win in the national title game put him ahead of Bear Bryant for the most in the AP Poll era. More so, it seemed to separate him from his predecessor in regards to the debate on who the greatest college coach of all time might be.
In an interview with Jake Asman on SportsMapRadio, Saban sees Alabama's prominence in the college football world as more of a product of what Bryant and his loved ones did rather than what he's done over his tenure.
"It's certainly appreciated that people would make those kinds of comparisons, but it's not something that I really kind of think is something that's significant to me when it comes to what I do and how we try to do it in a first class way and have the best program we can have in the country," Saban said" But I don't think we could have the best program in the country if it wasn't for what Coach Bryant did here and established with the tradition of winning that he established."
Saban was then asked if he's ever wondered how much longer he could continue to coach. In quintessential Saban Fashion, he stated that the thought never crossed his mind. There's usually so much to do when the season ends, from players getting drafted and coaches leaving to recruiting coming to a close, that he never really considered hanging up the headset and doesn't plan to anytime soon
"So, as long as I'm healthy and feel like I can make a positive contribution to the program, I enjoy doing this and want to continue to do it," Saban said "But God willing, that will be for a while, but you never know."
Saban currently has a 256-65-1 record in the college circuit to go along with nine SEC titles and seven national championships. Should he in fact return for the 2021 season, Saban would be entering his 15 season in Tuscaloosa and would look to ensure that the Crimson Tide repeat as national champions, something they haven't done since the 2011 and 2012 seasons.
Watch the full Q&A here: