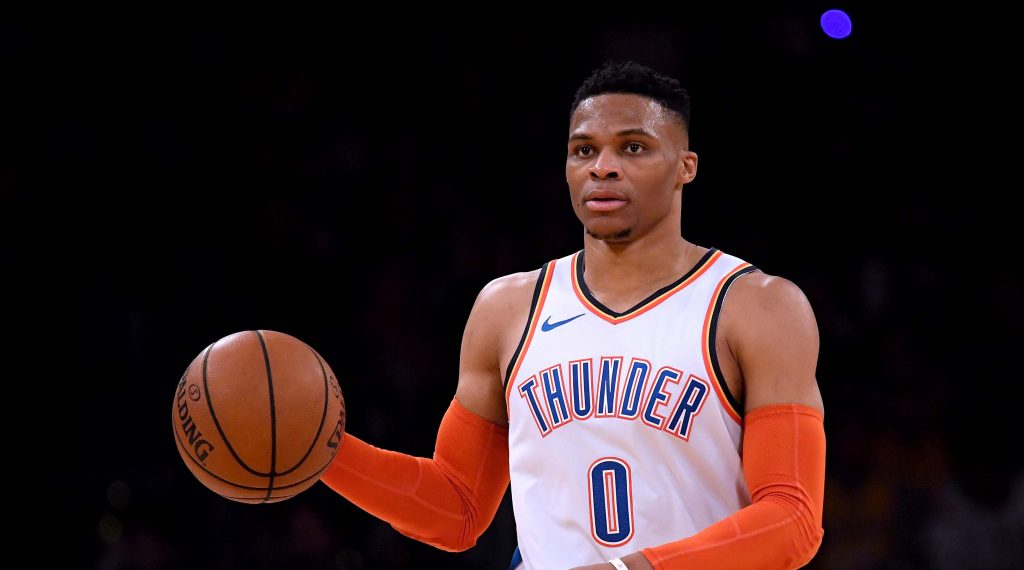 Russell Westbrook has long been proclaimed as one of the top point guards in the league, but I think a lot of basketball fans are realizing that is simply not true anymore. No, I don't care about his triples doubles, all I care about is wins, and Russell Westbrook consistently has a negative plus/minus. Last night, we saw a fantastic series finale between the Thunder and the Trail Blazers, as Damian Lillard hit one of the most unbelievable game winners we have ever seen. Oh, and Dame also dropped 50 points against Russ last night.
In today's NBA, Russell Westbrook's game is just not as valuable as it was when he first entered the league. The league is now a three-point shooting league, and the only way Russ can score on a consistent basis is driving to the basket. If you didn't agree with this before the playoff series between the Thunder and the Blazers, you have to agree with this now. Over the course of the five game series against the Blazers, here are some of Russ' stats:
36% FG, 37% 3PT, -43 +/-
That three-point percentage is actually okay, as 36% from three is average in the NBA, but Russ was a 29% shooter from three during the regular season, so Russ' shooting is clearly not up to par. As I said before, the most effective way for Westbrook to score over the duration of his career has been driving to the basket due to his incredible athleticism. One aspect of his game was completely exposed though during this series, his mid-range jump shot.
In the 5 games the Thunder played in this year's playoffs, Russ' field goal percentage between 10-16 feet (an average mid-range jump shot) was an anemic 16.7%. I wouldn't have as much of a problem with this if he didn't shoot so damn much. When OKC was playing really well during the regular season, it was Paul George's team, not Russell Westbrook's. In this 5 game series, on average, Westbrook shot 22.2 times per game. Meanwhile, MVP candidate Paul George only shot 20.2 times per game. I know Westbrook has been on this team for much longer than Paul George, and he is the franchise guy, but it is unacceptable for Russ to be shooting more than George. In fact, Paul George only shot more than Russ in game 1 of this series. Game 5 was really the epitome of Russell Westbrook, as he shot the ball 31 times, including 11 threes. That simply cannot happen if the Thunder are going to make deep playoff runs. If Russ cannot learn how to take a backseat to Paul George, then George is really going to regret signing his long-term deal with OKC.
Then this morning on Instagram, Damian Lillard posted this, and I couldn't have loved it any more:
This might be a hot take (heavy sarcasm), but I'm pretty sure this message was directed at Russell Westbrook's demeanor on and off the court. Russ is constantly rude to reporters, and many of the players he has played with in the past admit that he can be hard to play with. I don't think this is a sustainable way to lead a team, as many guys will get sick of the up-tight attitude as years go by. To be blunt, Russ needs to take a long look in the mirror this offseason if the Thunder are going to improve next year.
We have seen the last of Russell Westbrook this season though, as Dame waved goodbye to the Thunder last night.