The sport of the lacrosse will never be the same. The Premier Lacrosse League has changed the game forever with their excellence on and off the field. I was fortunate enough to be able to witness the PLL's inaugural weekend in person and let me tell you; it was spectacular. The energy in the lacrosse community leading up to this weekend was fantastic, and everyone was super excited for Premier Lacrosse to get started. With the new rules and tour-based model, fans, players, and coaches were excited to see how week one at Gillette Stadium would turn out.
In my opinion, the inaugural weekend exceeded my absurdly high expectations. The new rules made the games faster in every aspect. The games were played in under 2 hours, which was great especially, for the summer when people want to relax and enjoy time down at the beach or pool. The actual speed of the game was astonishing, due to the shot clock being 52 seconds as well as the quick whistles the game kept on moving, it was comparable to hockey in that sense, the game just never stopped which was terrific from a fan's perspective. The shorter field resulted in quick ball movement because defenders were so compacted in. Although the field length was shortened by 10 yards, I absolutely loved the change. It made it a more significant challenge for offensive players to dodge and get their hands free. Before the weekend, I was expecting a lot more 2-point shots, after they changed the 2-point line from 16 yards out to 15 yards out, but the shorter field length impacted the ability for offensive players to get their hands free. But when they did? Oh boy, it was troubling for goalies to stop.
Especially when Archers Lacrosse Club Midfielder #26 Tom Schreiber (2X pro-lacrosse MVP) gets his hands free from 15 yards out with time and room…
Tom Schreiber #26 of Archers L.C. Scores the First 2-Point Goal in PLL History.
The PLL's opening weekend had an atmosphere that I've never personally experienced anywhere else. The first game on Saturday was set to begin at 1 PM ET, so I showed up a little early to make myself familiar with Gillette as well as to check out the PLL Fan Fest which was held just outside of Gillette Stadium. It was the perfect environment for parents to bring their young lacrosse players/fans. The fan fest called Premier Zone had a DJ, cornhole, fastest shot station, an accuracy station, as well as a meet and greet by some of the players as well as RJ Kaminski. You would've thought that RJ was the best attackmen in the league with the way little kids were cheering for him, he was a celebrity to these kids and always gave them the time of day for selfies, autographs, and pictures which was great to see. Not to mention he was on top of his social media game continuously giving fans VIP access to sidelines through the PLL and his personal Instagram stories.
I got some pictures along with videos from the Premier Zone on Saturday and Sunday to give you guys an inside look at what the Premier Lacrosse League is doing to amplify fan experience at professional lacrosse games.
Young fan DRILLS the target on his first chance during the accuracy station. Thank god I didn't have my stick on me, I wouldn't want to disgrace the creators game.
Premier Lacrosse League Social Media/Vlog Host RJ Kaminski takes time to sign autographs for young fans.

RJ Kaminski allows young fans to be in an upcoming video. This is a behind the scenes look
Archers L.C. Defender #11 Matt McMahon takes a picture with young fans at Sunday's Premier Zone.

Fans of all ages enjoyed the cornhole setup, which was just behind the DJ booth.
Players from Saturday's games took time on Sunday to sign autographs and pictures with fans who piled up to meet their favorite players (and RJ).

Fans enjoyed the lacrosse cages to shoot-on before the games.
Overall, I think the PLL Fan Zone is going to be fantastic for the growth of the league; it gives families something fun for everybody. Dad's (or moms) can go to the beer garden, grab a cold one or five then head on over to the fan fest so they can watch their kids run around and meet their favorite players. Hopefully, no dad's get liquid confidence and try their hand at the fastest shot competition. We don't need any separated shoulders at Premier Zone.
Inside the stadium, the field display was beautiful; I was allowed access inside the press box where I was able to take a picture of the impressive field arrangement. Visually, it was so lovely to see an official lacrosse field, and it looked great with no other sports lines on the ground.
The arc represents the 2-point line; then there's the apparent midfield line, end-line, sideline, and crease. But, the Premier Lacrosse League backdrop behind both goals and the league logo on both ends of the field was an excellent little addition that could go unnoticed.
Game #1 Recap:
The first PLL game was on Saturday with the opening face-off taking place at 1 PM ET between the Archers L.C. and Chrome L.C. From what I heard from the players; they believed that from training camp the Archers would be one of the toughest teams to defeat. With #26 Tom Schreiber (2X Pro-MVP) leading the midfield, #1 Marcus Holman and #4 Will Manny headlining the attack. #11 Matt McMahon, one of the best defenders in the game is a lockdown defender while #8 Adam Ghitelman is rock solid as a last line of defense for the Archers. I don't know how much recruiting the Utah Utes will get done this summer with 3 of their coaches suiting up for the Archers L.C. (Ghitelman, Holman, and Manny) but, they definitely can lure some recruits just based off their play.
The game started right off the bat, and you got a sense that this league was going to be faster than any other form of lacrosse we have seen. Archers L.C. #10 Stephen Kelly won the first faceoff, then took it all by himself for the first ever goal in Premier Lacrosse League history, cementing his name in history forever.
In the first half though, Chrome L.C. dominated in the faceoff game, rookie (true rookie not PLL rookie) #25 Connor Farrell made his presence known with big hits and winning 5/6 faceoffs for an outstanding 83.3% win percentage. Between Farrell and #17, Drew Simoneau Chrome L.C. won 66.6% of their faceoffs yet, still found themselves down by two at the half. But, we did get a fantastic hit by Connor Farrell, the LIU Post graduate also played linebacker in football, which…well…take a look for yourself…
Connor Farrell seems like a kid you give your lunch money to; I am not getting in the way of that man. He's for sure not your stereotypical "lax bro."
The games over the weekend drew attention from Patriots players, coaches, and personnel. One former player was especially intrigued, Tedy Bruschi, whose son Rex is an avid lacrosse fan as well as a terrific lacrosse talent. Could you guess who his favorite player was? None other than former football linebacker Connor Farrell who laid the hard hit in the video above. He shared his thoughts on the new league, among other things that he likes about the sport of lacrosse:
The Chrome L.C. got nothing from their offense; their attack comprises of #91 Ty Thompson, #14 Justin Guterding, and #32 Jordan Wolf racked up a devastating ZERO points collectively. However, that was only the story in the first half, in the second half the Chrome attack put up NUMBERS Gutty had 4 points, Wolf had 4 points, and Thompson had 2 points as the Chrome L.C. outscored Archers L.C. 8-6 in the second half.
Chrome L.C. midfielder #22 Ned Crotty also was a leading hand in the comeback effort as he put up a hat trick. On a weird note, the PLL is implementing vocabulary such as "Powerplay" instead of Man-up and Man-down to help the non-traditional lacrosse fan. With that said, the PLL should totally adopt the hat trick tradition that the NHL does where fans throw their hats on the ice.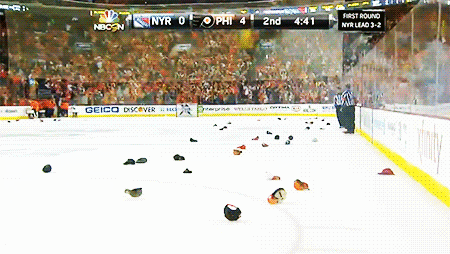 Archers L.C. wouldn't back down from a fight though. They have too much talent to break when the pressure begins to intensify. They put up some highlight plays of their own which you can find below, including a fantastic no-look pass from Tom Schreiber to Will Manny to help the Archers recapture their lead.
But, the goal of the weekend might've happened in game one as pro-lacrosse veteran Marcus Holman showed Chrome rookie defender #16, Chris Sabia, what the pros were all about in this league. I would imagine Sabia wasn't too fazed though, considering he played with Mac O'keefe and Grant Ament at Penn State who both consistently make highlight plays.
Archers L.C. didn't only put up highlight plays as Ty Thompson turned back the clock to his Albany days with this trickster:
Without Justin Guterding though, who knows what would have happened in that second half for Chrome L.C., he was lights out showing true grit in determination to help his team get back into the game. He looked like a ballerina behind the cage with his excellent display of footwork and has world-class finishing ability.
At the end of the day, the teams were so evenly matched, and the game could have gone either way. Because again, these are THE BEST PLAYERS IN THE WORLD. Chrome was able to climb back after being down 4-0 at one point and forced overtime in a valiant effort but, the Archers attackmen had themselves a day and finished it off in overtime on a goal from Will Manny.
Archers L.C. LSM (Long-Stick Midfielder) #2 was sensational in the clearing/transition game for them, racking up 5 ground balls, 1 shot and 3 caused turnovers on the way to earning player of the game honors. The dude balled out, while he was making his presence known throughout the field. He was an exhilarating player to watch.
It was an amazing game on the field, but these are the best players in the world were talking about.
That was the easy part. We expect them to be great.
It was everything else from social media exposure, to production, broadcast, it was unbelievable to watch.
The PLL has helmets that can measure whether a player is concussed, so if a player is estimated to have a concussion, he must sit out for the remainder of the game. Do we see any other league doing this? Are there any other leagues that care for players well-being and safety? Does the NFL care about players enough to have this type of protocol? No, only in the Premier Lacrosse League do we see this, which will pave the way for other sports in the future.
The money that they have been using from investors has been paying off exceptionally. The sky cam for faceoffs, new camera angles have made watching lacrosse on TV an incredible experience for the fans at home.
The PLL implemented in-game interviews where players on the field can be interviewed by broadcasters instantaneously through their helmets. Check out some of these clips from the Archers L.C. vs. Chrome L.C. game:
Like not kind of after the player, or on the sidelines after the play. These players are getting interviews RIGHT AFTER, and you can quite literally hear them catching their breath that's how quickly these players get interviewed.
Inside the coaches huddle? Yup, the PLL provides that type of experience for fans as well, which is fantastic for viewers at home. And since the some of the games will only be through NBC Sports Gold (which you can purchase 39 games for $38) the audio is unfiltered, so you can hear everything the coaches say, even if it does include some curse words here and there.
So so cool, watch how many leagues follow their lead, they are changing the way that people watch sports FOREVER. They are concerned just as much about players well-being as they are about the fan experience. No other league in the world does, which is why I believe the PLL will be so successful in the future.
I loved the competitiveness, the speed of the game, and the physicality that was on display for game one because it set the tone for the rest of the games this season.
For full game highlights between Archers L.C. and Chrome L.C. click below:
Oh, also shoutout Mike Flanagan (@fLAno0 on Twitter) over at BostonLax.net who provided me with these unreal photos of the game: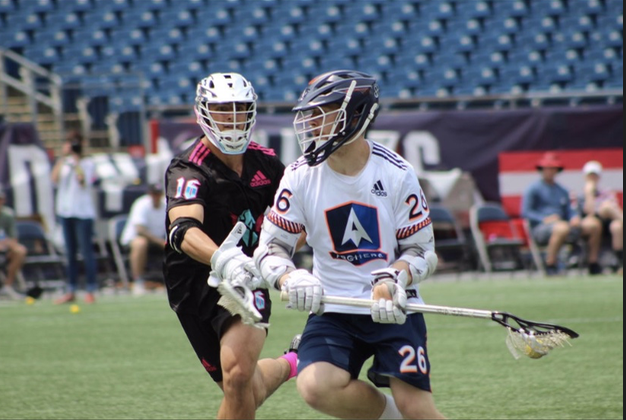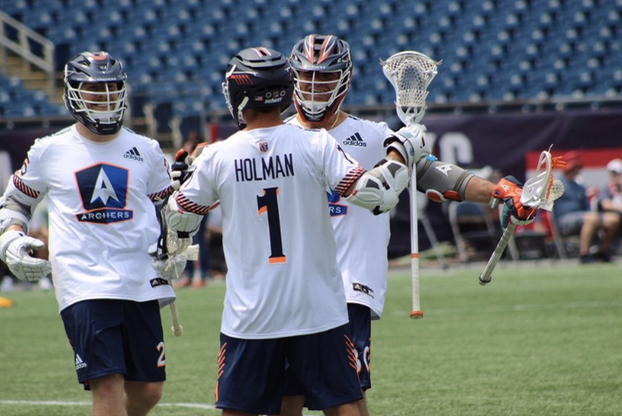 Game 2 Recap:
In Game #2 on Saturday the Maryland Terrapins Whipsnakes L.C. faced off against Chaos L.C. From what I understand, the Whipsnakes on paper was supposed to expose Chaos L.C. and cruise to a comfortable victory. The Whipsnakes L.C. looks like a University of Maryland All-Star team with 14 of the 20 Whipsnakes players playing for coach John Tillman at Maryland. The entire defensive side of the ball besides SSDM #13 Tyler Warner (Yale) played at Maryland which I imagine is a huge advantage since they can use common terms that they used at Maryland. The guys are familiar with playing together on the same or similar defenses. In the first half, the Whipsnakes dominated, and I mean DOM-IN-AT-ED, jumping out to an early lead, it looked like the game was going to be a blowout. I mean, the Whipsnakes literally scored in 10 seconds…
#1 Mike Chanechuk fired a rocket past former Albany Great Dane #0 Blaze Riorden:
Still wondering when Riorden is gonna score his first goal of the season…
2017 Tewaarton Award Winner Ben Reeves was snatching peoples ankles again but this time in the pros and his victim was #99 on Chaos L.C. Jack Rowlett. When he shot the ball, Reeves 100% scored but he also 100% broke his stick in half which must've been extremely difficult for Riorden to read.
The Whipsnakes didn't just focus on offense though, their defense in the first half displayed their resume on why they should be considered one of the best defenses in the league. They might have the best SSDM #13 Tyler Warner who should be a part-time lifeguard at the beach reminding people not to swim when lifeguards aren't on duty…
On the Chaos L.C. side of things, the two highlights they had in the first half was a two-pointer by #54 Jake Froccaro and flow-pole goal from LSM #77 Troy Reh:
I overheard coach Andy Towers when he was walking into the locker room. He preached to his assistants how it was vital in the second half for his club to out-tough the Whipsnakes after being down at the half 10-5. Oh boy, did his team deliver, and exceed expectations from their coach.
FOGO (Face-off specialist) #24 Thomas Kelly struck first in the second half straight off the faceoff win to get things going for the Chaos L.C.
Chaos L.C. attackmen #22 Josh Byrne had 3 of his 4 goals come in the second half including this gritty determination to find the back of the net:
When it was happening live, I thought to myself there is no way that this guy is getting through two defenders, but then he did. Which is when I realized that's why he was playing in the PLL inaugural weekend and why I'm a blogger writing about how impressive his performance/goal was.
The Whipsnakes took advantage of the Chaos' turnovers in the second half, turning them into a couple of easy goals. But Jake Bernhardt's goal was not one of those goals…
*CUBAN MISSILE CRISIS FROM BERNHARDT*
Chaos L.C. was able to take the lead thanks to this beautiful helper from Froccaro. I'm not exaggerating it was by far the most impressive play of the weekend that went unnoticed. He used his right hand to twister the ball right into Byrnes pocket who buries it. It's one of those plays that will get praised in the film room.
If you look closely, I'm all the way to the right, 3rd person to the left (humble brag, wait no just a brag) I throw my hands up in disbelief because the pass was so slick and nasty.
As I said earlier, the Whipsnakes were able to stay in this game in the second half because of their ability to create points off of turnovers and with time dwindling as they were down by one Ben Reeves was able to make a huge play.
The Chaos L.C. outscored the Whipsnakes 9-4 in the second half, but turnovers in the end ultimately hurt them. I praise the way Andy Towers coaches with his hard-nosed blue-collared mentality which is what he desires from his players and they delivered, specifically in the second half. I was talking to a player on the sidelines, we both thought Chaos L.C. was going to win at the end there, but ultimately turnovers hurt them, which is something that can be fixed over time yet ultimately decide their fate.
Whipsnakes L.C. Midfielder #23 Drew Snider found a soft spot in the middle of the field off of a Matt Rambo dodge to end the game in overtime. I spoke with him after the game, and he told me that he had no idea where he put it, he just let the thing fly, and it paid off. I couldn't imagine a better way to start your PLL career than an overtime game-winner.
For my mom: mama I made it*!
*Made it into the back shot of an NBC Sports Gold TV production on Premier Lacrosse*
Nardella was clutch for the Whipsnakes in their victory winning 20/30 of his faceoffs for an outstanding 66.6% win percentage. Rambo led the attack with 5 points on two goals and three helpers while Snider led the midfield unit with two genos (goals) and one assist. The defensive unit played excellent together, but I specifically want to praise Matt Dunn, who had four geebs (ground balls) and 1 caused turnover. Both goaltenders played awesome sharing a 48% save percentage, Riorden finished with 14 saves, and Bernlohr finished with 12 saves.
I'll say this, I've never been a fan of professional lacrosse, I love the college game because I didn't like the platform the other league used. I was intrigued by this new Premier Lacrosse League, the new rules they set in place set up for a faster game, quicker ball movement, and more physicality between the lines. After day one you could start to sense where this league was going, they 100% gained a fan and lifetime writer in me, and I'm excited about the future of the sport.
Sunday:
On Sunday, I showed up early again to check out the Premier Zone and warm-ups, of course, but I was interested in seeing the new WPLL game. There was a WPLL game right after the Whipsnakes L.C. and Chaos L.C. game, but after a long day, I needed to go home and watch the Bruins. I thought it was unique and forward thinking by the Premier Lacrosse League to include women in their vision. During a time where women are fighting for more equality, I think it was vital for the league to include women.
The women were physical; you'd be amazed; it's all these pretty faced girls who are sheer forces on the field. I have seen high schools girls lacrosse where there seemed to be a whistle after every possession, but in the WPLL the refs let these ladies play, and I applaud all of their efforts. I have three sisters, and my biggest fear would be one of them with a lacrosse stick chasing me on the field.
Patriots coach Bill Belichick's daughter Amanda Belichick who is the Holy Cross Women's Lacrosse Coach also coaches for the WPLL Command. As everyone should know by now, Belichick is an enormous fan of the sport, he and Paul Rabil are great friends so of course, he had to make an appearance at Gillette on Sunday.
I was able to witness the warmups before the start of Premier Lacrosse's first nationally televised game which was extremely cool for me since I'm a huge Patriots fan as well as a big fan of lacrosse. I was able to see Bill Belichick the greatest football coach alive (and maybe the best lacrosse coach…?), as well as stand on Gillette Stadium's field, watching the sport on the inaugural weekend of the Premier Lacrosse League.
The PLL has been incorporating terminology such as powerplay for fans to easier understand which is smart, they're taking stuff from one sport to help their game grow. You could also see that they took the way soccer teams walked out together and implemented it into the new league.
Which after the National Anthem, led to the anticipation of the first faceoff between Atlas L.C. and Redwoods L.C.
Sunday- Game 3 Recap:
Heading into the game, all eyes were on the faceoff x; where two of the games greatest faceoff specialists Trevor Baptiste #9 of Atlas L.C. and Greg Gurenlian #32 of Redwoods L.C. were facing off against each other. Atlas L.C. who has a ton of offensive power on that side of the ball with #55 Joel Tinney, co-founder of PLL #99 Paul Rabil and #15 Eric Law; when they're clicking they are a dangerous team. Meanwhile, Redwoods L.C. took the dominant 2017 Notre Dame defense onto their team with LSM #46 John Sexton, #53 Garrett Epple (D), #42 Matt Landis (D), and #41 Eddy Glazener (D).
Atlas L.C. got it going early as attackman #15 Eric Law scored on the doorstep following a fast break, but we don't need highlights for that we know how that story goes down, they're professionals they should slam it home in a 1v1 situation.
But this snipe from Ryan Brown? Disgusting. He's been doing this since his days at Hopkins playing on Homewood Field.
I was looking for the Redwoods to attempt more 2-point shots with Sergio Perkovic, the 6'4 225 pound Notre Dame graduate who has an absolute rocket of a shot, possibly the fastest in the game. But, all the attention that he drew opened up passing lanes due to early slides, where the Redwoods L.C. were able to take advantage.
Salcido followed it up with his own missile, which we expected Perkovic to unleash. Salcido's quickness allows him to get his hands free as an undersized midfielder at 5'7 170 pounds.
The co-founder of Premier Lacrosse League Paul Rabil illustrated why many view him as the face of lacrosse. Due to his quickness and power for a man of his stature, he's able to leave defenders in the dust which is what he did on this play.
Another angle please?
Yes, please.
Thank you, sir.
The first half was very physical; there was almost a fight that broke out at the end of the first half, which was exciting to see. Honestly, I was nervous about the competitiveness, would it be just like a men's league? This weekend stopped any worry about that; these teams legitimately HATED each other, which was great to see it even got me jacked up about future matchups.
The Redwoods L.C. established their defense with physical play and were able to push the ball in transition through their LSM's John Sexton and #42 Larken Kemp, who were both All-Americans in college. Kemp is exceptional with the ball in his stick as he is NCAA record holder for assists by a long pole while Sexton is great at defensive positioning along with quick feet to snag groundballs. The rest of the league should take notice of the Redwoods defense which consists of Epple, Landis and, Glazener.
They are some baaaaaaad men.
Epple tried to send Tinney back to Canada on this play, I mean jesus could you imagine thinking this sport was soft?
The Redwoods carried a 6-5 lead into the half thanks to a remarkable effort by rookie goalie #0 Tim Troutner who only played college lacrosse at High Point less than two months ago. Atlas L.C. goalie Jack Concannon was just as magnificent, posting 12 saves in the first half alone he kept his team in the game, they would have been toast without him.
To begin the second half, the goalies wasted no time to get things going where they started, each sharing a kick save and a beaut.
I was extremely impressed by Troutner; he's an active goalie who's not afraid to leave the crease to grab a ground ball or clear with his feet. On one particular possession Atlas L.C. #81 Kyle Hartzell, a pro-veteran came down the field and tried to rip a 2-pointer that sailed over the net. Troutner, who just graduated college in May, told the veteran, "Ewww, get that sh!t out of here." Hartzell was none too pleased about the rookies choice of words, but the fact that Troutner has that type of confidence as a rookie is impressive to see.
Watch him use his legs on this play:
After some hard hits by the Redwoods defense, Atlas L.C. decided they had enough and frustration began to set in for them.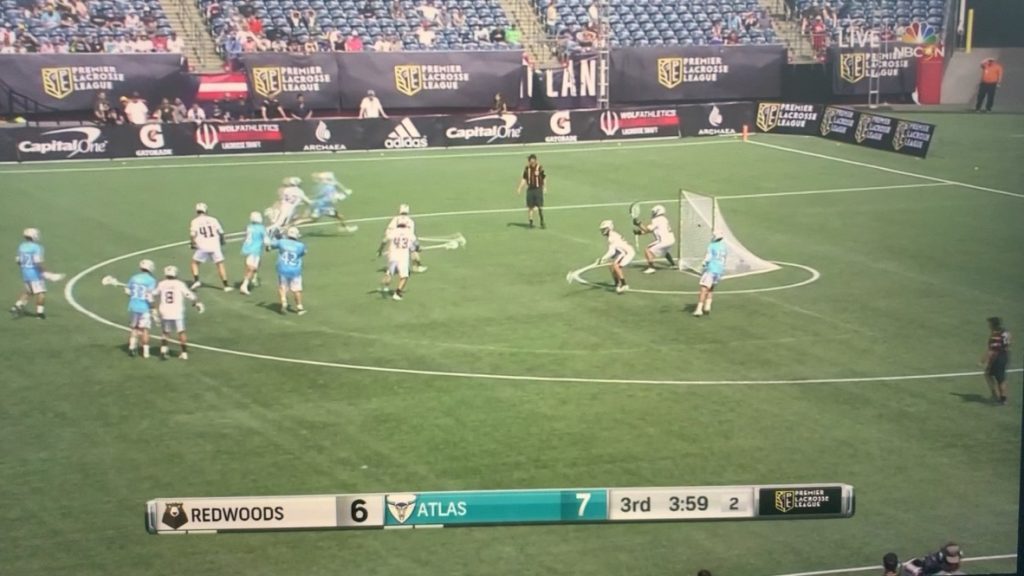 Fight breaks out between Atlas L.C. and Redwoods L.C. after Atlas' #5 Kieran McArdle gets called for goalie interference.
Loveeee #40 Patrick Harbeson getting into the scrum, he's an undersized guy but he's not afraid of anything. I loved his passion during the game while the intensity he brought, especially in this scrum, intensified the competitiveness of the game.
One of the intriguing stories going into the game was how Redwood's attackman #11 Joey Sankey would play after coming back from two knee surgeries and battling testicular cancer. He finished with two goals, but did so many things for his team such as drawing slides and keeping the ball spinning; it was great to see one of my favorite players back on the field.
Redwoods L.C. coach Nat St. Laurent addressed his thoughts about Joey Sankeys performance on Twitter:
The Redwoods defense cemented themselves as the best defense in the league after the first week, but the Atlas offense showed how dangerous they could potentially be if they limit turnovers and dominate possession during the game.
Eric Law was mic'd up during the game for Atlas L.C. and was able to provide analysis of his goal…during the game…through his helmet…
What a world.
Redwoods keeper Troutner finished with 17 saves and Atlas keeper Concannon finished with 20 saves, both in my opinion stole the show Sunday and deserve the most credit for their performances.
Speaking of goalies, Belichick was asked which position his quarterback Tom Brady would play if he was a lacrosse player.
Bills answer?
How sweet is that sweatshirt of his? Look for the "BB" under the Premier Lacrosse League, so cool. So, so cool.
Fantastic video of BB addressing where the PLL stands:
I saw that a lot of people online were concerned about the PLL's attendance but, they had 5,000-6,000 people there each day, easily. They only filled up one side of Gillette which holds 68,000 people, so visually it didn't look good, but the numbers were there. Plus, I bet that many more people interacted with them over social media, and watched the games on TV considering Foxborough is in the middle of nowhere.
The numbers came in that the total attendance for both days at Gillette Stadium was 13,681, which is incredible for the inaugural weekend. Rome wasn't built in a day ladies and gentlemen, and co-founder Paul Rabil said that postgame when he addressed the media.
Trevor Baptiste spoke to me post-game, I asked him how the new faceoff rules adjusted the way he prepares, he said many changes in his approach, but the ball comes out a lot faster.
He got the best of Gurenlian on Sunday, but expect those two to battle it out again at some point this season. Trevor was super nice and willing to do interviews, he's such a great asset for the Premier Lacrosse League to have.
Greg Gurenlian said that everything went well and he loved the new rules besides he thinks players will get injured since you can now check faceoff specialists sticks.
Paul Rabil addressed the media after the game yesterday, he spoke about words of encouragement Bill Belichick gave him.
Beginning of the media session can be found below:
Paul also said he wanted the league to feel like week 100 and not week 1. I firmly believe that they did an excellent job making it feel like a week 100 game.
I also spoke with Ryan Conrad, a rookie midfielder for the Atlas L.C., but you'll have to wait until next week to find out what he had to say about playing in the Premier Lacrosse League.
Follow @NosebleedLax on Twitter and @mctweeetin for the latest on the PLL.
If you read this entire god bless you, 21 min read sounds like a long time. Next week I'll break it down game by game to make it easier for you guys.
Cheers.