Through the PLL's unique postseason setup, the Archers EARNED the rights to the #1 overall pick in the 2020 PLL Draft. This will mark back to back seasons that the Archers will be first on the clock in the draft, giving them an opportunity to get the best player to hopefully bring them back to being championship contenders. The Archers selected Pat Spencer, former Loyola Attackman and 2019 Tewaaraton Winner, as the first ever draft pick in the Premier Lacrosse League. Unfortunately for them, Pat Spencer elected to become a grad transfer and play college basketball at Northwestern University, a solid Big Ten team who has shown growth and success these past couple seasons. I don't think anyone is knocking Pat Spencer for doing this, as he is fulfilling a dream and is pursuing another sport he also enjoys playing. We can only assume that Pat Spencer will return to lacrosse and play in the PLL one day, but for now his focus is on this upcoming basketball season. Now that the Archers have the #1 pick again, it's time to land somebody big, here are a couple players that could make huge impacts for Archers LC…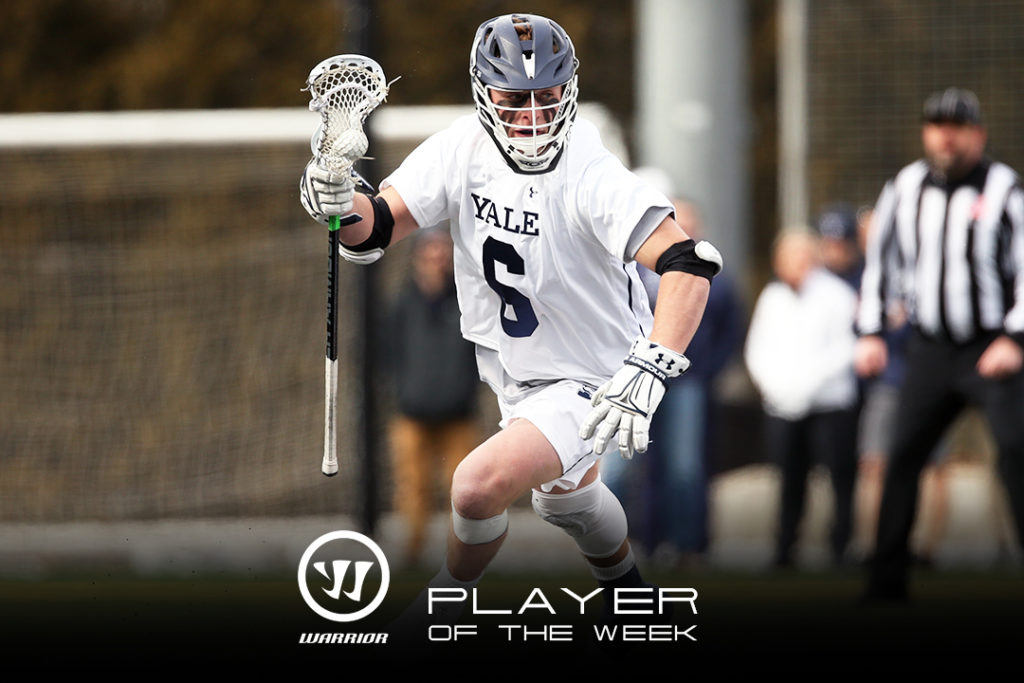 TD Ierlan – Faceoff – Yale
There is no question most teams would be ecstatic to have TD be there faceoff guy in 2020. TD has shattered NCAA records in his 3 years of playing in college for both Albany and Yale. He holds records for faceoff wins (354), faceoff percentage (.791), ground balls (254), and ground balls per game (13.37) in a season.
A 2x Tewaaraton finalist, Ierlan is set to dominate the X in his senior season, hoping to take the Bulldogs back to Championship Weekend this spring. If there is one guy who is going to give Trevor Baptiste some trouble next summer, it's going to be TD. Not to knock on guys like Joe Nardella, Stephen Kelly, or the Milk Man himself Connor Farrell, who have proven to be great FOGOs at the professional level, but no one is as good as Trevor Baptiste. Trevor Baptiste still in his young career in the PLL, is considered by many to be the greatest faceoff of all time, putting up big numbers in the PLL's inaugural season such as a 62.8% faceoff percentage (1st in League) and 164 faceoff wins (1st in League).

If the Archers were to take TD, defenses are going to need to be on their toes all game. Archers already have arguably the best fast break offense in the league with fast midfielders such as Dominique Alexander, Danny Eipp, and Tom Schreiber who generate so much speed, causing defenses to slide early or get caught ball watching which allows Marcus Holman and Will Manny to find space and score. If TD wins the faceoff clean, be ready for some high scoring from Archers.
Grant Ament – Attack – Penn State
If Pat Spencer decides no to play in the PLL, if I were the Archers Coach Chris Bates, I would be looking at drafting Senior Grant Ament out of Penn State. Like Spencer, Ament is quite the field general himself, racking up 96 assists last season with 30 goals totaling 126 points. His field vision, quite honestly, is probably one of his greatest skills. Spencer and Ament are very different players, but still share similar qualities.
Standing at 6-3 205 pounds, Pat Spencer thrived off bulldozing his defender in college, in hope of drawing a double team to create an open shot. Ament on the other hand is 5-9 weighing in at 165, but doesn't let his size weaken him. His speed allows him to burn defenders easily, giving him an open shot coming from, and has made some defenders look silly with his split dodge.

Grant Ament will continue to assist Penn State offensive weapons Mac O'Keefe and Dylan Foulds this upcoming 2020 season, in hope of winning Penn State's first ever National Title. Imagine the points that will be scored if he is teamed up with fellow Archers attack men Will Manny and Marcus Holman this upcoming summer.
My Take:
Personally, the Archers decision really all depends on whether or not Pat Spencer joins the team this summer. There could be opportunities for him to play professional basketball somewhere, or maybe even play in the MLL, no one really knows. For now, he will play his graduate year at Northwestern and fulfil a dream. Either way the Archers could go with TD, and that is a pretty safe bet regardless if he joins the team. I just think we are looking at a faceoff who will dominate the X week in and week out, and giving Trevor Baptiste some tough competition at face off. Things could also happen, to where Will Manny or Marcus Holman do not play for the Archers,as they already work two jobs being assistant coaches at the University of Utah where recruiting is crucial in the summer. I doubt something like that will happen, but you never know.
If the decision was in my hands, I would choose TD, but either way I would be excited to have either player.
Grant Amen could also be a great fit for Atlas teaming up with guys like Ryan Brown, Kieran McCardle, Eric Law, and Co-Commish, Paul Rabil.