In just a couple days, the majority of the nation will be celebrating the turn of the decade. Many will use this time to reflect on the past 10 years and really take a look back at the good, bad, and everything in between. This time of year also brings about plenty of conversations and debate among sports fans about who the top players of the decade were. While there have been plenty of NBA All-Decade teams released already, the following list is how the team should definitely look.
6th Man – Kawhi Leonard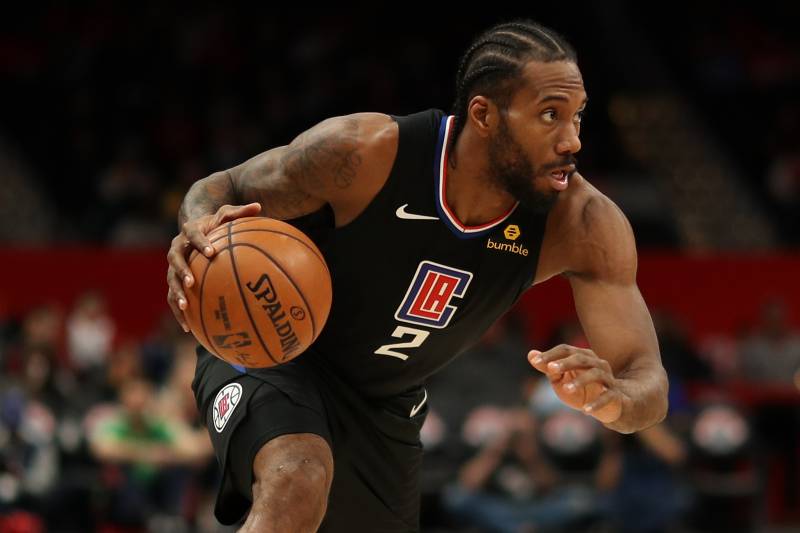 Stat Line: 18.0 PPG, 6.4 RPG, 2.5 APG, 1.8 SPG, 0.7 BPG
2x NBA Champion, 3x All-NBA, 2x Defensive Player of the Year, 3x All-Star
Many will argue that Kawhi should be the fifth starter for the All-Decade team, but of the other five players that made the cut, only Kawhi has yet to play a season in which he plays 75 plus games. Kawhi is also the only player on this list with less than five all-star appearances. After being drafted in 2011, he spent the first two years of his career on the bench playing an important role for the San Antonio Spurs. It wasn't until the 2014 Finals, where Kawhi would see the spotlight for the first time after he won Finals MVP for his part in the Spurs' takedown of the Miami Heat.

While Kawhi's highs have been exciting and incredibly rewarding for fans of whichever team he plays for, the lows are what keeps Leonard out of the all-decade starting lineup. While he can absolutely match up with any other player in the league, playing in a system with the Spurs where every player flourishes, and his load management over the last couple years (including sitting out almost the entire 2017-18 season) are the two factors keeping him as a sixth man on the all-decade squad.
Center – Anthony Davis
Stat Line: 23.9 PPG, 10.5 RPG, 2.2 APG, 1.4 SPG, 2.4 BPG
3x All-NBA, 6x All-Star
When NBA team officials go searching for the next elite modern NBA big, they can only hope to find a player who possesses the skill set that AD does. With the league having moved toward more small ball and/or position-less lineups, few big men have been able to remain as consistently dominant as Davis. Not only has he remained handy, he has improved facets of his game that were incredibly limited when he came in to the league. This season, Davis has attempted 94 three point shot attempts, and is converting on about 32% of them. While that doesn't sound incredible, Davis only attempted six three pointers in his rookie season and made none of them.
Since coming into the league, Davis has only improved. The largest black mark on his resume also involves his playing time. Davis has only played four more games than Kawhi Leonard, large in part due to sitting out the second half of last season, waiting for the New Orleans Pelicans to trade him. His injury history, like Kawhi's, is a cause for concern, but his ability to be a top five player on either end of the floor makes it near impossible to not include him in this list.
Power Forward – LeBron James
Stat Line: 26.9 PPG, 7.7 RPG, 7.6 APG, 1.5 SPG, 0.6 BPG
3x NBA Champion, 10x All-NBA, 2x MVP, 10x All-Star
This is likely the second all-decade team in a row that LeBron has been included in, and rightfully so. James' numbers this season still look incredibly similar to the ones he was posting at the start of this decade: 25 plus points a night, shooting about 50 percent from the floor, while also averaging 10.6 assists – a career high – all in his 17th year in the league. Those are hall of fame numbers, even for someone who was already a shoe-in.
People can call it "chasing titles," call it "chasing the ghost of Michael Jordan," whatever they would like. At the end of the day, there has never been an athlete quite like LeBron James, and the world certainly witnessed that this past decade. To win back-to-back championships, only to go and win a third a few years later by taking down the greatest team in NBA history while coming back from being down three games to one certainly grants LeBron a spot in this lineup. Everything else was just whipped cream on top of the sundae.
Small Forward – Kevin Durant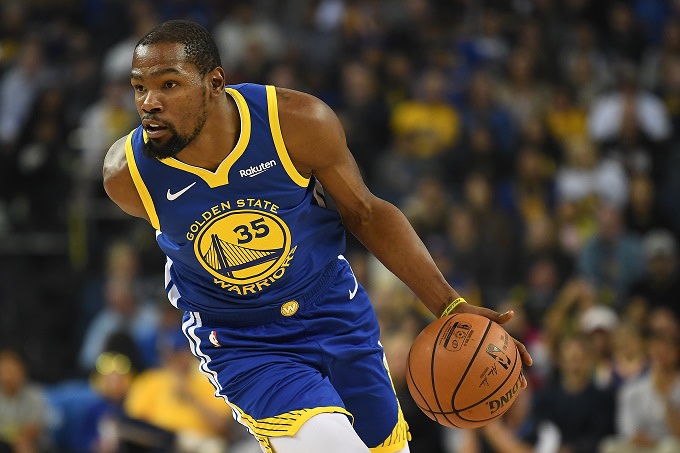 Stat Line: 28.0 PPG, 7.4 RPG, 4.4 APG, 1.0 SPG, 1.1 BPG
2x NBA Champion, 9x All-NBA, 1x MVP 9x All-Star
Arguably the most offensively talented player the league has ever seen, Kevin Durant had no shortage of newsworthiness these past 10 years. After starting the decade off with a Finals loss to LeBron James and the Miami Heat, Durant would ultimately leave the Oklahoma City Thunder in a move that may go down as the most hated free agent move of all time. In doing so however, Durant cemented himself as one of the all-time greats by making the greatest NBA team of all time damn near unstoppable en route to two NBA championships.
Durant's ability to pick his spots and shoot over any opponent effortlessly and efficiently is what allowed him to make it this far. His incredibly high basketball IQ, coupled with his defensive and rebounding prowess only made the Slim Reaper that much harder to stop. While it will always be a debate about whether Durant did the right thing or not by making his move to Golden State (and possibly again most recently with his move to Brooklyn), one thing is for sure: KD is a sure-fire hall of famer who is unquestionably one of the best players of this decade.
Shooting Guard – James Harden
Stat Line: 24.3 PPG, 4.5 RPG, 6.6 APG, 1.7 SPG, 0.6 BPG
6x All-NBA, 1x MVP, 1x Sixth Man of the Year, 7x All-Star
If Durant is the most offensively talented player the NBA has ever seen, then James Harden is the most offensively gifted. While Durant can shoot over practically anybody, Harden has used his ability in iso situations to turn him into arguably the most dangerous weapon in today's NBA. If opposing teams want to give Harden space, he will take it and make them pay by raining threes. If they decide to stick an elite defender on him, Harden's dribbling and ball-handling makes it that much harder to get the ball away from him. If opposing teams want to double team him, his playmaking and ability to find open teammates allow him to escape and create even more. As Sports Illustrated put it, "he is a bucket-getter in a league of his own."
Despite the serious lack of hardware in comparison to some of his other all-decade counterparts, Harden's ability to take any opposing teams' game plan and essentially tear it to shreds via eurosteps and step-backs makes him the easy option to plug in at the two spot. The only other options that could contend with him was a past-his-prime Kobe Bryant, an ageing to an out-of-prime Dwyane Wade, and Klay Thompson. While Klay sounds like a potential fit, no player has dominated offensively in quite the way Harden has for the past decade.
Point Guard – Steph Curry
Stat Line: 23.5 PPG, 4.5 RPG, 6.6 APG, 1.6 SPG, 0.2 BPG
3x NBA Champion, 6x All-NBA, 2x MVP, 6x All-Star
Who else would go in this spot after the last decade other than Steph Curry? Curry ultimately changed basketball as millions of fans knew it the minute he started draining warm-up jumpers from half court. Easily the greatest shooter to ever grace an NBA court, Steph Curry will go down in history for having one of the greatest impacts on a sport of all time. The next generation of basketball players that are currently hoping to make it big in the NBA will all likely adopt their game after him over anyone else (take Trae Young for example). Curry took his size and smaller stature compared to others in the NBA and made it his weapon, something others had done, but never to the levels of success that he did.
One of the best off-the-ball players ever to be seen, Curry doesn't stop moving when he gets rid of the ball, and if there is a centimeter of space between him and a defender, you can guarantee the ball is either going through the net or getting passed in a whirlwind of Golden State ball movement. And despite his previous injury history, he has been able to turn himself into quite the reliable rebounder for a guard. While some may argue that it was Warriors' system and their front office's ability to pair him with players like Klay Thompson and Kevin Durant that helped mold the baby-faced assassin, the fact of the matter is few have ever influenced the game quite like he did and is still doing.