The 2010's are coming to an end, and that means it's time to reminisce on the greatness from the past 10 MLB seasons. In an era of huge contracts, Statcast, and advanced analytics, it's important to remember some of baseball's best. Presenting, the MLB All-Decade Team:
Catcher: Buster Posey
Despite facing a few scary injuries throughout his career, Buster Posey got off to such a hot start this decade, he had to represent the catcher position. His numbers might not pop off the page, but his three rings speak for themselves. Posey was at the core of the Giants' three World Series runs at the start of the decade, and although his power number aren't very impressive, his consistent bat to ball ability is worth mentioning.
Stats from the decade: .302/.371/.458, 1378 H, 140 HR, 673 RBI
Accolades from the decade: 3x World Series Champ ('10, '12, '14), MVP (2012), ROY ('10), 4x Silver Slugger, GG ('16), 6x All Star, Batting Title ('12)
First Base: Miguel Cabrera
Miggy has started to fall off of the "old man ledge" the past couple of seasons, but it is important to recognize his greatness. At the start of the decade, Cabrera was the most feared hitter in baseball. The Tigers had a roster full of talent, and they had multiple deep playoff runs with Miggy at the heart of the order. Cabrera's greatest accomplishment came in 2012, when he led the majors in Batting Average, Homeruns, and RBIs, achieving the MLB's first Triple Crown since Carl Yastrzemski in 1967.
Stats from the decade: .317/.399/.544, 1595 H, 268 HR, 941 RBI
Accolades from the decade: 2x MVP ('12, '13), Triple Crown ('12), 7x All Star, 5x Silver Slugger
Second Base: Jose Altuve
Jose Altuve went from "being too short to play baseball," to baseball's best second baseman during the past 10 years. 2017 was "The Year of Altuve", as he won the World Series, MVP, and got his third Batting Title, leading the league in Batting Average.
Stats from the decade: .315/.364/.436, 1568 H, 128 HR, 538 RBI, 254 SB
Accolades from the decade: World Series Champ ('17), MVP ('17), 3x Batting Title ('14, '16, '17), 6x All Star, 5x Silver Slugger, GG ('15)
Third Base: Nolan Arenado
Although Arenado hasn't brought a ton of success to the Rockies as a whole, there is no doubt that he plays third base at an all-time level. After winning the Gold Glove his rookie year, Arenado went on to win one consecutively all the way through last season. He also dazzles at the plate, as he had a three year stretch of at least 130 RBIs, and he has the second highest WAR among position players who have played 7 years or less. Arenado is constantly being bashed for playing the majority of his games in the thin air at Coors Field, but everyone should understand how impressive his sustained greatness is.
Stats from the decade: .295/.351/.546, 1160 H, 227 HR, 734 RBI
Accolades from the decade: 5x All Star, 3x Platinum Glove, 7x GG, 4x Silver Slugger

Shortstop: Elvis Andrus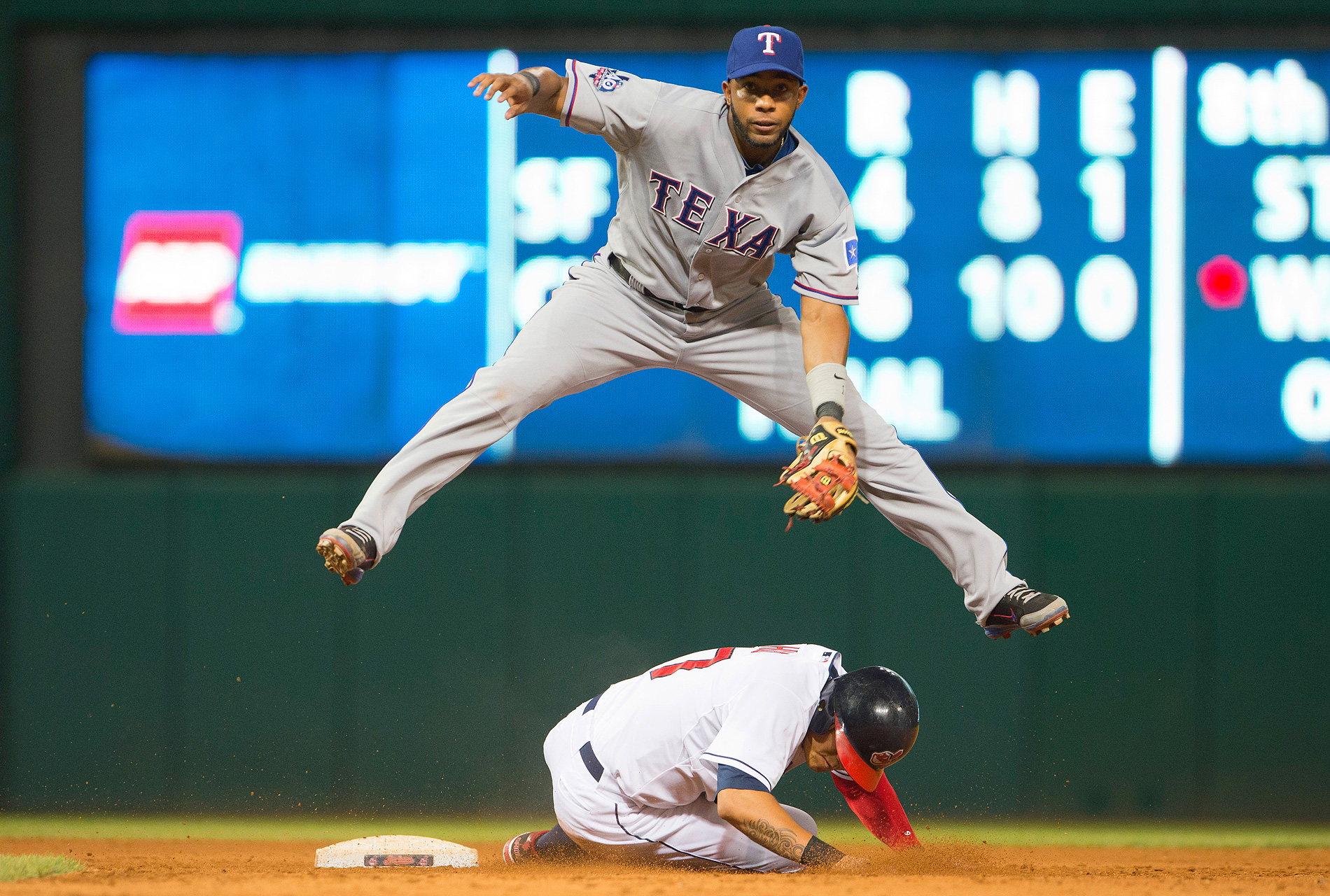 Andrus may not stand out by the numbers, but he has been a very important player to the Texas Rangers organization over the past decade. Andrus was a key part of a Rangers team that made it to two straight World Series. He has also been a staple of their lineup for this entire decade, barely missing games, mentoring the younger players, and playing solid defense while still being a key bat in their lineup.
Stats from the decade: .276/.331/.373, 1595 H, 67 HR, 589 RBI, 269 SB
Accolades from the decade: Back to back AL Pennants, 2x All Star

Outfield: Giancarlo Stanton
Stanton has missed a ton of games due to injury throughout the decade, but that hasn't stopped him from absolutely demolishing baseballs at an alarming rate. Stanton's power was never more prevalent than in the 2017 season, where he took home the NL MVP crushing 59 home runs, a record for the decade. That winter "G" was traded to the Yankees, where he put up less than MVP numbers, but he still hit 38 HR and drove in 100 RBIs. Although he missed most of last season because a variety of injuries, there is a good chance Stanton starts off the next decade the same way he dominated this one.
Stats from the decade: .268/.358/.547, 1141 H, 308 HR, 785 RBI
Accolades from the decade: MVP ('17), 4x All Star, 2x Silver Slugger
Andrew McCutchen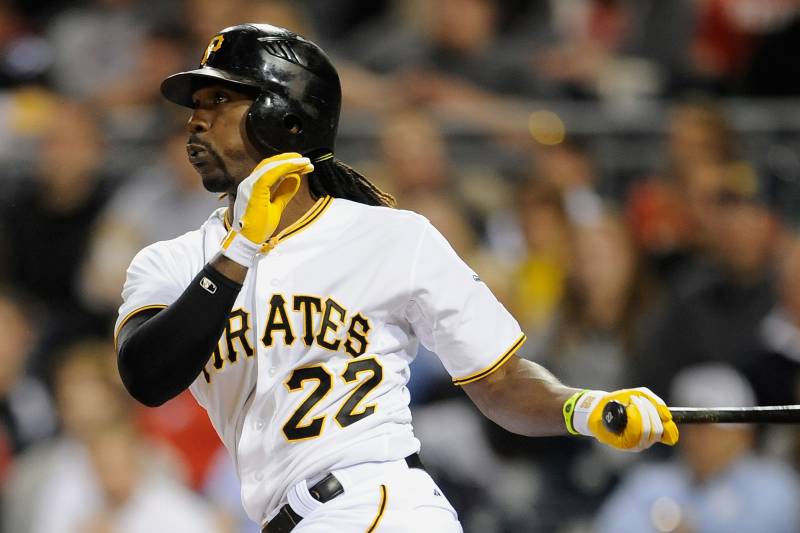 Andrew McCutchen does not get enough credit for how good he was on the Pirates. In 2013, Cutch helped the Pittsburgh break their streak of 20 straight losing seasons, winning him the NL MVP. At this point in time, many people debated whether Trout was better than him. McCutchen was on the cover of MLB the Show, his dreads were flying in the wind, and he was one of the best in the game. When healthy, Andrew McCutchen was one of the most exciting players in the sport. Hopefully he can have an impact for the Phillies next season.
Stats for the decade: .286/.379/.481, 1540 H, 221 HR, 765 RBI, 165 SB
Accolades for the decade: MVP ('13), 5x All Star, 4x Silver Slugger, GG ('12)
Mike Trout
There is nothing negative anyone can say about Mike Trout. Since his first full season in 2012, Trout has been the best player in baseball. Every single year he has been in the MVP conversation, and every single year he somehow finds a way to improve his game. Trout embodies what it means to be a professional. He shows up to work, out performs everyone in his job, and quietly goes home. Fans are still waiting for the day where they can see Trout playing ball deep into October, and maybe this is the year.
Stats for the decade: .305/.419/.581, 1324 H, 285 HR, 752 RBI, 200 SB
Accolades for the decade: 3x MVP ('14, '16, '19), ROY ('12), 8x All Star, 7x Silver Slugger
Honorable Mentions:
C: Yadier Molina
1B: Prince Fielder, Joey Votto
2B: Robinson Cano, Ian Kinsler
3B: Adrian Beltre, Manny Machado, Josh Donaldson
SS: Troy Tulowitzki, Francisco Lindor
OF: Mookie Betts, Jose Bautista, Bryce Harper