By: Aaron Greenberg
Madden 20: Detroit Lions
Have you ever been following your favorite team and wondered, Could I do a better job than the GM, the coach, the players? Well… me too. With the current state of things in America, I decided there was no better time than the present. Feeling confident about my knowledge of the NFL, eye for talent and skill as a 5'7" Danny Woodhead style player, I began by calling every NFL teams General Manager and asking if they'd give me their job, hire me to be their head coach, or sign me to a one year minimum salary contract. Kidding obviously… but Ron Rivera, if you're reading this, I'm available.
With that opportunity quickly being crossed off my list I set to the world of video games, the one thing that gives people like me with very average (maybe a bit generous) athletic ability the chance to feel like we are in control. We ran a poll last night on Nosebleed NFL twitter to figure out what team I would be taking over to try and lead to a Lombardi trophy, and lucky me it's the Detroit Lions.
Now lets get started…..
The Groud Rules:
With Madden 20 being the latest game released, I decided to simulate the 2019-20 season. From there I would be given full control of the roster, the coaching scheme and the gameplay. Here's the rules I laid out for myself.
Difficulty level: All-Pro, I am an average at best Madden player, but that's not what's most important
Draft Classes: I decided to import both the 2020 and 2021, lets be real, this Lion's roster is gonna need a lot of help.
Gameplay: I decided in order to be able to get through seasons quickly I'm only going to play divisional opponents, meaning I will play 6 of the 16 games each season. I will record highlights and screenshots of stats, so you all have something to watch throughout the season.
XP Sliders: As I always do, I turned the XP Sliders up to 200, in order to help my players, develop more quickly. This also helps the CPU controlled teams' players develop as well.
Length of Rebuild: I turned on Coach Firing and have decided to play until I either get fired or win a super bowl.
Season Goal: Those of you who play Madden know that at the beginning of each season you must select a goal for your team, I will start with 4 wins and move the goal up one level each time, the higher the goal the better your chance of getting fired.
These are pretty much all the rules I set for myself, if you have any questions about the way I set up the Madden 20 Franchise Mode, leave them in the comments and I will answer them in the coming blogs.
The 2019-20 SEASON:
Coming into the season, I didn't have high hopes, I set the depth chart and simulated to midseason, at week 9 my team was 2-6, so I decided to make a change, benching Matt Stafford in favor of Jeff Driskel, I then simulated in 4 week increments in order to scout potential draftees. By the end of the year, my Detroit Lions were 7-9 and had obtained the 9th overall pick in the upcoming NFL Draft.
FREE AGENCY/PRE-DRAFT TRADES:
I knew my approach to rebuilding the team would have to mainly come through the draft, so I focused my energy more on stacking up picks than being a large player in free agency. However, I knew with close to $35M in cap space I would have the ability to sign a few key players for the upcoming seasons. According to the game my biggest position needs were, Corner Back, Safety, All Linebacker Positions, and Defensive Tackle. If you're sensing a trend here, you're probably right and that's the fact my defense needs some work. My offense was pretty solid with Matt Stafford at 81 rated, Kenny Golladay is a solid receiver and Kerryon Johnson is a young stud at the running back position. I also came into free agency knowing I would likely be trading some of my older and better veteran players for high, valuable picks in the upcoming draft. After resigning a few guys from my current roster for depth, I made three offers on the first day of Free Agency.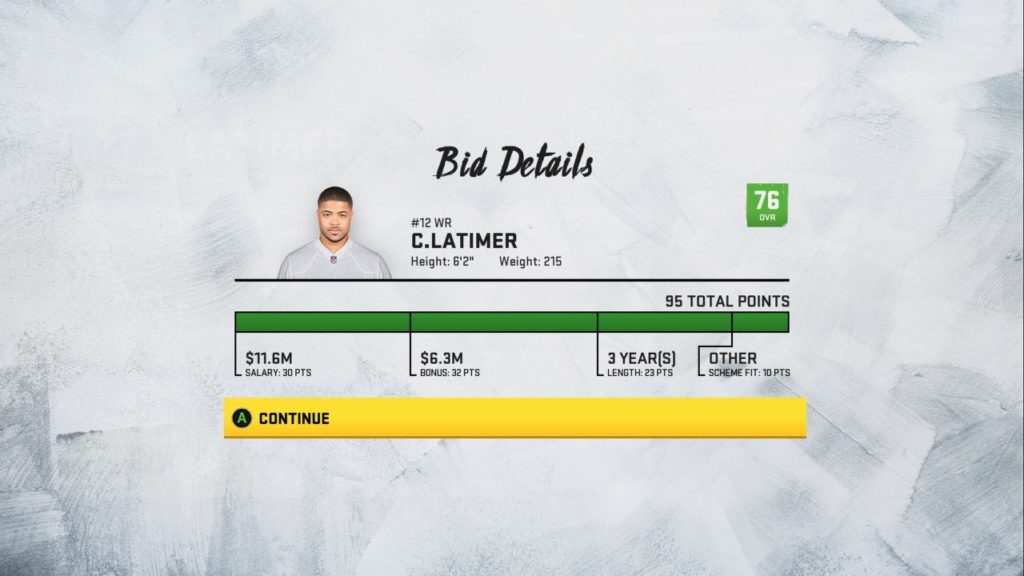 All three of them signed the following day, with my remaining money I went after Patrick Onwuasor, who signed the following day.
Some other interesting signings from throughout the league: Tom Brady resigned with the Patriots, Ryan Tannenhill went back to Miami, Jameis Winston stayed in Tampa Bay, Dak Prescott left Dallas for the LA Chargers, Teddy Bridgewater signed with the Colts, Drew Brees retired. Lamar Miller left Houston for Tampa Bay, Kareem Hunt moved from Cleveland to Las Vegas, Jamie Collins also joined the LA Chargers. (If you have questions about other players, let me know and I will go find them).
Now it was time to make trades, I wheeled and dealed until I was satisfied with my set up for the upcoming draft. Here are the deals I made: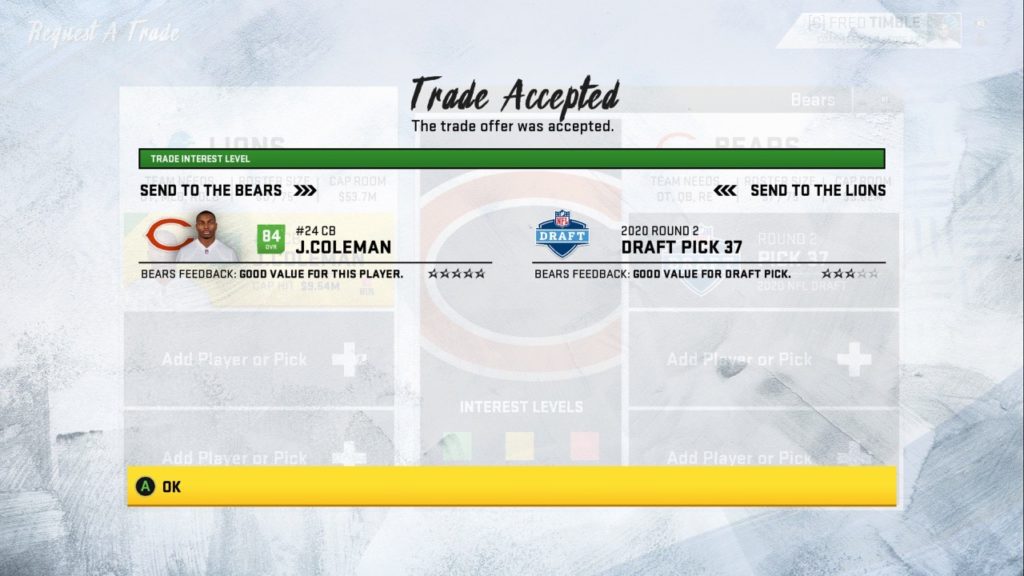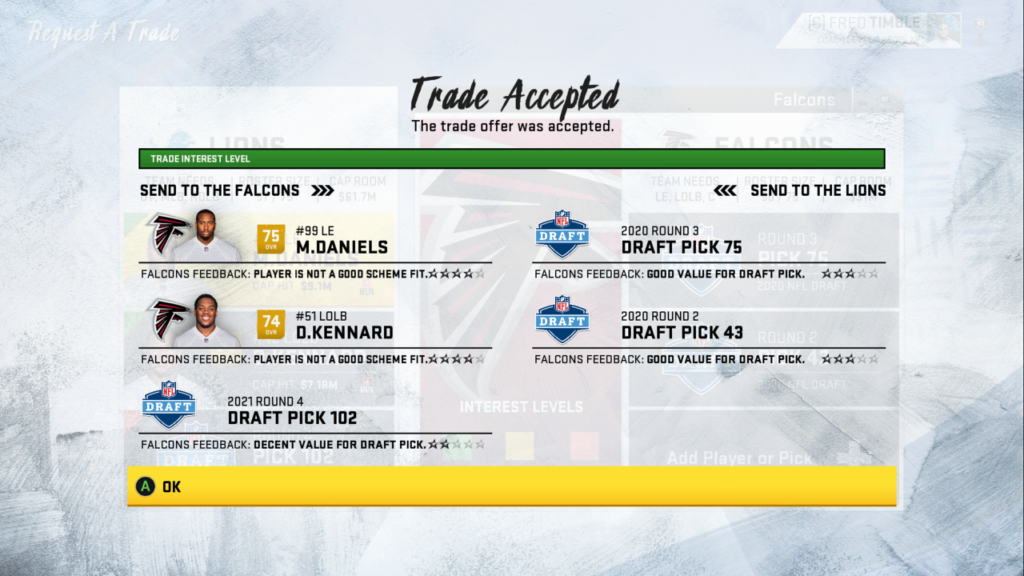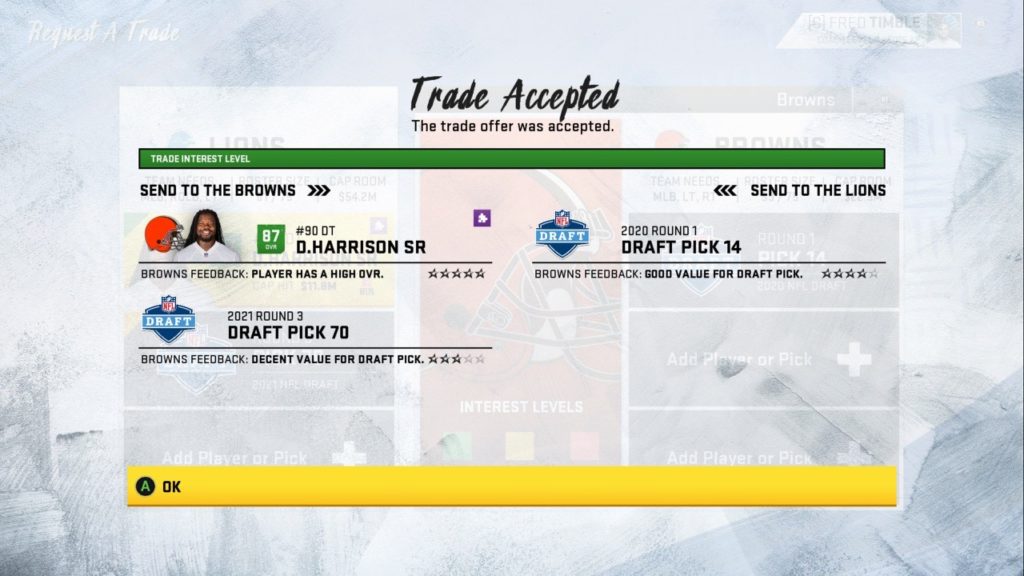 One thing to note, although in real life the Lions traded Corner Back Darius Slay to the Eagles, I decided to flip Justin Coleman instead, I value Slay and plan on signing him to an extension in the following year. A lot of the players I traded, were ones that the Lions released or moved on from in real life.
DRAFT TIME:
I came into the draft with the same mindset as I approached free agency, knowing that my defense needed a lot of help, picking at nine the number one guy on my board was Isaiah Simmons. Other positions I was hoping to address through the draft were: Left Guard, Defensive Tackle, Slot Receiver, Slot Corner, depth and youth at Middle Linebacker, Strong Safety, Back-up Quarterback. With eight picks in the first three rounds and twelve picks overall I knew I could completely change the outlook of my team with a good draft. Here's how it turned out!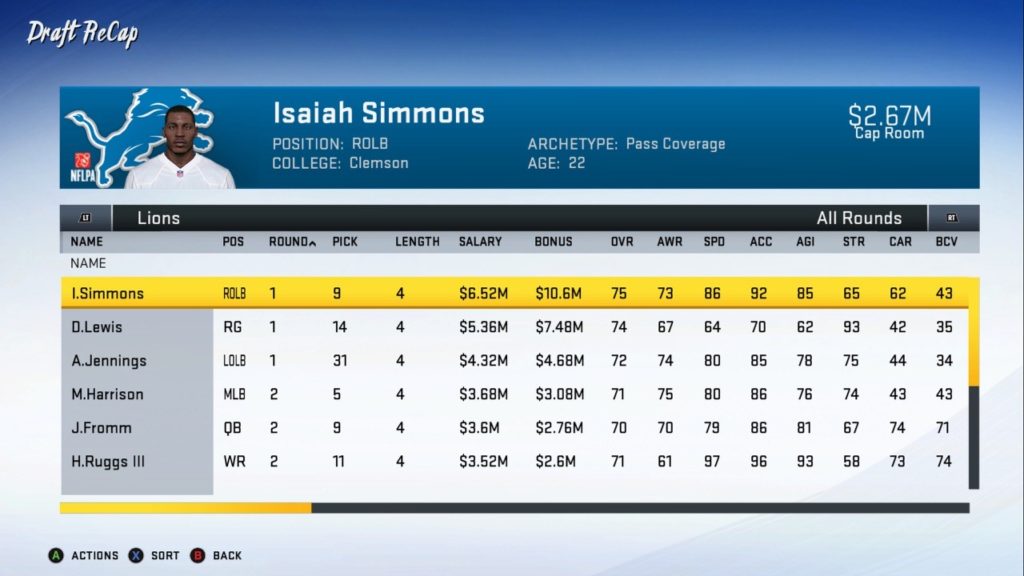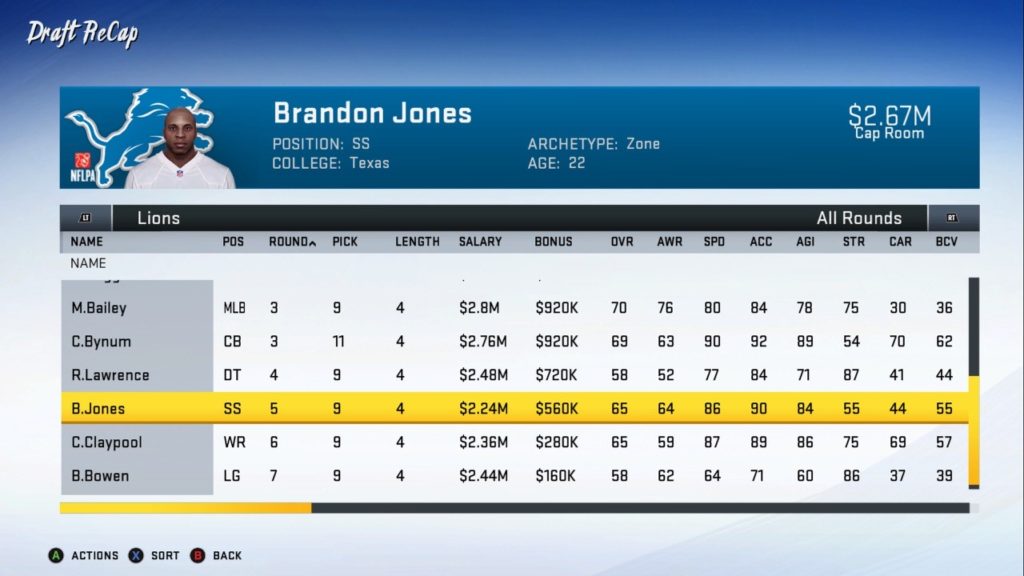 FINAL ROSTER MOVES/SETTING DEPTH CHART:
I came out of the draft pleased with my roster, but since I decided to take Guard Damien Lewis, I still needed a Strong Safety that could start day one, I made a quick trade and obtained a guy who could play every down, for Jarrad Davis, who's 5th year option I declined, and I knew I was not going to resign with the additions of Isaiah Simmons and Anfernee Jennings. Taylor Rapp will be a solid addition, young and good at zone coverage, I could see him developing into a stud over the next few years.
I simulated through the preseason and set my depth charts, here's how the 2020 Detroit Lions will take the field: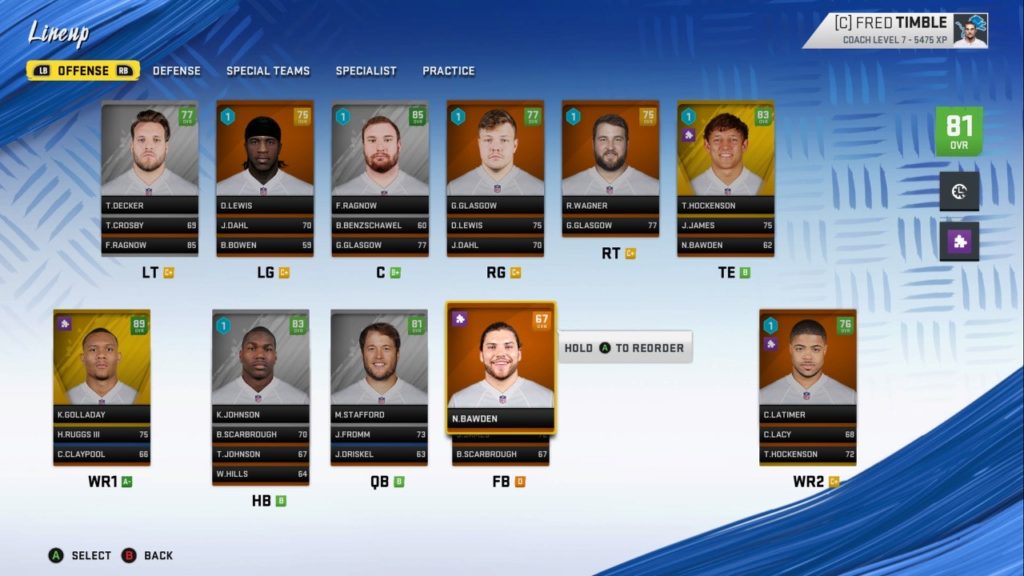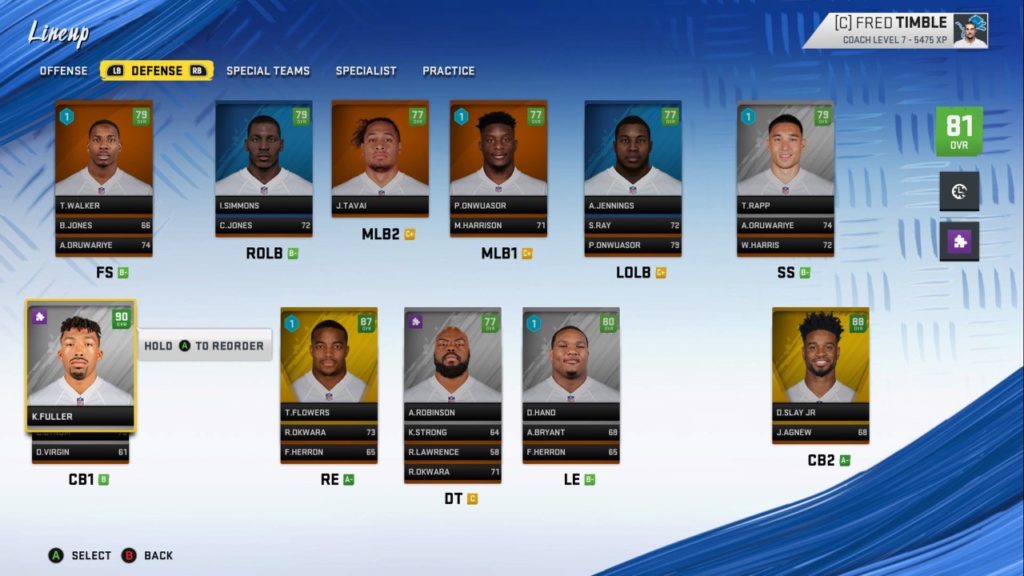 COME BACK LATER THIS WEEK FOR RESULTS OF THE START OF THE SEASON, STATS, HIGHLIGHTS AND MORE!