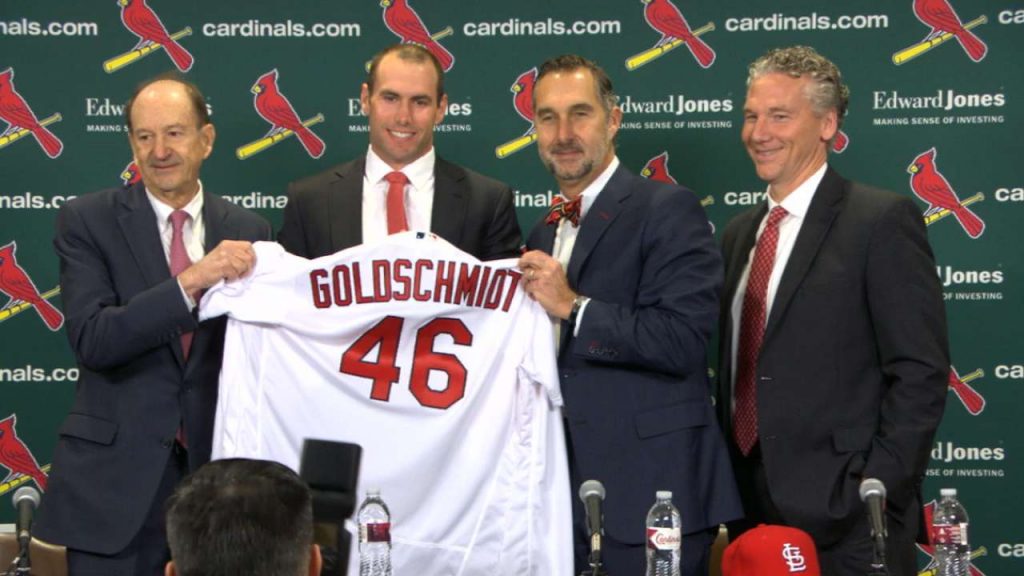 In case anyone forgot what happened in the National League Central last year, the final standings from the 2018 season are shown above. This was a truly fun division to watch, as the Brewers and Cubs battled for the division title all season long, while the Cardinals and Pirates fought for a Wild Card spot. The Brewers and Cubs had to play a 163rd game of the season after being tied at the end of the regular season. The Cubs lost to the Brewers and then went on to play in the one-game NL Wild Card round against the Rockies, who beat the Cubs to advance to the NLDS against the Brewers. The Brewers then advanced and took the Dodgers to 7 games in the NLCS. The Dodgers won game 7 and then lost to the Red Sox in 5 games in the World Series. The NL Central was a strong division last year, and the Reds and Cardinals have greatly improved their teams this offseason. On the other hand, the Cubs, Brewers, and Pirates will return to spring training with similar rosters as last year. No team in this division is likely to sign Machado or Harper, so now seems like a good time to predict how these teams will stack up in 2019. Shown below is how Baseball Prospectus' PECOTA projections have these teams finishing this season:
So let's get into what I think will happen this year in the NL Central.
Milwaukee Brewers: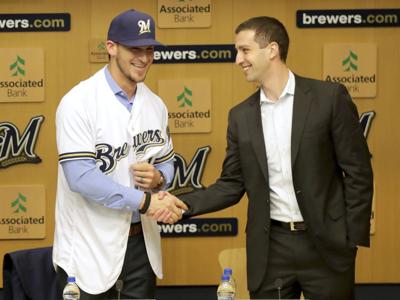 Added: Yasmani Grandal, Ben Gamel, Alex Claudio, Cory Spangenberg
Subtracted: Wade Miley (Astros), Jonathan Schoop (Twins), Domingo Santana (Mariners), Curtis Granderson (Marlins), Gio Gonzalez (unsigned), Joakim Soria (Athletics)
The Brewers didn't make moves quite as impactful as the Cardinals did this offseason, but they were certainly active and had a fair amount of turnover to their roster. I still don't believe the Brewers have addressed their biggest need which is a top of the rotation starter that can give the team's elite bullpen a rest every fifth game, but they should still be a highly competitive team this year and they could always try to trade for a high-end starter during the season. The biggest move the Brew Crew made this offseason was signing Yasmani Grandal to a one-year, $18.25M contract. Grandal is one of the best offensive catchers in the league, so when you add him to Milwaukee's already excellent lineup, the Brewers are sure to put up runs this season.
The Brewer's bullpen is clearly the best aspect of this team, as Josh Hader, Corey Knebel, and Jeremy Jeffress were all a major reason why the Brewers were just one game away from the World Series in 2018. If this bullpen can come close to being as dominant as they were last season, the Brewers should be in for another great season in 2019.
If I had to guess, I would say that the Brewers will go 94-68, and win the NL Central for a second consecutive year this season.
St. Louis Cardinals:
Added: Paul Goldschmidt, Andrew Miller,
Subtracted: Matt Adams (Nationals), Tyson Ross (Tigers), Bud Norris (currently unsigned), Carson Kelly (D-backs), Luke Weaver (D-backs)
The Cardinals definitely had the splashiest offseason out of all the NL Central teams, trading for Paul Goldschmidt and signing Andrew Miller. Not only are these two players fantastic in their own right, but they filled two major holes that the Cardinals desperately needed to address. Goldschmidt is the middle of the order bat that Marcel Ozuna wasn't last year, and Andrew Miller is the dominant late inning reliever St. Louis needs to shorten games.
One of my biggest concerns with this Cardinals team is the defense. This was an issue for a lot of the year last year before the team made a managerial change that seemed to spark the team, but that spark could wear off, possibly sending them back into old habits. Things also might get a little testy when it comes to playing time, as the players fighting for at bats in the Cardinals outfield are: Marcel Ozuna, Harrison Bader, Dexter Fowler, Jose Martinez, and Tyler O'Neill. That's a lot of guys, so hopefully each player finds their role on this team. Not only does the log jam of an outfield concern me, but the infield might be just as bad. Goldschmidt is now going to play first base everyday, which means Matt Carpenter will be shifted over to third where he isn't as good defensively. Paul DeJong will start at shortstop with Kolten Wong at second and Jedd Gyrko fighting for time wherever he can get it. It is obviously good to have depth for when injuries inevitably occur, but I'm not sure how much I trust this team to play a high caliber of defense.
My favorite part of the Cardinals right now is their fantastic starting rotation that consists of Carlos Martinez, Miles Mikolas, Jack Flaherty, Michael Wacha, and Adam Wainwright, with Alex Reyes waiting in the wings to contribute to the pitching staff once he gets healthy. This rotation is both talented and deep, so I believe it will be vital for this pitching staff to pitch up to its potential in order for the Cardinals to win the division.
My official prediction for the Cardinals in 2019 is that they will finish with an impressive 92-70 record, but will fall just short of winning the division and will have to clinch a Wild Card spot in order to make it to the playoffs.
Chicago Cubs:
Added: Brad Brach, Xavier Cedeno
Subtracted: Daniel Murphy (Rockies)
As you can see, the Cubs did not do very much this offseason. This means they will have an extremely similar team as last year, and I believe they will be a lot more competitive in this division than the PECOTA projections think they will be. My biggest takeaway from the PECOTA projections for the NL Central was that they had the Cubs finishing last, which would be really surprising to me. Despite the disappointing end to 2018, I think the Cubs have a really solid group of players that will compete for a division title this season.
Their starting rotation will (hopefully) be much healthier than last year, which will be a huge boost. The Cubs rotation should be Jon Lester, Jose Quintana, Kyle Hendricks, Cole Hamels, and Yu Darvish, with Tyler Chatwood as a depth guy. That is a really solid rotation and I think they will be able to win a lot of games largely in part because of this rotation.
Even without Daniel Murphy, the Cubs still have a great lineup that will likely put up a lot of runs. Add that to a bullpen that I think will be good, and I think the Cubs will have another good season. I wouldn't be surprised at all if the Cubs decided to trade for an impactful reliever or two when the trade deadline rolls around either, so I think they will improve between now and the playoff push.
All things considered, I think the Cubs will finish with a 90-72 record, but only finish third in their incredibly difficult division.
Cincinnati Reds: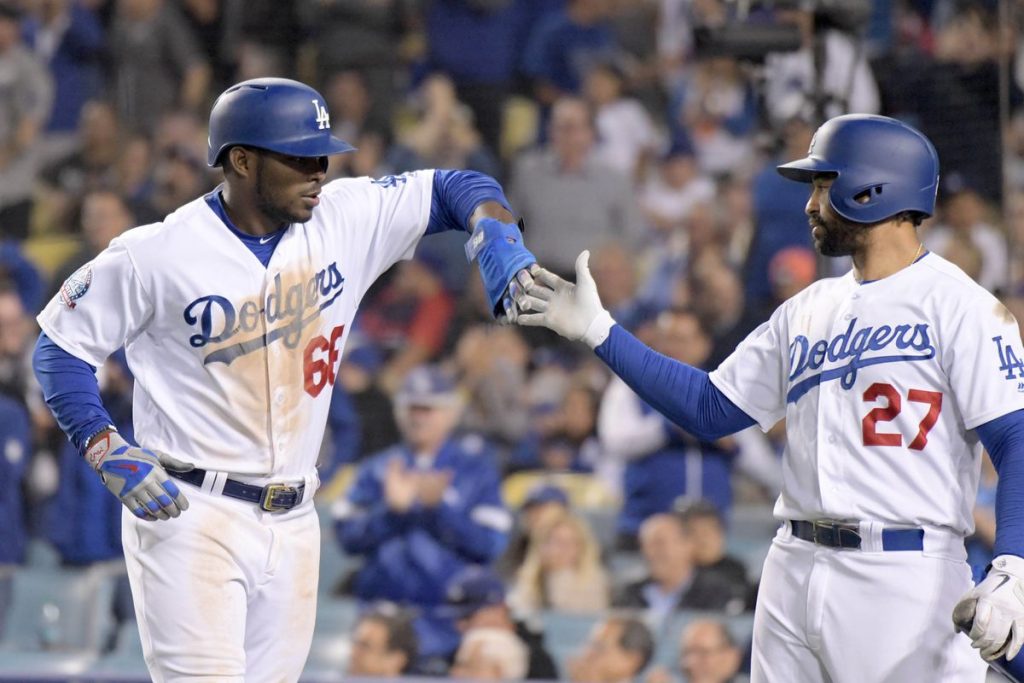 Added: Yasiel Puig, Matt Kemp, Alex Wood, Kyler Farmer, Tanner Roark, Sonny Gray
Subtracted: Billy Hamilton (Royals), Matt Harvey (Angels), Homer Bailey (Dodgers), Jeter Downs (Dodgers)
After a super-surprisingly aggressive offseason, the Reds are trying to send a message to their fans and the rest of the league: "We are trying to win now". I absolutely LOVE the moves the Reds made this offseason, as their fans deserve to see a quality product on the field this summer. Additionally, Joey Votto has been one of the league's best players for years now, so I really want to see him have a good group of supporting players around him.
The Reds filled what I think is their biggest hole they had on their roster this offseason by acquiring three quality starting pitchers. Alex Wood was acquired in the blockbuster deal with the Dodgers that sent Puig, Kemp, Wood, and Farmer to the Reds in exchange for Homer Bailey and prospects Jeter Downs and Josiah Gray. Tanner Roark was acquired for Tanner Rainey in a trade with the Nationals, and Sonny Gray was acquired for Shed Long in a three-team with the Yankees and Mariners. The Reds are banking on Gray to bounce back after a rough stint with the Yankees over the last year and a half, and despite the fact that Great American Ballpark is one of the most hitter-friendly parks in the league, I think there is a good chance Gray finds his old form with the Reds. Gray pitched a lot better away from Yankee Stadium during his time with the Yankees, so maybe the problem isn't the fact that Yankee Stadium is a hitters park, but that Gray felt too much pressure in a big market like New York. Not only this, but Gray will be reunited with his former pitching coach, Derek Johnson, from his days in college at Vanderbilt, where Gray was very effective. I think this starting pitching staff will be much improved from last year, which is desperately needed.
The starting pitching staff isn't the only aspect of the team that was greatly improved, as the offense should be scary for opposing pitchers. Adding Yasiel Puig and Matt Kemp to the already impressive group of Joey Votto, Eugenio Suarez, and Scooter Gennett will almost certainly lead to an uptick in offensive production for the Reds in 2019.
Because of all of these moves, I think the Reds will be better than the 67 wins they totaled last season. I think the Reds will end the season with a 82-80 record, but finish fourth in this stacked division.
Pittsburgh Pirates:
Added: Francisco Liriano (minor league deal), Melky Cabrera (minor league deal)
Subtracted: Josh Harrison (unsigned), Ivan Nova (White Sox), Jordy Mercer (Tigers)
Unlike most of the division, the Pirates did not do much to improve their team this offseason. It doesn't look like they are going to re-sign second baseman Josh Harrison and they lost Ivan Nova, who was one of their most consistent starting pitchers. Despite trading away Nova, I think they will have a solid group of starting pitchers on their roster with Chris Archer, Jameson Taillon, Joe Musgrove, Chad Kuhl, and Trevor Williams. Their rotation is young and talented, but I think the team will need to lean heavily on this group if they are going to be in contention for the division title. Outside of Felipe Vazquez, who is one of the most electric closers in the game, the Pirates don't have a very intimidating bullpen, so these young starting pitchers might have to get used to seeing the team's bullpen blow some leads.
The Pirates' lineup should be decent, as they have a core of Josh Bell, Gregory Polanco, Francisco Cervelli, and Starling Marte. With that being said though, I don't expect them to be bombarding teams with a lot of rallies on offense, so I don't think they will be able to give the starting rotation enough support to keep up with the other teams in the NL Central.
All in all, I certainly do not think this is the Pirates year to win the division, and I think they will end up finishing around 73-89, and in last place in the NL Central. This might seem harsh for a team that won 82 games last year and didn't lose many impactful players in the offseason, but I think the other teams in the division are simply better than the Pirates, which could very well lead to them being exposed throughout the regular season.