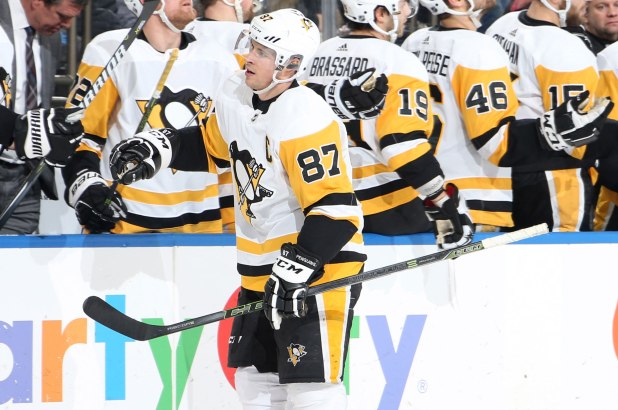 It's a new year and a brand new edition of our weekly power rankings.
By Chris Yackel
A brand new year and brand new opportunities for several of the NHL's top teams to get to move up the standings and move up the power rankings. There were some tough calls on what teams made the cut for the top ten. Let's see what these power rankings look like this week.
#10. NY Islanders Record: 22-13-4, Fourth in Metropolitan
This team continues to prove the doubters wrong and are just one point out of the playoffs. They have won five in a row and a big part of that is due to the fact that Mat Barzal has finally woke up this season. He has nine goals in his past nine games and is on fire. It's not that Barzal has played terrible this season, he just hasn't looked like the rising star we saw last year for most of this season. That has changed as of late. Barzal and the rest of the squad looks good. Watch out for the Islanders.
#9. San Jose Sharks Record: 22-13-7, Third in Pacific
Another team that wasn't in the top ten last week that moved into the power rankings the Sharks are starting to look really good. Erik Karlsson has finally started to look like the player the Sharks traded for this offseason. If Karlsson is on top of his game that puts the Sharks back on the map as favorites in the Western Conference. Add in veteran talent like Joe Pavelski scoring on a torrid pace, Brent Burns having a great comeback season and Joe Thornton this team has all the makings to be a legitimate threat.
#8. Columbus Blue Jackets Record: 23-13-3, Third in Metropolitan
Columbus has the look of a team that could make a deep run, or they can lose in the first round. I really don't know which one and with big decisions to make on Artemi Panarin and Sergei Bobrovsky, I don't envy being in General Manager Jarmo Kekalainen's position. We'll see how this team looks as time progress, but it certainly does not lack talent.
#7. Calgary Flames Record: 25-13-4, First in Pacific
This team just continues to roll thanks to the big guns, Johnny Gaudreau and Sean Monahan. They are also reaping the rewards of the trading for Elias Lindholm and Noah Hanifian. Hiring Bill Peters also has been a great decision to this point. The only concerns I have with this team is there goaltending situation and James Neal. What is going on with him? Hopefully, for the Flames sake he turns his season around.
#6. Winnipeg Jets Record: 25-12-2, First in Central
Winnipeg just keep sailing on as they are 7-3 in their last ten. No one really seems to be talking about them, but their depth is just unreal. There are a handful of teams I really like in the West to make a run and Winnipeg when its all said and done can be that team.
#5. Washington Capitals Record: 24-12-3, First in Metropolitan
The Caps just keep chugging along as the only "controversy" here is their captain not wanting to play in a meaningless all star game. Besides that, this team has been steady and I expect them to stay that way the entirety of the second half.
#4. Vegas Golden Knights Record: 24-15-4, Second in Pacific
Don't look now but Vegas have won four straight and are absolutely rolling. After struggles early on this season this team has looked like they have turned a corner. On November 19th Vegas was dismantled by Calgary 7-2 dropping them to a 9-12-1 record. Since then they are 15-3-3. Just great stuff from a team that since its inception have been counted down and out and have proved experts wrong. I expect this team to keep climbing as the year goes on especially in these power rankings.
#3. Toronto Maple Leafs Record: 26-12-2, Second in Atlantic
Toronto is holding steady in the power rankings although they have been inconsistent as of late dropping two straight. Both losses at home where they were kicked to the curb by the Islanders and had bad goaltending against the Wild. Injuries to goaltending is a main culprit to this inconsistency. Both starter Fredrik Andersen and backup Garrett Sparks are hurt. That's not good at all. Lucky for the Leafs they have ridiculous offensive talent, although William Nylander needs to get his game going. Getting his first goal of the season yesterday hopefully will be a step in the right direction for Nylander.
#2. Pittsburgh Penguins Record: 22-12-6, Second in Metropolitan
This is the second hottest team in the NHL. They have won seven straight and have been 12-3-1 since December 1st. The stars (Crosby, Malkin, Kessel, Letang) have been scoring and have been playing well all season. However, the reason for the early season struggles for Pittsburgh were due to the lack of secondary scoring and subpar goaltending. The secondary scoring has really ramped up recently and Matt Murray has been great in net winning his last six games. This team is scary good looking forward. I'm one that believes the Penguins have one more cup run in them. It's starting too look eerily like a Stanley Cup roster to me.
#1. Tampa Bay Lightning Record: 32-7-2, First in Atlantic
Just like Pittsburgh Tampa has also won seven straight games. They are now 15-0-1 in there last sixteen and have just SEVEN regulation losses this season. This is by far the best team in the NHL and its not even close. The Lightning have a 12-point lead on the second best team point wise the Toronto Maple Leafs. That's just plain crazy. They have the depth, the goaltending, starpower and coach to win it all. It's been that way for two years now. However, can they finish the job? That's the biggest question.