By: Andrew Hubschman
The New York Liberty – then 10-9 – came into Indiana on their first win streak in over a month. Instead of going on a three-game win streak which would have tied their season long, the Liberty lost to the woeful Indiana Fever, 82-69. The main takeaways from this game was the team's signs of fatigue throughout the contest, as they failed to execute and come up big, and that the defense could not stop the run. Should last night's game raise concerns ahead of the team's remaining schedule?
First Quarter: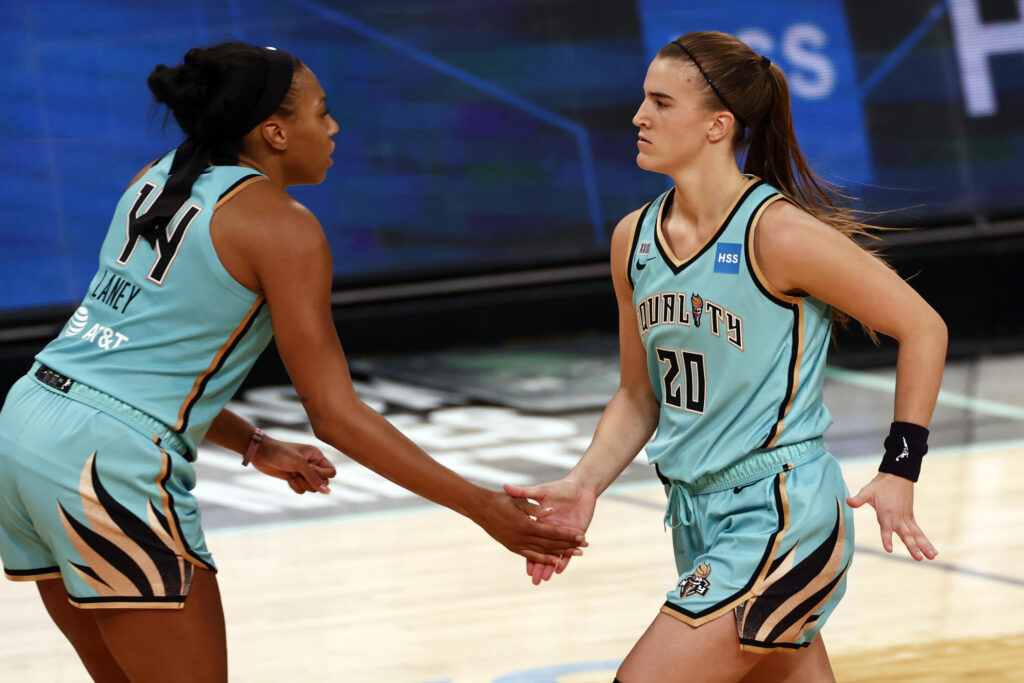 Betnijah Laney led the way in the first quarter, scoring 13 points along with 5 rebounds (3 offensive). Sabrina Ionescu followed suit, showing off her usual versatility by scoring 4 points, 3 assists, and 2 rebounds. The team capitalized on each off of Indiana's three turnovers as they scored six points. Despite turning the ball over 5 times, the Liberty took a commanding 28-23 lead heading into the second quarter.
Second Quarter:
The offensive pace slowed down in the second quarter, as the team scored only 12 points on 5/14 shooting from the floor. Laney and Ionescu went scoreless in the quarter. Jazmine Joes came up big near the end of the half, drilling a deep three in the closing minute to bring the score to two points (42-40). The Liberty trailed at halftime, 44-40, having already committed 10 turnovers.
Third Quarter:
The Liberty's struggles carried into the second half as they failed to score their first points until Laney scored a three-foot layup with 7:09 remaining in the third quarter. New York finished with just 12 points in the period on 5/14 shooting and committed 6 costly turnovers. Kylee Shook and Sami Whitcomb however drilled much-needed three pointers in the last minute-and-a-half of the period.
Fourth Quarter:
Kylee Shook began fourth-quarter scoring with a 23-foot 3 pointer to bring the score to 63-55. Laney made two free throws to bring their deficit down to 63-57, but three more costly turnovers and two shooting fouls brought deficit back to double-digits at 67-57. Then, with less than 5:30 remaining, New York went on a 6-0 run to make the score 69-63 until a Tiffany Mitchell layup at 3:19 ended their streak. The Liberty never recovered, as they surrendered 11 points in the final 2:39 that came from six free throws, a layup, and a daggering three-pointer by Kelsey Mitchell to seal Indiana's victory.
Concerns To Raise…
The notable struggles in last night's game were that of stars Laney and Ionescu, as the two combined for 13 of New York's 20 turnovers. Both started showing signs of regression after coming off the bench in the second quarter. Laney subbed in for Michaela Onyenwere (who finished the game scoreless for the first time in her professional career) with 7:46 left in the period and went 0-2 with one turnover. Ionescu came off the bench with just over 5:30 to go in the period to replace Kylie Shook – who had 7 points at the time. Ionescu went 0-3 with one turnover in the quarter. Laney scored 10 points the rest of the way, whereas Ionescu's first-quarter buckets proved to be her last.
Another major concern was the team's failure to get any momentum going following the first quarter, where they had their largest lead at 7 points. The Liberty struggled to capitalize off of Indiana turnovers and missed shots, as well as second chance points – the latter of which has been a struggle for New York all-season long. Now sitting second-to-last in the category with just 8.3 per game, the Liberty made just two buckets for 4 points on nine second-chance opportunities.
On The Bright Side….
Despite the sloppy loss, there were a few silver linings worth pointing out. Substituting for each other throughout the game were second-year forward out of Louisville Kylie Shook (24) and five-year veteran Reshanda Gray (1). The two in tandem combined for 23 points and 11 total rebounds. Despite having an up-and-down season in her first year as a starting forward, Shook scored 13 points on 5/7 overall shooting and 3/4 from three-point range – all of which are career highs.
Gray was re-signed by the Liberty on July 1st after going unclaimed. In her first three games since putting back on the seafoam jersey, she notched three straight games scoring 10+ points off the bench, tying a career-high she set back in 2019. She now has four games scoring in double-digits, tied for a personal second-best she also set two years ago. The Liberty's second-longest tenured player has been filling in a much-needed void now that Rebecca Allen is out indefinitely and is currently overseas. Since her return, Gray has been the Liberty's best player of the bench and she does not intend on slowing down.
Overall, last night's loss was ugly, but it is not too late for this team to rebound. At 10-10, the New York Liberty, a team that once started 5-1, look to finish their first-half above .500 as they battle the Eastern Conferences top seed Connecticut Sun tomorrow at 3:00 P.M. EST, their last game prior to the All-Star Game in Las Vegas on Jul. 14 and Tokyo Olympics from Jul. 23 – Aug. 8. They will resume their season on Aug. 15.