By: Andrew Hubschman
Needing to play like his playoff life depended on it – which it did – Kevin Durant had the game of his Nets career, guiding his team to a 114-108 come-from-behind victory over the Bucks to take back the series lead. Of course, he did not do it alone; a returning Jeff Green drained 27 points in his second game since returning from a foot injury he sustained in the First Round against the Celtics. Here are the biggest takeaways from last night's thriller:
The Nets lost Kyrie Irving to an ankle injury he sustained in Game Four, and his return is unknown. Despite being short-handed, Durant was unstoppable. Not only did he score the fourth 40-15-10 playoff triple-double in playoff history, but he also shot 16/23 from the court; drained four three-pointers on nine tries; made 13 free throws on 16 attempts; and collected three steals and two blocks. He played all 48 minutes while doing so, becoming the first player to play an entire game since LeBron's 2018 Eastern Conference Finals Game Seven victory against the Celtics.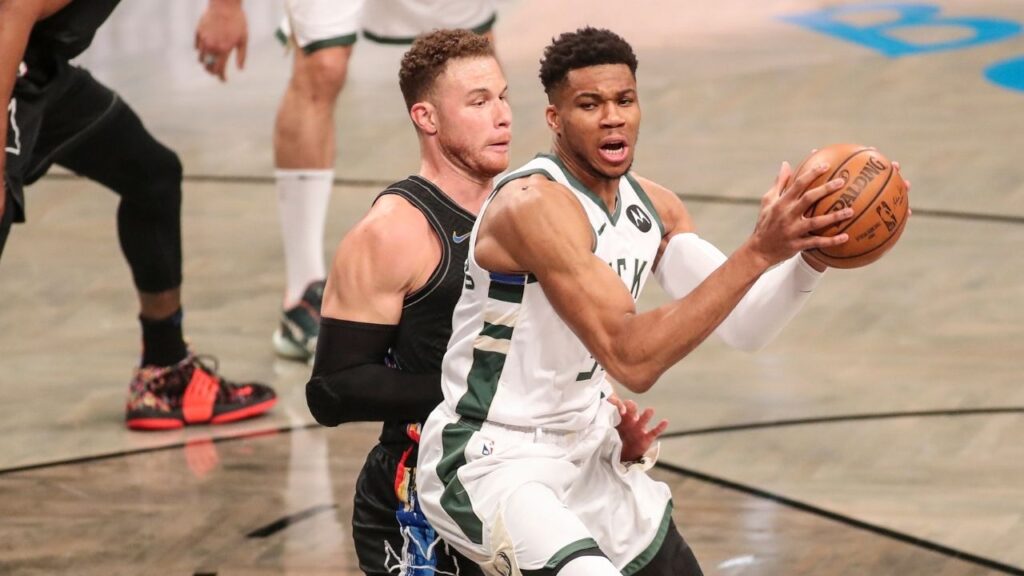 Going back to the beginning, the Nets had a hard time trying to stop Giannis in the first-half as he scored 17 points – 11 of them came with Blake Griffin as the primary defender. Antetokoumpo finished the game with 34 points. Despite allowing Khris Middleton to score 14 first-half points, the Nets held him to just four field goals on 12 shots. Middleton scored 25 points on 8/22 shooting.
Brooklyn trailed by as many as 17 and were down 59-43 at halftime. Entering the fourth quarter, the Nets trailed 87-81 with Durant having scored 29 points, 15 rebounds, and eight assists. Durant then had a quarter for the ages. With over 8:30 left to play in regulation, Durant nailed a long three-point jumper to put the Nets up 94-93 – their first lead since being up 2-0 in the first minute of the game. Forty seconds later, he drained another deep three to put his team up 97-96. Then, with 50.5 seconds left, he gave the dagger, making another deep trey to put the Nets up 109-105. The Nets did not look back, as Durant totaled 20 of Brooklyn's 33 fourth-quarter points.
Brooklyn's other hero, Jeff Green, bounced back from his eight-point outing in Game Four – his first game back since the Nets' First Round series against the Celtics. Coming off the bench, he provided more damage with 27 points of his own on 8/11 overall shooting, including seven three-pointers (four in the second half) on eight attempts, all in 35 minutes. His signature moment was in the fourth quarter, when he landed his last three-pointer with 3:41 left in regulation that put the Nets up 104-100. Blake Griffin had his own comeback game, adding 17 points with three three-pointers and three defensive rebounds as he rounded off all the Nets' double-digit scorers.
Several Bucks' miscues also helped the Nets late in the fourth quarter. Down 109-107 with 25 seconds left, Giannis rebounded a Durant missed three-pointer, drove down the court, and gave the ball to Middleton past half-court. Middleton drove to the paint and passed back to Giannis, who fumbled the pass and was then deflected by Green into the hands of Durant; Milwaukee sent him to the line with 15.3 seconds to go without a foul to give where he would make both free throws.
Giannis also missed two key free throws: one while trailing 106-104 and another while down 111-108. Durant rebounded the second missed free-throw and was then sent back to the line, making one of two shots to put the game out of reach. Middleton went scoreless in the final eight minutes while shooting 0/4; Giannis scored six points on 2/5 shooting. Overall, the Bucks shot 4/13 from the field (12 points) in the final 7:54 of regulation time, the last moment the Nets saw themselves behind in the game.
In other news, James Harden returned to the court… well, sort of. While wearing bandaged wrap around his leg, Harden played 46 minutes, but he scored only five points while making just one field goal in ten tries; he missed all eight three-pointers attempted in the process. One should give him the benefit of the doubt; he is fresh off a hamstring injury and wanted to get back on the court and contribute to his team. In fact, his presence played a big role in the lack of coverage on Durant and Green. Plus, who's to say he won't have a bounce-back game? Hopefully today's off-day will benefit him well enough going into tomorrow's Game 6 in Milwaukee.
Leading 3-2, the Nets look to close out the series and advance to the Eastern Conference Finals for the first time since 2003. Will they pick up where they left off, or will the series return to Brooklyn for a fierce Game Seven?