By: Rob Schardt
I remember it like it was yesterday, I was at Newark Airport traveling to Florida for the winter when I got some devastating news on my phone. The ESPN notification read, "Oregon's Justin Herbert to stay at Oregon for senior season." I was absolutely crushed because my New York Giants were off to an abysmal start once again and I was dreaming of the possibilities of having Herbert under center with Saquon Barkley in the backfield. It didn't happen…The LA Chargers drafted Herbert in the 2020 Draft.
Collegiate Career:
In 2019, Herbert led the Ducks to a 12-2 record, finishing 5th in the College Football ranking. Sadly, the country was not able to see the potential star in action in the playoff. Herbert was right, there was a lot of unfinished business and he proved that he still was a top pick in the draft. When 2020 mock drafts began to appear, I began to wonder where the quarterback was going to fall. There was no doubt that LSU's Joe Burrow will be number one, but then there were talks about Herbert going down to Miami and playing for the Dolphins, which I believed was a great fit.
Herbert's Rise to Fame
After Tyrod Taylor got injured earlier this season, Herbert took over as the starter. He has been on an absolute tear since taking over the starting role, throwing for 2,699 yards, 22 touchdowns, 6 interceptions with a 68% completion percentage. This past Sunday, Herbert faced off against a horrendous Jets team and absolutely dominated looking like an MVP candidate. He completed 37-49 passes for 366 yards and three touchdowns and looked like a true franchise quarterback.
Herbert has developed a tremendous chemistry with wide receivers Keenan Allen and Mike Williams, as well as tight end Hunter Henry. He is putting up these impressive numbers without their number one running back, Austin Ekeler, one of the best dual-threat running backs in the league. This offense has the potential to go head to head with Patrick Mahomes and the Kansas City Chiefs for years to come as Herbert learns to become an even better starter in the league. This trio can possibly evolve into the best QB, RB, WR duo in the league. Since week 4, Herbert has thrown 15 touchdowns, which is tied with Aaron Rodgers and one behind Patrick Mahomes (16). Herbert also had 7 straight multi-touchdown games, the most by a rookie in NFL history. He also has the most 20+ yard touchdown throws in the league, which just shows how great of an arm he really has.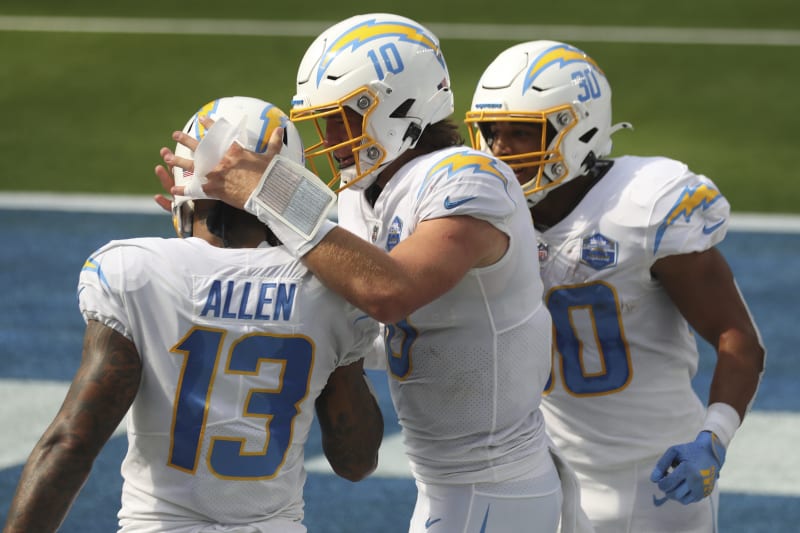 Long Term Outlook for Herbert
Over the next few years, I believe Herbert and this offense will grow and all of the pieces will for sure come together making this Chargers team atop the league's best. The Chargers have found their guy, and I am truly envious as someone who would have LOVED the Giants to have on their roster. There is a ton to love about this kid and with a horrific injury to stud rookie Joe Burrow, I believe Justin Herbert is on pace for the offensive rookie of the year. The future is now Charger fans, and rejoice you have a complete star in the making.