By: Andrew Hubschman
Before the Yankees' series finale against the Mariners on Aug. 8, newly-acquired first-baseman Anthony Rizzo tested positive for COVID-19, which paved the way for Luke Voit's return to the lineup. The team activated Voit from the 10-day injured list and started him at first base for the first time since their trade for Rizzo. Despite starting in each of the team's last nine games, Voit's playing time has raised concerns due to the eventual return of Rizzo, who would be a permanent starter for the rest of the season. Is it possible for the Yankees to start Voit and Rizzo?
Despite having an injury-plagued season, Voit came through in yesterday's double-header sweep of Boston. He knocked in two runs on a go-ahead single in Game 1, which the Yankees won 5-3, and a solo homerun in the nightcap. Following last night's 2-0 victory, manager Aaron Boone was asked about Rizzo's return and if Voit's clutch hits in both double-header victories gives the manager any second thoughts of reserving his fourth-year first-baseman. While calling it a "day-by-day" process, Boone acknowledged Voit's value to the team and the Yankees' need for as much solid depth as they can get.
Clearly, Voit wants to keep playing for the Yankees, but also admits that Rizzo's presence requires some slight adjustments to the lineup. Nevertheless, Boone said the following today:
As for Rizzo, the three-time All-Star will make his return to the lineup in tonight's series finale against Boston. Here is tonight's lineup: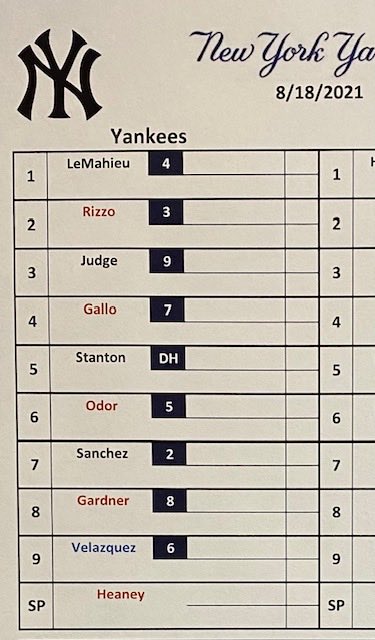 The Yankees' first base experiment will continue without Voit in the lineup. As Boone said, this is a "day-to-day" process to decide what the best lineup going forward should look like. Both of them deserve to play, but the question remains how.
After last night's victory, Giancarlo Stanton spoke out about playing in the outfield. "It's been fun," Stanton said at his Zoom press conference. "It's been good getting back into that routine, and especially this team's in a better spot, in my opinion, if I'm out there just with our offensive flexibility if I can be out there more often." Adding merit to his claim, Stanton's batting average was .252 before his first game in the outfield this season back on Jul.30 against the Marlins. Today, it rests at .263.
Stanton was then asked about the possibility of including both first-basemen in the lineup. "That's where me in the outfield comes into play," Stanton said. "We're dangerous all around, and that just makes us even more."
Here is what the lineup should look like going forward:
1. DJ LeMahieu 2B
2. Aaron Judge RF/CF
3. Anthony Rizzo 1B
4. Joey Gallo CF/LF
5. Giancarlo Stanton LF/RF
6. Luke Voit DH
7. Rougned Odor 3B (along with Gio Urshela)
8. Gary Sanchez C
9. Tyler Wade SS (until Gleyber Torres returns)
Conclusion:
Boone wants to see how each player performs both in the lineup and at his respective position, so it might be a while before we actually see this starting format. However, it he wants to beat a playoff chaser like the Red Sox, it would make sense to place Voit as the designated hitter while putting Stanton in the outfield with Judge and Gallo. The Yankees have climbed themselves out of a ten-game hole behind Boston, and are now tied with the Oakland Athletics for the top Wild Card spot, so Boone should use all his top guns to keep this turnaround alive.