By: Kyle Faessler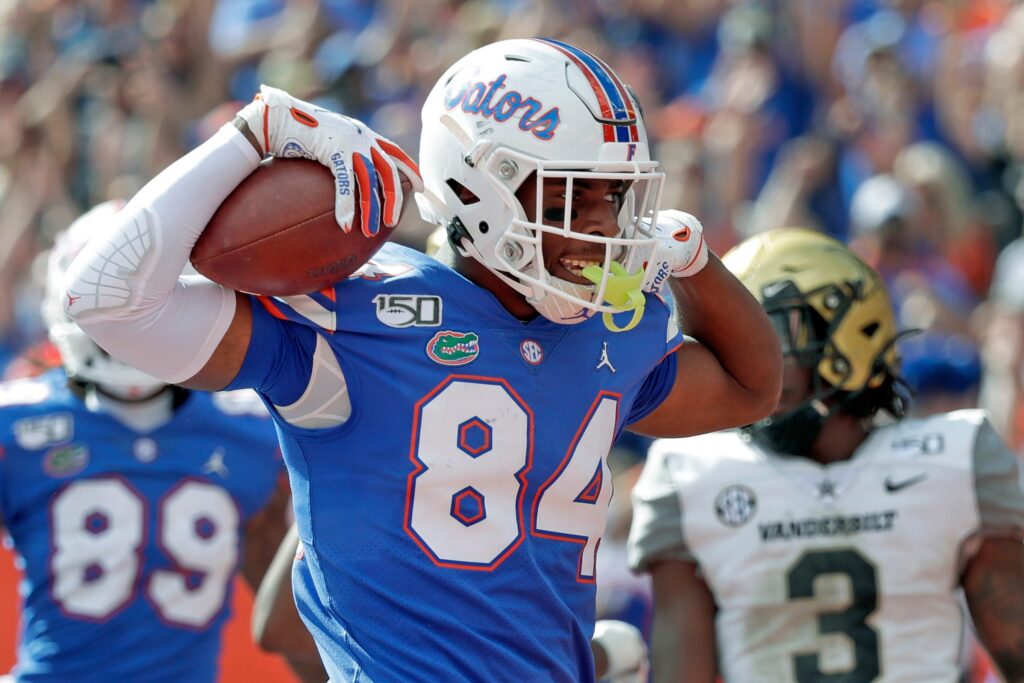 Round 1
1 Jacksonville Jaguars
This pick has been on the card since the clock hit zero at the 2019 CFP Championship Game. The only real question was who was going to be here and it's Jacksonville and new HC Urban Meyer that won the Tank for Trevor sweepstakes.
2 New York Jets
After trading Sam Darnold, the Jets have positioned themselves to select a new signal-caller under first-year head coach Robert Salah. Wilson meets the modern requirements for the position as passer and improviser, but it will be interesting to see how he acclimates to the NFL after having played relatively lesser competition as a Cougar.
3 San Francisco 49ers
Fans may not be giving enough credit to the steady 2021 National Champion and former backup to two NFL starters, and it almost seems like Jones' hand in the success has been overlooked. The Niners are going to be heavily scrutinized after trading up regardless of who they take here but the smoke seems to be signaling their intention to take Jones here and Shanahan being in Tuscaloosa with Lynch only fans those flames.
4 Atlanta Falcons
New GM Terry Fontenot ideally would want to trade out of this pick to fill more pressing needs on the defense, but I don't foresee a deal coming into place. Atlanta restructured Matt Ryan's contract and hinted at surrounding him with more talent which would be more than accomplished by taking Pitts.
5 Cincinnati Bengals
Even with the history and chemistry between Chase and Burrow, this pick is far from a no-brainer given the Bengals' offensive line problems. However, the Bengals need to do what's best from a value standpoint and I don't see Duke Tobin having any second thoughts about giving Joe the guy he threw twenty touchdowns to en route to winning the Heisman and National Championship Trophies.
6 Miami Dolphins
OT Rashawn Slater – Northwestern
Slater probably is not the prospect Miami fans had in mind when they saw the Fins jump back into the number six spot, but he's going to be a plug-and-play starter on the offensive line at either tackle or guard. Slater opted out of the 2020 season but showcased his abilities in 2019, highlighted by a great performance against the former number two overall pick Chase Young and should be a versatile and reliable contributor from day one.
*Detroit trades the 2021 7th Overall Pick to Washington for the 2021 19th Overall Pick/2021 51st Overall Pick/2022 1st Round Pick
7 Washington Football Team
QB Trey Lance – North Dakota State
With youth across the defense and at the playmaking positions offensively, Washington is in a great position with the addition of the ultimate bridge quarterback (Ryan Fitzpatrick) to add a developmental passer. Lance is an unprecedented prospect as it comes to his makeup and small sample size but is well worth the gamble if he's able to go to a situation like Washington's where he can be properly developed.
8 Carolina Panthers
CB Patrick Surtain II – Alabama
For better or for worse, the Panthers' recent history has seen them allow their corners to leave Charlotte and they haven't been able to find a long-term solution alongside Donte Jackson. In a division that features a number of the league's top receiving threats, getting a high floor, consistent, and a technically sound player like Surtain II should allow their defense to continue to put the Joe Brady's offense in a position to win games.
*Denver trades the 2021 9th Overall Pick/2021 253rd Overall Pick to Minnesota for the 2021 14th Overall Pick/119th Overall Pick/2022 1st Round Pick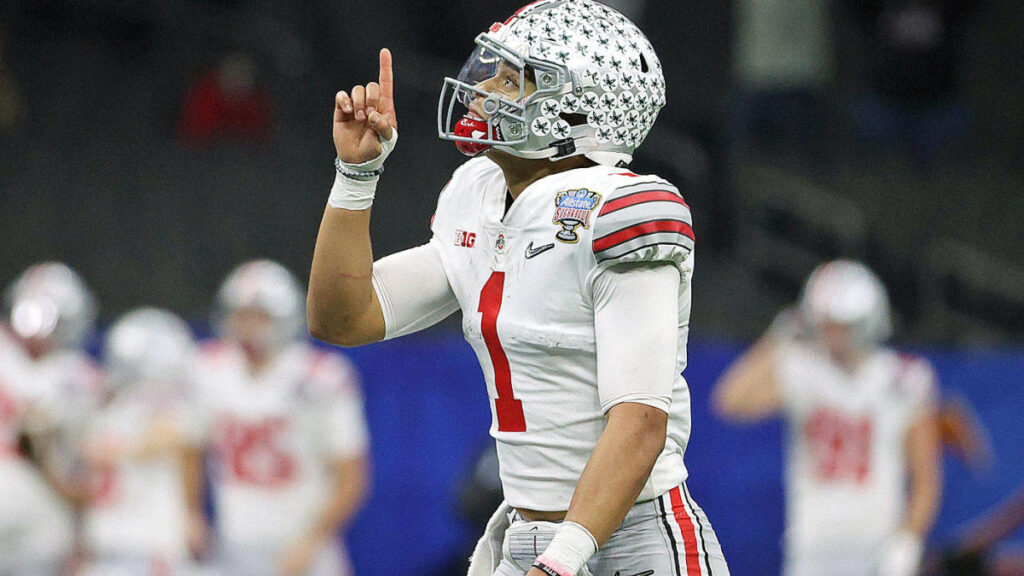 9 Minnesota Vikings
Kirk Cousins' contract has just one year remaining after this upcoming season and Minnesota doesn't appear to be in a position to gather talent to push for contention in 2021. Fields would bring an element to the team that Cousin's just doesn't have and would be the long-term solution for the Vikings that very well could push for playing time as early as this season.
10 Dallas Cowboys
CB Jaycee Horn – South Carolina
For a guy who's trained with Jalen Ramsey pre-draft, tested off the charts at his pro-day, and drawn high praise from Richard Sherman; it doesn't seem like he's getting too much love. New DC Dann Quinn witnessed Horn's near-perfect RAS performance in Columbia and is getting a guy who should instantly help fix one of the league's leakiest pass defenses from last year.
11 New York Giants
The G-Men ranked thirty-first in the NFL in offensive PPG and YPG as well as in sack percentage but didn't invest nearly as much in free agency into their front seven. If I had to guess, Gettleman has been waiting to address that side of the ball in the draft and Ojulari physically is everything you want in a 3-4 edge rusher and has the college production combined with strong leadership qualities to make him the pick here.
12 Philadelphia Eagles
The Boo Birds could be out in full force if Philly doesn't take one of the Bama wideouts, but the reality is last year this offensive line was a huge reason they weren't competitive. Yes, the Eagles will get back a lot of the guys that were injured, but Sewell is a generational talent and I would argue his availability alone could be an upgrade over the unproven Dillard or the oft-injured Johnson.
13 Los Angeles Chargers
GM Tom Telesco isn't shy about going best player available and has the roster set up to be able to take one of the elite receiver prospects in the draft. In their first real season with fans at SoFi Stadium, they'll make sure they have their share of the LA spotlight by putting the most electric player in the draft on the Bolts.
14 Denver Broncos
All signs point to Denver addressing the defensive side of the ball in the draft this year given the disparity of cap space allocated to the offense. With tape that shows flashes of Darius Leonard and pro-day numbers reminiscent of Roquan Smith, Davis is a naturally perfect fit for Vic Fangio's defense, and it wouldn't surprise me at all to see him go much earlier than many people believe.
15 New England Patriots
Outgoes Edelman, in comes the Heisman-winning Smith to silence the doubters about being an undersized wideout in the NFL. DeVonta would be one of the ultimate "Patriot picks" and there's no doubt Belichick would love to have another ultra-tough, ultra-competitive route-runner in his system.
*Arizona trades the 2021 16th Overall Pick/2021 160th Overall Pick to Kansas City for the 2021 31st Overall Pick/2021 94th Overall Pick/2022 2nd Round Pick
16 Kansas City Chiefs
After getting chased around by Jason Pierre-Paul and company in Miami last February, the Chiefs have to realize that they lack that difference-maker in the second level of the front seven that can change a game. Parsons is an athletic specimen with instincts that could make him an elite outside linebacker in the NFL.
17 Las Vegas Raiders
DT Christian Barmore – Alabama
The plan this offseason in Vegas had to have been to fix this defense that in all honesty was a huge reason this team sputtered down the stretch. Barmore is a massive interior disrupter who's going to be a three-tech stud on the Raiders line who comes in the same mold as a number of recent first-rounders drafted from the Nick Saban defensive line factory.
18 Miami Dolphins
A modern unicorn at the linebacker position, the reigning Bronco Nagurski award winner is likely a lot higher on NFL boards than the public believes. Collins could be an absolute monster in Flores' defense and his scheme diverse traits should allow him to play across the front seven as a disruptor or in coverage.
19 Detroit Lions
New GM/HC tandem of Holmes and Campbell has stressed a desire to marry new-age analytics with old-school toughness in Detroit. A trade back checks that first box and taking the Liberian-born immigrant that plays the game with max-effort and high character more than checks the second.
20 Chicago Bears
It's been a decade since Chicago used a Day One Pick on a tackle and I don't foresee Ryan Pace bucking that trend. One of the aspects of Matt Nagy's offense that has been mostly non-existent for the Bears is the Tyreek Hill-like explosive playmaker and Kadarius Toney is a YAC slot nightmare for opposing defenses.
*Indianapolis trades the 2021 21st Overall Pick to Green Bay for the 2021 29th Overall Pick/2021 62nd Overall Pick
21 Green Bay Packers
CB Greg Newsome II – Northwestern
GM Mike Gutekunst has traded up every year in charge and hinted at doing the same in his offseason press conference. Green Bay got exposed at corner (aka Kevin King) in the playoffs for not having a capable number two to play alongside Jaire Alexander and Newsome's numbers fit what the Packers look for plus he gets rave reviews from scouts for his speed/size/ball skills combination making him a worthy trade-up target.
22 Tennessee Titans
With Corey Davis and Jonnu Smith no longer in the picture, the Titans are paper-thin right now with pass-catchers. Bateman's not a burner, but he's built to be an instant-impact receiver in the NFL with to great hands, the ability to create separation, and incredible contested catch ability which should instantly bolster their receiver room.
23 New York Jets
This pick is going to go on the card even faster than New York's first one. The Jets desperately need answers at the guard spot and Vera-Tucker, who was a high-level tackle at USC, projects favorably in the NFL at guard and is far and away the top interior lineman prospect in the draft giving the Gang Green an insurance policy on the Lamborghini they took with pick number two.
*Pittsburgh trades the 2021 24th Overall Pick to Philadelphia for the 2021 37th Overall Pick/2021 70th Overall Pick/2021 224th Overall Pick
24 Philadelphia Eagles
After notoriously passing up on Justin Jefferson last season, Philly uses some of their league-most 11 draft picks to make sure they get their guy. Marshall played third fiddle to Chase and Jefferson at LSU, but the 6'3'' speedster shined through shaky quarterback play this past year and is one of my favorite players in the entire draft.
25 Jacksonville Jaguars
LB Jeremiah Owusu-Koramoah – Notre Dame
New DC Joe Cullen arrives in Duval from Baltimore with the desire to build a defense that can adapt to attack the specific weaknesses of their opponents on a week-to-week basis. Insert the reigning Butkus-winning hybrid linebacker who has the ability to play as a box safety and we could be witnessing a Derwin James-like impact player in the middle of the field for the Jacksonville defense.
26 Cleveland Browns
DT Levi Onwuzurike – Washington
It's crazy to say, but Cleveland may have one of the best rosters on paper in the entire league. GM Andrew Berry has done an excellent job filling the remaining holes on the roster and after moving on from Sheldon Richardson, the Browns should feel comfortable slotting the terrific run-defender Onwuzurike into the front four.
27 Baltimore Ravens
After the departure of longtime center Matt Skura to Miami this offseason, Baltimore finally shores up the position with the Big 12 Offensive Lineman of the Year. Humphrey posted a ridiculous RAS score at his Pro-Day and should give the Ravens instant reliability at Center.
28 New Orleans Saints
Sean Payton certainly doesn't like being conventional, but he does like playing Kamara in the slot so adding a running back here is a sneakily intriguing pick for the Saints. A combo in the backfield of Najee and Kamara would take pressure off of whoever ends up filling Drew's shoes under center and would be among the best committees in the entire league Week One.
29 Indianapolis Colts
OT Christian Darrisaw – Virginia Tech
Most that follow mock drafts would be shocked to see Darrisaw to the Colts all the way at pick twenty-nine, but with the offensive line class being so deep teams could decide to wait on other prospects and take guys they view as value picks later. If that ends up being the case, Indianapolis could luck out here and end up with a high-quality prospect at a low pick.
30 Buffalo Bills
Phillips is an interesting case study of a prospect considering he medically retired in 2018 at UCLA before coming back and dominating with Miami in 2020, but should he put the pieces together he could be going awfully low at pick thirty. With aging rushers on the edge in Buffalo, it's time to look for eventual replacements and Phillips could continue to develop into his skillset.
31 Arizona Cardinals
CB Caleb Farley – Virginia Tech
Offseason back surgery is going to scare a lot of teams out of this pick, but Farley got the green light from the NFL medical teams that evaluated players this week. The Cards have a pretty significant need at corner and Farley is among the best in the draft so the gamble on his health right now is well-worth the payout if he can put the injury history behind him.
32 Tampa Bay Buccaneers
The Bucs have little depth behind Barrett and Pierre-Paul and given the major impact they had down the stretch with those guys it's important they bring in someone that could be groomed as well as provide coverage. Oweh flashed ridiculous traits at his pro-day and is already a great run-stopper but could greatly benefit from learning from a coach like Todd Bowles and behind a player like JPP.
Round 2
33 Jacksonville Jaguars
TE Pat Freiermuth – Penn State
34 New York Jets
OT Teven Jenkins – Oklahoma State
35 Atlanta Falcons
CB Asante Samuel Jr. – Florida State
36 Miami Dolphins
37 Pittsburgh Steelers
38 Cincinnati Bengals
IOL Landon Dickerson – Alabama
*39 Indianapolis Colts
S Trevon Moehrig – TCU
40 Denver Broncos
RB Javonte Williams – North Carolina
41 Detroit Lions
OT Samuel Cosmi – Texas
42 New York Giants
G Alex Leatherwood – Alabama
43 San Francisco 49ers
CB Tyson Campbell – Georgia
44 Dallas Cowboys
EDGE Joe Tryon – Washington
45 Jacksonville Jaguars
S Richie Grant – UCF
46 New England Patriots
CB Ifeatu Melifonwu – Syracuse
47 Los Angeles Chargers
OT Liam Eichenberg – Notre Dame
48 Las Vegas Raiders
OT Spencer Brown – Northern Iowa
49 Arizona Cardinals
50 Miami Dolphins
DE Carlos Basham Jr. – Wake Forest
51 Detroit Lions
52 Chicago Bears
53 Tennessee Titans
CB Eric Stokes – Georgia
54 Carolina Panthers
LB Nick Bolton – Missouri
55 Pittsburgh Steelers
C Quinn Meinerz – Wisconsin-Whitewater
*56 Cleveland Browns
DE Gregory Rousseau – Miami FL
57 Los Angeles Rams
EDGE Joseph Ossai – Texas
58 Baltimore Ravens
LB Baron Browning – Ohio State
59 Seattle Seahawks
IOL Kendrick Green – Illinois
60 New Orleans Saints
DE Payton Turner – Houston
61 Buffalo Bills
CB Kelvin Joseph – Kentucky
*62 Pittsburgh Steelers
G Jaylen Mayfield – Michigan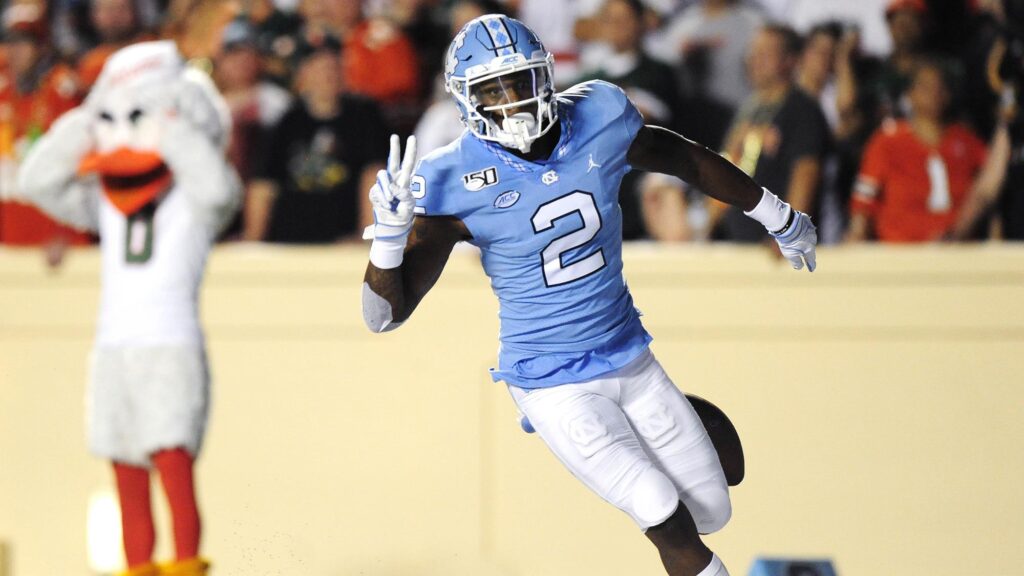 63 Kansas City Chiefs
WR Dyami Brown – North Carolina
64 Tampa Bay Buccaneers
CB Paulson Adebo – Stanford
Round 3
65 Jacksonville Jaguars
WR Tylan Wallace – Oklahoma State
66 New York Jets
CB Elijah Molden – Washington
67 Houston Texans
C Josh Myers – Ohio State
68 Atlanta Falcons
DE Ronnie Perkins – Oklahoma
69 Cincinnati Bengals
DT Milton Williams – Louisiana Tech
70 Indianapolis Colts
DE Rashad Weaver – Pittsburgh
71 Denver Broncos
OT Brady Christensen – BYU
72 Detroit Lions
DT Jay Tufele – USC
73 Carolina Panthers
74 Washington Football Team
LB Chaz Surratt – North Carolina
75 Dallas Cowboys
OT Dillon Radunz – North Dakota State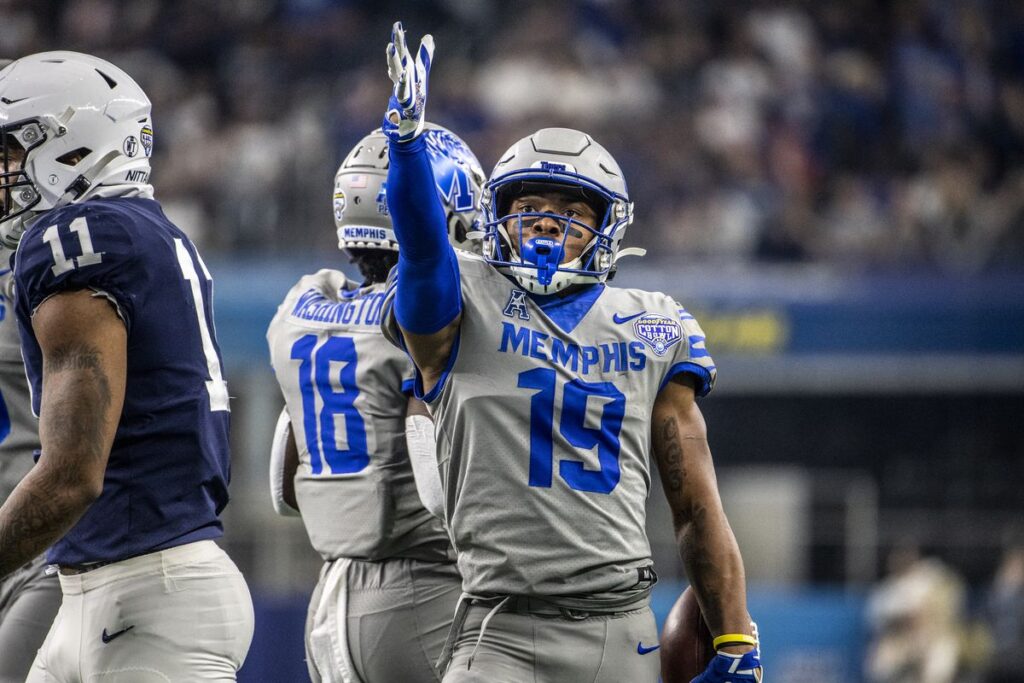 76 New York Giants
77 Los Angeles Chargers
CB Robert Rochell – Central Arkansas
78 Minnesota Vikings
G Wyatt Davis – Ohio State
79 Las Vegas Raiders
S Jevon Holland – Oregon
80 Las Vegas Raiders
DT Dayvion Nixon – Iowa
81 Miami Dolphins
G Trey Smith – Tennessee
82 Washington Football Team
83 Chicago Bears
OT James Hudson – Cincinnati
84 Philadelphia Eagles
CB Shaun Wade – Ohio State
85 Tennessee Titans
DT Alim McNeill – NC State
86 New York Jets
87 Pittsburgh Steelers
CB Shakur Brown – Michigan State
88 Los Angeles Rams
C Drew Dalman – Stanford
89 Cleveland Browns
LB Jabril Cox – LSU
90 Minnesota Vikings
OT Walker Little – Stanford
91 Seattle Seahawks
DE Dayo Odeyingbo – Vanderbilt
92 Green Bay Packers
OT D'Ante Smith – East Carolina
93 Buffalo Bills
94 Arizona Cardinals
G Deonte Brown – Alabama
95 Tampa Bay Buccaneers
DE Charles Snowden – Virginia
96 New England Patriots
97 Los Angeles Chargers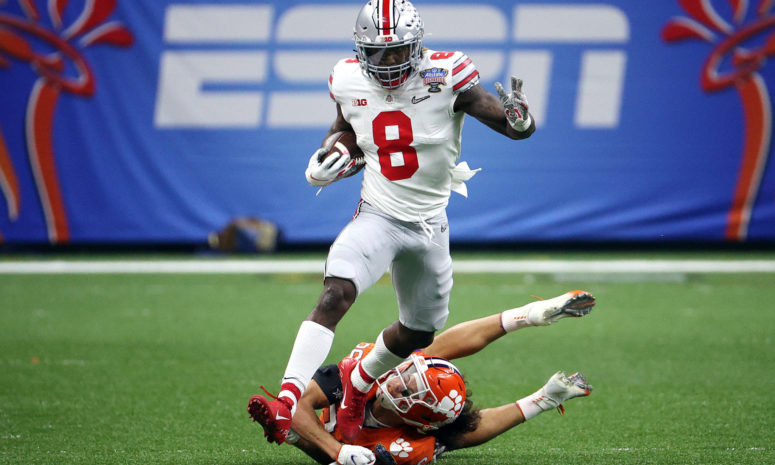 98 New Orleans Saints
CB Aaron Robinson – UCF
99 Dallas Cowboys
DT Jaylen Twyman – Pittsburgh
100 Tennessee Titans
CB Kary Vincent Jr. – LSU
101 Detroit Lions
S Hamsah Nasirildeen – Florida State
102 San Francisco 49ers
LB Pete Werner – Ohio State
103 Los Angeles Rams
LB Monty Rice – Georgia
104 Baltimore Ravens
OT Stone Forsythe – Florida
105 New Orleans Saints
WR Cade Johnson – South Dakota State