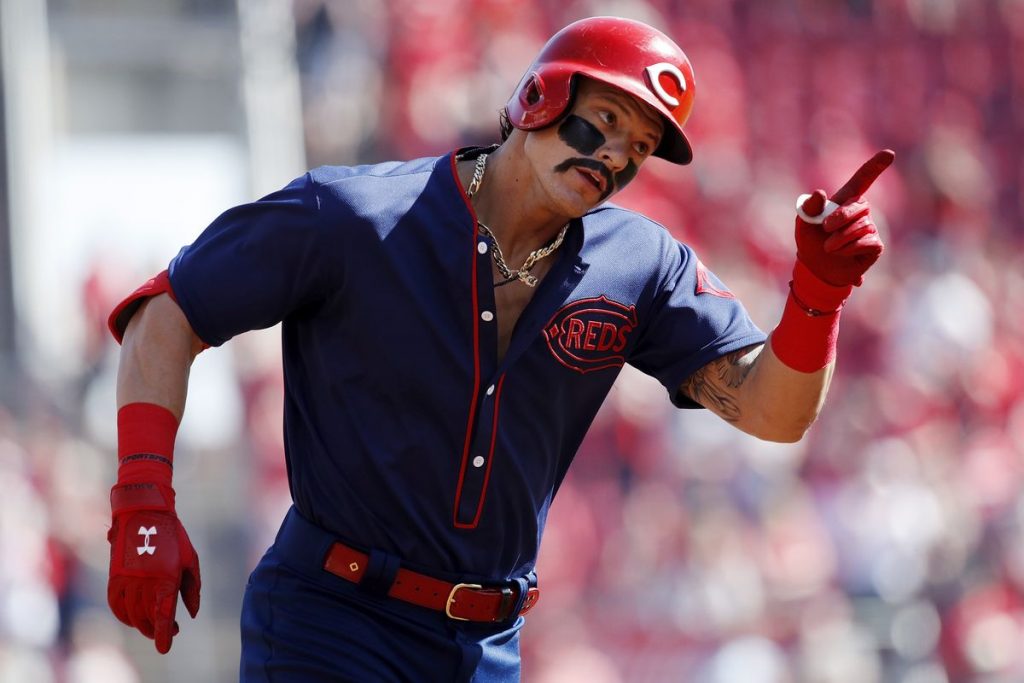 Although the Reds are a last place team in the NL Central, they continue to have fun. Whether it's Yasiel Puig licking bats, bleaching his hair, "silly stringing" his teammates mid-interview, or Derek Dietrich's eye black mustache and home run pimp jobs, the Reds are a fun team to watch. Much of their appeal comes from the man known as Dietz.
Dietrich spent his first six seasons with the Miami Marlins, where he had a small role and flew under the radar. After being DFA'd by the Marlins, Dietrich signed a Minor League deal with the Reds this offseason. No one predicted the impact that he would later have.
Dietrich made the Opening Day roster, and since then he has become a fan favorite in Cincy. In fact, on Opening Day, in Cincinnati, Dietrich hit a pinch hit 3-run jack to give the Reds a lead in the 7th inning, but that would not be his las legendary moment of the season. On April 8th, the Reds visited Pittsburgh, where Dietrich's home run pimping ability angered Pirates pitcher Chris Archer, who threw at him, ensuing a brawl. Later that series, Dietrich took another one deep, and didn't forget to watch it leave the yard.
On May 5th, the Reds rocked the 1911 throwback jerseys, and Dietrich had revolutionary idea to rock an eye-black mustache to enhance the theme of the day. In the first inning of that game, Dietrich went yahtzee, and made sure he took his time watching it. Last night, while I was half-way through writing this blog post, Dietrich hit 3 home runs. As the balls jumped off of his bat and entered the Cincinnati atmosphere, Dietrich hit everybody with the MJ shrug. I'm sure he meant nothing by it, but I found it pretty funny that his career-day came against the Pirates.
Although it's only the end of May, Derek Dietrich's season is full of funny and unforgettable moments. With that being said, his numbers are also very impressive. With his big 3-home run game yesterday, Dietz has hit 17 dingers this season, which is his new career high. Last season, he hit 16 homers in a full 149 games. His 1.085 OPS is about .200 points higher than his previous career high, and he is batting .297 in May. The Reds have lucked out with their Minor League acquisition.
Derek Dietrich might be flashy, he may pimp his home runs, and he could be disrespecting the game in the eyes of some people, but I love it. Commissioner Rob Manfred started the "Let the Kids Play" movement, and Dietrich should be the cover-boy of it. He is fun, he smashes dingers, and he loves the game of baseball. Whatever they say Dietz, don't stop letting it fly.