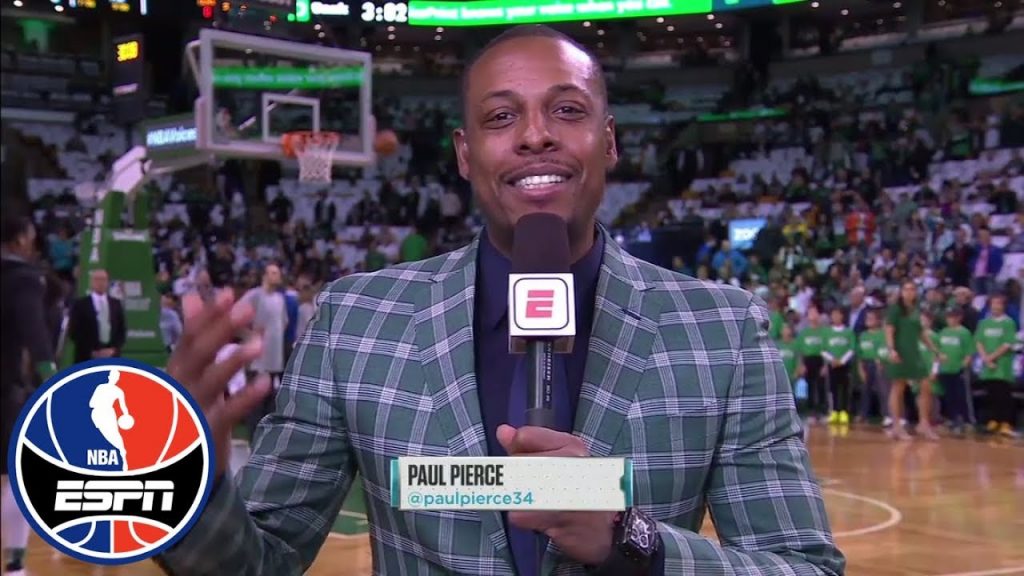 During the playoffs, everyone and their mother is prepared to make their own wild predictions on how games, series, and individual performances from their favorite players will shake out. Those with nationally syndicated opinions tend to have the most heard and scrutinized takes during regular season and playoff time, and boy, do they like to make a lot of them. Be it a Skip Bayless rant or Stephen A. Smithism, we can all remember some cold (EXTREMELY COLD) takes of recent years. Skip Bayless and Stephen A. both once left Lebron James off of their Top 5 Current Players list, and they still make more money than you'll see in your life. So rather than risk making a freezing cold take myself, I'll be following a popular theme with dissecting/destroying a few of Paul Pierce's ill-advised attempts at playoff predictions this year, and analyzing other cold takes he's had.
"I think it's over. I don't know where Milwaukee goes from here. I mean they may win a game…"

Pierce following Game 1 of the Bucks-Celtics series.
While it's extremely bold to attempt to subliminally end a series yourself on live television following game one, as your attorney (amateur columnist with 20/20 hindsight), I'd highly advise against it. After failing to get through to Paul to tell him this allowing him to proclaim the end of the Bucks, the Celtics failed to win another game. Giannis Antetokounmpo showed all series why he's an MVP finalist, and the Bucks notched the lowest defensive rating (100.3) and third highest pace value (102.17) of remaining 2nd round teams, absolutely dominating the Boston Celtics. Had to hurt for the former Celtic great.
"They win in blowout fashion. Blowout. 15+ tonight"

Pierce predicting the Rockets run away with Game 6 of the Western Conference Semifinals.
Fool me once, shame on you. But fool me twice, Paul? No can do. Sure, the Warriors lost KD to a lower leg injury, but a starting lineup already touting at least four current and former all-stars losing in blowout fashion? Absolutely not, not even to James Harden and the solid Rockets team Houston has provided this year. You could have gone the slightly safer route and just predicted they win, without the almighty blowout certainty of basketball Jesus. Golden State's starters combined for 85 of the teams 118 total points in the 5-pt win, shooting nearly 50% from the floor (48.33%).
Following the Bucks substantial 125-103 Game 2 win over the Raptors, Pierce once again felt confident enough to make another prediction. Following this tweet, the Raptors went on to win 4 straight in impressive fashion, with Kawhi Leonard leading the way, averaging 29.8PPG, 9.5REB, and 4.3AST per game of the series on 44.2% shooting from the field.
And now, a couple of headscratchers outside of the playoffs.
"Ah man, well, you know, you got guys like Melo, KD, but [Michelle Beadle], why would you ask me such a silly question, it's me of course! No one has had more playoff battles and meaningful games than me and LeBron. How could it be anyone but me?"

Pierce when asked who LeBron's greatest rival has been.
It's crazy to think Paul actually mispronounced LITERALLY ANYONE ELSE when making this statement. If there was a list of LeBron's greatest, most intense, legacy cementing matchups and games, his meetings with Paul Pierce are on the napkin left next to the list scribbled in kids menu crayon from the local Applebee's. Extreme exaggerations aside (they did have a few intense playoff matchups), the first person that comes to mind when considering LeBron James' most intense rivalry is not Paul Pierce, unlike Kobe Bryant, KD, the Warriors as a franchise, or even Michael Jordan at a mental level.
And finally, probably the most notable of recent memory…
"That's easy! I can say that off the bat, that's me! When I'm 24 and you give me Shaq or Lebron and Bosh, I'd be sitting on 6 chips EASY."

Pierce when asked who had a better career, Dwyane Wade or himself.
This required more research, but initial instinct is no. Following some statistics comparisons, Dwyane Wade had more championships (3 to 1), more all-star appearances (13 to 10), more All-NBA first team selections (2 to 0), more overall All-NBA team selections (8 to 4), more All-Defensive team selections (3 to 0), and a scoring title more than Pierce (1 to 0) in three fewer seasons. Concerning in-season per game statistics for each career, Wade leads in every category except for rebounds, falling short by 0.9. As the numbers show, Wade statistically had the more substantial, arguably successful career. It can be argued that, yes, Pierce never had Lebron or Bosh or Shaq, but as a part of the Celtics "New Big 3" for a number of years with Ray Allen and Kevin Garnett, both hall of famers in their own right, Paul wasn't necessarily at as big of a disadvantage as claimed.
Heading into The Finals this coming Thursday, I will definitely be tuned in, along with the entirety of Twitter it seems, to hear if Paul has any more predictions to make. Maybe his luck will change, or maybe he will predict that the Raptors will win in three due to a forfeit in Game Four by the Warriors.