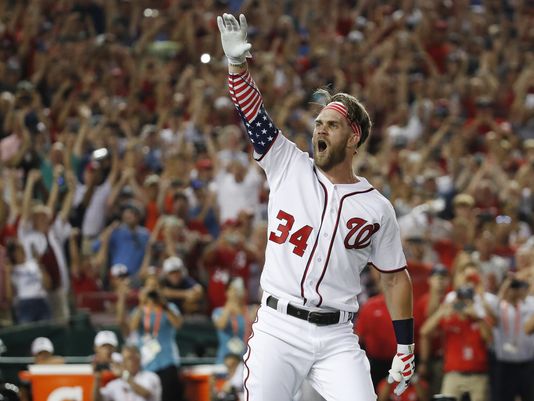 Right off the bat (pun intended), that tweet from Jeff Passan had me stunned. It is hard to beleive that the Phillies were willing to commit to a player for 13 years with NO opt-outs, but Bryce Harper is one of the best players in the league, so it makes sense. It's also crazy to me that Harper wouldn't want the flexibility of any opt-outs over the duration of the contract. My initial reaction to this contract was that the Phillies are putting themselves in purgatory, but the average annual value of this deal isn't all that bad at $25.38M. The Phillies must be really confident that Harper will age well, because he's probably going to be on the Phillies for the rest of his career. This deal was also a record breaker, as it is the largest contract in North American sports history.
I'll say this though, the Phillies lineup will be STACKED this year. This is mostly a guess, but this is what the Phillies lineup could now look like on opening day:
Jean Segura SS
Odubel Herrera CF
Bryce Harper LF
Rhys Hoskins 1B
J.T. Realmuto C
Andrew McCutchen RF
Maikel Franco 3B
Caesar Hernandez 2B
Pitcher
That lineup is REALLY good. The NL East is going to be extremely competitive this year and I can't wait to see how it shakes out at the end of the season. In terms of other free agents still available on the market, I don't think the Phillies will go after Dallas Keuchel or Craig Kimbrel now since they have committed so much to Bryce Harper, but I am really excited to see where those two guys end up, and it's going to happen soon.