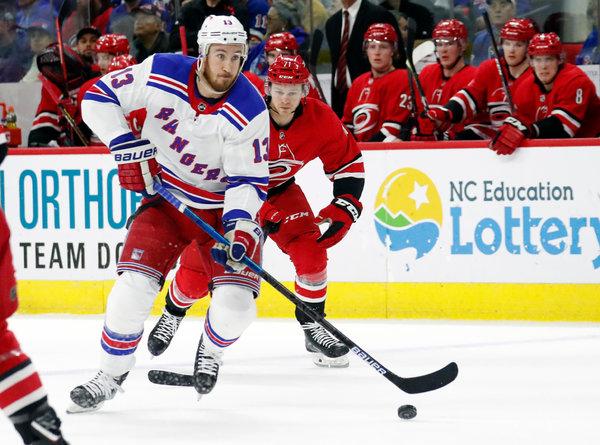 After weeks of speculation the Rangers trade top forward Kevin Hayes to Winnipeg
By Chris Yackel
For the second straight deadline the rebuilding New York Rangers have put the for sale sign up and have traded key players of the now for assets of the future. The biggest asset that was for sale in New York was Kevin Hayes. Hayes who is having a career year thus far (51 GP, 14 G, 28 A, 42 PTS) has been rumored to be traded for weeks if not months. Today, he officially was traded as the Rangers sent the 26-year-old Hayes to the Winnipeg Jets for a first round pick in this year's draft, forward Brendan Lemieux and a 2022 conditional fourth round pick.
This deal is one that makes a ton of sense for both sides. For the Jets, they get a number two center men that they desperately wanted and needed for some time now. This move further bolsters their chances to get back to the Western Conference Final and hopefully for them win the west and win the Stanley Cup. The Rangers on the other hand continue building for the future and acquiring first round picks and young players with upside like Brendan Lemieux.
The Rangers moving Hayes wasn't much of a surprise and even in the summer was suspected to happen. When the blueshirts didn't commit to Hayes long term this summer and only gave him a one-year deal what happened to today was expected. General Manager Jeff Gorton just didn't see Hayes as a guy who would fit in long term. He also didn't think Hayes was worth the potential 6 or 7-year deal worth $6.5 million plus that Hayes would have received on the open market. I tend to agree with Gorton whole heartedly.
Look, Hayes is a good number two center who has improved drastically in his two-way game since coming to New York. However, he isn't the type of player that the Rangers deem worthy of receiving big money, especially in a rebuild. The Rangers realized it was better to utilize Hayes as an asset and acquire for the future. They are all in on this rebuild as they should be. The Rangers want to get players and pay them big money if they are superstars. This is preferably through the draft for the Rangers as they have and had plenty of first round picks recently, or through free agency (I'm looking at you Artemi Panarin.) Hayes is not a superstar.
Overall, when it comes to the question of who will win this trade. Only time will tell. If the Jets win the cup because of the push that Hayes gave them then they get the edge. However, if the Rangers use that first round pick and draft a sleeper superstar in the late first round then they look like winners. We'll see what happens, but for both teams this trade gets an A in my book.