When the cops tell Kraft he's being arrested: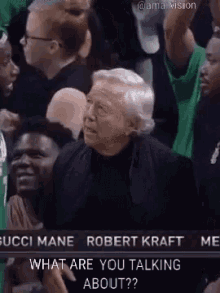 AHHAHAHAHA BOBBY!!!!!
You old bastard! You dirty dawg!!
Hhahahahahha.
Unbelievable story out of Jupiter, Florida this morning. It involves Patriots owner Robert Kraft and a massage parlor. The old man got charged with soliciting prostitution. After a months-long investigation, the investigation team gathered the names of clients who received sexual pleasures during their massage.
Initial reaction:
We all knew Kraft liked to fool around; there were reports last year that he got impregnated his wife who is 39 years younger than him.
Which, if that report were accurate, would have topped this story for funniest Kraft story of all time.
Yeah, I guess what he did was pretty bad, he paid someone who played with his bean-bag.
But, you cannot deny that it is one of the funniest stories you've heard in a while.
And who is to blame the man! He just got a rub and tug nothing too wrong.
I feel horrible for the guy, but I wouldn't feel TOO bad. He did win the Super Bowl earlier this month, and he has been fortunate enough to have the Best QB/Coach duo in the NFL for the last 20 years.
It's just funny to picture Kraft walking into a massage parlor, putting the towel on as he waits and then sneakily putting $300 near his junk with the hope that some lady can make him hard for the first time in years without viagra.
How do you think it went down? Do you think this was his regular spot to get a handjob like a 15-year-old boy at the homecoming dance? Or do you think this was his first time at the place and he had no idea what to expect?
Absolutely hysterical, freakin Ole' man Kraft. A force to be reckoned with. For 77 years old he gets around and makes his presence known. His wife died in 2012 which was a tremendous loss for the entire Patriots organization but, since then? He's been going around town making his presence KNOWN in the streets.
Imagine being his wife though?
"Am I not young enough Bob? Or pretty enough that you have to go pay for someone else to give you a rub n tug?"
Dirty Bob will for sure be in the dog house for months to come.
I guess at the end of the day he's just like any other man squirrel looking for his nut.
We'll follow this story closesly and any updates will be blogged.