By: Andrew Hubschman
Welcome to part four of this four-part series. Here are the best QB's wearing jersey numbers 5-1:
5. Teddy Bridgewater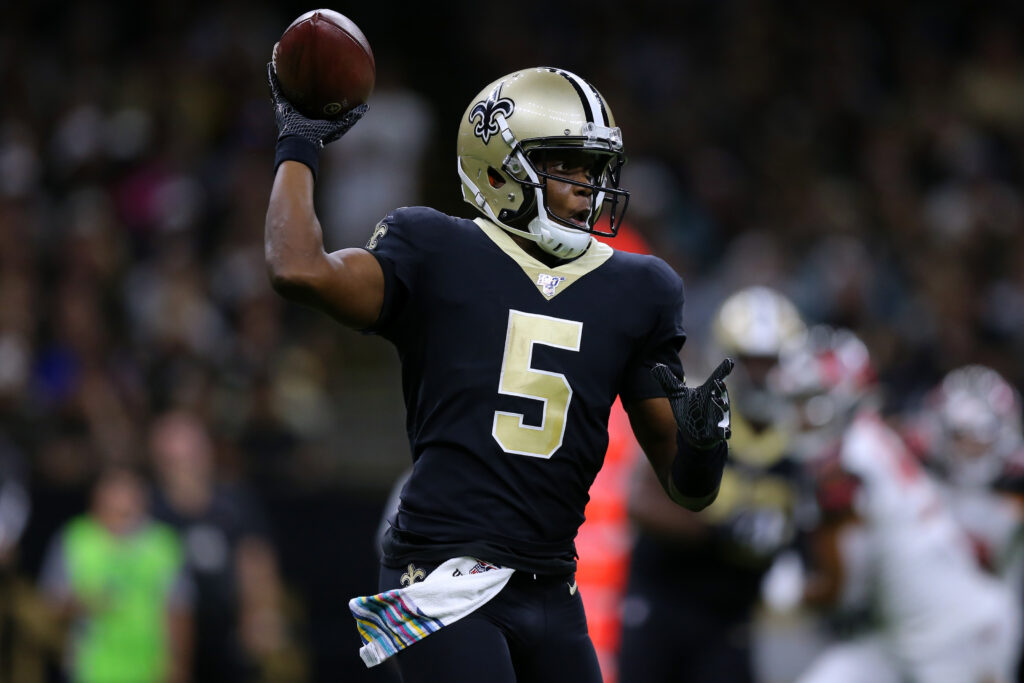 Bridgewater is looking to guide the Panthers in the middle of a massive rebuild following a memorable comeback season with the Saints. After Drew Brees went down with a hand injury, Bridgewater showed what he had been having to hold back since his 2016 ACL injury that caused him to miss the entire season.
During his Pro Bowl season in 2015, Bridgewater led the Vikings to the playoffs up to their 10-9 defeat of the Seahawks in the Wild Card Round. In 2017, one year after tearing his ACL before the preseason, he sat on the bench in favor of starter Case Keenum (who would guide the Vikes to the NFC Championship) until he finally made a brief return in Week 15. After the season, Bridgewater was traded to the Jets, who then traded to the Saints after the preseason and spent the year as Brees' backup, and again making brief appearances until Week 17, which was his most statistical game in three years.
But in 2019, he finally got his calling in Week 2 when he came in relief following Brees' injury; he completed 17 out of 30 passes for 165 yards, but threw for no scores. His first start the following game, however, began a five-game winning streak for the Black & Gold until Brees' return. In his five starts, he completed 115 out of 165 passes for 1,205 yards, and 9 touchdowns against 2 interceptions without any fumbles; he finished with a 99.1 passer rating. His efforts both helped lead the Saints to a third straight NFC South Divisional title with just as many postseason appearances, and showed that he has always kept his starter capabilities.
It's great to see Bridgewater become an every day starter again, because that is what he is meant to be. His resurgence has earned him the title of "best to wear #5".
Honorable mention: Tyrod Taylor and Case Keenum
4. Deshaun Watson
Now, he may have lost Hopkins, but low-key Watson deserves this honor for one big reason. Watson has his own independent skill-set, and he now has the chance to make his current wideouts better.
For starters, he's pulled off the same type of magic act time and time again: scrambling and breaking tackles for the result of either A) buying his receivers more time to get open, notably during his AFC Wild Card-winning drive against Buffalo in overtime, or B) running for a huge chunk of yardage to move the chains.
As for the receivers Watson will work with this season, it's safe to say he's good a pretty solid core. Deep-threat Will Fuller V, a four-year veteran with the Texans, set career highs in receptions and receiving yards last season as Watson's No. 2 receiver. With Hopkins shipped out of Houston, Fuller's game can only get better in the upcoming years.
Kenny Stills – who spent four years as one of Ryan Tannehill's top three wideouts in Miami from 2015-18 – is another receiver whose talent has yet to reach its peak. Although fans have recognized his skill throughout his career, Stills has been overshadowed by other talented receivers on all three teams he's played for. (Brandin Cooks, Jimmy Graham, and Marquis Colston in NO; Jarvis Landry in MIA; and Hopkins in HOU). Now, he can make a name for himself as a face in the new receiving tandem in Houston. Expect to see numerous highlights featuring Fuller and Stills with Watson under center.
Watson will further prove his independent skills as a QB, and will also show his ability to thrive his colleagues' careers. More importantly, he will continue to show his prominence as a QB wearing #4.
Honorable mentions: Dak Prescott and Derek Carr
3. Russell Wilson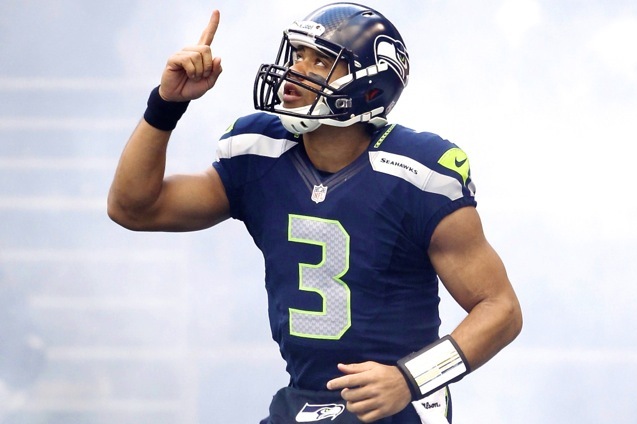 This should not be a debate: Russ is the QB King of the #3 jersey. Period. An MVP candidate, Wilson has been one of the most consistent QB's since entering he league in 2012. Starting every game in his eight-year career, he has shown time and time again that height does not matter. You can also ask his Super Bowl ring.
The Seahawks' all-time leader in passing yards, touchdowns, completions, completion percentage and among numerous other franchise records, Wilson also holds a number of league records. Some of them being: most wins by a QB in his first two seasons with 28, including playoffs; most wins in his first eight seasons with 86 (tied); most passing yards in a playoff game by a rookie QB; and one of TWO QB's in NFL history with a career passer rating of 100 or above (the other being Aaron Rodgers).
The third-youngest QB to ever win the Super Bowl, and tied for the shortest career span to win the Big Game (second season), Wilson has been fun to watch from the beginning, and I can't wait to see him show what he's got left in him… hopefully an MVP and more Super Bowls. Either way, we're witnessing Hall of Fame potential from a #3 wearing quarterback.
Honorable mention: Drew Lock
2. Matt Ryan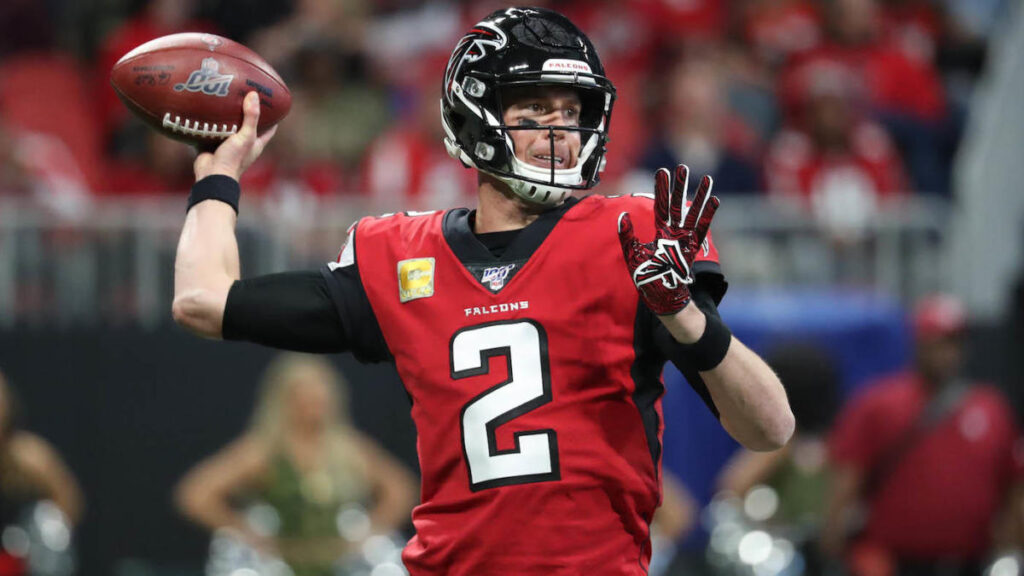 Undoubtedly the greatest QB to wear #2, and the Falcons' most accomplished to date, Matty Ice is THE most slept-on QB in today's game. A four-time Pro-Bowler, Ryan has been the face of the Falcons offense for over a decade, and is earning himself an enshrinement in Canton.
Playing in all but three games in his career since being drafted third overall by Atlanta in 2008, Ryan, despite having a lack of playoff success, established himself as a top 10 quarterback of his generation. After winning 11 games in his rookie season and led the Falcons to the Wild Card round, Ryan posted four straight .500-plus seasons (reaching the playoffs in three); winning 13 or more games in 2010 and 2012 – both while clinching the #1 seed in the NFC – and was named to two Pro Bowls in that span. Unfortunately, Ryan and the Falcons only won one game in that span where they marched to their NFC Championship defeat in 2012. The team went through a three-year streak of non-winning seasons, but Ryan – despite being turnover prone – kept putting up productive numbers, and co-led one of the most historic duos in the NFL with perennial All-Pro WR Julio Jones. To this day, the two work together like bread and butter.
In 2016, Ryan threw for 4,944 yards, 38 TD's, averaged 309.0 yards per game, and finished with a league-leading passer rating of 117.1 – all career highs! He also threw a career low seven interceptions, and set the record for most yards per attempt in a season with 9.3, and took Atlanta back to the playoffs where they would appear in Super Bowl LI. For his efforts, he was named MVP and Offensive Player of the Year that season. He made one more appearance up to date the following season were his team was defeated in the Divisional Round by the eventual champion Eagles. Despite missing the playoffs the past two seasons, Ryan, even with a subpar O-Line, continues to put up exceptional numbers; he had another 4,900 yard campaign in 2018, and put up a passer rating of 108.1 that same year. This past season, he led the league in pass completions with 408 despite missing one game due to injury. With a young receiving core in Jones and Calvin Ridley – and recently acquired RB Todd Gurley – expect to see another robust season for the Falcon legend.
Not only is Ryan the best to wear #2 today, but he is the greatest player all-time to rep the number. Again, we are witnessing Hall of Fame potential.
Honorable mention: Jameis Winston
1. Cam Newton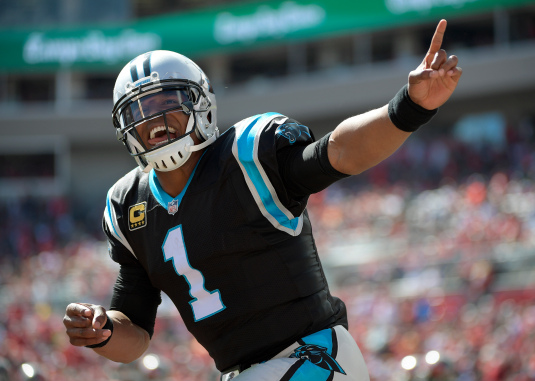 If Cam were still unemployed, this honor would have been given to Kyler Murray. Now he may be coming off an injury that cost him all but 14 games last season, but Cam might live up to this honor as he is ready to begin his new chapter with a new team and attempt to bounce back.
Newton put up one the best rookie campaigns of all-time, breaking the record for most passing yards by a first-year QB (which was broken by Andrew Luck in 2012); he was the first to throw for at least 4,000. Though he would never again reach the 4,000 yard threshold and had a lack of talented receivers throughout his career, Cam led the charge of an electric Panther offense highlighted by his long runs and touchdown scores. The league's all-time rushing scorer by a QB with 58, Newton guided his Panther Blue to three straight NFC South divisional titles from 2013-15 – including two first-round byes – a Wild Card spot in 2017; and of course an appearance in Super Bowl 50. One of the greatest players to ever wear a Panthers uniform, and undoubtedly their greatest quarterback, Newton – in the year of the dab – was named MVP of the 2015 season for his offensive explosiveness where he was responsible for 45 touchdowns (35 passing and 10 rushing). Panthers fans miss their hero already, as he paved the way in bringing recognition back to the Carolina's.
It's going to be strange to see Cam in a Pats uniform – then again, in ANY uniform – but he is ready to continue his reign ruling the No. 1 jersey.
Honorable mention: Kyler Murray and Tua Tagovailoa