By: Ross Sutton
After a disappointing season, the Yankees will need to make significant changes to their lineup if they want to be legitimate World Series contenders in 2024. With Jasson Dominguez recovering from Tommy John surgery and plenty of quality infielders already on the roster, improving the outfield seems like the best way to solve their offensive deficiencies. The Yankees need to diversify their lineup by adding more athletic players that are left-handed and can get on base at a high rate. Therefore, I intentionally excluded some free agent outfielders (like Teoscar Hernandez and Jorge Soler) from this blog that are right-handed and either don't offer enough in terms of on base percentage or defense. I would classify the right-handed batters that I discuss below as short-term or platoon options that would help the team. Additionally, in my opinion, the righties that I left out of this blog are likely to receive long-term contracts in free agency, thus making them a poor fit for this Yankees roster that needs to be more left-handed in the present and future. With all that being said, here are the top ten free agent outfielders that I think the Yankees will consider adding to the roster this offseason.
Cody Bellinger
Key 2023 Stats: .307 BA | .356 OBP | 133 OPS+ | 134 wRC+ | 88th percentile OAA | -2 DRS
Bellinger is the favorite free agent target amongst Yankees fan, and it is easy to see why, as he checks every box in terms of attributes that would improve the team: he is left-handed, hits for a high-average, does not strikeout much, and plays very good defense in center field. However, since Bellinger had such a great platform season before becoming a free agent, there will surely be plenty of other teams that want to sign him, meaning any team that tries to sign him could find themselves in a bidding war. If the Yankees are able to sign Bellinger this winter, they should feel extremely confident that they have a franchise pillar in centerfield for the next 6 years or so. I discussed how much Bellinger might get in free agency this winter (among many other things) in a previous blog, and I will stick with that contract prediction and say that Bellinger will likely sign for $160M over 7 years (average annual value of $22.86M).
Jung-Hoo Lee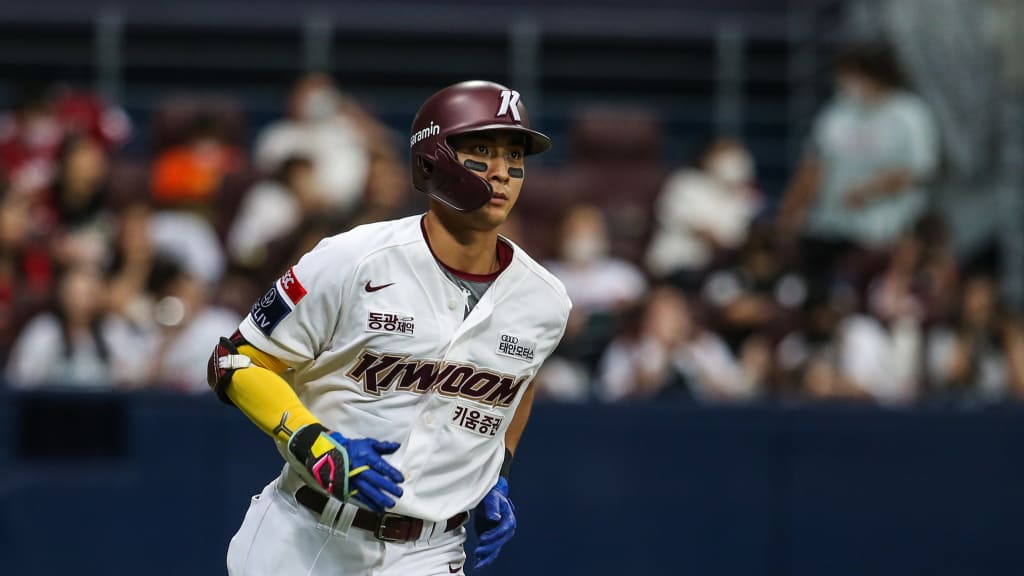 Key 2023 Stats (in the KBO): .319 BA | .407 OBP | .863 OPS
If the Yankees are unable to sign Bellinger for whatever reason, I feel strongly that they should be all in on Jung-Hoo Lee, star centerfielder from the Korean Baseball Organization (KBO). Much like Bellinger, Lee offers a lot of valuable skills that would help the Yankees become a better team. Offensively, Lee has posted the best strikeout rates in the KBO over the last few seasons, and during his seven years in the league, he has hit .340 with a .407 OBP and an .898 OPS. Maybe even more impressive is the fact that Lee has walked (383 times) more than he has struck out (304 times) in his KBO career. Lee is young at just 25 years old (3 years younger than Bellinger) and hits left-handed, so he seems like a perfect fit for what the Yankees need to add to their lineup. Based on his stats in the KBO, I think Lee has special bat-to-ball skills that will translate in MLB despite the harder competition. Lee also plays outstanding defense in center field, as he won the KBO-equivalent of the Gold Glove Award five years in a row.
Great defense, special bat-to-ball skills, and low strikeout rates are exactly what the Yankees need in a centerfielder, and while Bellinger offers these skills and is more of a sure thing since he is already in the majors, Lee is a player that I would feel very comfortable with in center field for the Yankees for the next 6 or 7 years. Lee isn't receiving nearly the amount of hype and media coverage as fellow future foreign free agent Yoshinobu Yamamoto (who the Yankees are reportedly very interested in), but I think Lee will be a very good MLB player upon his arrival, and I would love to see the Yankees sign Lee to a deal for about 5 years and anywhere from $15-19M per season.
Joc Pederson
Key 2023 Stats (against right-handed pitching): .241 BA | .351 OBP | .786 OPS
Pederson is on my list of free agent targets with a couple of caveats: (1) he is only a realistic option if the Yankees get rid of Giancarlo Stanton (which I would try my best to do if I were the Yankees); and (2) I would only use him as a DH against right-handed pitching. Trading Stanton is much easier said than done and I discussed why in my last blog, but for the purposes of this blog, I am just going to focus on why Pederson would be a great replacement for Stanton. Most importantly, unlike Stanton this season, Pederson hits very well against right-handed pitching, and the Yankees were one of the worst hitting teams in the league against right-handed pitching this season. Another reason why I think the Yankees should be targeting Pederson is that he pulls fly balls at a rate much higher than the league average, which is a recipe for success for a left-handed hitter playing half of his games at Yankee Stadium. Unfortunately, any team that signs Pederson won't be getting much from him on defense, but that wouldn't be a problem for the Yankees if they traded Stanton. Pederson will be 32 next season, so a two-year contract for about $15-18M per season seems fair.
Michael Conforto
Key 2023 Stats: .239 BA | .334 OBP | .718 OPS | 99 OPS+ | 100 wRC+ | 21st percentile OAA | -1 DRS
After missing the entire 2022 season due to a shoulder injury, Conforto returned in 2023 as a member of the Giants, and he had an okay season. His defense as a corner outfielder wasn't as good as we last saw in '21 and his offense declined a bit too. It is possible that Conforto was simply knocking the rust off after missing an entire season, but his numbers were up and down throughout the year, so it's not like his numbers are suppressed by a slow start to the season. Additionally, Conforto has a player option worth $18M for next year that I personally think he will opt-in to, because I don't see him getting more money than that for the 2024 season on the free agent market. Although Conforto is a lefty and has flashed in the past, he is not a player that I think the Yankees should seriously consider signing if he opts out of his deal with the Giants and becomes a free agent.
Mark Canha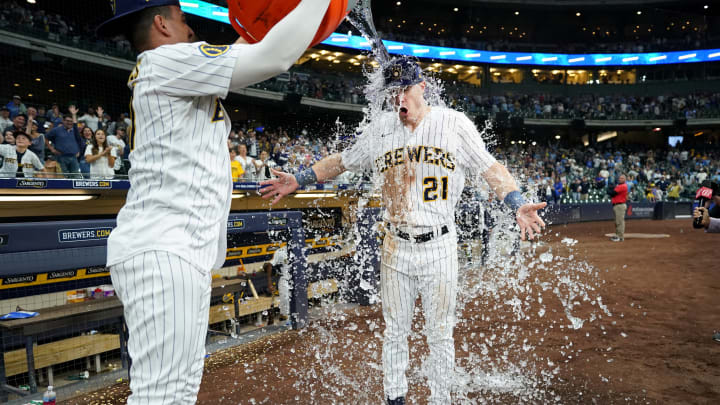 Key 2023 Stats: .262 BA | .355 OBP | .755 OPS | 108 OPS+ | 111 wRC+ | 30th percentile OAA | 3 DRS
He might not have the most eye-popping numbers, but I think Canha would be a great fit to fill the Yankees current left field vacancy. Canha gets on base at a high rate, has great plate discipline, and he doesn't strikeout very often. Furthermore, even though he hits right-handed, Canha actually has reverse splits, meaning he hits right-handed pitching a little better than he hits left-handed pitching. This means he is the kind of right-handed batter that the Yankees could add to their lineup while still improving. Canha has been very good (120 OPS+) since being traded to the Brewers this offseason, but he still had a down year offensively and will be 35 next year, so I doubt a team offers him a deal longer than two years. Therefore, I think he would be a strong short-term option for the Yankees. Canha's defense is slightly below average at this stage of his career, but he would still be an improvement for the Yankees in left field considering they were starting infielders there for a large part of this season.
In an ideal world, Canha would be the second-best outfielder the team acquires this offseason, but if New York added both Canha, and for example, Jung-Hoo Lee, then I think they would have a really strong outfield this season, especially once Dominguez returns a few months into the season. Unfortunately for the Yankees and any other team that might be interested in signing Canha, the Brewers control an option in Canha's contract for next season worth $12.16M, so Milwaukee will ultimately decided whether he becomes a free agent this offseason. Milwaukee has a few other talented outfielders already on the major league roster and MLB's #2 overall prospect Jackson Chourio will likely be called up to play the outfield for the Brewers next season, so I think the Brewers will decline Canha's option and allow him to hit free agency. All things considered, I think Canha will receive a two-year offer worth about $10M per season this winter.
Kevin Kiermaier
Key 2023 Stats: .265 BA | .322 OBP | 104 OPS+ | 104 wRC+ | 98th percentile OAA | 18 DRS
If the Yankees don't land a big free agent center fielder like Bellinger or Lee, hopefully Kiermaier is the player they acquire to play center for at least the first few months of the 2024 season before Dominguez comes back. Kiermaier had a strong year offensively compared to the rest of his career, but he is essentially a right-handed Harrison Bader in the sense that he is an elite defensive centerfielder that does not provide much offensively, but Kiermaier hits right-handed pitching fairly well, which Bader has not in his career. Additionally, Kiermaier is still one of the faster players in the league (87th percentile sprint speed) even as he approaches his mid-thirties. Spotrac projects Kiermaier to receive a two-year deal for $14M this offseason, and I think that sounds about right, although I could see teams not wanting to offer Kiermaier a contract for longer than one season. Regardless, if the Yankees miss out on the top center fielders of this free agent class, Kiermaier would be a nice signing, even if he doesn't move the needle offensively.
Tommy Pham
Key 2023 Stats: .256 BA | .328 OBP | 111 OPS+ | 110 wRC+ | 1 DRS
Given their recent history, Pham probably is probably not a realistic option if the Yankees were to sign Joc Pederson, but if they don't, then Tommy Pham could be an option for left field. Much like Mark Canha, Pham is a right-handed hitter that hits right-handed pitching a little better than left-handed pitching, so the fact that he hits righty does not exclude him from being a good fit for the Yankees. Unlike Mark Canha though, Pham's play declined after being traded by the Mets at the trade deadline this season, and that coupled with the fact that Pham will be 36 next season makes Pham a potentially risky signing. Furthermore, Pham's last four seasons in the majors suggest that his great first half this season was an outlier, as Pham has an OPS+ of 98 since 2020. Lastly, after being traded from the Mets to the Diamondbacks, Pham told the Athletic that the Mets had the "least hard-working group of position players" he had ever been around. Pham's flare up with Pederson and this quote might make me think he is the kind of guy the Yankees would avoid due to fears that he could be a negative clubhouse presence. I think Pham will end up signing a one-year deal worth about $8M, but for all the reasons previously stated, I do not think Pham would be a good fit for the Yankees right now.
Eddie Rosario
Key 2023 Stats: .255 BA | .305 OBP | 100 OPS+ | 100 wRC+ | 79th percentile OAA | 3 DRS
Rosario is an average hitter and an above average defender. The fact that Rosario hits left-handed and pulls the ball in the air more frequently than most of the league is likely what would attract the Yankees to him the most, but he would still be a relatively uninspiring addition to the team since they need to add above average offense to the lineup. There isn't much of a difference between Rosario's stats against lefties or righties, but the Yankees might be able to maximize production from left field by forming a platoon of Rosario and one of the next two players I am going to discuss. There is a team option for 2024 in Rosario's contract worth $9M, so the Braves will decide whether Rosario hits free agency. Rosario would likely make about $9M in free agency so the Braves might want to bring him back, but there is no buyout attached to the team option in his deal, so the Braves can move off of Rosario for free.
Adam Duvall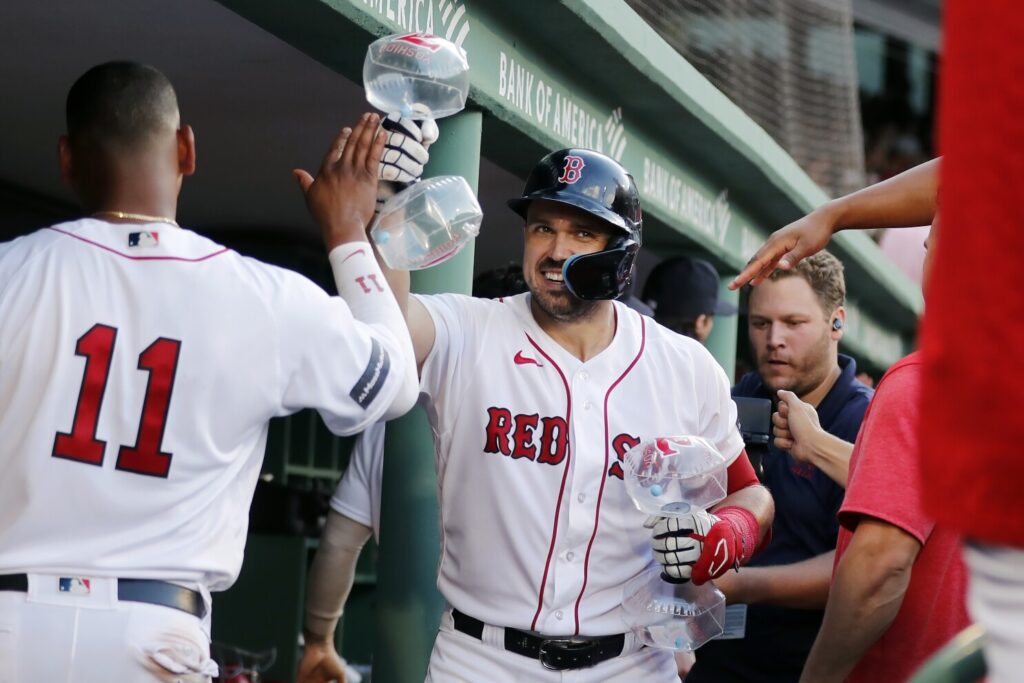 Key 2023 Stats: .247 BA | .303 OBP | 121 OPS+ | 116 wRC+ | 20th percentile OAA | -5 DRS
His defense might not be good enough to be an everyday centerfielder anymore, but Duvall has graded out very well as a left fielder in his career, so I assume the Yankees would consider him to be a left fielder even though he played most of his games in center for the Red Sox this season. Duvall has a very similar offensive profile as Rosario, as he doesn't get on base at a high rate, strikes out frequently, and swings and misses a lot, but he has a lot of power, as he hit 21 home runs in 92 games this year. That might sound exactly like the kind of player that the Yankees don't need (especially when you account for the fact that he hits right-handed), but if the Yankees can sign a good centerfielder, then they only need to rely on Duvall for a couple of months early in the season until Dominguez comes back, and then Duvall can shift into a bench role. As he enters his age 35 season, Duvall projects to land a one-year deal for less than $10M a year, making him a very low-risk investment.
Randal Grichuk
Key 2023 Stats: .267 BA | .321 OBP | 103 OPS+ | 100 wRC+ | 5th percentile OAA | -4 DRS
Grichuk is a right-handed batter with severe lefty/righty splits, as he had an OPS of .995 against lefties and a .694 OPS against righties this season. Since Grichuk does not hit righties very well, I would only want the Yankees to sign him as a fourth outfielder or potentially the regular left fielder or DH against lefties. Therefore, Grichuk would likely be a depth/platoon piece for the Yankees. However, I think he would be a good fit in that role, as he hits extremely well against left-handed pitching and his defensive stats were much better in left than center. Center field at Coors Field (where Grichuk played most of his games this year) is also a very hard position to play since there is so much ground to cover there, so his defense likely isn't as bad as the stats suggest. Another good thing about Grichuk is that he has hit very well at Yankee Stadium in his career (.865 OPS in 120 at bats), so I think he could be successful there. Grichuk will likely have a similar market as Duvall or Rosario, so I expect him to earn just under $10M this upcoming season. Grichuk will be 32 during the season in 2024, so he might get a multi-year deal in free agency, but I wouldn't be surprised if he ended up signing a one-year contract.
Potential Outfield Outcomes:
Depending on how aggressive the Yankees want to be in free agency, I think there are a few different ways they could approach these free agents:
Ultra-Aggressive:
The Yankees sign both Bellinger and Lee and have Bellinger start in left and Lee in center everyday. This would give the Yankees so much more pop in the lineup and it would also give them an elite offensive outfield of Bellinger – Lee – Judge. With Dominguez coming back though, I think this is an unlikely result, unless the Yankees were to trade Stanton and then rotate at DH with Judge and Dominguez.
Pretty Aggressive:
The Yankees sign either Bellinger or Lee to play center and then pivot to other options (ideally Canha) to play left until Dominguez comes back. Then, Canha and Dominguez could potentially platoon in left with the other DH-ing.
Not that aggressive, but probably an improvement:
The Yankees lose out on both Bellinger and Lee, so they pivot to Kiermaier to man centerfield. Then in left, they sign Canha or maybe instead add two of Rosario, Duvall, and Grichuk to form a platoon in left field.
Not at all aggressive, unlikely to improve offense:
The Yankees miss out on Bellinger, Lee, and Kiermaier and opt to stick with Estevan Florial until Dominguez comes back. For left field, they go with one or two of Rosario, Duvall, and Grichuk and hope to catch lightning in a bottle.
My Recommendation
I would like to see the Yankees aggressively pursue one of Bellinger or Lee and then sign Canha to play left field. I would also like to see them trade Stanton (if possible) and replace him with Joc Pederson. It is hard to see a direct path to substantial offensive improvement with the current roster, but if the team properly addresses the Stanton issue, then I strongly believe they can be a much improved team in 2024. If the Yankees traded Stanton, and signed Lee, Pederson, and Canha, their lineup would look something like this: