By: Ross Sutton
In my last two blogs, I've discussed the players that the Yankees could and/or should target via free agency to fill the team's outfield vacancies, but there are also two players that I think would be good trade targets for the Yankees. These players are Brendan Donovan from the Cardinals and T.J. Friedl from the Reds. Fortunately, I think the Yankees would be a good trade partner with the Cardinals or Reds too, as those teams had the fifth-worst and third-worst starting pitcher ERA this season, respectively. On the other hand, the Yankees currently have Gerrit Cole, Carlos Rodon, Nestor Cortes, Clarke Schmidt, and Michael King under contract for next season, as King seems to have earned himself a spot in the rotation after dominating opposing hitters once he was converted to a starter full-time.
Furthermore, it has been rumored that the Yankees are very interested in Yoshinobu Yamamoto, a highly-coveted 25 year-old Japanese starting pitcher who is expected to be posted by his team this winter, meaning MLB teams will be able to sign him. Yamamoto should have a big market of MLB teams trying to sign him, but if the Yankees do happen to sign him (or any other free agent starting pitcher), then they will have 6 starting pitchers and only 5 spots in the starting rotation. Therefore, one of their starters could be a tradable asset.
Of the five Yankee starting pitchers that are under contract next season, Clarke Schmidt seems most likely to be traded for a few reasons. First, since Schmidt is under team control via arbitration for the next four seasons, he will be seen as a player on a team-friendly deal since players make less in arbitration than they would as free agents. Another reason why Schmidt could be traded this offseason is that he has not proven himself as much in his major league career as Cole, Rodon, Cortes, or King, making him the easiest of those players to trade from the Yankees perspective. That's not to say that Clarke Schmidt isn't or can't be a good starter in the league, as he pitched to an ERA of 4.08 from mid-May to the end of the season after a slow start to the year. Schmidt also had a good year from a durability standpoint, as he started 32 games and never landed on the injured list this season. For these reasons, I think Schmidt will be seen as a fairly valuable asset in a trade.
Brendan Donovan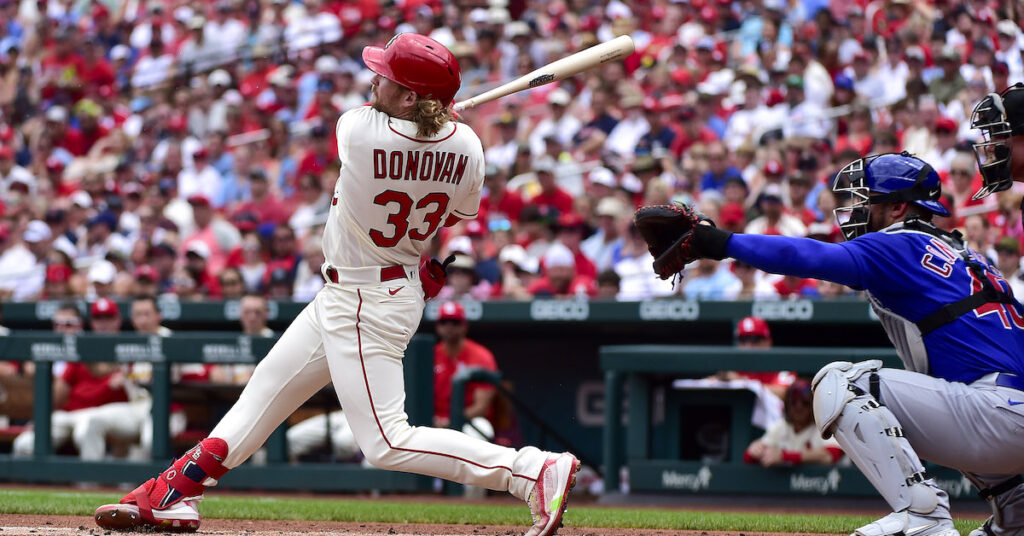 Key 2023 Stats: .284 BA | .365 OBP | 115 OPS+ | 118 wRC+ | 12th percentile OAA | 2 DRS (in the outfield)
Donovan graded out poorly in Outs Above Average (OAA) this year, but when you isolate his defense to when he played the outfield (where he would primarily play as a Yankee), his defense is pretty good. Donovan's great bat also substantially outweighs any defensive deficiencies he may have. Donovan is exactly what the Yankees need on offense, as he hits left-handed, hardly ever strikes out or chases pitches out of the zone, gets on base at a high rate, and has elite bat-to-ball skills. These skills and attributes would make for a perfect leadoff hitter for the Yankees. Not only is Donovan seemingly the perfect fit for this Yankees offense, but I think there is a good chance that he could be traded this winter, as the Cardinals have a surplus of offensive players on the major league roster.
Donovan played in 34 games as a second baseman this year and 26 games as an outfielder, so he is a versatile player that can play almost every position, but the Cardinals had Nolan Arenado, Paul Goldschmidt, Tommy Edman, Nolan Gorman, and MLB's #30 overall prospect Masyn Winn on the major league roster to end the season when Donovan was out with an injury to his non-throwing elbow. Then in the outfield, the Cardinals have Lars Nootbaar, Tyler O'Neill, Jordan Walker, Alec Burleson, and Dylan Carlson, so due to this logjam of offensive players, Donovan seems like a good trade candidate, especially if he can be traded for a starting pitcher, as the Cardinals' rotation really struggled this year. To make matters worse, they are set to lose Adam Wainwright to retirement this offseason, so I could see St. Louis being interested in a trade of Donovan for Clarke Schmidt and maybe another arm like Ron Marinaccio.
T.J. Friedl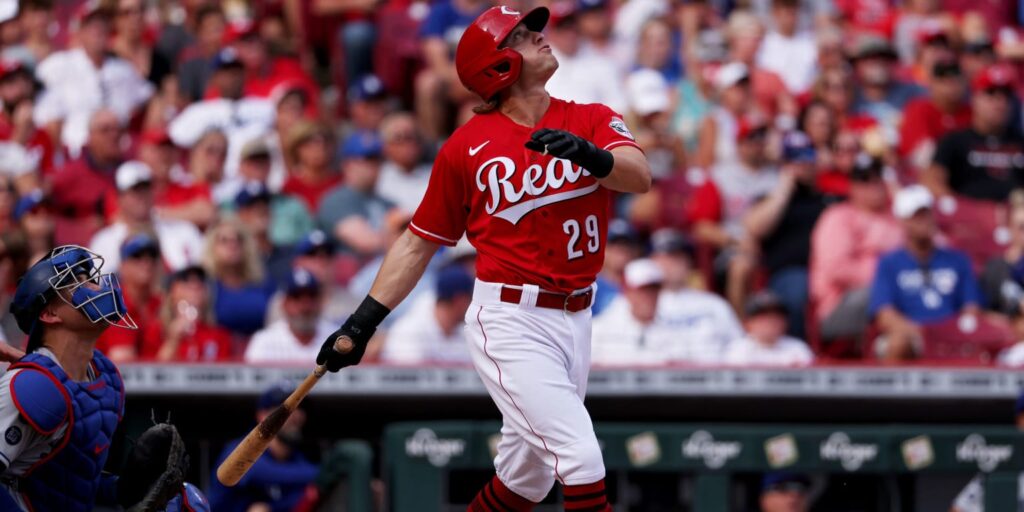 Key 2023 Stats: .279 BA | .352 OBP | 118 OPS+ | 116 wRC+ | 89th percentile OAA | 1 DRS
Friedl has a similar offensive profile as Donovan in the sense that he is left-handed, has a high OBP, high contact rate, low strike out rate, and low chase rate. He doesn't hit the ball as hard as Donovan, but Friedl hasn't had very good exit velocity numbers in his 850 career plate appearances and still maintains a strong 113 OPS+ in his career, so I think he has proven himself to be a valuable hitter in the league despite not hitting the ball as hard as others. One area where Friedl grades out better than Donovan is defense, as Friedl is an elite outfielder in terms of OAA. Friedl is also more of a threat on the base paths than Donovan, as Friedl had 27 stolen bases this year compared to Donovan's five. Lastly, Friedl has played a lot of centerfield in his career, so he could play any outfield position for the Yankees, giving them a little more flexibility in the outfield than Donovan would since Donovan can only play left or right field.
However, I am less confident that Friedl will be on the trade block than I am that Donovan will be, as there isn't the same logjam of outfielders in Cincinnati as in St. Louis. With that being said though, the Reds have a ton of quality infielders, so the team should be looking to reshuffle their lineup a bit. Friedl was a key cog in the Reds' potent lineup though, as he hit first or second for most of the year, so I'm not convinced that he will be available on the trade market, but if he is, I think Clarke Schmidt and possibly Estevan Florial would be a realistic package for Friedl, as Schmidt would give them another starting pitcher (which they certainly need), and Florial looked better while playing for the Yankees this September than he had before in the majors, so maybe the Reds would want to take a flyer on him as an option in the outfield.