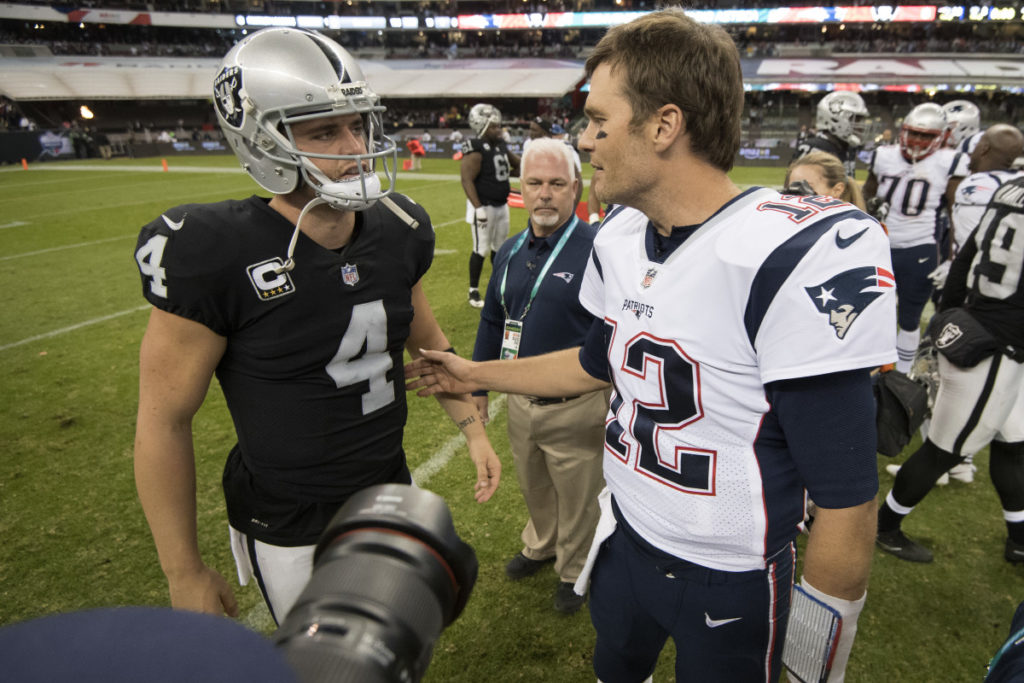 As you can see, Larry Fitzgerald Sr. (yes, Larry Fitzgerald's dad but also a well-respected NFL reporter) has reported that the Raiders are willing to pay top dollar for Tom Brady. This would be extremely interesting, as it opens up a lot of options for the Raiders for the rest of this offseason, so here is what I would like to see the Raiders to do.

First off, I would be excited if the Raiders signed Tom Brady, even if it makes me nervous that he is clearly not the same quarterback he used to be. Not that I think that the Raiders are going to have any problems selling out their gorgeous new stadium over the next few years, but adding Brady to the roster would only increase the demand for Raiders tickets. This is an obvious pro to signing Brady, but I would also think that signing the most accomplished QB of all time would lead to more interest from other free agents when it comes to possibly signing with Las Vegas. It would also be beneficial for the players currently on the roster to be able to learn from a legendary quarterback such as Tom Brady and observe what makes him so great.
This leads me to the next move that I think the Raiders should make if they sign Brady, which is drafting a QB with the #12 overall pick. I think Justin Herbert is the best quarterback that could possibly be available at that point in the draft (I fully expect Burrow and Tua to be off the board by then), but even at 12, I could see Herbert not being available if a team like the Chargers drafted him before the Raiders got the chance. So if that happens, then I would would like to see the Raiders draft Jordan Love from Utah State at #12.
Scouts say that Love is a raw talent that needs to be developed before he is ready to start at QB in the NFL, but with his big arm and ability to throw on the run, I think he has a little Pat Mahomes in him. I also couldn't imagine a person better than Tom Brady when it comes to teaching a rookie about the ins and outs of the quarterback position in the NFL. Then, when you factor in the immense amount of knowledge that head coach Jon Gruden has about the quarterback position, Love would clearly be in a fantastic position to succeed in the league when Brady retires in a year or two. Drafting Jordan Love at #12 might be a bit of a reach as he isn't necessarily seen as a "slam dunk" prospect, but the Raiders also pick at 19, so they could afford to take a risk for a potential franchise quarterback as long as they hit on their second first-round pick.

If the Raiders followed the first few steps of this plan and acquired Tom Brady and either Justin Herbert or Jordan Love, this would obviously create a logjam at quarterback, leaving Derek Carr as the odd man out. Overall, I'd say I'm pretty indifferent on Derek Carr, as I think he is a good, but not great quarterback that doesn't move the needle when it comes to a team's Super Bowl aspirations. So if the Raiders want to move forward with Brady and a rookie quarterback, then I think that teams such as the Panthers, Colts, Buccaneers, and Patriots could be interested in trading a second round pick to the Raiders in exchange for Carr. This would be a valuable pick for the Raiders since they do not currently own a second round pick in this year's draft due to the Khalil Mack trade, and I think that a second rounder for Carr is a pretty fair deal for both teams in the potential trade. This would give Las Vegas the opportunity to fill a hole on their roster that wasn't addressed in the first round with someone that could possibly be an impact player in their rookie year.
So all and all, if the Raiders followed this plan for the offseason, they would add Tom Brady, Justin Herbert/Jordan Love and whoever they draft with a middle second-round pick and their three third-round pick (overall numbers 80,81,92) to their already talented roster in addition to any other free agents they sign. I think that would be a pretty good roster that can win in 2020 and for years to come.