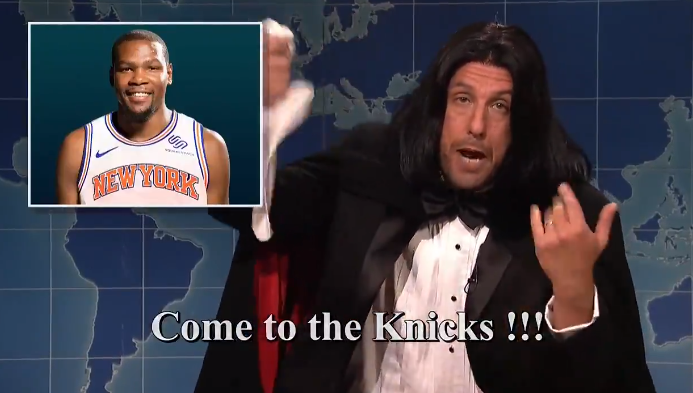 NBA free agency talk always tends to heat up well before the period begins in the summer. It seems that, however, in the cases of two star athletes, discussion has been ongoing since before the first tip-off back on October 16th. Kevin Durant and Kyrie Irving are both entering the final stages of their contracts; the former with a player option for the next season, likely to opt out, and the latter becoming an UFA once a champion is decided. Both are having impressive years with their respective teams and are making playoff runs as we speak. Durant averaged 26PPG, 6.4REB, and 5.9AST in the regular season and 35.6PPG, 5.0REB and 5.0AST in the playoffs, while Irving averaged 23.8PPG, 7.0AST, and 5.0REB in the regular season and 22.0PPG, 7.4AST, 4.7REB in the playoffs. Speculation varies depending on who you ask as to where each will go, but one destination dominating the talks for both is New York with the Knicks. One New Yorker used a national platform to plead his case to bring success and talent back to a Knicks team that is beginning to show some promise.
Actor and comedian Adam Sandler, best known for his Citizen Kane-esque performance in the film of our century, "Jack and Jill", returned to his old stomping grounds of Saturday Night Live to reprise a popular role (no where near as popular as his Oscar-worthy performance as Jack Sadelstein in the aforementioned "Jack and Jill") he played as Opera Man. During the performance of a classic Opera Man song on the "Weekend Update" segment, Sandler called for Kevin Durant to come to the Knicks, stating "Please, Kevin, please, and bring Kyrie too!". This attention-getting performance was reminiscent to a main theme in "Jack and Jill" in which Jill Sadelstein (played by Adam Sandler) attempts to draw the attention and admiration of her brother Jack (also played by Adam Sandler) throughout the film. One can easily see the similarities in the versatility that Sandler possesses when taking a male and female role in the same film (revolutionary) and the versatility Kevin Durant has had throughout his playing career; working in tandem with Russell Westbrook to becoming the first option in a fast-paced Warriors offense.
If all goes according to plan for the Knicks regarding the draft, with Zion falling to them, the free agency period will be an exciting one to say the least. I can't say anything with certainty, but if "Jack and Jill" taught me anything, its that one must expect the unexpected. Also that Adam Sandler is potentially the greatest actor of our generation.