To kick off the Divisional Round, we will start with what is quite arguably the most interesting matchup of the postseason thus far. The San Francisco 49ers will take on the Minnesota Vikings in what is sure to be a great matchup on both sides of the football.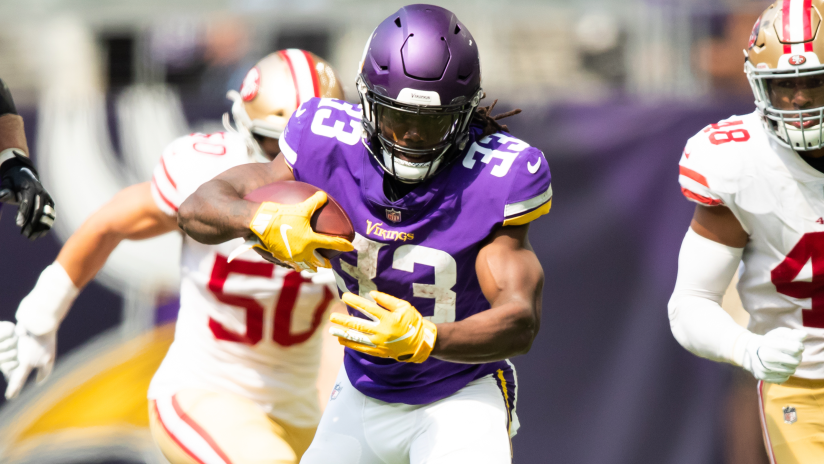 How They Got Here: 49ers
The 49ers had a great season, closing out the year with a win against Seattle and clinching their first NFC West title in seven years. Led by former Tom Brady backup Jimmy Garoppolo, San Francisco's offense rolled this season. With weapons such as George Kittle, Deebo Samuel, Tevin Coleman, and Emmanuel Sanders, the Niners averaged 29 points per game, first in the NFC. The defense was dominant as well this year. Especially the pass rush, which tied for 5th among the league in sacks (48) with the Vikings.
How They Got Here: Vikings
The Vikings slightly up and down season had plenty of highs and lows. Some early season drama with Stefon Diggs made its way to the media, and Minnesota looked as if they made a monumental mistake signing another average quarterback to a big contract. Kirk turned it around though, and by the last two games, the Vikings had a shot at the division. After getting dismantled by the Packers and losing in a meaningless game to Chicago, no one thought the Vikings could beat the Saints. But here they are one week later. The Vikings were a very efficient offense this season, as they were able to run the play action as well as any team in the league. The defense remained consistent, with Pro Bowlers Harrison Smith and Danielle Hunter leading the charge.
HOW THEY CAN WIN
49ers – Stop Dalvin Cook
This is the key formula to stifling Minnesota's offensive attack and freezing offensive coordinator Kevin Stefanski. The Vikings' offensive playbook relies heavily on play action, and if they don't have a run game going, they won't be able to confuse you with the fakes.
How THEY CAN WIN
Vikings – Cover George Kittle
You may think I'm crazy for this being the main way the Vikings can stop the 49ers attack but it's true. If you can take away Jimmy G's most reliable pass catcher, it is more likely mistakes will be made. Anthony Harris led the league in INTs at the safety position this year, so he will be a big asset along with Harrison Smith and UCLA linebackers Anthony Barr and Eric Kendricks.
RANDOM STATS
Since 1987, the Vikings are 2-9 when travelling to San Francisco. Obviously, these numbers do not play well in their favor, and neither does the fact the 6th seed since 2000 is 5-11 against the top seed. 49ers can take deep breaths and read those stats to feel more confident. However, Vikings fans can always have this moment from Brett Favre's first of two seasons in Minnesota.
TOP MATCHUPS
Stefon Diggs vs Richard Sherman
Last season when these two squads went at it, Diggs shredded Sherman on a couple routes, but was held to only three catches on six targets. Sherman has been great all year against top receivers, even with him getting up there in age. This matchup will be fun to watch with two very big smack talking, dynamic players going head to head.
Nick Bosa vs Riley Reiff
Reiff has played well all season, and has made Minnesota a lot more confident on the edge. Cam Jordan had a very minimal impact on Kirk Cousins last week, thanks to Reiff's play on the outside. Bosa is a different kind of animal. Most likely the Defensive Rookie of the Year, he has shown to be better than his brother Joey may ever be. Reiff has struggled against the top class edge rushers this year, as Za'Darius Smith and Khalil Mack gave him quite the headache. Watch this matchup close on Saturday.
Emmanuel Sanders vs Xavier Rhodes
Sanders was such a great acquisition for the 49ers. He really added a new element the 49ers had been really searching for: a #1 option at wide receiver. Rhodes played great against Michael Thomas last week in the win, and needs to be sharp with corners Mackensie Alexander and Mike Hughes both out for the season.
FINAL PREDICTION
It'll be a close one that comes down to the last possession of the game. Garoppolo leads a game-tying drive that ends with a TD pass to rookie Deebo Samuel, leaving 47 seconds left on the clock, and the Vikings have two timeouts. Just enough time for Cousins to go to work and get another big playoff win. They march downfield with two big passes to Thielen and Diggs, and Dan Bailey sends Minnesota to the NFC Championship.
Vikings 34, 49ers 31