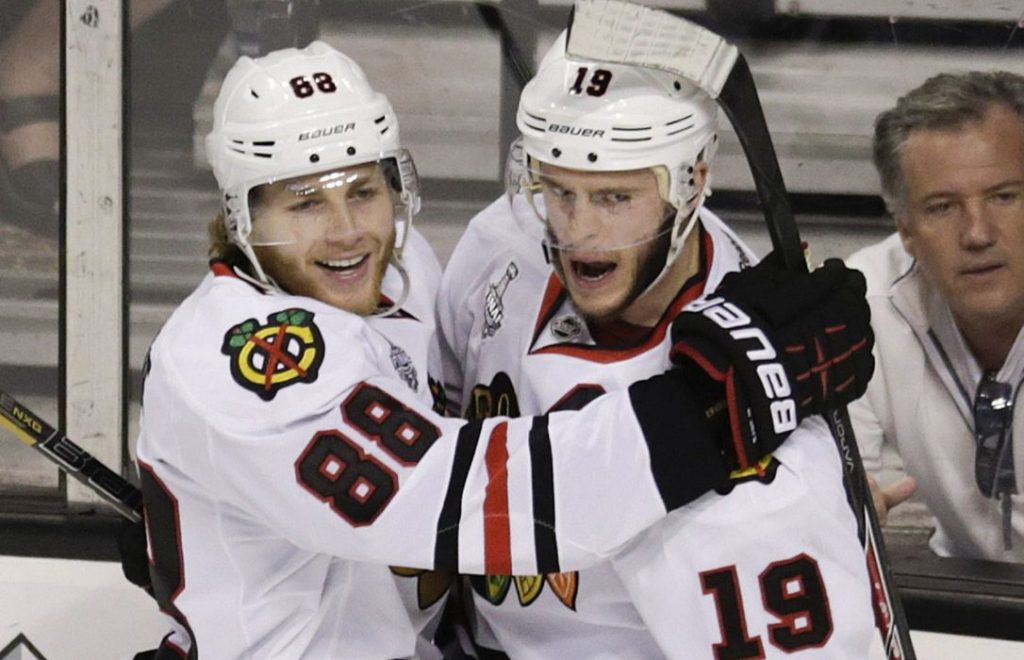 After early season struggles and what looked like another lost season the Chicago Blackhawks find themselves in the playoff race with 11 games left.
By Chris Yackel
If I told you that a team that had lost eight straight games, seven straight games and five straight games on different occasions were still in the playoff race you would call me a crazy man. Well, the Chicago Blackhawks amazingly are that team. The Hawks find themselves just 5 points out of the final wild card in the western conference and hold a game in hand on all the teams ahead of them. Normally a team that is in LAST PLACE in their division would find themselves not even close to a playoff spot, but boy it is a weird year in the west. Chicago has been one of the hottest teams in the league the past 6 weeks or so posting a 16-6 record in their last 22 games. Now they amazingly have a chance to return to the playoffs. How did this turn around happen? Well let me explain.
Coaching Changes
It is amazing the whirlwind of up and downs this team has faced. They let go of legendary head coach Joel Quennville early in the season and brought in a young and inexperienced Jeremey Colliton for the job. The 34-year-old Colliton has fared well thus far this season as he holds a 26-24-6 record since taking over the head coaching duties for Quennville. I was one that questioned the move and thought that General Manager Stan Bowman was the one that should have been fired. However, as time has passed Bowman has made some savvy moves that have made me rethink this.
Strome Effect
Since becoming a Chicago Blackhawk Dylan Strome is starting to un-tap some of that third overall pick potential he did not show in Arizona. For whatever reason Strome could not get it going for the Coyotes, but a change of scenery has made a world of a difference for the 22-year-old. Strome has 14 goals and 30 assists (44 points) in 47 games since joining Chicago. You have to give credit to Stan Bowman who made a risky trade with Arizona trading away a more proven Nick Schmaltz for Strome and former first round pick Brendan Perlini. This trade is paying off big dividends as Perlini is also contributing as well as he has 11 goals since joining the Hawks. These moves are a huge reason why the Blackhawks have had a resurgence.
Who else but Kane and Toews
For the Blackhawks to be a team that is back in the playoff conversation, they needed their two stars to play their best hockey. Boy have they ever. Patrick Kane has 99 points (41 goals, 58 assists) in 70 games this year after an off year of just 77 points a year prior. He is rightfully so being considered for league MVP. Then there is Jonathan Toews. I personally thought that Toews was done. He had played so much hockey, the miles were adding up and the game was getting to quick. Toews's production the last three seasons were not what we were accustomed to seeing. It was capped off with a career low 52 points and 20 goals.
However, this season Toews has returned to form and is putting up some of the best numbers we have seen his entire career. Toews currently has 30 goals and 41 assists for 71 points in 71 games played. This is first time Toews has hit the 30 goal mark and the 70-point mark since the 2010-11 season. Simply remarkable. I would credit Toews's resurgence to two things. One, he had a full offseason to recover for the first time in ten years. That has factored into Toews being healthy this season as he has played in all of Chicago's games. Another is Adam Oates. This season Toews turned to the hockey guru who has helped several star players around the league for individual training. It has been a massive success as Toews may end up having a career year.
Will the Hawks return to the playoffs?
Now, the answer to the question I posed for the title of this blog. Will the Blackhawks make the playoffs? My answer unfortunately is no. Although, Chicago has made several strides this season, they dug themselves too deep of a whole and have too many teams to leapfrog. The Blackhawks currently have three teams in front of them for the second wild card spot in the west. This includes the Arizona Coyotes who currently hold that spot. Although I don't foresee the Blackhawks making it, they have plenty of hope and some cap space for next year. With all the young pieces they acquired I can see a playoff return next season.