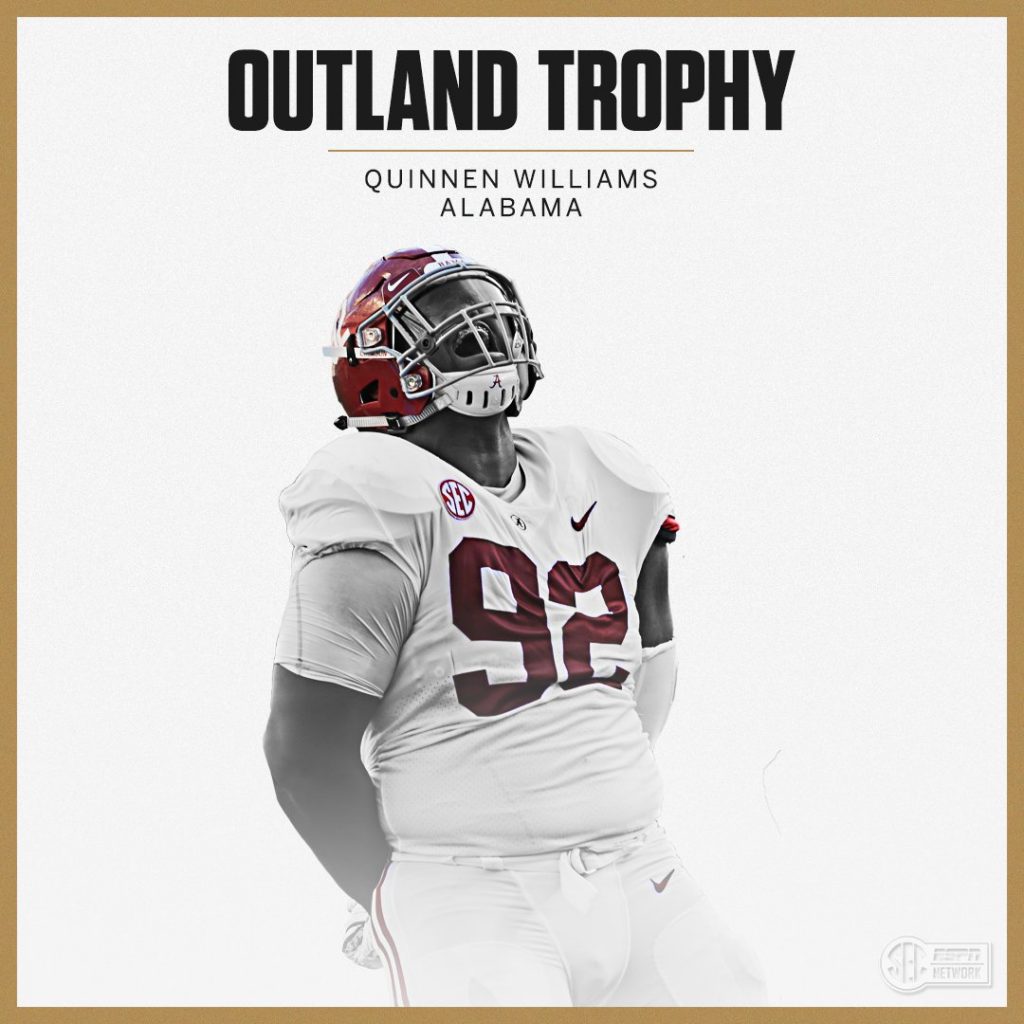 It has become an annual tradition every spring for the Alabama Crimson Tide's roster to be poached of talent at the hands of the NFL Draft. Specifically at the Defensive Tackle position. Names like A'Shawn Robinson '16 (DET R2-46), Jarran Reed '16 (SEA R2-49), Jonathan Allen '17 (WAS R1-17), Dalvin Tomlinson '17 (NYG R2-55), and Daron Payne '18 (WAS R1-13) come to mind.
And 2019 is no different. The loss of Quinnen Williams, an early entrant and projected top 5 pick in the 2019 NFL Draft, leaves a glaring hole in the middle of the Crimson Tide's Defensive Line. Williams consistently commanded double or even triple teams and still amassed 71 tackles, 19.5 TFLs, and 8 sacks on his way to winning the Outland Trophy as CFB's best interior lineman. He was the heart and soul of the Alabama defense.

Redshirt Sophomore and former 5 star Phidarian Mathis got first dibs at replacing Williams early in spring practices. Mathis was a rotational player on the DL last season for the Tide making appearances in all 15 games with 18 tackles and 1 fumble recovery. Which was enough to earn himself SEC All-Freshman team honors. It looked as if Mathis had the fast track to locking up the starting job.
But as we know with all Nick Saban coached football teams, your spot is never guaranteed. It doesn't matter if you are a 5th year senior or a true freshman, the best 11 players will always take the field.
In comes DJ Dale (6'3 323) a 4 star recruit from Pinson, AL who looks to be next up in a long line of dominant Defensive Tackles. Dale is an early enrollee of the 2019 recruiting cycle and has been making waves throughout spring practices. To the point where he worked his way up to playing with the first team defense in Bama's second spring scrimmage, and earned high praise from coach Saban.
This is big time for Dale. It is unusual for interior defensive linemen to get meaningful snaps in the SEC as true Freshmen because the position usually requires some physical maturing to handle the strength of SEC offensive lines. But Dale could be a phenom who breaks the mold. 
Look for big #94 to make a splash during Alabama's A-Day scrimmage this Saturday April, 13 at 1 p.m on ESPN 2.

In the meantime check out his High School highlights.