By: Tanaay Shah
"The Karate Hottie" Michelle Waterson defeated Angela "Overkill" Hill by split decision in Saturday night's main event war. This fight was back and forth the entire time and although I scored the fight for Hill, 2 out of the 3 judges scored it for Waterson. Hill clearly won rounds 1 and 2, and Waterson fought hard to win rounds 3 and 4. It all came down to round 5 and I scored it for Hill based on the significant strikes landed and damage done by Hill, but 2 out of the 3 judges scored it for Waterson. 1 judge scored the rounds 4-1 in favor of Waterson, which was absolutely ridiculous. However, the most important thing was that both ladies fought their hearts out and showed why they deserved to be the 5 round main event on the night. The strategy for Hill was to stuff Waterson's takedowns and throw power punches at her. Waterson used her unbelievably fast kicks along with punches and also constantly looked for takedowns. Hill did a great job stopping Waterson's takedowns besides one instance in round 3 when Waterson was able to get the takedown and control Hill for the rest of the round. This was the start of the comeback for Waterson who had lost the first two rounds. Hill caused more damage throughout the fight and should have got her hand raised but the fight was very close so I do not see it as a robbery. These two ladies absolutely gave it their all and entertained the fans from start to finish. Congratulations to Waterson and Hill on their well-earned performance of the night bonuses.
Michelle Waterson showed that she was not messing around and called for a fight that would bring her to the title shot in her post-fight interview. Her next fight should be against former title contender and #6 ranked Claudia Gadelha. This would be a tough matchup for both fighters and a win in that fight would bring both fighters closer to the title.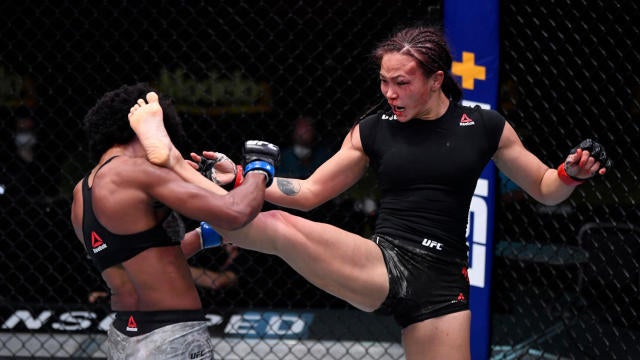 Angela Hill has lost her last two fights by split decision, both of which she deserved to win according to myself and many others. Both these fighters were also much higher ranked than her, which proves that Hill is a tough opponent for any strawweight. A fight against #9 ranked Marina Rodriguez would be an exciting striking battle, and a good way to move up the rankings.
---
Notable Winners from UFC Vegas 10
1. Underdog Ottman Azaitar finished the tough Khama Worthy inside 2 minutes of round 1 in a spectacular display of fast and powerful hands. Once Azaitar landed his first significant punch, he threw a fast combination to get Worthy out of there quickly. Congratulations to the undefeated Morrocan on his performance of the night bonus and on another spectacular finish.
2. Coming in as a heavy underdog and on ONE DAY notice, Kevin Croom finished Roosevelt Roberts in 31 seconds of the first round. Croom stunned Roberts with a huge left and then quickly grabbed his neck to submit Roberts via a standing guillotine. What a finish for the debutant and congratulations on the performance of the night bonus. He really needed and deserved that check.
---
Dreadful referee error changes fight outcome
This was another fantastic and entertaining card with a total of 7 finishes that included 2 KO/TKOs and 5 submissions. There were several other brilliant performances and tough fights throughout the night. There was controversy however in the fight with Ed Herman and Mike Rodriguez when the referee called a timeout to the fight when he thought Rodriguez landed a groin shot on Herman, which was actually a body shot. This body shot would have most likely, if not definitely helped Rodriguez finish the fight. Dana white described this terrible call from the referee as "one of the most disgusting things" he has ever seen. Herman, who was losing the whole fight got a slight breather thanks to this wrong call came back and submitted Rodriguez by a kimura in round 3. It was definitely the referee's fault, but not Herman's who was just doing what he is supposed to in the octagon. However, it was not all bad for Rodriguez despite the loss. The UFC decided to pay him his win money and not just his show money because they acknowledged the referee's blunder. Classy move by the UFC.