By: Tanaay Shah
The bantamweight division in the UFC is one of the deepest and most talented divisions in the UFC, with straight killers in the top 15. Tonight's main event is a clash between two top bantamweights #1, "Magic" Marlon Moraes and #4, Cory "The Sandman" Sandhagen. Moraes is coming off a split decision win over Brazilian legend Jose Aldo, which many, including myself, believed Moraes lost.
Moraes has looked very dominant in the early rounds of his fights, but after a fast start, he tends to gas out and start losing rounds. This happened in the Aldo fight and in the title fight against now-retired former champion Henry Cejudo. Moraes had beat and finished some top fighters on his way to the title. Sandhagen had 7 straight wins before getting submitted in the first round against now title challenger Aljamain Sterling. This fight was a tough one for the Sandman because Sterling was able to hop on his back and then finish him with a rear-naked choke. Once Sterling got his back, Sandhagen found it impossible to get him off. However, Sandhagen must not be judged just on his last fight. He also beat some high-level fighters while amassing 7 straight wins before his loss in June. Sandhagen is an extremely well-rounded fighter, with a relentless pace. Being 5'11", he has very good length and reach for the bantamweight division.
The strategy for Moraes has to be to get Sandhagen out of there early because he tends to slow down after the early goings. He has the power and skills to finish anyone in the division. After being out for almost a year, I really hope that Moraes has worked on his stamina so we can see him fight longer because he is really exciting to watch. Sandhagen will look to weather the early storm from Moraes and take the fight as deep as possible. Sandhagen has a 5' height advantage and a 4' reach advantage which he will use to land and stay away from Moraes. Sandhagen has also shown us in the past that he goes to work on the body of his opponents to cause damage and to make them tired, and will look to use this tactic once again tonight. We have a fantastic main event tonight, with two of the top fighters in a stacked division. Whichever fighter wins gets right back in the title frame.
---
Tanaay's Picks
Moraes vs. Sandhagen to go over 3.5 rounds (-106)
Moraes' best strategy will be to come firing and get an early finish but I believe that Sandhagen will be able to get past the early barrage from Moraes and take the fight to the late rounds. It will make it past the 3.5 mark because Moraes will slow down and although Sandhagen has a fast pace, he does not have knockout power.
Barboza to win (-260)
For his second fight at featherweight, the experienced Edson Barboza will take on "Mr. Finland" Makwan Amirkhani. Although Amirkhani is coming off a beautiful submission win in July, he has not faced competition like Barboza who has been fighting top lightweight contenders for years. Barboza will get it done in this one and bounce back from his split decision loss in May.
Rothwell by KO/TKO or Submission (+165)
Big Ben Rothwell has had 50 fights in his pro career and has 36 finishes in 38 wins. Like many heavyweights, he has knockout power but he also possesses submission skills. Marcin Tybura is a good fighter but nowhere near as experienced as Rothwell. Rothwell will get the finish tonight.
Perez to win (+136)
Although Markus Perez is 2-3 in the UFC, he has faced much better opponents than Dricus Du Plessis, who is making his UFC debut tonight. Perez will use that octagon time to his advantage and get the win tonight.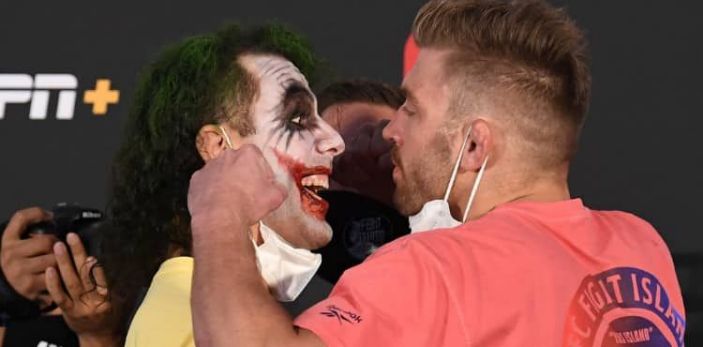 Aspinall by KO/TKO (-220)
The Brit Tom Aspinall is coming off a knockout win in under a minute when he made his UFC debut in July. Tonight he welcomes Alan Baudot to the UFC. Baudot will also be moving up to heavyweight from light heavyweight, which is not easy to do. Aspinall will get the knockout like he did in his last fight.
Topuria by submission (+250)
Although this will be Topuria's first fight in the UFC, he is undefeated with all finishes. He is a BJJ black belt and already has 6 submissions under his belt. Youssef Zalal is very well rounded but has fought 3 times this year and they have all gone the full 15-minute distance. I could see him being tired and if the fight goes to the ground, Topuria will grab an arm, leg or neck and submit Zalal.
---
*(Odds via https://sportsbook.fanduel.com/sports)
Watch the prelims at 5:00 pm EST and the main card at 8:00pm EST on ESPN+. Solid lineup of fights tonight!