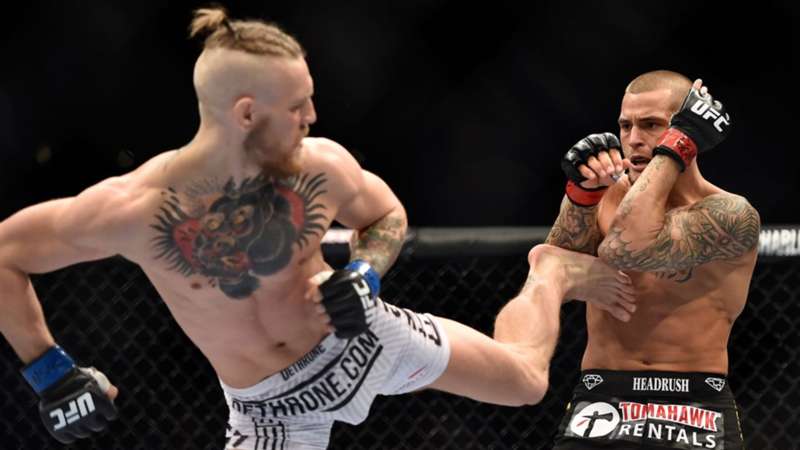 By: Tanaay Shah & Anthony 'Tony Scraps' Lotito
After the sudden retirement of undefeated champion, Khabib Nurmagomedov, in October, there seems to be an unofficial lightweight tournament taking shape, starting with Charles Oliveira defeating Tony Ferguson in December. The night we have all been waiting for, UFC 257 in Abu Dhabi, showcases four more lightweight contenders going at it in the co-main and main event.
The Main Event of the evening is a rematch 6 years in the making. The "Diamond" Dustin Poirier is facing off against the "Notorious" Conor McGregor, who is coming off a win over Donald "Cowboy" Cerrone just over a year ago. Poirier has one 5 of his last six, losing his unification bout to Champion, Khabib Nurmagomedov. Conor returns to the lightweight division for the first time since his 2018 loss to Nurmagomedov. Although Dustin has improved a lot since their first meeting he still has major holes in his game, which could lead him to eat the left hand from hell from Mcgregor.
The UFC welcomes a former champion, the hard-hitting and gritty American wrestler, "Iron" Michael Chandler, in the co-main event. His debut fight takes place against the long and scary Kiwi, Dan "The Hangman" Hooker. Stylistically, this a nightmare matchup for the UFC debutant given the length and ability of The Hangman. Hooker's takedown defense to go along with his vicious stand-up game is a tough challenge for any fighter and could be a brutal welcome for the former Bellator champion. With that being said, Chandler possesses serious knockout power in his hands to go along with his world-class wrestling. With the much anticipated UFC debut of Chandler, taking on the always entertaining Hooker, the co-main event promises to deliver.
Main Card Predictions & Picks
The rising Amanda Ribas is too good on the ground and will be too much for striker, Marina Rodriguez. Ribas' submission skills are also on point, so a little bit of money on that line could be a solid bet.
Co-Main Event Predictions & Picks
As mentioned earlier, Dan Hooker is a nightmare matchup for anyone, especially for a shorter fighter like Michael Chandler. Chandler has serious skills and this UFC debut is going to be exciting, but Hooker is going to give him hell as soon as the cage closes and get the win. Watch out for some nasty knees from Hooker.
Main Event Predictions & Picks
The moment we've all been waiting for…The former champ-champ Conor McGregor will repeat what he did against Dustin Poirier in 2014. McGregor says that he is in the best shape of his life and he is going to put Poirier away, and Mystic Mac is usually right. Poirier has improved significantly, but just a little shy of McGregor.