Imagine this… Both Baseball Clubs in Los Angeles need more help! The first Los Angeles team I think can use a star go Hollywood is the Dodgers. Yes, I know what you all are thinking, why do the Dodgers need ANOTHER star. To me at least, it seems something is missing from this team after miserable performances in the 2019 NLDS and past World Series runs in 2017 and 2018. Dodgers fans must be frustrated and I can't begin to imagine how the front office must feel when they have the most talented roster in the league, but always seem to lose when it means the most. So which star to the Dodgers need to get over the hump…
Mookie Betts
This star that I believe they need is none other than 2018 AL MVP Mookie Betts. I know that the Dodgers have their eye on Indians Francisco Lindor, but truthfully I would rather see Mookie in Dodger blue. The Red Sox are definitely more inclined to trade Betts than the Indians are to trade Lindor. The Red Sox are looking to slash their payroll, due to the fact that they had baseball's highest payroll last season with a crisp $244 million and are set to pay $13 million in luxury tax penalties . The Dodgers could take on Betts and give him a 4-5 year extension. Betts, is set to become a free agent after the 2020 season, which may scare the Dodgers away, but when you can get the second best player in the league, I would pull the trigger.
Betts is only behind Mike Trout in WAR, and I do believe Mookie is a top 5 player in the MLB despite a "down" 2019 season. One thing, you get with Mookie is consistency, he's a 5 tool superstar. The Dodgers need a right handed bat, and why not plug in a guy who will hit you 30 homers and hit over .300.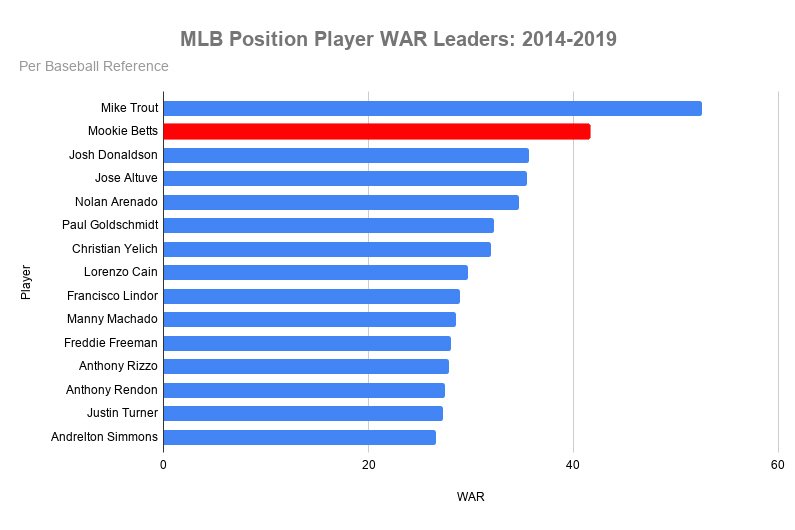 To acquire a player like Mookie Betts, I would assume the Dodgers would have to center a deal around top prospect Gavin Lux or catcher Will Smith. Smith had a solid rookie campaign and I bet the Red Sox would love to have him. Reports have been made that the Dodgers do not want to part with Lux, given that he a young up and coming star. This may lead the Red Sox to center a deal around 25-year-old shortstop Corey Seager. The Dodgers outfield is jammed packed with Alex Verdugo, A.J Pollock, Joc Pederson, D.J. Peters, and Kyle Garlick. If the Dodgers were to trade for Betts, I would assume at least 2 outfielders would be moved. Pairing Cody Bellinger, Justin Turner, and Max Muncy with Mookie Betts would be a ton of fun to watch, and this move I believe can finally put them over the top and capture their first World Series title since 1988.
David Price- LA Angels
This next move has been spoken about recently and once more it centers around a Red Sox player going to Hollywood… again. How about David Price supporting that bright red Angels jersey. I believe this is a perfect fit after the Angels failed to sign Gerrit Cole, but however went out and signed slugging third baseman, Anthony Rendon. This move definitely puzzled me because the last thing I thought the Angels needed was hitting, but here we are with a lineup that could be the best since those Tim Salmon lead Angels. Earlier this week, the Angels went out and signed Julio Teheran, which I think was a terrific signing. Teheran is a proven veteran who has started 30 or more games since 2013. He will not overpower anybody anymore, but will win you games and be out there every 5th day. The Angels could still go shopping and sign free agent pitcher Hyun-Jin Ryu. I think this should be an absolute priority, especially when you steal him away from the cross town rivals. The more depth in a rotation, the better for this Angels team, it is essential. I still have faith in David Price, who will enter his age 34 season due to his competitive nature. The man always gives it his all and loves to win more than anything.
David Price as well is a proven veteran who has struggled since 2016, but I believe it won't take much for the Angels to obtain him. A deal like this will most likely be centered around a top pitching prospect like Patrick Sandoval or Jose Soriano. Price has 3 years left on his deal, which will take him to his age 37 season and what better way to most likely end your career than in sunny California where he can ride into the sunset with a possible World Series championship under his belt. With an offense that has Rendon, Trout, and Ohtani in the middle of it, I don't think Price will have to be like his former Cy Young self to win games. The Angels need some depth in a rotation that is most likely at rock bottom in the league. So why not go out and trade for him, especially when you don't want to waste away the primes of Trout and Rendon. There is a ton of pressure on GM Billy Eppler to win now, and a move like this sends a clear message… GET PITCHING!
In New York City, the Mets and Yankees look primed to make deep playoff pushes and I think it would be just as fun if both Los Angeles team were in the same boat. I think both of these moves can ensure very deep playoff runs and bring an immense amount of excitement to Hollywood. It will be interesting to see how both of these teams proceed with a ton of pressure to win now, with both the reining AL and NL MVP in southern California. Who knows.. what if one of these L.A. teams trades for both Price and Betts. I know one thing for sure, this rivalry is going to get heated over the next couple of years!