By: Owen Cooper
Hypothetical: The baseball world has completely fallen apart after the owners and the players union failed to come to an agreement on the 2020 season. Because of this, an anarchy breaks loose across the league, and most players jump ship from their current team. Surprisingly enough, Commissioner Rob Manfred put his foot down and mandated that every team pick two of their current players to lock down for the long-term and submit it to the league office immediately. This way, when the league eventually restarts, each team will have recognizable players for the fans to cheer for, and no team would have to 100% rebuild.
Here is who every team would choose:
Baltimore Orioles
Trey Mancini & John Means
Baltimore has been in shambles as a baseball organization for quite some time. Their only bright spots since their last playoff appearance has been the bat of Trey Mancini and the arm of Rookie of the Year candidate John Means. The new "M & M Bros" would leave Orioles fans with the only players on their team that they've actually heard of. Obviously, this excludes Chris Davis, who they'd be glad to forget anyways.
Boston Red Sox
Rafael Devers & Andrew Benintendi The Red Sox are in a weird place as a team. They are loaded with talent, yet it doesn't seem like they have enough to even make the playoffs at this point. The summer of '19 was renamed "Summer of Scoops" after the large impact of Rafael Devers, and Andrew Benintendi has been steadily improving every year of his career. Although Chris Sale or JD Martinez could have been other viable choices for the Red Sox, Sale is past his prime, and Martinez is mostly a designated hitter at this point in his career.
New York Yankees
Gleyber Torres & Gerrit Cole
Before the baseball apocalypse, the Yankees were in prime position to compete for a World Series. They were stacked with both young talent and stars in their prime, and they were also well rounded. After acquiring Gerrit Cole in the winter of 2019, it seemed like they were finally going to be the best team in baseball again. Unfortunately, they had to make many tough choices on who to keep. Gleyber Torres has been both electric and durable throughout his young career, and Gerrit Cole seems to have just entered his true prime. Many experts consider Cole to be the best pitcher in the game. Sadly for Yankees fans, they'll have to say goodbye to the Judges chambers and the Cuban Missile.
Toronto Blue Jays
Bo Bichette & Vladimir Guerrero Jr.
Toronto fans will be happy to know that their young core will remain intact. Up north, the sons of former stars will shine bright. Vladdy Jr. showed his power as a rookie, but he also showed he has a lot to improve. Surprisingly, Bichette was much more impressive on both sides of the ball. These two will have the left side of the field locked down for the next decade.
Tampa Bay Rays
Blake Snell & Austin Meadows
The Rays seem to shake up their roster every year, whether they've had a good year or not. Tampa has an elite scouting department and recently it seems that they've struck gold on numerous free agents and trade pieces, none bigger than Austin Meadows. They acquired Meadows in the Chris Archer trade with the Pirates, and now they have a star in their outfield. In 2018, Snell won the Cy Young award, and he's still one of the best pitchers in the league. Tampa will be in good shape for their future with these two.
Minnesota Twins
Mitch Garver & Jose Berrios
Despite their lack of postseason success, Minnesota has currently built a lethal offense next to a solid pitching rotation. Unfortunately, they had to make a tough decision when deciding who to keep. Mitch Garver took a huge step forward in 2019. He went from 7 HRs in 335 PA in 2018 to 31 HRs in 359 PA in 2019. Because of this jump, it's assumed that the 26-year-old catcher can maintain his power streak and boost the Twins. Despite having a bad 2016, Jose Berrios has bounced back completely. He has been the ace of the pitching rotation and has been an All-Star the last two seasons.
Kansas City Royals
Adalberto Mondesi & Jorge Soler
The Royals will lose a lot of their young talent, but they'll be able to maintain the reigning AL home run leader and one of the best youngsters the sport has to offer. Mondesi made his MLB debut in the 2015 World Series, and he finally looks ready to reach his full potential, while Soler did just that last season, leading the American League with 48 home runs.
Chicago White Sox
Eloy Jimenez & Yoan Moncada
The Sox acquired both of these studs via trade during their massive rebuild, and now they have to maintain this core. Jimenez was the main piece in the Jose Quintana trade with the Cubs a few years back, while Moncada was the number one prospect in baseball when the Red Sox shipped him to Chicago for Chris Sale. Now, the south side has the potential to hold two of baseball's massive stars.
Cleveland Indians
Shane Bieber & Fransisco Lindor
Although the Indians have been looking to trade Lindor, in this scenario, they will actually understand the level of talent that they hold. Lindor is one of the few players in the game that's truly a 5-tool guy. Additionally, he's a switch hitter and has an excellent attitude. On the flip side, Shane Bieber had a very impressive 2019 campaign, and his steady improvement was headlined by his All-Star game MVP in Cleveland. Both guys are important to the organization on multiple levels.
Detroit Tigers
Michael Fulmer & Matthew Boyd
Because of their utter lack of talent at the Major League level, the Tigers are forced to keep two starting pitchers, both of whom aren't a guarantee. The first, Michael Fulmer won the 2016 Rookie of the Year, was an All-Star in 2017 but missed all of the 2019 season with TJ surgery. Boyd has been far less successful, but much of that can be attributed to being on the Tigers. The lefty has shown flashes of bright potential. Fulmer and Boyd could anchor this rotation quite well in the post-apocalyptic MLB.
Los Angeles Angels
Mike Trout & Anthony Rendon
I think everyone knows why the Angels are keeping Mike Trout, the best player in the world. Following another disappointing season for the franchise in 2019, they finally decided to get Trout some help In the form of world champion Anthony Rendon. Even though Rendon hasn't played a single inning for the Halos, he's still their second-best player, and Angels fans want to see him in action. Maybe Rendon will finally help Trout get the Angels over the mountain.
Oakland Athletics
Matt Chapman & Marcus Semien
Although first baseman Matt Olson would be a very worthy candidate to represent the Athletics, the two award winners on the roster seem to fit better. The 2019 season was where Semien broke out, finishing third in AL MVP voting, and Matt Chapman has been the best defensive third baseman in baseball since his call up in 2017. The two of them will hold down the left side of the infield for the A's as they develop and grow together over the next many seasons.
Houston Astros
Carlos Correa & Alex Bregman
The baseball world would love to believe these two would still be just as good without knowing what pitch is coming, and they probably would be. Correa and Bregman were both top 2 picks in their respective drafts, and they've both been extremely successful at the highest level. The two of them would hold down a great left side for Houston.
Seattle Mariners
JP Crawford & Daniel Vogelbach
The Mariners major league team might as well register with the MiLB at this rate. Although they're at least a young team, they don't seem to have anyone bursting with potential. With that being said, JP Crawford is one guy that's shown flashes of being a serviceable MLB shortstop, mostly with the glove. If his bat ever comes around, the Mariners will be glad they kept him. Daniel Vogelbach is a fan favorite in Seattle. He's a big dude who hits tanks. For the short term, at least Mariners fans will have something to cheer for.
Texas Rangers
Joey Gallo & Elvis Andrus
Elvis Andrus has been a staple of the Texas Rangers for quite some time, so it's only right that they keep him in this scenario. He was with them during their first rebuild up until they were AL champs, and he's with them now as they look to build a new core. Texas hopes that Joey Gallo will be part of that new core. Gallo has displayed immense power in the box and a plus glove at multiple positions. If Gallo can show he can hit for any sort of average, Texas will be a dangerous team on the new MLB landscape.
New York Mets
Jacob DeGrom & Pete Alonso
The Mets are in great shape with these two. They have arguably the best pitcher in today's game and the best rookie the sport has ever seen. If Alonso's career pans out anything near his rookie season, the Mets will be in great shape for a long time. Additionally, Jacob DeGrom has been consistently dominant, and he doesn't look like he's slowing down any time soon. The Mets might be the better team in New York with this duo.
Philadelphia Phillies
Bryce Harper & Aaron Nola
In real life, Harper is signed with the Phillies for the next 12 years, so it only makes sense that they would keep him in this scenario. Whether he is getting overrated chants by his own fans or being showered with love, Harper will show up to the office ready to go. Aaron Nola has been the ace of the Phillies for the past few seasons, so the fit is there. The Phillies could have chosen Rhys Hoskins if he hadn't taken such a step back in the 2019 season, but they decided to go with an arm in Nola.
Miami Marlins
Sandy Alcantara & Brian Anderson
The Marlins are another team that's lacking talent in many facets. They seem to always be rebuilding just to blow it all up again. Now, they have a good young rotation led by "The Sandman", and a decent looking group of hitter headlined by Brian Anderson. Alcantara was the only Marlin in the All-Star game in 2019, and Anderson hit a career-high 20 home runs. It's likely that the Marlins will struggle in a reshaped MLB as well.
Atlanta Braves
Ronald Acuna & Ozzie Albies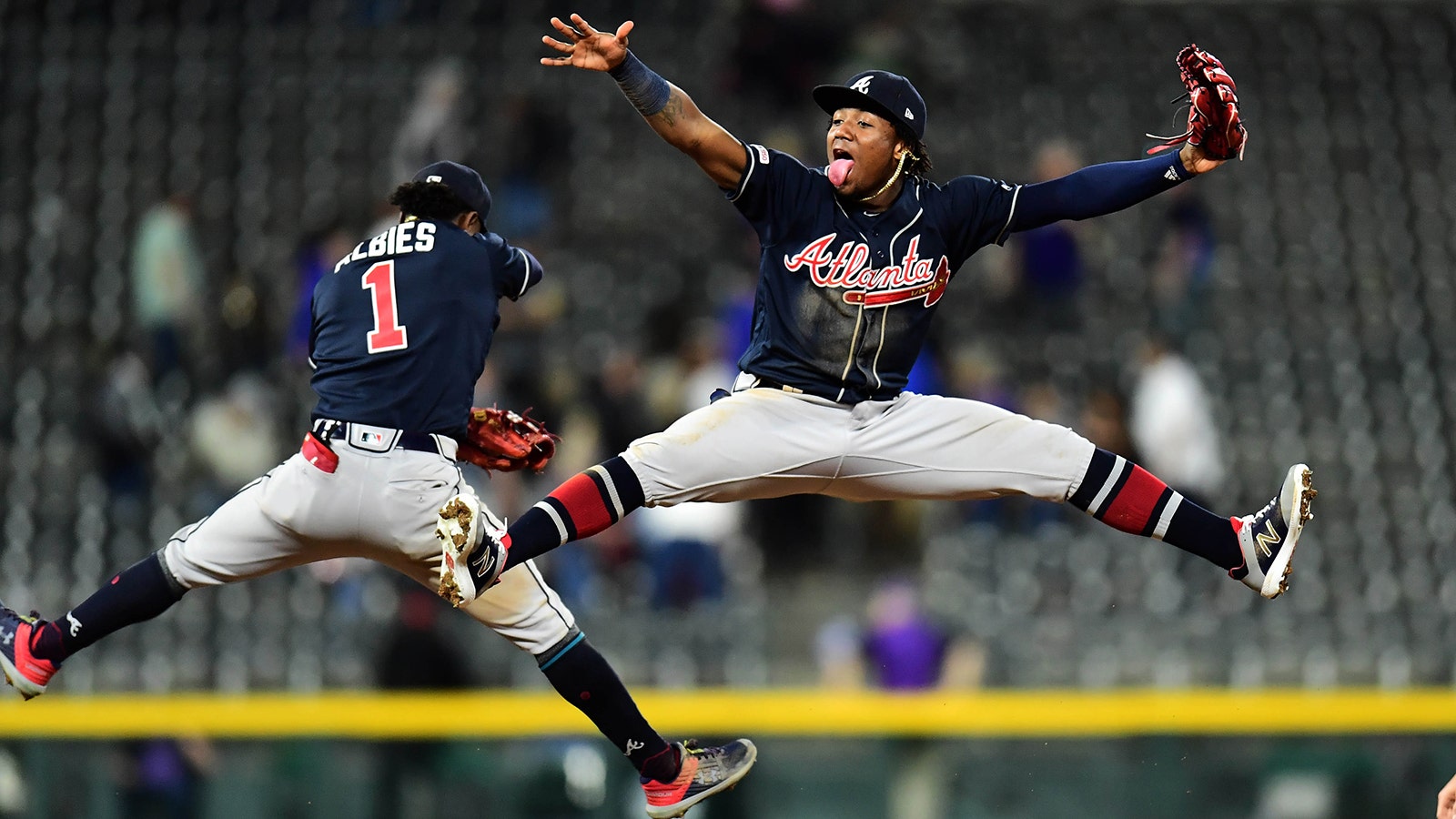 In real life, the Braves might have the best duo in the sport with Albies and Acuna. The two of them are more than just talented athletes. They're best friends and fan favorites as well. The baseball world would be shocked if Acuna doesn't finish his career with at least one MVP, and Albies is the perfect "Robin" for Acuna. Albies plays good defense and has a knack for coming through in clutch moments.
Washington Nationals
Juan Soto & Max Scherzer
Nationals fans might be the loudest advocates that Juan Soto is better than Ronald Acuna, and they might not be wrong. Soto's ability to hit any pitcher in any environment separates him from the other 21-year olds in the sport. On the pitching side, there's no one better than Max Scherzer. Mad Max is already a Hall of Famer in the eyes of most, and he'll have the opportunity to prove it again in the post-apocalyptic MLB.
Chicago Cubs
Javier Baez & Kris Bryant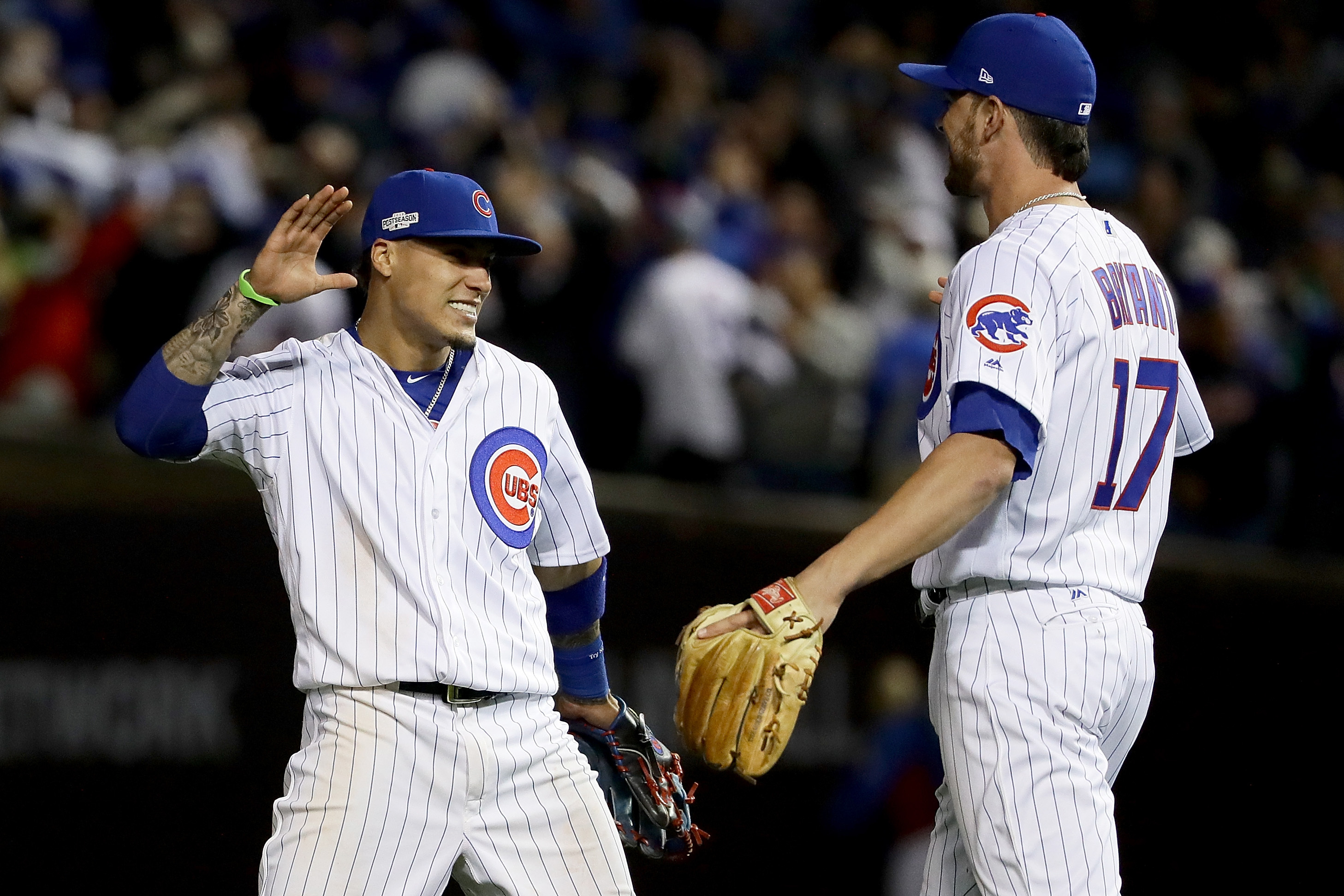 It's the end of an era in Chicago, as Bryzzo has officially broken up. Over the last few seasons, it's become evident that Javier Baez is the best player on the Cubs. Baez can do it all, making tasks as basic as tagging out runners look cool. Javier Baez hasn't won an MVP, but Kris Bryant has. Bryant has been struggling to stay healthy since his MVP season, but when he bounces back, Baez and Bryant will be a force in the NL Central.
St. Louis Cardinals
Jack Flaherty & Jordan Hicks
There aren't many teams that would take two pitchers in this scenario, but the Red Birds are one of them. St. Louis doesn't have any great position players at the Major League level other than Paul Goldschmidt, who is on the downside of his career. The Cards ace, Jack Flaherty, is the perfect pick for them to keep. Flaherty has already experienced postseason baseball, and he's looking to improve on his 2019 season where he finished 4th in Cy Young voting. In the bullpen, the Cardinals have the most electrifying arm in baseball. Jordan Hicks can throw a 104 MPH sinker and a slider that hits 90 MPH. If Hicks can stay healthy, he will be a weapon for a long time for St. Louis.
Milwaukee Brewers
Christian Yelich & Josh Hader
Since being traded from Miami in a head-scratcher, Christian Yelich has evolved into one of the game's top players, winning the MVP in 2018 and finishing 2nd in 2019. Keeping Yelich is a no-brainer for the Brew Crew. Josh Hader might as well be the left-handed Jordan Hicks. Hader has been dominant out of the pen since the moment he entered the big leagues. Hader and Yelich will provide Milwaukee with a powerful tandem that will strike fear in most opponents.
Pittsburgh Pirates
Josh Bell & Bryan Reynolds
Pittsburgh has a surprisingly high number of young players coming off good seasons, but their best young piece has been Josh Bell. Bell has displayed a great work ethic and consistent improvement throughout the early years of his career. Meanwhile, Bryan Reynolds just completed an excellent 2019 rookie year, hitting .314 over 134 games. Pirates fans should be excited to see how Reynolds and Bell can both continue to grow into great players.
Cincinnati Reds
Luis Castillo & Trevor Bauer
Following the 2019-20 winter, many experts were picking the Reds as a sleeper team in the NL Central. In real life, they're built to "win now", as they have a roster full of seasoned veterans and seem to be well-rounded. When looking at the future in Cincinnati, it's hard to know how long they'll keep their current core together, but their top arms seem to be the best choices. Luis Castillo showed his full potential in 2019 as he made his first All-Star game, and Trevor Bauer has already pitched several postseason games and has shown his ability to play under immense pressure.
Los Angeles Dodgers
Cody Bellinger & Mookie Betts
Not surprisingly, the Dodgers were going into the 2020 campaign with a loaded roster. There are several players LA will have to cut ties with that other teams would be glad to have in this scenario. It's hard to argue with who they'll keep. LA will have the 2018 AL MVP and 2019 NL MVP on the same team. These two would create one of the top duos in the entire sport. This scenario should make Dodger fans happy since it looks like Mookie might only be in Dodger blue for 60 games in the real 2020 before hitting free agency.
San Diego Padres
Manny Machado & Fernando Tatis Jr.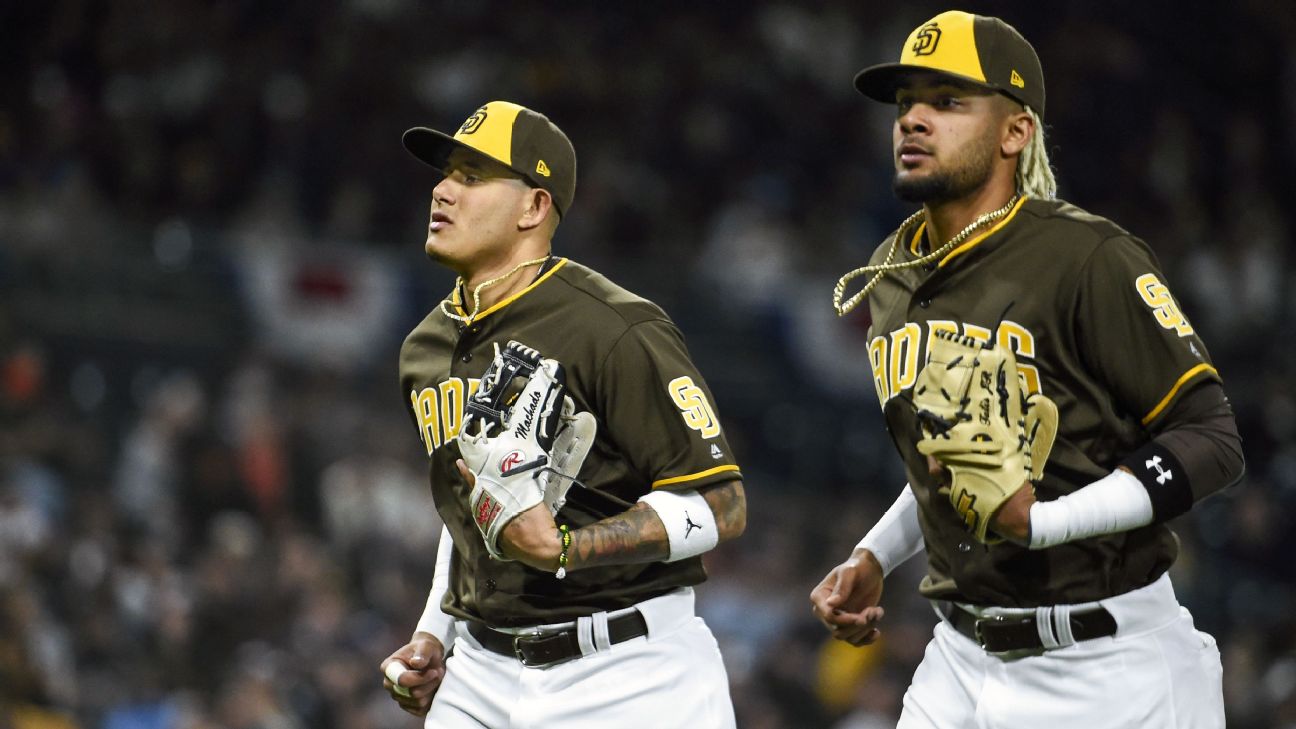 The Padres surprised a lot of people when they dished out a $300 million contract to Manny Machado before the 2019 season, and Fernando Tatis Jr. surprised the Padres when he showed how electrifying of a talent he is. Tatis and Machado might not be the best players in the sport, but their endless stream of highlight plays and sweet swings will keep Padres fans happy post-apocalypse.
San Francisco Giants
Mike Yastrzemski & Dereck Rodriguez
Unfortunately for the Giants, they won't be able to keep any of their 34+-year-old players, A.K.A. most of their roster. San Francisco has backed themselves into a corner by only rostering players far past their primes. Posey, Longoria, Cueto, Pence, Belt, Crawford, and Sandoval are all a few years away from retirement, and the Giants still send them large sums of money for their mediocre play. The two players they would keep are the only signs of potential on their current roster, and they are both direct relatives of Hall of Famers (Carl Yastrzemski and Pudge Rodriguez).
Colorado Rockies
Nolan Arenado & Trevor Story
Many teams have gone with the option of keeping the left side of their infield intact, and the Rockies are no different. Nolan Arenado is on a historic pace both defensively and offensively. In his seven big league seasons, Arenado has seven Gold Gloves, 4 Silver Sluggers, and 227 home runs. He's the best true third baseman the game has seen since Mike Schmidt. His counterpart, Trevor Story, is no slouch either. Story has been an All-Star each of the last two years and has shown immense power from the shortstop position. These two Rockies have little to no chance at winning a World Series in Colorado, but at least Rockies fans will be able to watch the ball fly through the thin Coors air.
Arizona Diamondbacks
Starling Marte & Ketel Marte
The Arizona Diamondbacks are one of the few teams in Major League Baseball that are neither rebuilding or competing for a World Series. They tried to change their fate prior to the 2020 season by acquiring Madison Bumgarner and Starling Marte. Marte has been a Pirate throughout his career up until this point, but he's looking to bring his speed and defense to Arizona to help push them over the top. His experience would be the biggest reason to keep him around. The other Marte, Ketel, had a breakout season in 2019, making his first All-Star game. Both Marte's want to bring the "Marte-Party" to the desert.