By: Nosebleed Beto & Jake Gerkin
The NBA has always been a league with low parity. The NBA rebuild process can not only take a long time, but also can be very difficult if you do not draft well. Here we take a look at five teams who were good enough to be in the playoff contention but are not faced with a major decision…Keep going for it or rebuild? By evaluating each teams roster and assets (draft picks, cap hold, etc.) we will decide whether or not the team SHOULD still be in "win-now" mode.
Washington Wizards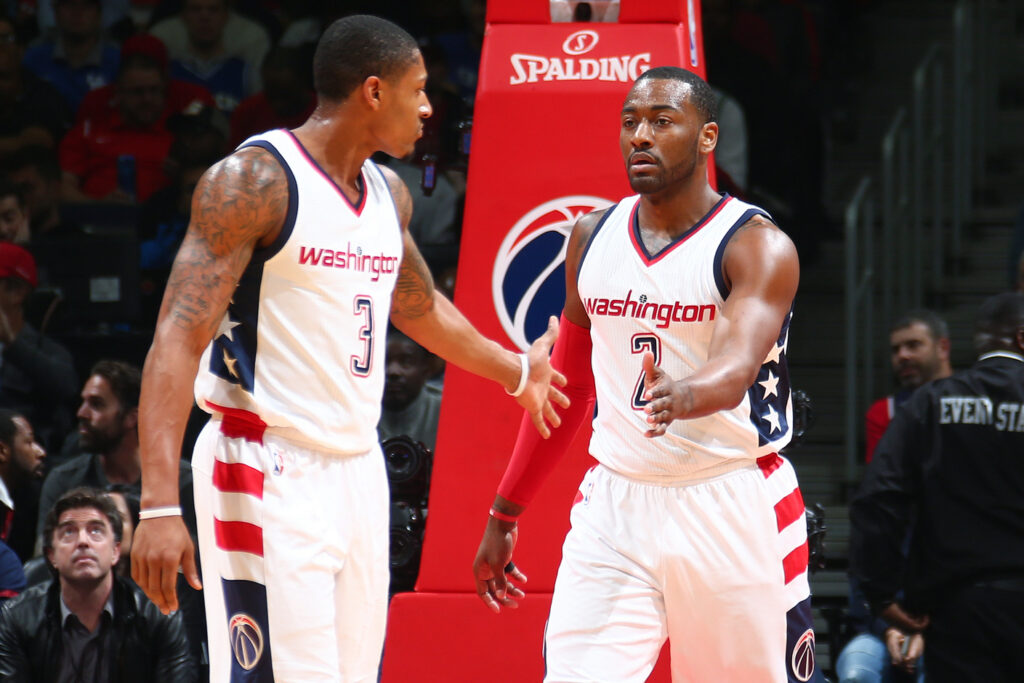 At one point the Washington Wizards looked to be the favorite team to succeed the Cavaliers as kings of the east. The Wizards had a dominant back-court and strong ancillary role players, which made them seem like a major force to be reckoned with atop the east. Fast forward to 2020, the Wizard's are on their way to a second straight season without making the postseason and to make matters worse John Wall is still out. On the bright side, Bradley Beal has established himself as a top 10 player in the league and one of the best scorers in the eastern conference, but is he enough? Both Beal and Wall signed long term extensions to stay in Washington in the last two years, but there have been trade rumors swirling above both heads for some time now. The Wizards have done well through trade in recent years in rebuilding their roster around a younger, and more athletic core. #8 overall pick Rui Hachimura also has the looks of a solid third guy for any team in the league. Younger guys like Isaac Bonga and Thomas Bryant, have both exceeded expectations in Washington and are guys that can contribute in many different ways. Finally, they have Davis Bertans the "Latvian Laser," who has proven to be one of the best three-point shooters in the league, but as one of many decisions the Wiz will have to make in the near future, Bertans is a free agent, who will have a large market. There are many ways the Wizards can take their roster after this season, here are a few of their options:
The situation hinges on Bertans, if the Wizard's can use the cap space you gain from Ian Mahinmi's expiring contract to lock up Bertans for 3 more years, I believe this team can step right back into the top fold of the Eastern Conference. Now you're relying on a star who hasn't played in close to two years and is coming off an Achilles injury in John Wall, but the reality is no one is going to be willing to trade for his contract until they see him play. Wall, who is due ($40+ Million) the next three years, is likely going to play the remainder of this contract out in Washington. Keeping Bertans and making good use of the lottery pick they will receive will put the Wizards in a situation to compete for a top-four playoff spot in years to come. If Rui develops, and they use their cap space to add a wing shooter and a solid defensive big man at a reasonable price, they'll be able to compete with anyone. Unfortunately with Wall being out the two most open years in the East it will be an uphill climb, but we haven't seen the new look Nets yet, so we can't be sure that experiment will work.
Detroit Pistons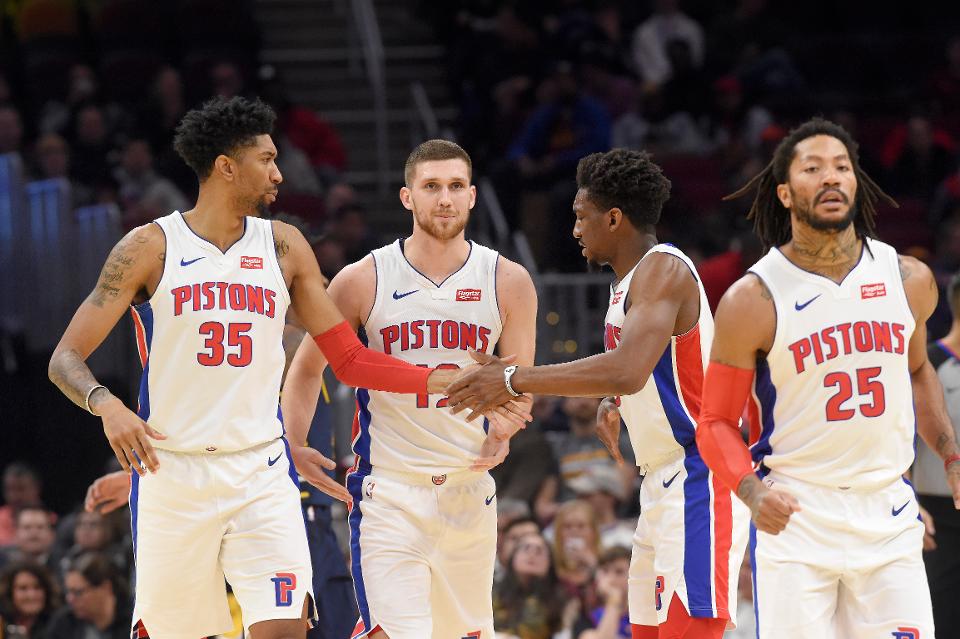 The Pistons may be ahead of the curve on their current rebuild, as they've already let go of one of their biggest decisions in the near future, trading future free agent Andre Drummond to the Cavs earlier this season. Nonetheless the roster in Detroit has a serious amount of upside. Blake Griffin is a star in the NBA, a veteran and a leader, he is also under contract for another two seasons. As has been his issue for his career if he is healthy he is productive, but playing a full season is not something Griffin is accustomed to doing. Derrick Rose is still a reliable scorer and also a guy that a lot of NBA players want to play with. Sekou Doumbouya, Luke Kennard, and Christian Wood, are all young solid pieces for this team that could turn into great players for this franchise. The Piston's roster rounds out with guys like Thon Maker and Langston Galloway, who are solid off the bench. If we were in control of the Pistons here's what we'd do:
I think the Pistons need to keep pushing, their roster is full of unrealized potential, and solid pieces around them. Kevin Garnett claimed Thon Maker as a future MVP candidate, and we've seen next to nothing out of him since. With a larger role with Drummond gone, expect to see him start to play a better brand of basketball. Blake Griffin and D-Rose are two guys you can build around in Detroit, they're both team-first players who can win you games when they are called upon. Luke Kennard and Christian Wood have strong wing value as consistent three-point shooters and Sekou Doumbouya could go down as the steal of last year's draft. What they could use to add another solid veteran wing or big man, not only would this help them in the locker room with a lot of youth but with the development of their younger players. If the season ended today, they'd have the 5th lottery slot, so they should add another solid player and future starter in the draft this year as well. With the money they have to spend adding someone like Demar Derozan could make this team elite. Signing Derozan and adding a big man in the draft could lead to a strong present and future in Detroit.
Orlando Magic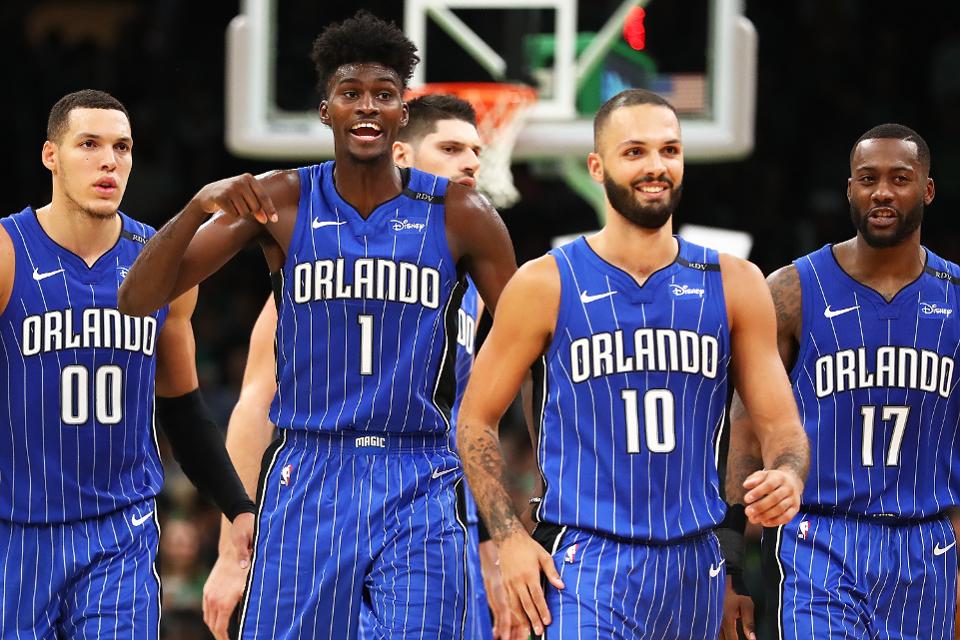 Needless to say, the last decade has been a tough time to be an Orlando Magic fan. Since the 09-10 season, the Magic have made the playoffs 3 times and failed to get past the first round each time. Especially with a promising Dwight Howard led team, it is hard to ignore the fact that they have missed the mark on numerous highly drafted/overhyped players, including Elfrid Payton (10th), Mario Hezonja (6th), and Jonathan Isaac (6th). Pairing this with their inefficiency in the trade market (think Victor Oladipo and Domantas Sabonis for an aging Serge Ibaka) the Magic have created many obstacles for themselves in a league where one slip-up can cost your franchise years down the road. This is the problem they face, but there is reassuring news. Much like any team that goes on a decade long run of not being very competitive, even the Magic were bound to hit the mark on players eventually. This has led them to a pretty solid core that took them to the playoffs during the 18-19 season. Big men Mo Bamba, Aaron Gordon, and Nikola Vucevic are all under contract until at least 2022 and give the Magic athletic shooters who can thrive in today's league. Terrence Ross and Evan Fournier provide great scoring from the guard position and the Human Torch (Ross) may be under the best contract in the NBA- being locked up for 3 more years at roughly $10 million a year. Young playmaker and previous first overall pick Markelle Fultz was acquired on a great move by Magic management for a low first-rounder, second-rounder, and Jonathan Simmons. So what should the Magic do next?
There is no doubt Magic fans have been through a roller coaster of emotions with their franchise since its inception in 1989, both positive and negative. Yet, I believe this franchise has brought about some of the greatest players for a young franchise including Shaq and Penny, but not limited to Dwight, Tracy McGrady, and Stevey 'Franchise' Francis. With that being said, I know the Florida fans are itching to get a ring especially with being so close in 1995 and then again in 2009, but patience needs to be exercised from the front office down to the fans, and they need to have faith in the young roster and not panic, but continue to trust their young core. This Magic core is signed for a while, which is both good and bad because it leaves them without much salary cap flexibility. If the young team pans out this is great, but if they fail to keep rebuilding then the franchise is in trouble. The best way to do this is to find a dominant and lengthy wing player to compliment their bigs and their scoring guards. They believed the "Kevin Durant" hype surrounding Florida State's Jonathan Isaac, and reached far too early on him. You can't hit every draft pick, a fact of this business, but you have to be better than the Magic have been. So instead of investing in the draft, they should go trade to get a young player who can match this fit by giving up draft picks and possibly a vet like Fournier (great player, not a great contract at 17 Mil next year assuming he accepts the player option this offseason). Cam Reddish of the Atlanta Hawks comes to mind, as does Michael Porter Jr. of the Denver Nuggets, and the Dallas Mavericks look like a team that could benefit from Fournier. Understanding how hard it is to get young talent in the league, I know this is easier said than done, but the Magic need to move away from their ineptitude during draft night, and cash in these picks for solid players. Let's not forget they traded to get Vucevic, Ross, and Fournier (3 of their best 4 players) and seem to lose out on most of their picks. The Orlando Magic were a playoff team before the season was cut short, but they were not competing for a title this year. With a generational talent such as Mo Bamba gaining confidence and ability by the day, the Magic have the pieces to continue believing in this team as they grow, but the front office does need to add a wing scorer to alleviate the pressure on Vucevic and Ross on the offensive end, and I believe they found their Point Guard of the future with Markelle Fultz. This break in play may be a blessing for the Magic, who can continue to heal Fultz, and allow their young core to continue to grow on the court by practicing and hitting the gym. Magic fans should look forward to the next decade, as it will be much more promising than their previous decade.
Utah Jazz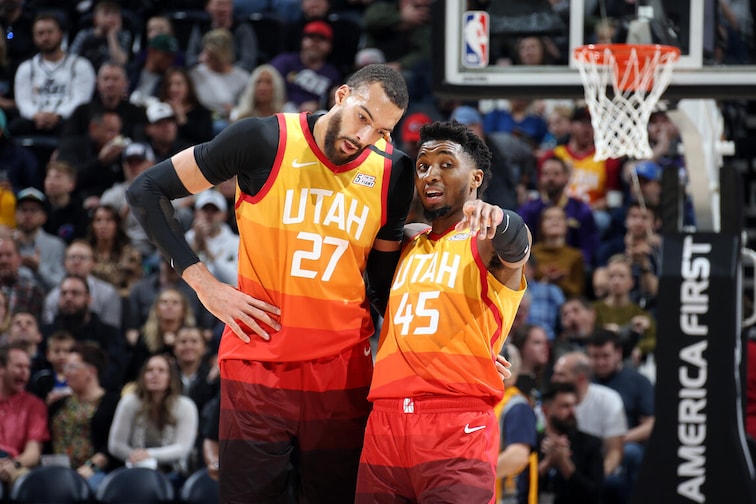 Every NBA team has been affected by COVID-19, although no other team has publicly known chemistry issues stemming from the virus like the Utah Jazz; exactly what makes this team so enticing. Multi-time DPOY Rudy Gobert caught Covid-19 in the early stages of the pandemic, before sports had been shut down. "Patient Zero" in the NBA was disregarding initial protocols set by the league, and his nonchalant attitude led to infecting his tandem superstar, Donovan Mitchell, and apparently destroying their relationship beyond repair. Now, the virus not only threatens to end the 2020 season, but also the dream pairing of the stud big man and the elite combo guard. A team that has flexibility with cap space, with Mike Conley scheduled to receive an early termination due to a contract clause this offseason, allowing them roughly 32 Million in cap space, regardless of what they do with Gobert (scheduled to make 26 Million next season). The team will also have flexibility next offseason, as Joe Ingles, Bojan Bogdanovic, and Royce O'neal are their only players signed to long term deals, equalling around 35 Million a year for the next 4 years- a great position to be in for the front office. Granted, Donovan Mitchell's contract will need renewing next offseason, as the young star will surely sign a max contract during the 2021 offseason.
Looking at these numbers for the front office, and comparing them to other teams around the league, the Jazz have a luxury that few teams have: management hasn't tied them down with foolish long term lucrative deals for players not worth the money. Cheekily giving Mike Conley a big 2-year deal last year, they left themselves an out just in case he played like the bum he did last year, essentially giving them a team option on his 34 Million dollar contract. This is critical because the Jazz have come out recently and said Mitchell and Gobert aren't on the trade block, but it wouldn't be the first time we have seen a GM lie to the media. I see the Jazz taking the opportunity to finally restructure the team out of mediocrity; something they have been stuck in for a while. The problem, with mediocrity in the NBA, you can't compete with the top teams in the league with the current roster, but you also don't receive a draft pick high enough to find true generational talents (unless you guess lucky on a player like Bucks' Antetokounmpo). I see the Utah Jazz taking their flexibility and applying it by trading Gobert, an extremely valuable asset, to a team on the verge of competing with a young roster, such as the Sacramento Kings or the Boston Celtics. By losing his cap space and accumulating draft picks and young talent- possibly Marvin Bagley or Jaylen Brown- the Jazz would allow themselves to have two young studs along with the cap room to sign a stud like Blake Griffin, Paul George, or even Andre Drummond come the 2021 offseason. Although Utah Jazz fans have gotten a taste of a team that has much more talent than previous years, they are ill-equipped to compete with the star-studded teams that run the current NBA. These moves would free them up to have an overhaul of young talent, mixed with a power move in free agency, and would bring the Utah Jazz up to championship contender behind Donovan "SpidaMan" Mitchell, and allow them to move past the fractured relationships dividing the team currently.
San Antonio Spurs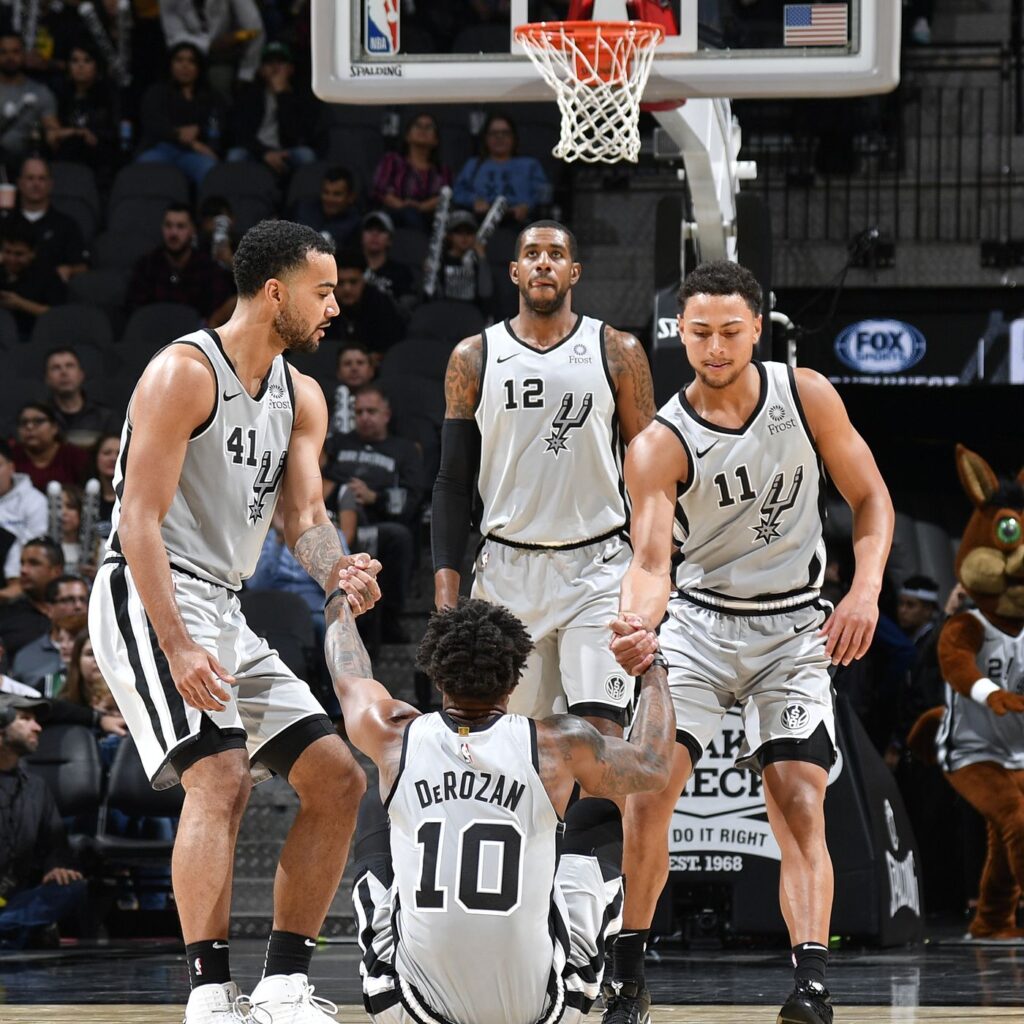 So you're telling me, one of the best franchises over the last 10 years, who still have the best coach in the NBA as of now is in need of a rebuild? Well, yes. This is what comes with time, as we will see with the Patriots of the NFL soon. A time comes for all teams to move onto their next set of stars, and if those don't come immediately in the draft, you will have some years in between to build a roster and come back stronger. Taking a look at the current make-up of the Spurs they're in an interesting spot. They're in fourth to last in the west, but hold the #11 spot in the current lottery. Their roster ill see its best overall player most likely leave this year in free agency, and a lot of their young pieces have struggled to reach their potential. The interesting thing is in the next two years the Spurs will have to make a decision on all but four of their current players. Dejounte Murray, being the only player who doesn't carry a team option of these four players after the 2020-21 season. Here's what we think they should do:
With a roster littered with young potential that has no guarantee to be realized, I think the Spurs are in play for a lot of solid free agents over the next few seasons, the fact of the matter is people want to play for Pop. While I don't think they will bring Derozan back, I could see the Spurs adding a combo of Paul Millsap and Jordan Clarkson. A backcourt of Clarkson and Murray accompanied by Aldridge and Millsap for next year could see the Spurs be a real contender. Lonnie Walker and Keldon Johnson will hopefully develop strongly over the next two years to come in and be the leaders of the bench unit and Johnson a future starter. I also think the Spurs have the option to trade some pieces. Moving Aldridge, Rudy Gay, and/or Patty Mills to a contender would be interesting. Sending Aldridge and Gay for someone like Rudy Gobert could sure up the frontcourt for the Spurs, and with one addition in free agency, like Gordon Hayward or Otto Porter Jr. could give the Spurs a strong team coming into the 2020-21 season. But Gobert's contract is up after just one year, obviously, the Spurs could make the decision to resign/extend him. As long as the Spurs keep Pop they will be relevant to the rest of the league, good coaches attract good players, and good coaches make bad players better. The Spurs could use a roster overhaul, but bringing in proven NBA players, is the way to go in San Antonio.