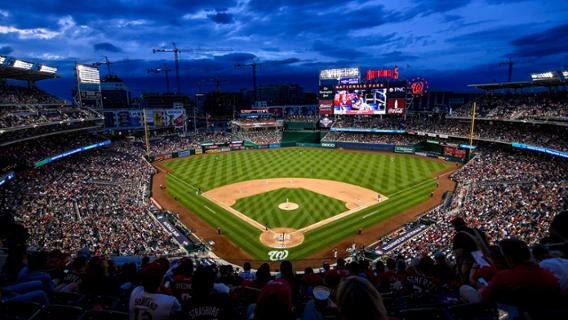 March 30 may not be a day of much importance to anyone. It holds a good spot to those born on this day, maybe some are seeing snapchat memories of where they were on spring break a few years back, and many today are wondering how it could possibly still be March when this month surely started at least 58 days ago. Yet, March 30, 2008 is a special day in Washington DC sports history, and I'm sure Ryan Zimmerman will never forget it.

On this day, now 12 years ago, the Washington Nationals finally unveiled their brand new state of the art ballpark, better known as Nationals Park. They got out of RFK Stadium and the bleachers that you could feel shake underneath you when it got loud, and finally had a brand new, $693 million home. 
The Nationals welcomed the Atlanta Braves to be their first guest and the stadium was sold out and rocking. Tim Hudson and Odalis Perez squared off against each other on the mound, each giving solid performances. Perez allowed 1 run on 4 hits in 5 innings of work for the Nats while Hudson went 7 strong, allowing 2 runs on 3 hits. Entering the bottom of the 9th inning, it was all tied up at 2 a piece in a defensive showdown. 
With 2 away in the inning, hometown favorite and UVA product, Ryan Zimmerman came up to the dish. Zim had a flair for the dramatic, as just his 10th career homer, and  3rd in front of the home crowd was a walk-off home-run in 2006. Now in his 3rd season as a big leaguer, Zimmerman did what he knows best, and sent the fans home happy with a line drive home run into the brand new red seats of left center field, christening the new ballpark with one swing of the bat. March 30 may not mean much to a lot of people, but it was the beginning of something great in the nation's capital.