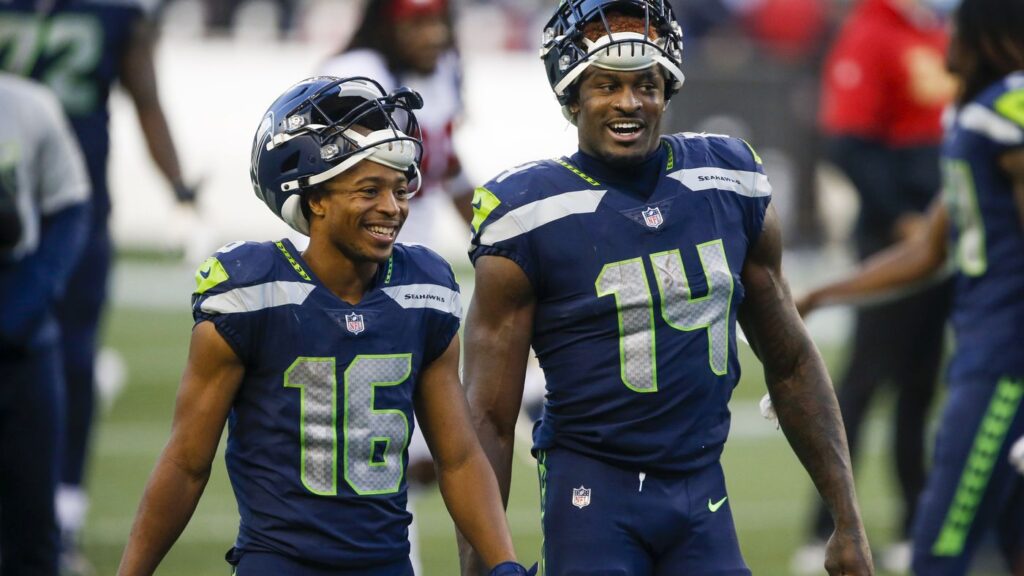 By: Ross Sutton
1. Titans: A.J. Brown and Julio Jones
People might think it is an overreaction to say that the Titans have the top wide receiver duo in the league after trading for Julio Jones, but I really believe the combination of Julio and A.J. Brown is the best in the league. Brown is entering his third year in the NFL, and after two consecutive 1,000-yard seasons to start his career, many believed that he would have a huge year in 2021 before the team traded for Julio. Now with Jones on the team, Brown has a lower ceiling for fantasy football purposes, but these two players are probably the most talented WR pairing in the league right now, and they have a great opportunity to put up some crazy numbers this season.
2. Buccaneers: Mike Evans and Chris Godwin
People might not be as high on Mike Evans as they have been in year's past, but Evans has yet to miss the 1,000-yard milestone in any of his seven seasons in the league so far, and his counterpart Chris Godwin had over 1,300 receiving yards in 2019 before an injury-riddled 2020. Even though these two wide receivers might not be as exciting as the new duo of Julio and Brown, they are still one of the top pairings in the league, and having Tom Brady throwing you the ball always helps too.
3. Seahawks: D.K. Metcalf and Tyler Lockett
Everyone knows just how much of a physical freak D.K. Metcalf is, but Tyler Lockett continues to be one of the most overlooked wide receivers in the league. Over the last three seasons, Lockett has averaged 1,025 receiving yards and nine touchdowns, so he is certainly a threat on the outside. Also, in Metcalf's two seasons in the league, he has averaged about 1,100 receiving yards and 8.5 touchdowns, so these two are a threat to be reckoned with for opposing defenses.
4. Browns: Odell Beckham Jr. and Jarvis Landry
Much like his fellow 2014 draftee Mike Evans, Odell Beckham Jr. might not be seen as the threat he once was, but he is still an incredible athlete that can get it done on the field. We haven't seen Odell put up gaudy numbers like he did in his first three years in the league, but before getting injured in 2020, he had two consecutive 1,000-yard seasons, so I think there is still something left in the tank for OBJ. I think people tend to overlook Jarvis Landry too, as he has averaged 996 receiving yards per year over the last three seasons, and everyone knows how good his hands are, so teams are likely going to have some problems trying to keep these two in check.
5. Vikings: Justin Jefferson and Adam Thielen
In 2020, Justin Jefferson exploded onto the scene, as he racked up exactly 1,400 receiving yards and seven touchdowns in his rookie year, thus establishing himself as one of the top young wide receivers in the league. This season was historic, as Jefferson broke the NFL record for most receiving yards by a rookie in league history, beating out Anquan Boldin's 1,377 yards from 2003. Enough can't be said about how good Justin Jefferson was in his rookie year, but Adam Thielen is no slouch himself. Despite coming off of a disappointing 2019 season that was cut short due to a nagging hamstring injury, Thielen showed he still has something left in the tank in 2020 as he finished with 925 receiving yards and a career-high 14 touchdowns.