By Rob Schardt
I do not believe in curses, but my god this year has been awful. For the past couple of seasons, I am going to admit, I had high hopes for the Giants this season as I thought they could make a playoff run. To say the least, I was not even in the ballpark of being correct as the Giants are not even in the conversation. The last 7 of the last 8 years the Giants have started the season 0-2 and have the worst record (12-36) in the NFL over the last three seasons. These years following glory in 2012 have been nothing more than abysmal. About a year ago, I wrote about how everything will work out, as I had the Giants nabbing Ron Rivera as Head Coach, and Chase Young in the draft. Yup… I was wrong… so very wrong. Everything is not working out the way I thought it would, or at least how I hoped.
Fans are beyond frustrated, but yesterday was just the icing on the cake. I had hope for the Giants the season, as I thought they had some great pieces this year. Dave Gettleman promised to build around Saquon Barkley and went on to draft some pieces that addressed team needs. He went on to draft offensive tackle Andrew Thomas, a position that many cried out for. The offensive line is coming together… or is it? Yesterday the line did not look good as Jones has been sacked seven times in just two games. Over the past couple of seasons, Gettleman brought in Nate Solder, Kevin Zeitler, Will Hernandez and Cameron Fleming to fix this dismantled line. To me, these are solid moves, but something is still not clicking. To have the best running back in the league and not get him open some holes to burst is just a recipe for disaster. This offensive line is brutal to watch and does not give Jones enough time, which in the end has been hurting his confidence. I have felt we have been in this "rebuilding stage" for far too long.
However, fate had other plans, as superstar Saquon Barkley tore his ACL 15 minutes in the game. Later in the contest, Sterling Shepard left the game with a toe injury. Now, here we are, all the hope I had for this season is diminishing. The rehab will be an uphill battle for Barkley and especially with a looming contract in the future, the uncertainty of Barkley's future in New York is more than real. I hate being Mr. Negative, but what will the Giants be without their superstar? I hope he can return like Adrian Peterson did following his ACL surgery, but only time will tell, but I wish him good health before he can return to a football field.
Yes, injuries happen, but this team has been plagued with them. The past two seasons Barkley, Engram and Shepard all have been sidelined. These are not good signs for offensive players who need to be under center for a quarterback who is in development. Daniel Jones has shown us fans a ton of promise, but also has made many questionable decisions that just leave us baffled as we continue to yell at our television screens.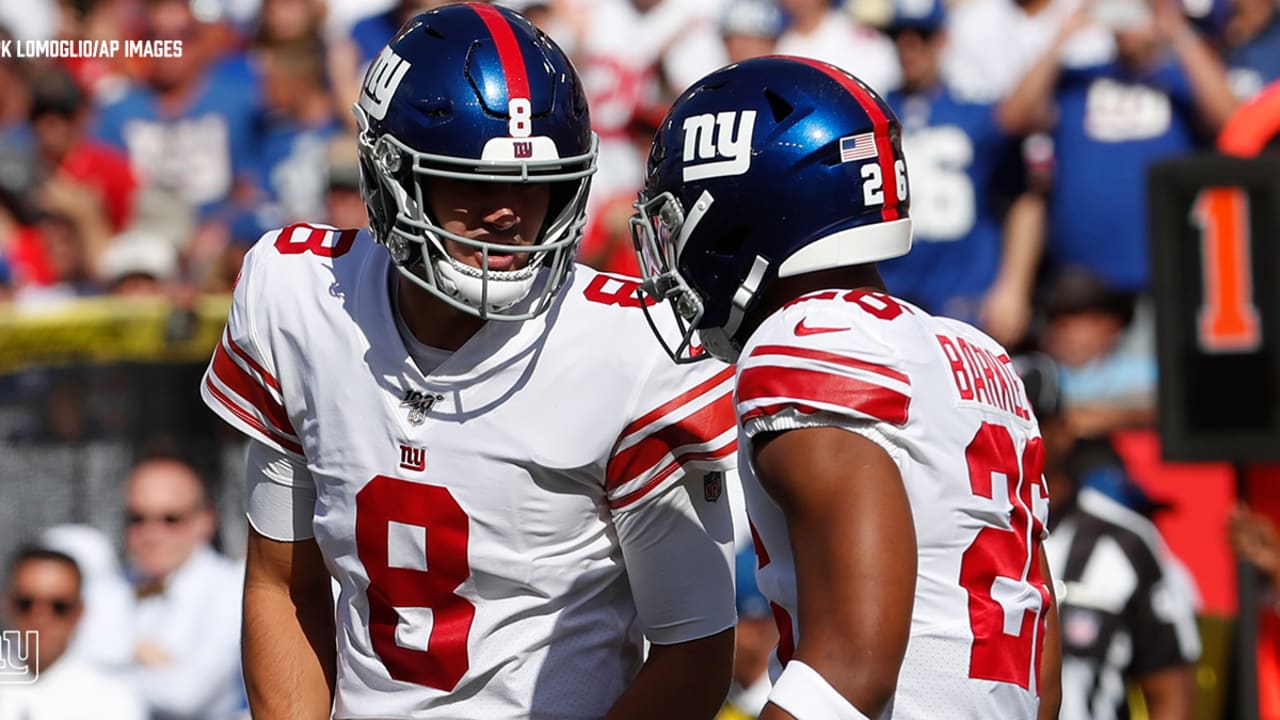 Looking ahead the rest of the season contains games with many potential playoff teams and while I thought the Giants season would hang in the balance in October, it's going to be hard to imagine them making a legitimate playoff push from here on out. After the showing against a Chicago Bears team that I believe is not good, it is just hard to imagine the Giants being a force to reckon with. Going forward I believe the Giants will use Wayne Gallman and Dion Lewis and could bring in Devonta Freeman to fill the missing void of a superstar.
We as Giants fans are tired of all of the heart break, fans are constantly attacking one another and it just feels as if everyone is at each other's throats. I truly have no words anymore as the team with so much respect, has ultimately become a joke to NFL fans. Something needs to change, something is not right. I hope every day that Joe Judge is the guy, but this season will from here on out be and uphill battle that seems almost impossible to climb successfully. I will certainly not lose hope just yet, but my confidence in this team is running rail thin as many believe the Giants are on their way to yet another top 5 draft pick next spring. Is Dave Gettleman the one to blame? What is the biggest team need? Where do the Giants go from here? This season is not over, how this team comes together will be telling. This team can persevere and get through these tough times, it is time to turn the page. As the saying goes, it is not over, until its over.