Redwoods Midfielder, Sergio Perkovic, signed to play for the Georgia Swarm today and joins many other field players who will transition indoors this upcoming fall/winter. The former 1st Team All American and Current PLL All Star will bring his massive size and speed to an already high powered offense with weapons such as the Thompson Brothers, Randy Staats, Brendan Bomberry, Jordan Macintosh, and Zed Williams.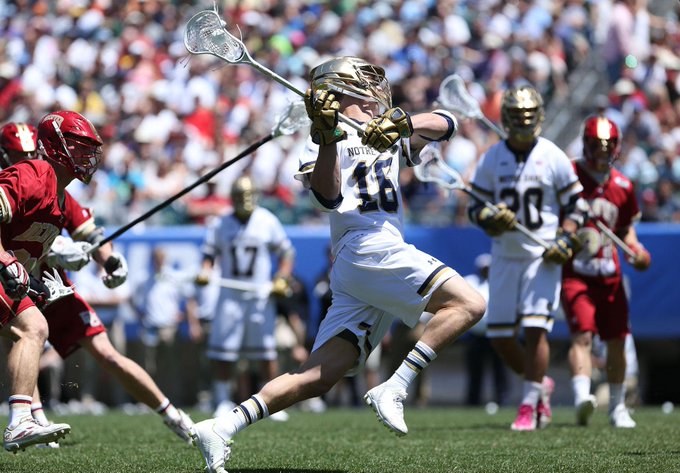 Sergio has 10 points for the Redwoods so far this year (9 Goals, 1 Assist) and plays such a valuable part in the Redwoods offense. Fans know the Redwoods for their strong attack unit (Jules Heningburg, Matt Kavanaugh, Ryder Garnsey), but the momentum Perkovic brings to every possession and fast break opportunity forces the defense to stay on their toes and not let Sergio perform one of his famous step down shots. Standing at 6'5″ and 225 pounds, Sergio creates so much speed from his shot that it makes it really hard for goalies to read.
Chrome LC Goalie Brett Queener had a hard time reading his shot, allowing Sergio to sting stick side high.
Throwback to Notre Dame's crazy 4th quarter run in Semifinals against Denver in 2015. Denver would go on to win this game off a game winner from former attackman and current Redwood, Wes Berg.
What Perkovic can bring to the Swarm
Sergio can bring a lot of speed on transition, allowing him also bulldoze over defenders and score with his size. I think he will also bring a lot of opportunities to create space by drawing defenders, looking to pass to one of his many lethal shooters as teammates. I think playing indoors will bring a lot of positive feedback to his own game, allowing him to shoot in tighter spaces and also help develop his accuracy as we have seen his shooting percentage take a slight dip this PLL season at 20.9%.Sergio will also bring many new spectators to the NLL as he's been a fan favorite since his dominating years at Notre Dame. NLL players better watch out, because a truck is coming to Atlanta.
For more LAX coverage, follow @nosebleedlax on twitter!