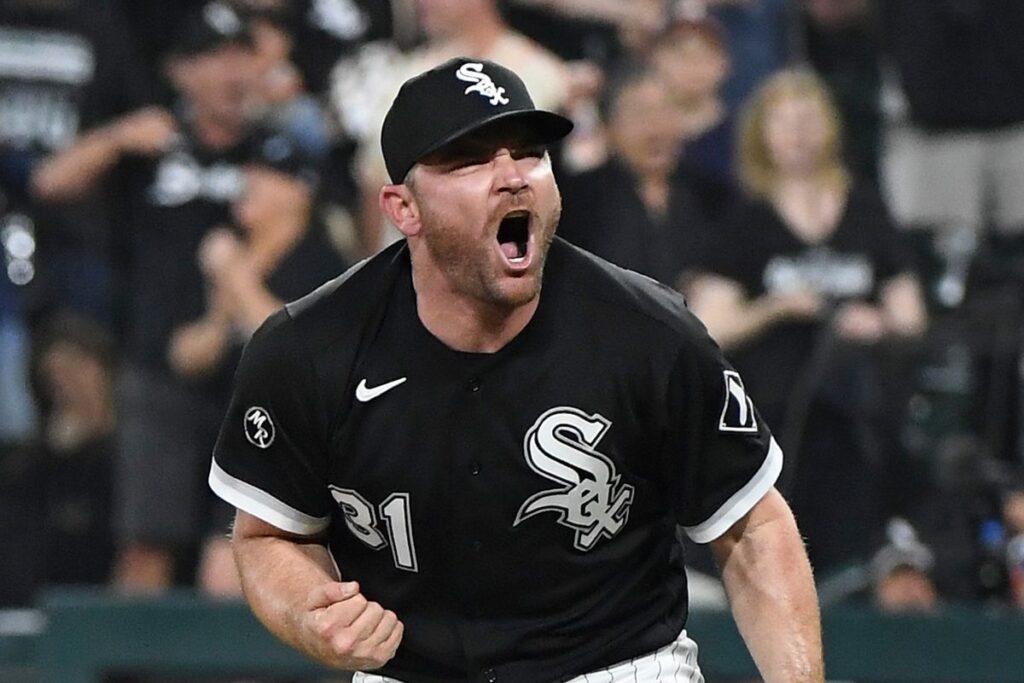 By: Ross Sutton
The Yankees have had an interesting season so far, as the team has endured a mind-boggling amount of injuries, but they still have one of the top records in the league and would be in the playoffs if the regular season ended today. Despite their good record, the Yankees have a few holes on their roster that I think need to be addressed for them to be true World Series contenders. Fortunately though, I think these roster flaws can be fixed in the coming months leading up to this season's August 1st trade deadline.
Left Field
In my opinion, the biggest need for the Yankees roster right now is a left-handed hitting left fielder that can also play center field. The Yankees lineup is currently very right-hand heavy, so it would likely help the team if they added another left-handed bat to give opposing pitchers matchups that are more difficult to navigate through. Jake Bauers has been very hot at the plate in the last few games and is a better defender than other internal options like Willie Calhoun, but Bauers has struggled a bit in left field this season, so I think the Yankees will and should be looking to upgrade at the position. Since Harrison Bader has struggled to stay healthy this year and last, the Yankees would also greatly benefit from trading for a left fielder that can also play a quality center field.
Cody Bellinger
Despite an active offseason, the Chicago Cubs have been somewhat disappointing in 2023 and currently find themselves five games back of a playoff spot. However, they have a few players that I think could net the team some quality assets in return if they were to be traded. Bellinger is signed to a short-term contract paying him $12M this year with a mutual option for next season that would pay him another $12M. Mutual options are rarely picked up though since both the player AND the team would have to accept the option, so this is likely just a contract for this year. Therefore, I think it would be smart for the Cubs to trade Bellinger, who could potentially be one of the best hitters available on the trade market.
Bellinger would be a near-perfect fit for the Yankees, as he is an an elite center fielder (91st percentile in Outs Above Average) that can presumably move to left field as he has played a combined 173 career games in either left or right field. Left field at Yankee stadium is notoriously difficult, and many people believe that the most equipped players to play the position are center fielders, thus making Bellinger a seemingly great fit. Furthermore, Bellinger is a left-handed hitter that pulls the ball 43.8% of the time (7.0% higher than league average) and hits fly balls 29.9% of the time (6.7% higher than league average). This formula would likely be kind to Bellinger if he were traded to the Yankees and had the short porch to his pull side. Bellinger has been inconsistent offensively in his career, but in 37 games this season, he has an OPS+ of 124 and has struck out at a much lower rate (19.0%) compared to last year (27.3%) , so maybe he has figured some things out since joining the Cubs.
Unfortunately, Bellinger is currently on the injured list due to a hamstring injury, which could potentially scare off the Yankees considering the struggle their players have had with hamstring injuries, but he is nearing a return after missing the last few weeks. If Bellinger is able to stay healthy when he returns and continues his good play, I think it is very likely that he is traded, and I'm sure he would enjoy having the chance to play on the national stage of the postseason right before he (likely) enters free agency. Since Bellinger will have the option to become a free agent this offseason, I don't think it would cost THAT much in terms of prospects to acquire him, but since he could potentially be one of the best bats available at the trade deadline, I could see the Yankees having to part with a package of prospects that rank anywhere from #8-30 in the organization. With that being said though, I trading for Bellinger would be a move that significantly improves the Yankees roster.
Mike Yastrzemski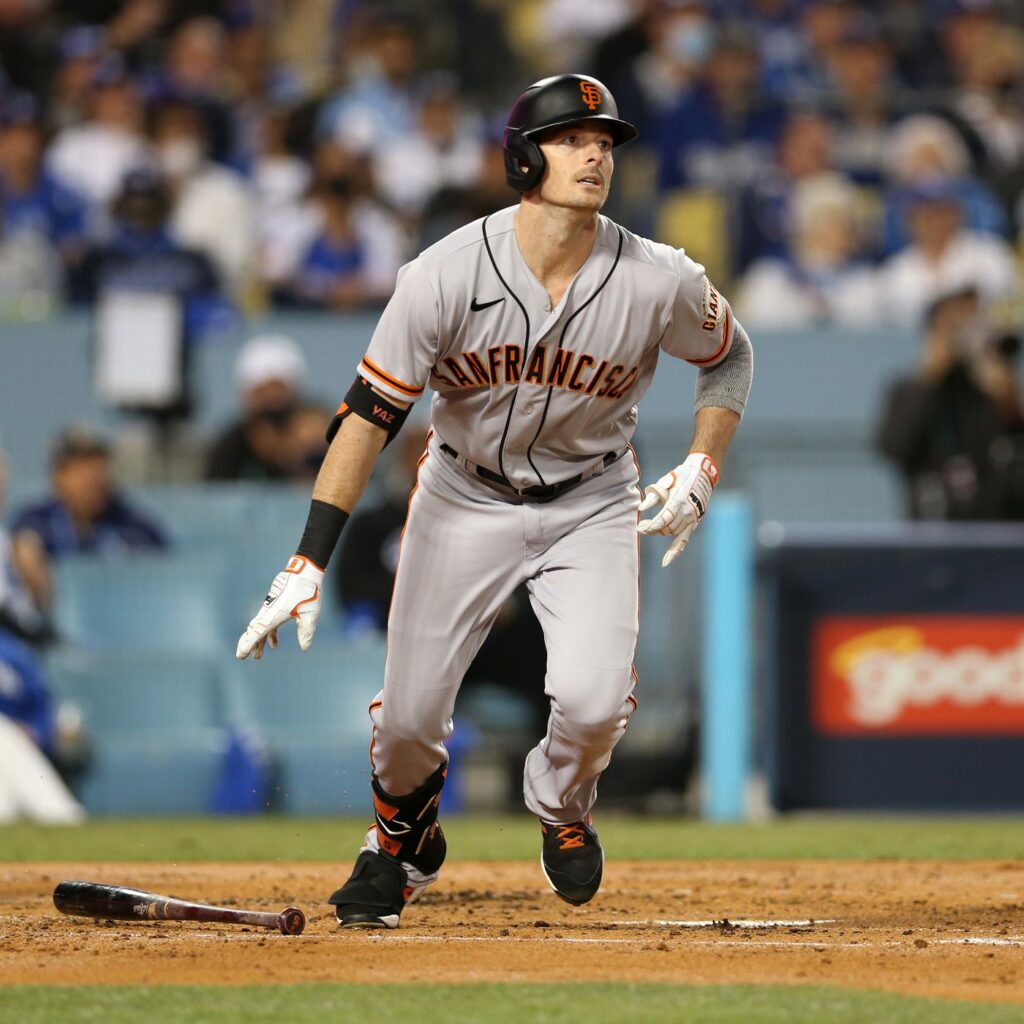 San Francisco Giants outfielder Mike Yastrzemski would be an ideal fit for the Yankees for many of the same reasons as why Cody Bellinger would be a great fit for the Yankees: he is a left-handed hitter, plays an above average center field, and has experience playing left field. As things currently stand in the National League playoff picture, the Giants are less likely to be sellers at the deadline than the Cubs are, as the Giants are only 2.5 games back of a playoff spot. However, if the Giants fall out of the playoff picture between now and August 1st, I think the Yankees should be inquiring into Yastrzemski's availability. Not only do I think that Yastrzemski is less likely to be traded than Bellinger because of their team's respective positions in the standings, but Yastrzemski has two years of arbitration left on his contract. Therefore, the Giants might not want to trade a player that they have cheap team control over, but Yastrzemski was called up to the majors at the age of 28 in 2019, meaning he is currently 32, so even though he has years of arbitration left on his deal, the Giants might not think of him as part of their long-term plan and could be willing to trade him for the right return.
Much like Cody Bellinger but to an even further extent, the kind of contact that Yastrzemski generates at the plate would likely profile well in Yankee Stadium. Yastrzemski has a pull rate of 43.5% and a fly ball rate 32.1%, so one could certainly argue that the outfielder would have even better offensive statistics if he were traded to the Yankees and had the short porch to his pull side. With a career OPS+ of 114, Yastrzemski is just the kind of player that the Yankees could use on their roster.
The Giants recently called up shortstop Casey Schmitt and he has performed well, but after agreeing to terms with but not ultimately signing Carlos Correa last offseason, the Giants might be interested in acquiring a shortstop in a trade. Trey Sweeney is the Yankees #5 overall prospect and some might say that trading him for Yastrzemski favors the Giants, but with Anthony Volpe and Oswald Peraza seemingly ahead of Sweeney in the shortstop pecking order, the Yankees might be willing to trade him for Yastrzemski, who would help the team potentially win a World Series this year and is under team control at a low cost for the following two seasons. Trading for Yastrzemski would also give the Yankees a quality option to potentially replace Harrison Bader in center field next season, as Bader is a free agent this upcoming offseason and it is hard to say whether he will re-sign with the Yankees.
Bullpen Help
Although the Yankees have the best bullpen ERA in the majors, they do not have a formal closer. That does not necessarily preclude them from being legitimate World Series contenders, but I think the Yankees would have a tremendous advantage over every team they played if they created a truly dominant bullpen by adding a good closer to the back end of their bullpen. The Yankees could opt to trade for a starting pitcher rather than a reliever, but with Carlos Rodon hopefully returning this month, Frankie Montas likely returning before the end of the regular season, and Clarke Schmidt and Domingo German pitching very well lately, I tend to think that the Yankees will stand pat with their current group of starting pitchers. Therefore, I think they might choose to fortify their bullpen at the trade deadline instead.
Liam Hendriks
Hendriks is probably the best story of the season so far, as he was diagnosed with non-Hodgkin's lymphoma in January, underwent chemotherapy, and recently made his season debut after being deemed cancer-free by his doctors. With Hendriks' return, the White Sox get their elite closer back, but it might be too late, as the White Sox are 5.5 games back of first place in their division, and 10 games back of a Wild Card spot. Therefore, it seems likely that the team will be willing to trade away some of their older players, like Hendriks, who is in his age 34 season. Hendriks' contract pays him $14M this season with a team option for next year worth $15M. I would think that any team that hypothetically trades for Hendriks will pick up the option on his contract for next year considering it is a fair value (only the fifth-highest salary for a closer in the league) and Hendriks has been one the best relievers in the league over the last few seasons (ERA+ of 188 from 2019-2022). Assuming Jonathan Loaisiga returns this season as expected, if the Yankees were to trade for Hendriks, their bullpen could look something like this in the playoffs: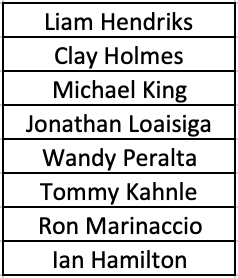 This would be a really scary group of relievers for opposing batters to face, and even though the Yankees don't necessarily need bullpen help right now, I think this trade would go a long way in cementing the Yankees as a true World Series contender.
Even though Hendriks would have plenty of value on the trade market, I don't think a team would have to give up a crazy haul of prospects in a trade for him. Lucas Giolito is a free agent after this season, and the White Sox could also use some help in the outfield, so maybe a package that included a few of the Yankees pitching prospects and an outfielder like Anthony Hall (Yankees #19 overall prospect) would persuade the White Sox to send Hendriks to the Bronx.
Ryan Helsley
The St. Louis Cardinals' struggles have been well documented this season, and they currently have the worst record in the National League (25-36). Despite having playoff expectations coming into this season, one has to think that the Cardinals will be sellers at the trade deadline if their position in the standings does not drastically improve in the next two months. If the Cardinals poor play continues, I think that they could listen to trade offers for their closer, Ryan Helsley. Since Helsley is signed for two more seasons after 2023 via arbitration and is 28 years old and thus much younger than other closers that might be available at the deadline (like Hendriks), it might take a lot to trade for Helsley. However, I think the Cardinals would get really good offers for Helsley, and a closer is less valuable to a team like the Cardinals that has a bad record since they are not in a position to win games as often as good teams. Not only that, but this past offseason, Helsley publicly voiced his frustration about how the Cardinals spoke poorly of him during the arbitration process, so maybe a trade would be advantageous for both Helsley and the Cardinals.
Helsley's fastball averages out at 100 MPH, and I think a flamethrower like him would be a fantastic addition to the Yankees current group of relievers. Many of the Yankees relievers feature a two-seam fastball or sinker, whereas Helsley throws a four-seam fastball more than half the time, so adding Helsley to the Yankees bullpen would give opposing batters a different look, which would likely make hitting a 100+ MPH fastball even harder than it already is. Helsley made his first All-Star appearance last season, and in 64.2 innings pitched, he posted an insane 313 ERA+. Helsley has come back down to earth a bit this season, as his ERA has gone up from 1.25 last year to 3.38 this year, but he is still a well-above average pitcher as his ERA+ this season is 126. In case you needed anymore convincing, his Baseball Savant page for this season is quite impressive.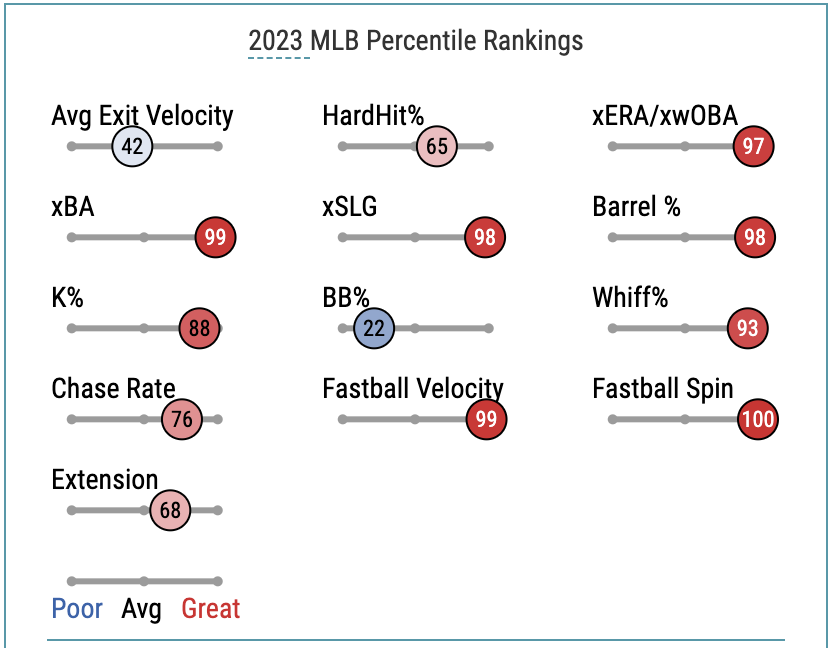 If the Cardinals were sellers at the deadline this year, they would be in a bit of a weird spot, as they have franchise cornerstone players like Nolan Arenado and Paul Goldschmidt signed long term, so they would probably be most interested in acquiring major league talent that can help them compete next season. The Cardinals have scored the tenth-most runs in the league this season, so offense doesn't seem to be their issue, but St. Louis is 19th in starting pitcher ERA. With players like Adam Wainwright, Jack Flaherty, and Jordan Montgomery all set to be free agents this offseason, the Cardinals would likely seek a starting pitcher under team control if they were to trade Helsley. Therefore, maybe a package headlined by Clarke Schmidt might interest the Cardinals enough to make them consider trading their closer. Schmidt was a first round pick by the Yankees in 2017, posted a 3.52 ERA in six starts in May after a bad April, and is under team control via arbitration through the 2027 season. Although I'm nearly certain that the Yankees would have to include other players in this trade, I think the Cardinals would be interested in trading for a young pitcher like Schmidt.