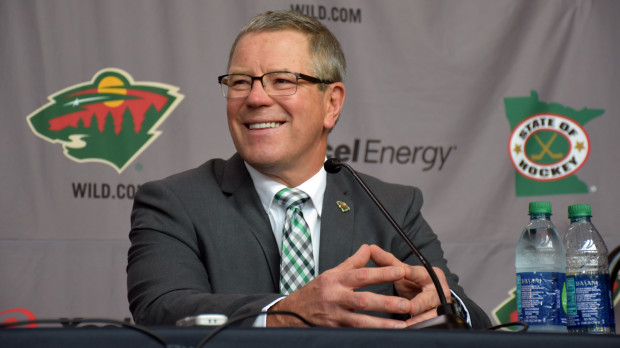 After just 14 months on the job, Paul Fenton was relieved of his duties as General Manager of the Minnesota Wild.
Well that didn't last long. After only 14 months behind the helm as G.M. of the Minnesota Wild, Paul Fenton was fired Tuesday afternoon. It was news that came as a bit of a shock to many around the hockey world. Fenton who had a long tenure as Assistant G.M. to David Poile in Nashville certainly was a more than qualified candidate for the position upon his hiring last May. Which leads to the question, what has changed since then? Well, team Owner Craig Leipold provided that answer on Tuesday stating, "Our organization and our culture were a little different than the way Paul wanted to handle things." Now the search will begin for a new G.M. in Minnesota. In the mean time assistant G.M. Tom Kurvers will put on the interim tag until that new General Manager is found.
Leipold clearly did not like what he has seen transpire the past 14 months and I can't say I blame him. The Wild not only did not make the playoffs last season, but a slew of questionable moves were made under Fenton's watch as well. This includes the horrific Nino Niederreiter for Victor Rask trade and the signing of soon to be 32-year-old Mats Zuccarello to a 5-year, $30 million deal. To make matters worse Zuccarello's contract also includes a full-no-trade-clause. Ultimately, all of this news begs one GIANT question. Why on earth did the Wild make this move AFTER an entire draft and free agency?
If the Wild were going to fire Fenton it should have been at the end of the regular season. Hell, even during the playoffs or shortly after the Stanley Cup Final would have been acceptable. But to just let him stick around make EIGHT picks and sign a player who very well may past their prime like Zuccarello to a long term deal is unacceptable. That all falls on the owner Craig Leipold. That isn't all that falls on him though. Another question that should be asked is why is this team doubling down on veteran players and not rebuilding? The answer is Leipold himself. The Minnesota owner refuses to accept that this team is an aging, boring and below average.
Leipold put Fenton in a bad position at the jump by mandating that this team had to be in contention. Clearly they weren't and needed a shakeup bad. Fenton also had the misfortune of walking into previous general manager Chuck Fletcher's salary cap mess. The Wild are still on the books for both aging veterans Zach Parise and Ryan Suter for 6 more years at a cap hit of $7.5 million each. Even if Fenton wanted to do what was right and rebuild the roster these contracts are tremendous hurdles. No team in their right mind would ever trade for them due to their contracts. Regardless if they are still both good players. I feel bad for Fenton he was in a no-win situation. Even though he made some bad decisions, he put 25 years plus of hard work in management to get a G.M. job and it's gone after one season.
If I were Craig Leipold I would have at least given Fenton a little more time. However, impatience and unrealistic expectations continue to torment Minnesota and I'm sure it will torment the next G.M. as well. I'm looking at you Ron Hextall.
For more NHL coverage follow @NHLnosebleed on twitter.