By Noah Barnes
Click to read Part One and Part Two here!
As the global shutdown of soccer rolls into yet another week, it seems as though soccer executives within the Premier League are getting more antsy about what do do with the remainder of the season. Cancelling the season and declaring it null and void has two many legal ramifications, yet the timeline for playing the remainder of the games fluctuates too much to consider it a real possibility. Finding some way to end the season now seems to be the most viable and likely outcome.
That being said, lets continue taking a look at each Premier League club's Player of the Season if this outcome comes true. Five more clubs are on the docket, including some well known and successful ones around the world, so lets dive in and analyze their best players if the season ended today!
Manchester City (2nd, 57 points) – Kevin De Bruyne
Although they sit in second place by a rather comfortable margin, the Manchester City players will likely choose to view this season as a huge disappointment. City were suppossed to compete for every available trophy this season, and the Premier League title race with Liverpool was tipped to be one of the greatest in history prior to the start of the season. Now, not only are they 25 points behind the league leaders, the Citizens have also lost both derby games against local rivals Manchester United, as well as having been handed a two year ban from European competitions by UEFA. Still, there is no denying the quality in this City, as in this down year they have still managed to win the Carabao Cup tournament while racking up impressive wins in the league, such as an 8-0 victory against Watford.
While this success can be attributed in part to the performances of striker Sergio Aguero (16 goals) or the emergence of Raheem Sterling as one of the best wingers on the planet, by far the largest factor in City's success is their midfield maestro, Kevin De Bruyne. There is simply no other way to describe the season that De Bruyne has had with anything other than simply unbelievable. The Belgian leads the league with an incredible 16 assists and was on pace to break the long standing record for assists in a season until the season was halted. De Bruyne has already exceeded his expected assists by 3.8 this season, and his 92 key passes are more than double the next highest in the Manchester City side (FBREF). The 28-year-old also received the third most amount of votes in Sky Sports' Player of the Season voting, and there is little doubt among fans that his creativity and eye for both an assist and a goal – he has eight on the season – make De Bruyne one of the best midfielders in the world.
Manchester United (5th, 45 points) – Fred
Manchester United's season can only be described as inconsistent from start to potential finish. The club have mixed poor results against supposedly weak opposition with massive wins over top six rivals, including a league double over cross-city rivals Manchester City. At times they have looked a stale club, turning in performances that suggest none of the players believe either in each other or in the management. Yet,since the turn of the year, there has been a revitalization in the red half of Manchester, and the Red Devils sit in 5th place. Inconsistency is a sign of a young and rebuilding team, and with the club finally capturing long-term transfer target Bruno Fernandes in January, many fans are hoping the rebuild is nearing completion.
Bright spots have been hard to come by given the nature of the season, but Fernandes is certainly worth a mention, along with striker Marcus Rashford, who only misses out due to a lengthy injury spell. Taking the award is Brazilian midfielder Fred, who is finally starting to show why the club shelled out over $56 million to buy his contract from Shaktar Donetsk. Fred has been a force to reckon with this season in the United midfield, dictating possession, tempo, and chance creation better than any of his counterparts, and has been the only consistent member of the midfield all season. His 1335 completed passes are the second most on the club, yet unlike defender Harry Maguire – the only player to have completed more passes – Fred has shown an unparalleled variability in his passing displays. The 27-year-old has the most switches of play (79), key passes (36) and passes into the final third (140) of any United player. He has also racked up the second most progressive passes in the squad while chipping in valuable defensive work at the other end (FBREF).
Newcastle United (13th, 35 points) – Martin Dubravka
If Newcastle fans had been told at the beginning of the season that their club would tbe sitting in 13th and comfortably clear of the relegation zone at this point in the season, they would have rejoiced. The Magpies endured a tumultuous summer of 2019. Beloved manager Rafa Benitez left the club only to be replaced by Premier League punching bag Steve Bruce, a proposed financial takeover that would see the club finally rid themselves of hated owner Mike Ashley fell through, and the club record transfer fee was broken on $40 million flop Joelinton. To be fair, ownership had no way of predicting that last one, but the Brazilian forward's poor form has summed up Newcastle's season long problem: goals. Newcastle have scored only 25 times this season, the joint fewest in the league, and have had to rely on an outstanding defensive unit to get at far up the table as 13th this season.
Chief in terms of importance in that defensive unit is goalkeeper Martin Dubravka. The Slovakian shot stopper has a save percentage on 73% on the season, good enough for sixth best among keepers. This is great in itself, but even better when one realizes that Dubravka has faced a league high 152 shots on target. For anyone doing the math, that means Dubravka has made 111 saves this season – the most in the league. The 31-year-old also leads the league in a stat called PSxG +/-, which measures a goalkeeper's actual shot stopping ability. The stat subtracts a keeper's actual goals conceded (in Dubravka's case it was 40) from their expected goals conceded post shot (48.7). Dubravka's mark of +8.7 suggests an incredible ability to keep shots out of the net with better than average saves, while also suggesting that Newcastle might not be as safe as they are this season without their main man in goal.
Norwich City (20th, 21 points) – Todd Cantwell
Norwich are destined for relegation this season. This is a partial shame, considering how brightly the Canaries began their season, yet it is difficult to say that a team boasting the joint worst attack in the league (25 goals) as well as the second worst defense in the league (52 goals) deserves to stay up. Norwich are only six points from safety, but given that those six points represent over a quarter of their total points accumulated, surviving the Premier League looks unlikely. That makes it challenging to pick a Player of the Season. Teemu Pukki leads the team with 11 goals, but has cooled off tremendously since November, and while goalkeeper Tim Krul has been admirable in net behind a truly abysmal defense, the stats just aren't there.
Instead lets go for the budding English starlet Todd Cantwell. With six goals and two assists, Cantwell has been the chief creative force for Norwich all season, and has caught the eye of larger clubs like Liverpool, Manchester United, and Spurs. At only 21 years of age, the attacker has found success this season driving at opposition defenses only to then find killer passes in behind or have a shot himself. The stats back this up, as Cantwell sits second in the team in both key passes (32), dribbles completed (49), and shot-creating actions (2.94 per 90 mins.). First place in all of these categories is another promising youngster, Emi Buendia, but while the Argentinian has struggled to turn these stats into physical goals and assists, Cantwell has thrived.
Sheffield United – (7th, 43 points) – Chris Basham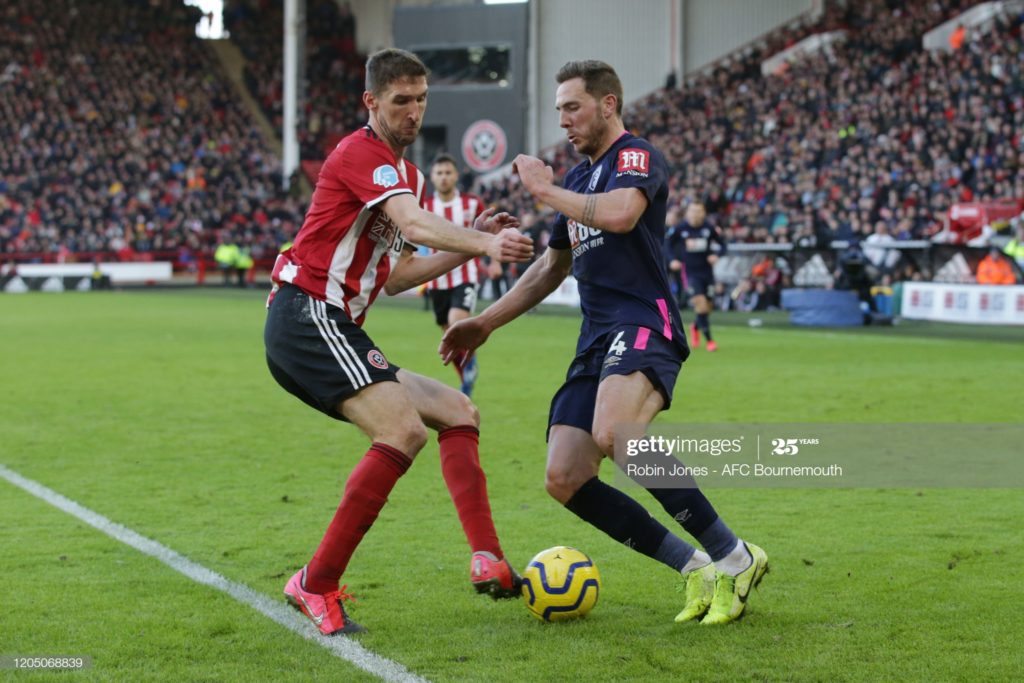 Most fans who claim that the Premier League is the best league in the world do so in part because of the unpredictability of England's top flight. Throughout any given season, and on any given day, any team can beat one another, and this means that throughout the course of the season there are bound to be some fluke results. And while it may be accurate to suggest that newly promoted Sheffield United sitting 7th in the league is the epitome of unpredictable, it is far from true to suggest that their success in a fluke. The Blades have put together a remarkable season thus far, and there is a very realistic chance that the side could end up playing European soccer next season if the 2019/20 campaign is allowed to continue. Manager Chris Wilder has built a steadfast, tough, bruising squad, and the combined teamwork and grit have seen Sheffield United allow the second fewest goals this season out of any club.
Underrated finds such as defenders John Egan and George Baldock, midfielder John Fleck, and young goalkeeper Dean Henderson have been key to Sheffield United's success, yet it is defender Chris Basham who narrowly takes home the award. Admittedly, the stats that separate Basham from his defensive counterparts are slim, and there is little doubt that the success of this Blades team is not down to Basham as an individual, but due to the team as a whole. That being said, the 31-year-old Englishman is arguably his team's best tackler, as he ranks third on the team in completed tackles and first on the team in completed tackles against dribblers. His positional sense has been exceptional as well this season, a factor which has led to Basham accumulating a team high 58 interceptions. Basham fits perfectly into Wilder's system of overlapping center backs, and has been the perfect mix of old school defending and new age trickery for the Blades this season.