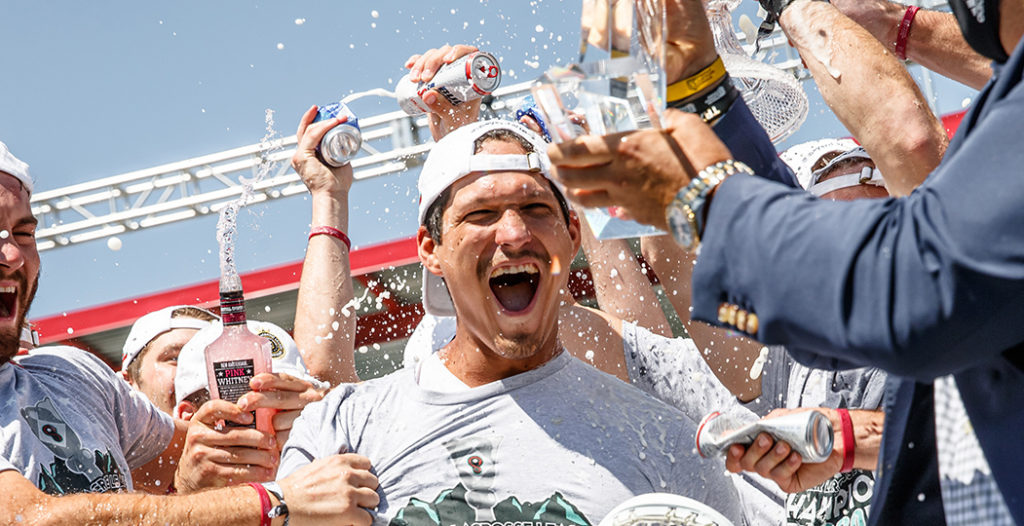 1. Whipsnakes LC:

Joe Nardella

There are so many dominant players on this team to choose from. Yes, Zed Williams was named MVP for the Series and was certainly deserving of that award after his 6 goal performance in the Championship and league leading 20 goals. Matt Rambo once again led the league in points with 25, highlighted by 18 assists, and goalie Kyle Bernlohr led the league's most dominant defense. However, winning faceoffs gives your team make it-take it opportunities and keeps your defense fresh, and nobody won faceoffs more often than Joe Nardella. He was arguably the most dominant at his position throughout their time in Utah, finishing 100-138 (72%) and racking up a ridiculous 65 ground balls. His skill as an offensive threat was also showcased time and time again, finishing with 6 points and forcing opposing faceoff men to stay on the field with him. The Whips absolutely dominated everyone in their path in 2020, and it all starts at the faceoff X.
2. Chaos LC:

Blaze Riorden

This should come as no surprise, as the 2 time Goalie of the Year averaged 17 saves per game while keeping a 61% save percentage. While the Chaos allowed the most goals per game in the PLL, Blaze Riorden stood on his head nearly every game behind a defense that struggled mightily against the talented offenses in the PLL. Honorable mention goes to attackmen Josh Byrne, who took over and led the offense after head coach Andy Towers made the decision to bench a struggling Connor Fields.
3. Archers LC:

Tom Schreiber

Rookie Grant Ament performed about as well as expected, stepping in as the team's key facilitator from attack and finishing second in the league in assists. However, the Archers offense once again went as Tom Schreiber went, pushing the ball in transition and forcing teams to focus on where he was at at all times, allowing the other stars on the Archers offense to thrive.
4. Redwoods LC:

Sergio Perkovic

The most efficient shot in all of lacrosse is a Sergio Perkovic 2-bomb. Perkovic took 11 shots, and of the 9 that were on cage, 6 went in. That's over 50% on two point shots, a ridiculous statistic. No lead is big enough when Perkovic is behind the arc, and his powerful shot not only kept the 'Woods in games, but it provided a huge momentum boost for the rest of the team. Not to mention, once defenses started guarding him off ball from 17+ yards, attackmen Ryder Garnsey and Matt Kavanaugh were able to go to work on their individual matchups, a key aspect to the 'Woods making it just one game short of another championship appearance.
5. Chrome LC:

Jordan Wolf

After the first 2 games, my pick would have been second year faceoff man Connor Farrell. But after Milkman struggled a little bit in the last few games, Jordan Wolf emerged as the team's best player. As one of the world's premier dodgers from X, Wolf made his defenders miss consistently and created scoring opportunities for him and his teammates. Chrome LC took a huge step forward in 2020 after a disappointing 2019 season, and a large part of this success came from the leadership of Wolf and his linemate Justin Guterding.
6. Waterdogs LC:

Kieran McCardle

After spending the 2019 season with Atlas LC playing alongside Eric Law and Ryan Brown, McCardle seems to have found his home playing with the Waterdogs, where fellow attackmen Christian Cuccinello, Wes Berg and Ryan Drenner allowed McCardle to be the leader of the unit, and his box experience meshed well with the Canadians on the offensive side of the ball. This team still has a long way to go in order to compete with the top teams in the league, but had many bright spots all over the field and just need more time to build that chemistry.
7. Atlas LC:

Bryan Costabile

What a strange season for the uber-talented Atlas LC. The addition of Rob Pannell was expected to push this team to new heights, and while RP3 at times showed why he's considered one of the best in the game, their offense still sputtered to a standstill at important points throughout the Championship Series. Midfielder Paul Rabil especially struggled in the Series, but the midfield unit stayed steady thanks to the play of 2020 first round pick Bryan Costabile. Costabile was arguably the most consistent player on the Atlas offense, provided solid defense, and became one of the more talented two way middies in the PLL in one season. Despite another disappointing season from Atlas LC, the future is bright for their young midfielder.