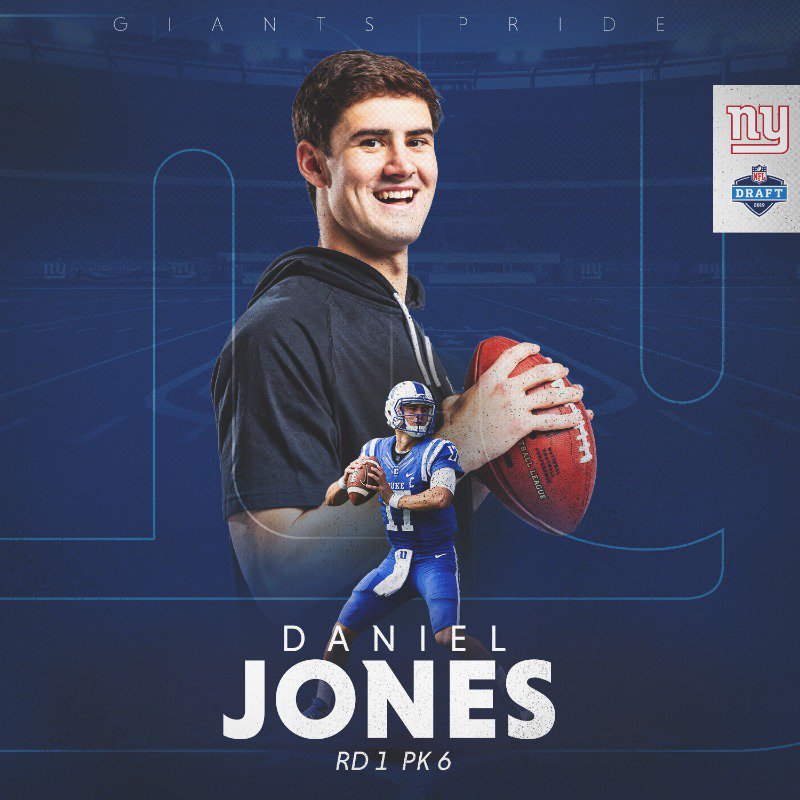 As a diehard New York Giants fan I don't know how to feel about the Daniel Jones selection. I don't feel the same anger in my heart that the Giants fanbase is currently exhibiting across every social media platform, but I also didn't cheer when Roger Goodell called his name. Giants GM Dave Gettleman kept saying prior to the draft "The worst place you could be is Quarterback hell", at the current moment they have avoided "hell", as the heir apparent is now on the roster. But could the Giants have just signed themselves up for 8 years of mediocrity at the position, à la Andy Dalton and the Cincinnati Bengals? 
When I watch film on prospects I always choose the hardest game on their schedule first. And for Duke last season it was the National Champion Clemson Tigers who defeated them 35-6. Obviously Duke's roster was way overmatched compared to the NFL pipeline that is Clemson, but it does provide us with film on Daniel Jones facing the closest thing to an NFL defense we have seen throughout his collegiate career. 
Now to preface the final score of 35-6, and Daniel Jones' mediocre stat line (24/43 for 158 yards with 0 TD's and 0 Int's) his supporting cast is bad. His pass catchers get no separation and are blanketed throughout the entirety of their routes, not too mention when Daniel Jones does put the ball on them it's a coin toss to see if they can catch it.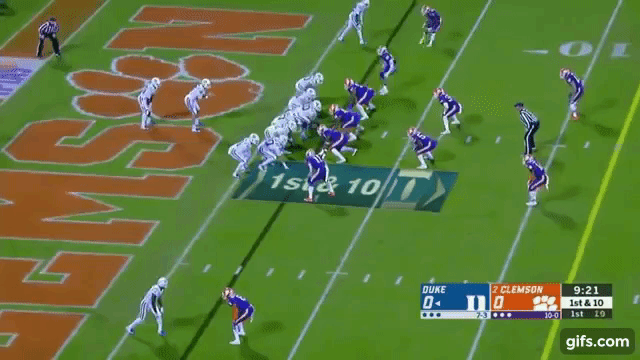 Like this play above, where early in the game Jones is backed up into his own end zone knowing he has a max protection on so he can stand tall in the pocket. And with only 2 WR's running routes Jones eyes down his first read to the boundary and quickly snaps his head and delivers a strike into the belly of his second read, the curl on the field side. This is an inexcusable drop, and sadly for Daniel Jones, it is not the only one. In fact, out of Jones 43 attempts in this game, I counted a total of 6 drops.
Below is another egregious drop, where it looks like Clemson is playing a Cover 1 but the LB's are sucked up into the play action (possibly an RPO) due to the hard run blocking by the OL. Daniel Jones probably could have gone to the in route at the bottom of the screen for an easier completion, but he pulled the trigger on his first read down the seam. He threads the needle and delivered another good ball that hit the WR's hands. The hope for the Giants is pass catchers like Evan Engram, Sterling Shephard, and Golden Tate would come down with this ball.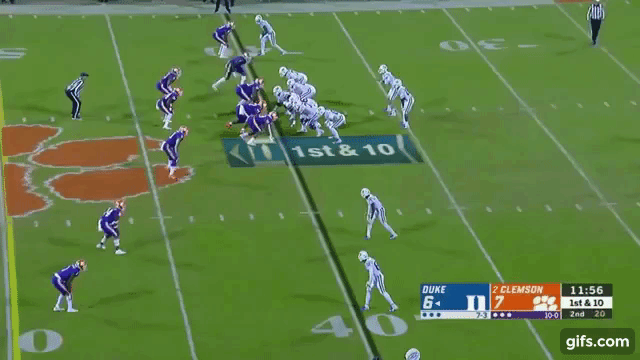 I am gonna include some more gif's of drops below, just to give you an idea of how frustrating it must of been to play QB at Duke.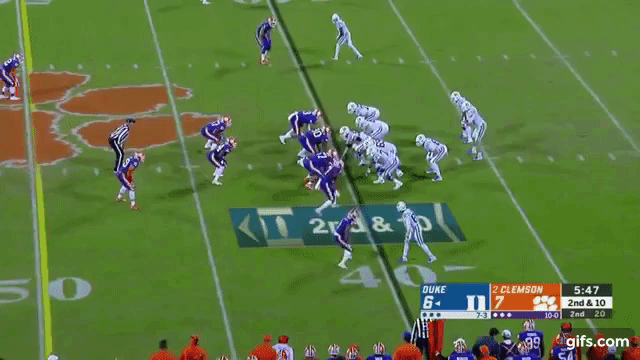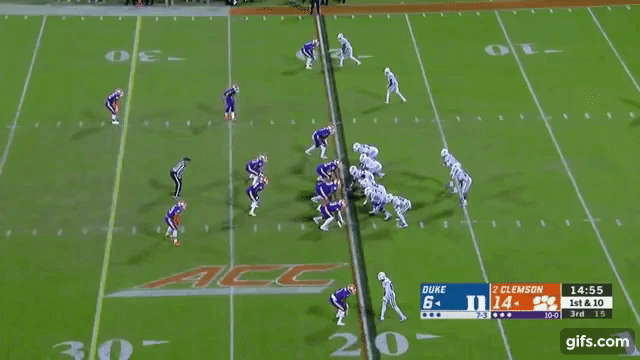 Now it's not like Daniel Jones doesn't make any mistakes himself, he makes plenty. I just think it's important to showcase what he has been working with at Duke. As far as the negatives of this game film I noticed he gets a little west coast happy, and his understanding of down and distance confuses me at some points. Like this play below where its 3rd & 8 and he throws to the 4-yard curl, what is he doing?!? Doesn't he know where the chains are? Does he think the WR is gonna be able to make a move coming back to the ball with the CB draped all over him? Plays like these make me want to pull my hair out.
Or this play below, where it's 3rd & 6 in the red-zone and Jones insists on throwing the 4-yard out off his back foot which trickles into the sideline.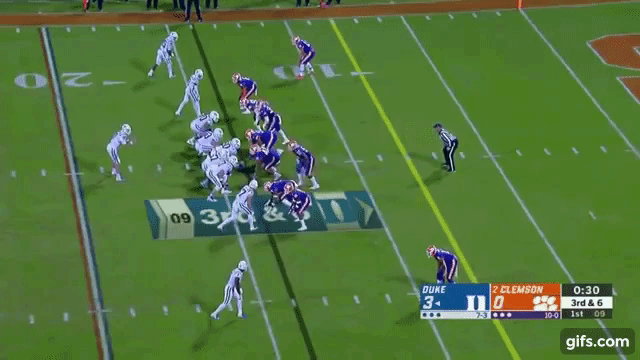 I also noticed Jones has a problem with passes being batted down, like this one where his new teammate, Dexter Lawrence the Giants 17th overall pick, gets his big paws on the ball at the LOS.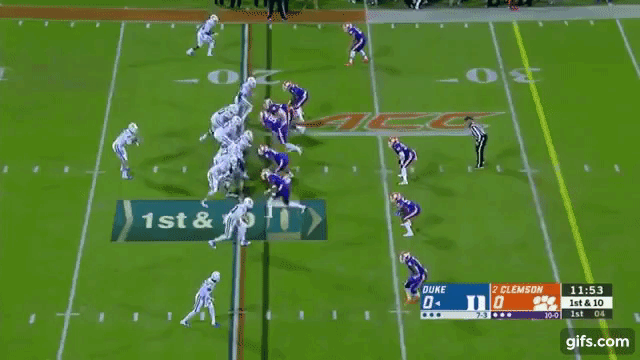 Big Dex gets his hands on another one here.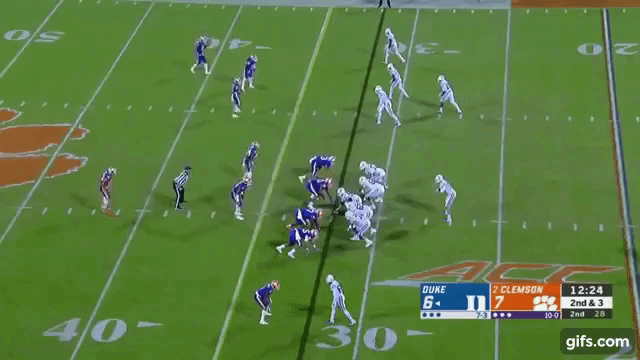 Now that the negatives are out of the way, let's get into the reasons Giants fans should be optimistic for their future.
The play below shows how Jones is able to progress through multiple reads, pumping the 1st read then scanning to the field side and finds the open man in the trips vertical concept for a helathy 37 yard gain.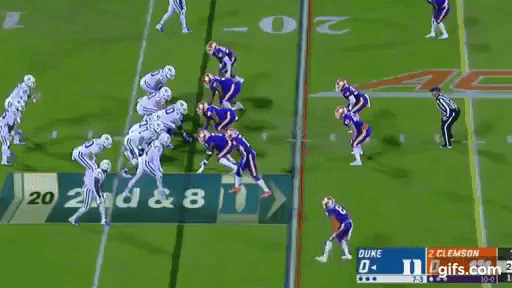 This ball delivered to the flat might not look like much, but if you look closely you'll see the benefits of a college QB being able to read defenses post-snap. Jones recognizes that the outside CB's are playing man coverage, and Clemson has a miscommunication blown assignment where #8 and #11 on Clemson take the same man, leaving the bubble flat open for an easy first down. If Jones isn't able to process this quickly and get the ball out fast this play is probably a 5 yard gain instead of a 10 yard gain.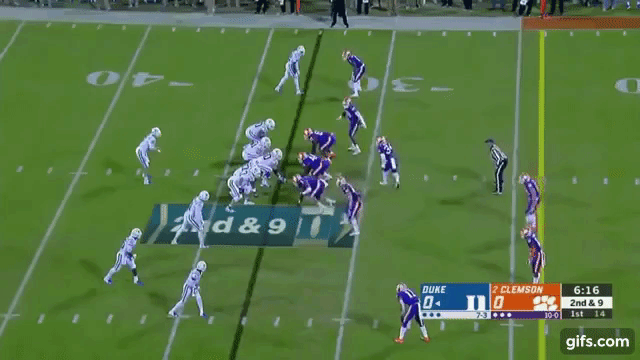 On this play below you know Daniel Jones is licking his chops when he sees Clemson DE and 4th overall pick to the Oakland Raiders #99 Clelin Ferrell, off the LOS playing as an LB. He immediately looks his way knowing that a pass rusher like him is a liability in coverage, and delivers a rope in between the zones to the curl route for a 7-yard gain.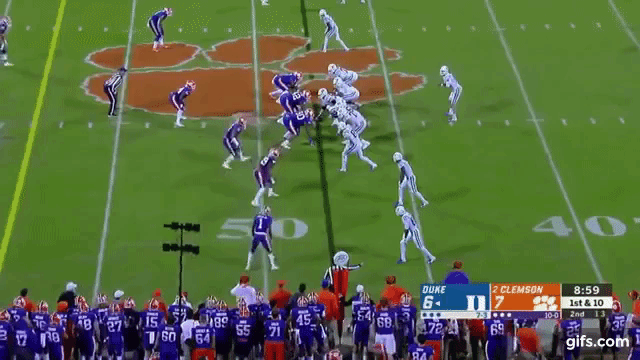 Daniel Jones shows off his sneaky athleticism, which I mentioned in my previous blog, here for a tough and gritty first down off of a read option barreling his way through a Clemson LB. I never thought I would say this but I could see the Giants incorporating some read options and maybe some RPO's with Jones, especially with Saquon commanding so much respect at tailback.
The last play I am going to show here is Jones best throw from the entire game. On 2nd and long, with 3 top 17 picks in the 2019 NFL draft in his face, Daniel Jones has the natural instinct to take that last little hop back with his feet right before he starts his throwing motion giving him the space he needs to get this ball off.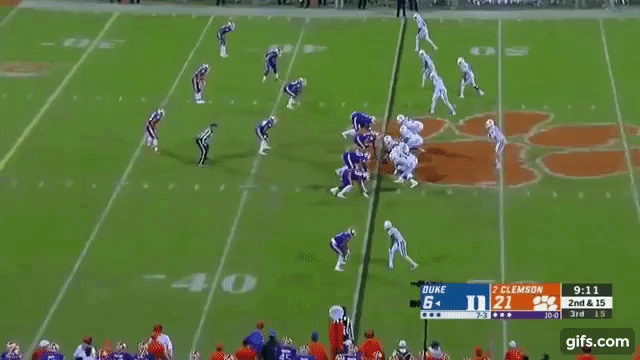 Now that is very important because most QB's need their feet under them to make these types of throws, but that is not how Daniel Jones has been trained. Jones head coach at Duke, David Cutcliffe, is the same QB guru who coached the Manning brothers in College. And Jones mechanics really show it, because like the Mannings, Daniel Jones throws with a lot of upper body. This allows him not to have to step up into his throws and gives him the ability to make incredible NFL caliber level passes off his back feet with pressure in his face like this one.

There is a lot to like with Daniel Jones, and I guarantee most of the Giants fans crying on social media have not watched a Duke football game from last season. He's not flashy, he doesn't have a cannon, his interviews will put you to sleep, he doesn't post on Instagram or Twitter often. But what he does do for me is check a lot of the boxes that I am looking for in a franchise QB. Like accuracy, good enough arm strength, progressing through reads quickly, decision making, understands pass protections, good athleticism, and will never be a distraction on or off the field.
I am so sick of the "value" debate, is he worth this overall pick, who's not worth that pick. That's over, the pick is in, and Daniel Jones is the heir to Eli Manning. Everyone has let their takes fly, but if there is one thing I know, the film never lies.
But you don't have to listen to me, you can watch the film for yourself here.